Missioner trains farmers from tribal villages in Thailand to face climate change while caring for the earth.
After completing an agricultural class, a young indigenous farmer in Thailand said he "had to apologize to the earth for his previous behavior, for using chemicals that were poisoning her and throwing trash that ruined her face."
The teenager was a student at the Research and Training Center for Religio-Cultural Community (RTRC), which focuses on community and agricultural development work with ethnic groups. Founded by Father Niphot Thianwihan, the center helps these indigenous communities rediscover their relationship to God's creation and provides sustainable farming alternatives that empower them while encouraging them to live in harmony with the environment—something Pope Francis calls "integral ecology."
Maryknoll Father Lawrence Radice has been a visiting teacher at the center for a decade. Ethnic minorities in the mountains of Thailand, he says, have often been marginalized and are economically disadvantaged. Over time, he continues, their "Earth wisdom" and centuries-old connection with the earth have been eroded, resulting in plastic waste and using pesticides and herbicides in farming.
"A lack of harmony harms the earth, harms our relationship with each other, which, of course, hurts our relationship with God," says the missioner from Grand Junction, Colorado. "Integral ecology rethinks the Genesis story and places humans as part of nature, not dominant over it."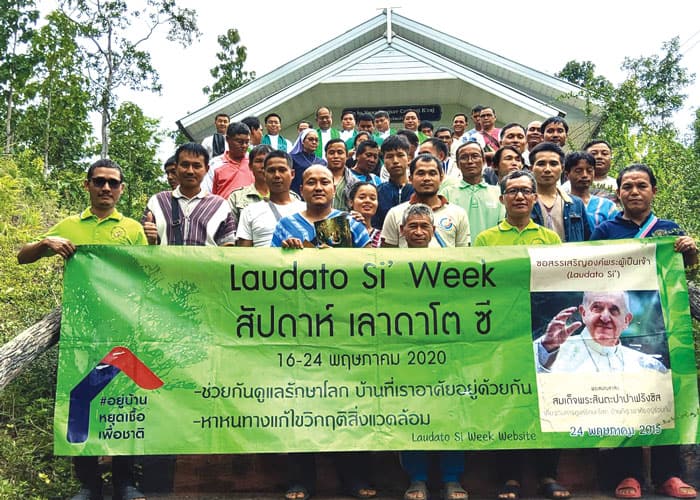 Church leaders of the Karen indigenous people celebrate Laudato Si' week during which they reflect on Pope Francis' encyclical on the environment. (Sunthorn Vichitporn/Thailand)
Every year, men and women from the hill tribes—such as the Hmong, Karen, Kachin and, most recently, the Lahu—go to the center for two months of leadership training with classroom and hands-on education on the best ways to care for their environment, improve their farming and support their people. After connecting their ancestral roots with renewable agricultural methods, they return to their villages to practice what they learned and work the land. After some time, they head back to RTRC, in the Diocese of Chiang Mai, for another four to six weeks to continue training and sharing their experiences with each other on the best approach to support their people.
"I work with farmers on how to adapt to climate change conditions," says Father Radice, who is now working full-time at the center. Teaching subsistence farmers to adapt to climate change will help them to continue feeding their families. The priest helps villagers find crops suited to their environment and teaches composting to help the soil withstand harsh rains and higher temperatures. "Compost also has a much more important role here in the tropics," he says. "It increases the carbon content of the soil so that the soil itself is ecologically healthy, having a balance of water and air that supports a diversity of beneficial microorganisms that are important for more nutritious crops." 
"We teach them to see, analyze and think 'this is why you do this,'" he says. "When you start to teach people to question what they see, it changes them. And it can change the world."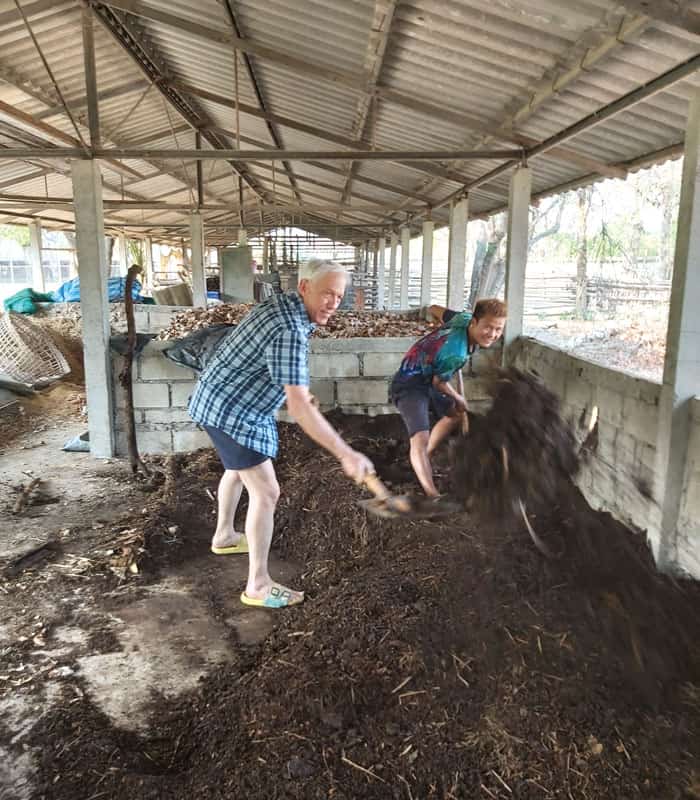 Father Radice (left) and Somboon, a student of the Lahu ethnic group, work on composting. (Courtesy of Lawrence Radice/Thailand)
Student Jaroen Dinu, for example, became a youth leader. After returning home from RTRC, he taught the village children about the environment through music, creating an ecology-minded musical group. "He has young people helping him pick up trash in the village," Father Radice says. "In the beginning the people thought maybe he was crazy, but now they too are seeing their environment and village in a new light."
Recently, Thai universities asked why RTRC students return home to share their new knowledge with their people when most university students move away from village life. Father Radice credits the center's call to critical consciousness.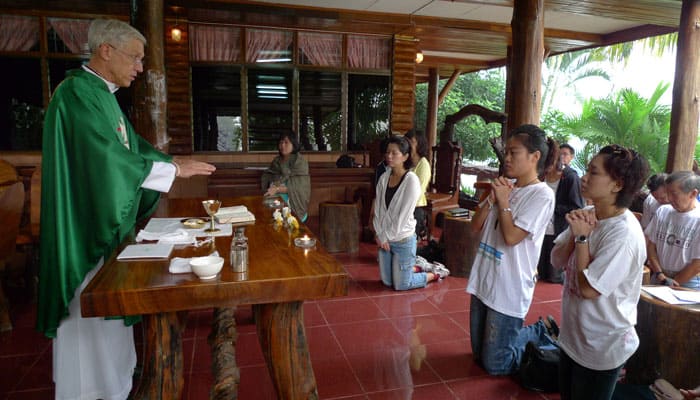 Maryknoll Father Lawrence Radice celebrates Mass with visitors from Singapore on a mission exposure trip to villages in northern Thailand. (Sean Sprague/Thailand)
"We ask the students to reflect on: 'Who are you? Who is your family? What is the village?' in order to help them recognize their social, religious, economic and cultural relationships, and that consciousness ties them back to their rural home," he says. "Without that, the city, the potential for money, has a big pull."
In their villages, the RTRC students have become mentors to others. During the COVID-19 lockdown imposed in Thailand, thousands of people who work and live in Bangkok were forced to return to their villages. Once home, Father Radice explains, they encountered challenges during rice planting season due to climate change.
"Temperatures are hotter and rain unpredictable," he says. "But adapting to climate change is the focus of many of my lessons, and so those I have taught are now teaching the homecomers."
Father Radice says being back home is encouraging young villagers to try to make a living off the land rather than work in the big cities. He adds that the center is exploring creating a new agricultural and environmental program to support these workers, who might feel disconnected from the land.
The missioner's own consciousness of God's creation was nurtured by his mother when he was growing up on four acres of farmland in Colorado. He remembers nature walks and camping trips with his family and how his mother would pick up trash to clean up the forest.
"I don't know if it was something my mom said or whether it was her actions that said, 'When you go into the forest or go onto the mountain, it should be better for your having been there,' " Father Radice says.
This drive to make the world a better place led him to Maryknoll, he adds. During his overseas training as a Maryknoll seminarian in Tanzania in 1982, he kept thinking about how to help people going through drought and famine.
"Finally, after prayer and thought, I came upon the idea of tree planting since the area I lived in, Ndoleleji, had had serious deforestation," he recalls.
Father Radice, who has a dual bachelor's degree in chemistry and physics from Regis University in Denver, Colorado, says his drive to tackle agricultural matters is tied to the critical thinking and scientific process that formed the basis of his education at Regis and to the experience he had on his family farm, where he learned gardening, composting and how to take care of livestock.
To tackle the reforestation project, he says, "I also had to study and learn a lot about forestry and East African farming."
Father Radice's drive to learn new farming methods to pass on to farmers only grew throughout the years. Since his ordination in 1985, the priest has served the poor and marginalized in Tanzania, Thailand and China—focusing on pastoral and ecological work.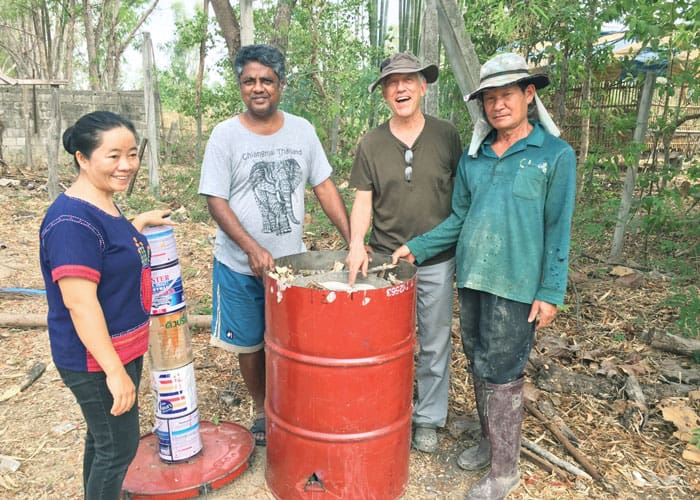 Staff members of RTRC (l. to r.) Ms. Phut, Mr. Sornchai, Father Radice and Mr. Manut make biochar by burning organic waste material. (Courtesy of Lawrence Radice/Thailand)
Father Radice, 70, is grateful for the doors Pope Francis has opened when talking about integral ecology and ancestral cultures. He is overjoyed, for example, that Sunthorn Vichitporn, one of the teachers at RTRC, organizes a "Laudato Si' week" in Karen villages to call people to reflect on Pope Francis' encyclical on the environment and to take action.
Vichitporn recently helped organize a blessing that made a local rice field a sacred space. This blessing, Vichitporn says, discourages the owner from using chemicals on the land. "We are bringing our living faith into the field," he adds.
Reflecting on his own ministry, Father Radice says, "My work often has a kind of practical aspect of teaching about the earth, teaching about farming, but linking that and building that within a faith context" gives it a deeper meaning.
"Helping people to rediscover or recognize how God through the Holy Spirit has been active in their culture and lives and their deep cultural link to the earth is a joy," Father Radice says.
Featured image:Father Tidkham, a Betharram priest who works with the Karen indigenous people in Chiang Mai, and villagers ask God to bless their rice field. (Sunthorn Vichitporn/Thailand)