Father Lance Nadeau, a missioner who spent most of his priestly life in Kenya, called to lead Maryknoll Society as new superior general.
"Help." That simple, hopeful plea to a loving God is one of Maryknoll Father Lance P. Nadeau's favorite prayers.
He says that prayer a lot since being called recently to serve as superior general of the Maryknoll Fathers and Brothers. He prays that the newly elected Maryknoll General Council, which was installed during a Mass on Sunday, Sept. 26, will lead the Society to continue to carry God's mission around the world.
Along with Father Nadeau, the new General Council consists of Fathers James M. Lynch, Lam M. Hua and Timothy O. Kilkelly. (Click on their names to read their bios.)
"Mission is really about faithfulness to God, who seeks to save us. And by save, I mean make us like Jesus," says Father Nadeau.
The unassuming, 74-year-old missioner from Philadelphia says that he has worked alongside the people during his missionary life. This, he says, is the Maryknoll way: to smell like the sheep — as Pope Francis has said.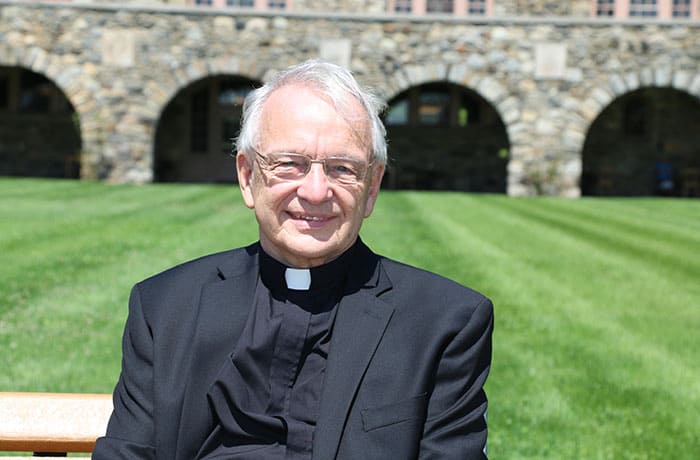 Maryknoll Father Lance Nadeau, 74, was elected to serve as the Society's new superior general. Ordained in 1990, the missioner has spent most of his priestly ministry in Kenya. (Diane Mastrogiulio/U.S.)
Those who know Father Nadeau say his pragmatic and compassionate style, as well as his missionary experience in Africa, will enable him to lead the Maryknoll Society to discern, identify, adapt and respond to those in the margins.
"Father Lance knows how to respond to people's needs. And he does this with all his heart," says John Siyumbu, a Maryknoll seminarian from Kenya. "I believe we are in a time in which we need more church ministries that heal wounds through God's presence. With Father Lance at the helm, Maryknoll Fathers and Brothers can live out this kind of mission."
When discerning the priorities and direction of the Maryknoll Society in the summer of 2021, delegates at the XIV General Chapter focused on people's needs in the 22 countries where the mission society serves. The chapter's purpose is to establish future goals and select new leadership every six years.
One major concern was care of creation and how climate change affects the Maryknollers' apostolates and the people they minister to. "The words of the chapter documents are 'Hearing the cry of the earth and hearing the cry of the poor,' because global warming and the plight of the poor are interconnected," Father Nadeau says.
The chapter also reaffirmed the practice of accepting candidates from across the globe drawing from local churches in which Maryknoll missioners serve. The Maryknoll Society was founded to train men from the United States as priests and brothers for overseas mission, he explains. Although members from other countries had been accepted, most missioners were American. The last two chapters advocated accepting applications from non-U.S. citizens who have a long-term, strong connection with Maryknollers in places like Hong Kong, Tanzania and Kenya.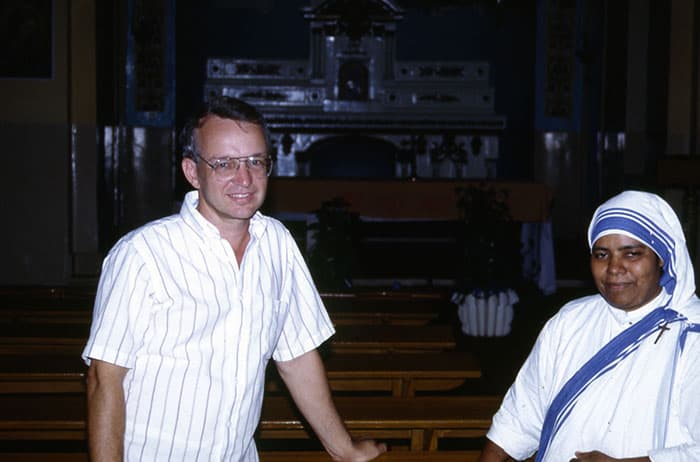 Father Lance Nadeau in Cairo, Egypt, with Missionaries of Charity Sister Mary Christine, circa 1994. Father Nadeau would celebrate Mass with the sisters every Sunday. He was appointed coordinator of Maryknoll's Middle East Unit in the 1990s. (Frank Breen/Egypt)
"That's an enormous change for our Society, our self-understanding and our understanding of the Church," says Father Nadeau. "We saw mission as the work of specialists who went from the North to the needy South." Now, he adds, "mission is from everywhere to everywhere," echoing a phrase often repeated by Maryknollers.
Another directive of the chapter was promoting a culture of mission in the United States. This centers on people's understanding of their life purpose and "of God as a God who is involved in the world, a God who makes a preferential option for the poor," says Father Nadeau.
"If you think the world should be different, if you think the world should be more humane, then I think you're interested in mission," he says.
Father Nadeau's own interest in mission was sparked when he was in sixth grade and heard of Maryknoll Father Joseph Sweeney, who worked with Hansen's disease patients in China and Korea. He says he put those thoughts aside for over 20 years. He graduated from Fairfield University, spent four years working as a medic in the U.S. Navy and pursued graduate religious studies at Temple University. He even studied under renowned theologian Edward Schillebeeckx on a Fulbright Scholarship.
Click on the arrows to see the photos:
1) In this 2009 photo, Father Lance Nadeau (second from right) smiles surrounded by Kenyatta University Chaplaincy Parish Council members. (Courtesy of John Siyumbu/Kenya)
2), 3) and 4) In these photos from Pentecost Sunday 2010, Father Nadeau baptizes children at Christ the Teacher Church, Kenyatta University in Nairobi, Kenya. (Maryknoll Mission Archives)
5) In this 2015 photo, Father Lance Nadeau, then regional superior of Maryknoll Society's Africa Region, receives thanks from a Turkana man who is now able to fish to feed his family and earn an income after the Maryknoll Society funded the building of 10 fishing boats. (G. Kariuki/Kenya)
Nadeau's life changed when he learned about the murders of Maryknoll Sisters Maura Clarke and Ita Ford, Ursuline Sister Dorothy Kazel, and laywoman Jean Donovan, who were martyred together by Salvadoran soldiers on Dec. 2, 1980.
"It stirred up all of my Maryknoll memories. … Those women tried to do something to change this terrible world we're in," he recalls. "And I found myself saying, 'What am I going to do with my life?' "
In 1983, Nadeau, who was then 36 years old, entered the Maryknoll Society. He did his overseas training in Tanzania and Egypt. After his ordination in June 1990, Father Nadeau was assigned to the Middle East Unit and also worked briefly in Bangladesh.
His time in the Middle East gave him a sense of the complexity of interreligious dialogue and how religious identities form people. "You're dealing with a person who has a history, is part of a society, and those things — history, culture, society — affect relationships," he says.
At a time when religion can be exploited for all sorts of hatred and violence, he believes being open to other lights of Christ present in the religious experience of others can build up reconciliation among people.
In 1996, Father Nadeau studied missiology, specializing in inculturation, at the Pontifical Gregorian University in Rome. After requesting an assignment to the Africa region in 1999, he worked in Kenya, ministering to people living with HIV through the Eastern Deanery AIDS Relief Program, which Maryknoll Father Edward Phillips started.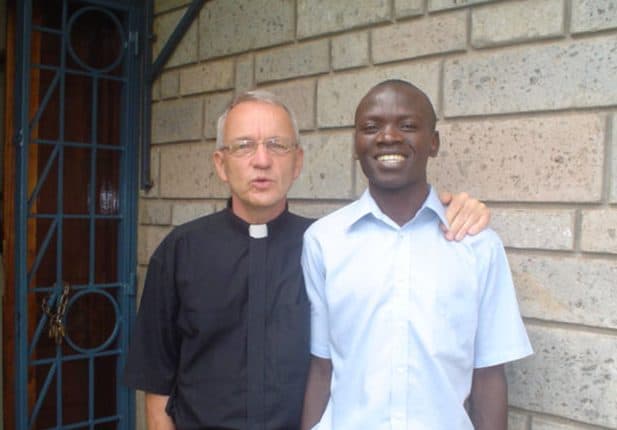 Father Lance Nadeau with Maryknoll Seminarian John Siyumbu when Siyumbu was a student at Kenyatta University. During his 18 years as chaplain at the university, Father Nadeau inspired about 85 young men to pursue a religious vocation. Siyumbu is one of the men currently preparing to be a Maryknoll priest. (Courtesy of John Siyumbu/Kenya)
In 2001, he became pastor of Christ the Teacher Catholic Chaplaincy Center at Kenyatta University, which reached 80,000 students over multiple campuses in Kenya. On Sundays, thousands of students packed the church, he recalls. Hundreds did mission outreach in marginalized and nomadic areas of northern Kenya.
During his 18 years at the university, he says, about 85 young men entered the seminary. These included 20 men who joined the Jesuits and several men who applied to Maryknoll after the Society opened the door for international vocations.
Maryknoll Seminarian Victor Mutobera is one of them. Describing Father Nadeau as "a down-to-earth person, a man of integrity with a profound respect for others," Mutobera says the missioner had a tremendous impact on his life.
"I was moved into the spirit of mission from what I saw and experienced Father Lance do for my people," says Mutobera. "I realized that mission is sharing the joy of the Gospel with others. It is being present to people's situations, living with the people, sharing in their pains and joys."
Father Nadeau also served as regional superior of the Africa region for six years, mentored seminarians at the Maryknoll Formation House in Nairobi and oversaw multiple projects, including drilling wells on church lands and helping farmers in drought-stricken parts of Kenya. Most recently, he facilitated financial help to families in Kenya affected by the collapse of the informal economy due to the COVID-19 pandemic.
Now, Father Nadeau is ready to apply what he has learned from the people he accompanied in Africa. "Africa taught me many things. One of the most important is how to have humane relationships. That's the great African value: humanness, ubuntu, being a person," he says.
He hopes this focus on relationships with others will be central to Maryknoll in the years to come.
Featured image: The members of Maryknoll Society's new General Council, from left: Father James M. Lynch, vicar general; Father Lam M. Hua, secretary general; Father Lance P. Nadeau, superior general; and Father Timothy O. Kilkelly, assistant general.