Candidates to priesthood and brotherhood share in the Maryknoll spirit during vocational formation
Maryknoll seminarian John Siyumbu was asked to visit an elderly woman in Chicago and pray with her family. Responding to his call to serve and accompany God's people, he immediately agreed.
As part of his preparation for the priesthood, Siyumbu was doing an internship at Old St. Patrick's Church in Chicago during the second lockdown for COVID-19 in March 2021. The seminarian says he remembers the visit as if it were yesterday.
"Walking into the room, I saw an elderly lady on her bed. One of her daughters was holding her hand, another was seated by the foot of the bed and the third was nearby. It struck me that I was walking into an intensely intimate moment and yet very communal," he says. "We formed a semicircle with their mom in front of us. We read from the Bible and reflected on Jesus' ministry to the ill. We prayed the Our Father and then together stretched out our hands over the mom and prayed for her one last time."
The woman was 90 years old and one of her daughters told Siyumbu that she had a good life. "Even though it was a very painful situation, I recall the warmth with which the daughters welcomed me," says Siyumbu, who is from Kenya. "I remember feeling the accompaniment and the presence of God in this house." Shortly after Siyumbu left, the mother passed away.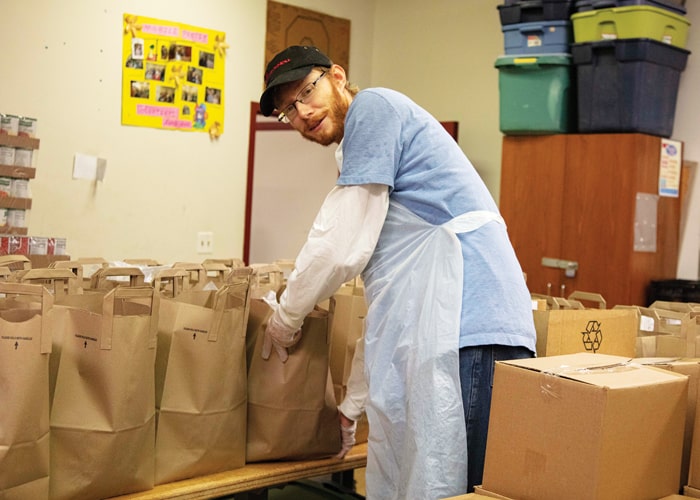 Before heading to his OTP in Bolivia, Maryknoll brother candidate Paul Shultz volunteered once a week at St. James Food Pantry in Chicago. (Octavio Duran/U.S.)
Siyumbu, who is doing theological studies at Catholic Theological Union in Chicago, is one of 18 young men currently in the Maryknoll Formation Program to become either priests or brothers. They are in various points in their formation while residing in Chicago, Bolivia or Nairobi.
Siyumbu, 36, lives in the Maryknoll residence in Chicago as he continues his formation. He has an undergraduate degree in special education from Kenyatta University in Nairobi and completed three years of philosophy studies in his home country. In 2016 he was accepted into the Maryknoll Formation Program and spent a spirituality year in Chicago, learning and living Maryknoll's spiritual charism of mission.
The seminarian spent two years in Bolivia as part of Maryknoll's Overseas Training Program (OTP), where he strengthened his ministerial calling to visit the sick and homebound. He says he liked how St. Pius X Church in Cochabamba, Bolivia, gave him this opportunity. "I found a lot of spiritual encouragement in this ministry," he says.
"John accompanied me to visit the sick, but we spent time with their families too," says Doña Maria Luz Sanchez, who invited Siyumbu into her ministry to the confined sick and elderly. "We brought Holy Communion, talked about God, invited them to Mass and had the opportunity to evangelize the whole family."
Siyumbu acknowledges his gratitude to Sanchez, who he says accepted him in her ministry and taught him about service and what mission means.
"When I think about the people of God, the faces of Cochabambinos come to my mind," says Siyumbu of his OTP experience and the people of Cochabamba. "Doña Maria Luz and many others confirmed my desire to accompany and minister to the elderly and sick. I feel that God is calling me to do that."
Father Russell J. Feldmeier, rector of Maryknoll's initial formation team, says his role is to help candidates discern whether they are called to Maryknoll and to help them grow in their ability to listen to what God is inviting them to do.
"Each of them has his unique calling. I help them understand what the Maryknoll community and vision is," Father Feldmeier says. "They say it takes a village to raise a child. It takes a community, like a pastoral grouping of Maryknollers, to mentor a candidate."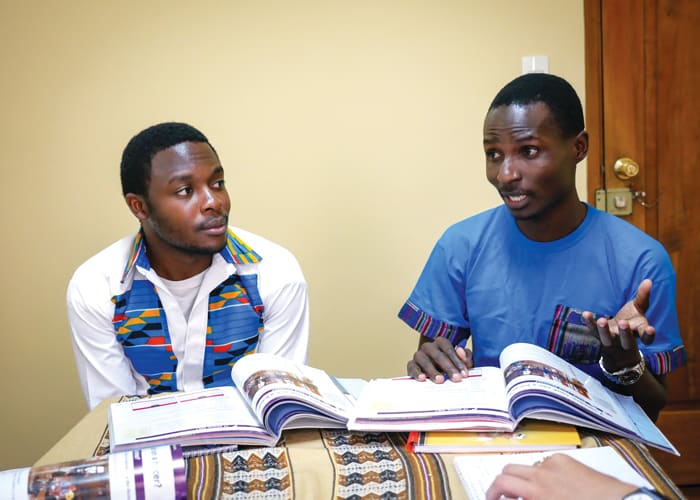 Maryknoll seminarians Joshua Mutende (white shirt) and Charles Ogony learn Spanish at the Maryknoll Mission Center in Cochabamba, Bolivia. (Nile Sprague/Bolivia)
Paul Shultz, 26, a brother candidate who recently started his OTP in Bolivia, says he first felt the call to mission in 2015 when he lost both of his jobs. He opened himself to prayer and asked God: "What is my purpose in life? What do you want me to do?" After that, he started to think of doing mission work.
"I want to respond to God's call to serve the most vulnerable in the world by recognizing there is a need out there to help those who are suffering," says Shultz, who is from Forsyth, Illinois.
Joshua Mutende, 25, a Maryknoll candidate to the priesthood from Kenya, says he has wanted to be a priest since he was a child, when his sisters used to take him to Mass. "Masses in Africa have a lot of dancing and singing," says Mutende. "One day at Mass during the sign of peace, one seminarian carried me and greeted me. I felt so much joy and I said, 'I want to be the same.' From that moment, I started feeling the call to become a priest."
Mutende completed his two-year OTP in Bolivia and is currently in Nairobi before beginning his theological studies in Chicago. He says that what attracted him to Maryknoll was its mission spirit. "The pope is asking us to 'be shepherds with the smell of sheep,' and that is what Maryknoll does," he explains. "I would like to work with young people so there is an opportunity for that."
Charles Ogony, 28, from Kenya, is another priesthood candidate preparing for studies in Chicago. He also felt the call to serve God at an early age. When he was 6 years old, a group of robbers attacked his home during a time of many conflicts in his town, particularly with people stealing cattle. At that point, he says, he decided to give himself to God.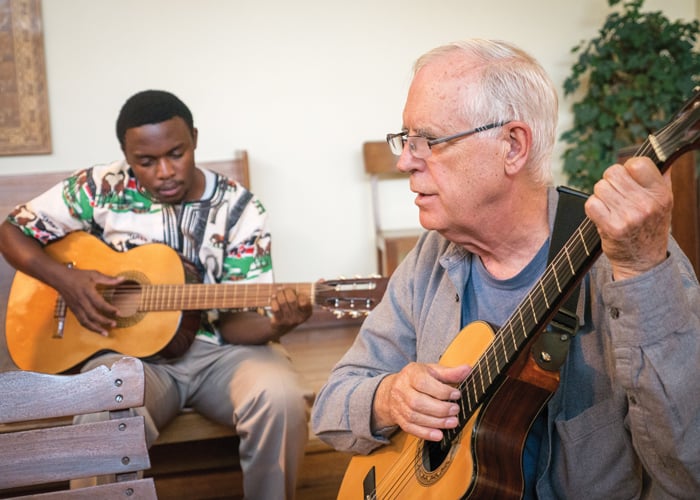 Seminarian Joshua Mutende and Maryknoll Father Paul Masson, spiritual guide for Maryknoll candidates in Bolivia, play guitar during Mass at Maryknoll chapel in Cochabamba. (Nile Sprague/Bolivia)
"I saw the priesthood as a sign of uniting people together," Ogony says. "I said if God calls me, I should respond 'yes' so I can be the sign of peace to others." His father, who was a catechist, was supportive and played a big role in the younger Ogony's decision to follow his vocation.
Ogony completed his two-year OTP in Bolivia, where he learned Spanish and served, during the COVID-19 pandemic, at Hogar San José, a home for elderly women and men run by the Little Sisters of the Abandoned Elderly. "I want to walk with and work with people just like Jesus did with his disciples," he says. "My mission is to proclaim the Gospel."
Over more than 100 years, some 2,000 men have been ordained as Maryknoll missionary priests and several hundred have taken oaths as brothers. Although Maryknoll was founded to train men from the United States as priests and brothers for mission overseas, it has recently begun to accept candidates from other countries where men like Siyumbu, Mutende and Ogony have gotten to know Maryknoll missioners and feel the call to join them in serving the poor.
Father Rodrigo Ulloa, Maryknoll's director of vocations, says that despite the challenges the pandemic has presented for vocational recruitment, he is hopeful for the future.
"Jesus was inclusive and he walked in different towns and met people of different backgrounds. He was interrupted by a lot of people and yet his interruptions brought miracle stories," Father Ulloa says. "We have been interrupted by COVID."
Meanwhile Father Feldmeier enjoys mentoring current candidates such as Siyumbu, who is expected to be ordained in 2022.
"There's a real depth he has, of his prayer and his ability to share it in cross-cultural ways, as he did when he was in the overseas training. I just encouraged him to make his unique contribution to missions and to Maryknoll," Father Feldmeier says. "As God has called him to Maryknoll and to mission, God will be with him throughout his life, as he lives out this wonderful vocation as a missioner."
Featured Image: Seminarian John Siyumbu outside St. Pius X Church in Cochabamba, where he served in different ministries. (Nile Sprague/Bolivia)
FOR INFORMATION ON BECOMING A PRIEST OR BROTHER WITH MARYKNOLL FATHERS & BROTHERS, Contact Fr. Rodrigo Ulloa, M.M. at 914-941-7590, ext. 2416, Email: vocation@maryknoll.org | maryknollvocations.org