As a pro bono lawyer, Linda Dakin-Grimm has taken on the cases of more than 75 unaccompanied children and separated families in immigration proceedings. She received her bachelor's degree from Yale University, graduated from Harvard Law School and earned a master's in theology from Loyola Marymount University. Her book, Dignity & Justice: Welcoming the Stranger at Our Border, was released by Orbis Books this fall. She is a senior consulting partner at Milbank LLP.
Linda, your book is extraordinary! It tells four distinct stories of migrants at the southern border and walks us through their respective immigration proceedings.  As we look at the crisis on the border and the photos of separated families, people ask, "What on earth is happening?" The opaqueness of the system is bewildering. So your step-by-step explanations are enlightening.
The complexity in immigration is the enemy of getting anything done.  People with strong opinions often don't have any idea how it works.  My message is, don't look away!  Yes, it is complex.  But we need the big picture in order to change things.
Your book is unusual because it takes a step back to look at that big picture—from so many angles. But first, how did you get involved in representing unaccompanied children and separated families? And how did the idea for this book develop?
I went back to school to study theology just as the crisis was intensifying at the border. I retired from my law firm in 2016 and started working pro bono, with referrals from agencies in the Los Angeles area, representing migrant kids and families. So I was reading St. Augustine and Thomas Aquinas, and studying papal documents—and at the same time, I was being immersed in these kids' stories. I kept asking, What's the "Catholic Way" in all this? How does Scripture relate? The more I learned, I was repeatedly aghast at how Christians could look away. As my academic and pro bono work converged, it became clear to me that there is a Catholic Way. Making immigration policy intelligible is also important. Unless we understand what the law is, we can't approach this.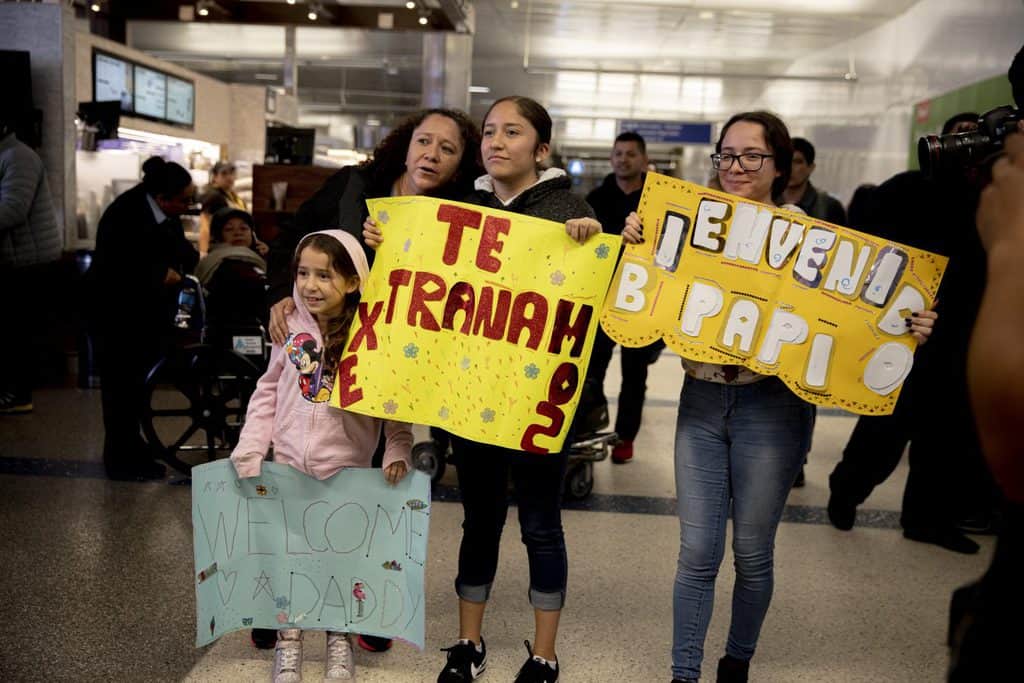 The family of a Guatemala man who was separated from his 12-year-old daughter at the U.S.-Mexico border and returned to his homeland awaits his arrival in the United States after an immigration judge, in an unusual ruling, allowed him to return to pursue his asylum case. (Kyle Grillot photo/U.S.)
A question people often ask is why parents would ever take their children on such a dangerous journey, or worse, why unaccompanied children would attempt it themselves. Your book includes background on the desperate situations of their home countries.
There is not a lot of appetite to take responsibility for it now, but the U.S. played a destabilizing role in Central America, with consequences. There are real reasons migrants leave their countries. The border crisis won't change unless we look at real people, real stories, and at our hearts. It is really hard to recognize the human dignity of every person. We don't like to admit it, but there is a pecking order: who counts, and who doesn't?
I have been thinking obsessively this year about it in relation to racism. In immigration law, for example, there was anti-Asian legislation, and after World War II, practical impediments kept Asian people from being allowed to naturalize as citizens into the 1960s. From our founding there is a legacy of chattel slavery. A hierarchy of who's worth something has been part of our country since its inception.
The stories in your book remind me of Pope Francis saying that migrants aren't statistics;  they are persons, each one with a face, a family and a history. How did you choose the four particular stories you focus on in the book?
There were dozens to choose from. I knew I wanted to talk about separated families, and I knew I wanted to include unaccompanied kids. My goal was to familiarize readers with different countries and different remedies, like asylum versus special immigrant juvenile status, trying to cover different processes in immigration law. For example, Gilberto was granted asylum, while Javi and Gabriela were granted special immigrant juvenile status. With Liliana's story, I wanted to portray what girls face. What boys face is also terrible! But I wanted to pose the situation of girls, in particular, and to approach the question: What is it like for a poor girl to grow up in a setting like that? Because once you get a glimpse, you can understand why a young girl like Liliana would risk her life to cross the border. They are compelling cases.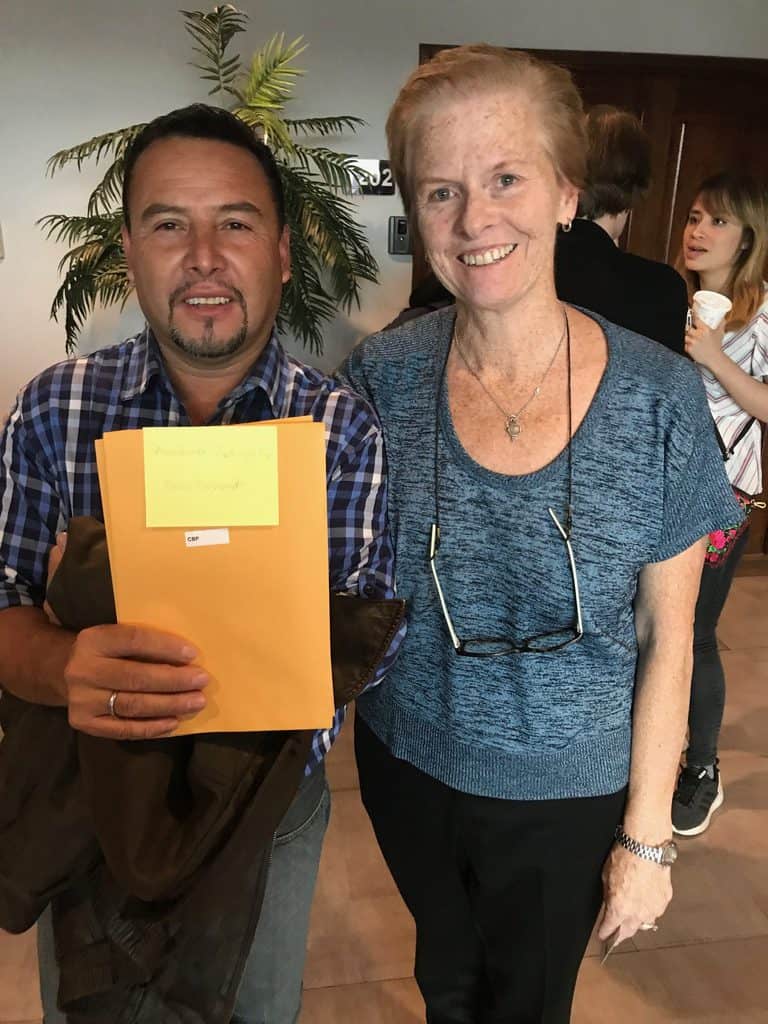 Fernando, who fled with his family to the United States after his son was murdered by a gang in Guatemala and the rest of hs family threatened, meets with Dakin-Grimm in Guatemala. He was later allowed to return to the United States to pursue his asylum case. (Beth Baltimore photo/Guatemala)
All the stories were painful to read, but the last one particularly so. It tells of a family that was forced to flee after the eldest child, a son, was murdered, and then, at the border, the children were forcibly—traumatically—taken away from their parents. You gave an insight into the nightmare of the separated families. Is that case still ongoing?
The family's case is ongoing. It is still not resolved. They would have had a trial in July. We submitted the case and all the evidence to immigration court for an asylum case, but live hearings were stopped for six months and they lost their date. We hope that at the check-in in January a new date will be set. They have gotten support from different advocate groups of which I am a member, such as the Southern California Catholic Task Force on Immigration (diocese of Orange, San Bernardino, Los Angeles and San Diego) and Kids in Need of Defense (KIND). Several of us went down to bring back the dad, including a rabbi and a priest!
The fact that the father of the family got a chance to come back to pursue his case means that they are 99% better off than other people who will not be able to reunite. Over 500 children have not been able to be reunited with their parents. What is more, what is not often understood is that in cases where the family was reunited—they were reunited only because the kids were sent back to their deported parents (to an extremely dangerous or untenable situation).
How do you keep from getting discouraged or overwhelmed? And what was the writing process like?
I take a lot of energy from the kids themselves. I get involved not only in their cases but in their lives, into different issues and problems. Their cases are difficult but that part is not overwhelming. For me, that's more of an energy source. Seeing them able to thrive, I enjoy seeing them live their lives. I see this as a respect life issue, as much as abortion and the death penalty. It makes me realize my problems are relative. It keeps me humble. I am sustained by prayer and community and solidarity with the kids and the people who work to support their lives—who chose in the darkness to look at that bright spot. People like Marta, whom I write about, a volunteer in the community.
The writing process was fast! It was a joy to put it all together. Paul (McMahon), my editor at Orbis, helped me structure my thoughts and figure out how to put things together.
What final thoughts would you like to share with our readers?
I spent years in corporate law almost entirely unaware of the immigration crisis, and even more unaware that I could play a role in the problem or solution. Now I believe we all can be part of the solution, no matter our politics, our location, or our background. As we learn immigrants' stories and understand the dynamics that have created their situation, we can each find our role in restoring justice: at the border, in our communities, and in our own hearts.
Feature image: Linda Dakin-Grimm is the author of Dignity & Justice: Welcoming the Stranger at Our Border, published by Orbis Books. (Photo courtesy of Linda Dakin-Grimm)