Indigenous immigrants from Venezuela, including the Warao, struggle to establish their rights under Brazil's governmental policies.
By Eduardo Campos Lima, OSV News
SÃO PAULO — While millions of Venezuelans left their homeland for Brazil over the past several years, hundreds of them now face a different journey — fighting several violations of their rights.
But things are even worse for Indigenous peoples, like the Warao and the Pemón, who suffer double discrimination in their new nation, as foreigners and as Natives. While the Catholic Church is helping, it's the government that individuals are looking to for urgent action.
Now, supported by ecclesial movements and civic organizations, Venezuelan Indigenous immigrants in Brazil are presenting their demands directly to the authorities for the first time.
With the intensification of political and economic turmoil in Venezuela over the past decade, millions of citizens left the South American nation and moved to neighboring countries — especially Colombia, Peru, Ecuador and Brazil — where most of them arrived on foot over Venezuela's border with Brazil's Roraima state during a migratory surge in 2018 and 2019.
An estimated 425,000 Venezuelan immigrants are in Brazil, and 9,000 of them are members of the Warao nation — the group representing most Indigenous people from Venezuela living in Brazil, according to Aníbal Perez, one of their leaders. The skyrocketing prices in Venezuela — especially of fuel — have been the main reason behind the immigration of Indigenous groups.
"We need fuel to fish and to go to the nearby cities to sell our products. The high cost of the fuel made our traditional way of life impossible," Perez told OSV News.
In Brazil, many Venezuelan Indigenous families have been sent to government shelters in Amazonian cities such as Boa Vista, in Roraima, and Manaus, in Amazonas state. There they receive food and medical attention, but that is not enough, Perez argued.
"Shelters should be temporary. We know how to fish, how to grow food. We are craftsmen. We need to be supported so we can stand on our own feet," he said.
While the government took thousands of non-Indigenous Venezuelans to cities all over Brazil as part of its policy of integration, groups like the Warao had to do it on their own.
"They were not part of the government's strategy and used their own networks to do so, moving to capitals in the Northeast part of Brazil at first and then going to the South," Roberto Saraiva, one of the coordinators of the bishops' conference's Migrants' Pastoral Service (known as SPM), told OSV News.
The Catholic Church has played a central role in giving the needed support when the authorities had nothing to offer to the Indigenous.
"Even the federal government's National Indigenous Foundation (known as FUNAI) failed to provide any relief to the Venezuelan Indigenous groups in some states, because they were not from Brazil," Spanish-born lay missionary Luis Ventura, a national coordinator of the bishops' conference's Indigenous Missionary Council (known as CIMI), told OSV News.
Ventura said that Caritas branches all over the country established guidelines to assist them, many times providing shelter and food to Indigenous families. SPM and CIMI teams also have been accompanying them and offering help over the past few years.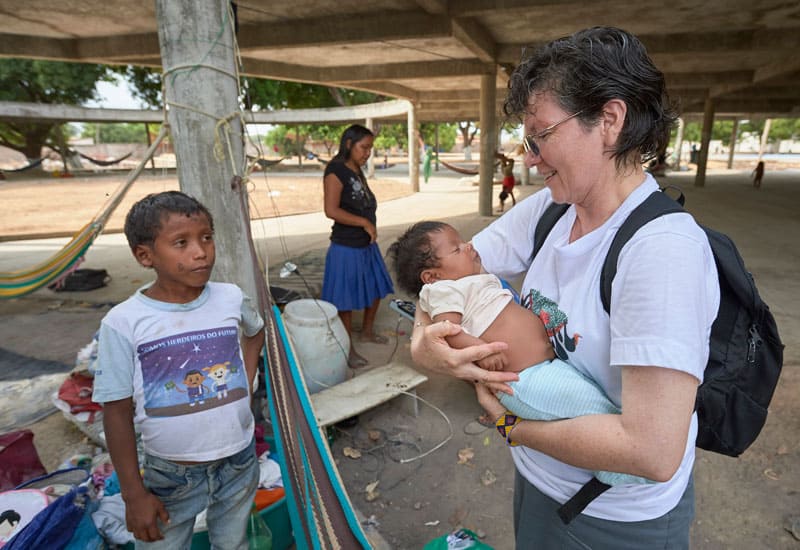 Sister Ines Arciniegas, a Consolata Missionary Sister from Colombia, holds a baby during a visit to Warao Indigenous migrants in Boa Vista, Brazil, April 2, 2019. The migrants were from Venezuela and lived in a park they occupied. (CNS photo/Paul Jeffrey)
"Those organizations have also helped them to struggle for their rights, asking the authorities to take necessary measures concerning access to health care services and education, for instance," Ventura added.
Despite the church's efforts and the work of nongovernmental organizations, life has not been easy for Venezuelan Indigenous peoples in Brazil.
"We are surviving with donations. Some of us produce bracelets, necklaces and hats. But we need money to buy the materials to do so. And we need to have access to buyers," Perez described.
Between 2021 and 2022 in Recife, SPM promoted an initiative called Taller Warao (Warao Workshop), which supported the groups' handicraft production. "They were the ones who operated the sales. It was a successful experience," Saraiva said.
Similar actions have taken place in other regions, but the Indigenous groups need a nationwide government-led program to incentivize handicraft, Perez affirmed.
Without enough resources, many Warao end up going to the streets and begging for money — something that they call "collection" and associate with their traditional foraging practices in the Amazon. Even that may bring them trouble.
"Recently, Boa Vista's city government launched a quite xenophobic campaign and asked citizens not to give them money. But which policies are there to benefit them?" Gilmara Fernandes Ribeiro, a CIMI coordinator in Roraima and Amazonas, asked.
Ribeiro told OSV News that many Warao women collect aluminum cans on the streets and sell them to recycling plants to make some money. Even menial jobs are hard for them to get, she added.
"Nobody opens the door for a Warao woman who wants to work as a maid for instance," she said.
Three years ago, a group of Warao and Kariña bought a piece of land near Boa Vista, according to Ribeiro. Caritas and SPM helped them, providing sewer and energy systems. They now have a small production of yucca and chicken.
That might be a possible alternative for Venezuelan Indigenous groups in other parts of Brazil, Perez said.
"In our discussion with authorities in Brasília (the capital) two weeks ago, we were told that FUNAI may be able to help us to buy pieces of land in the future," he said.
For four years, Venezuelan Indigenous leaders tried to organize themselves and promote meetings in Brasília, and only now is it finally possible.
"The previous administration (led by former President Jair Bolsonaro) was not open to talk. Now we gathered with a number of ministers and concrete proposals were presented by them," he said.
One of them is the creation of a workgroup with government officials and the civic society to address the situation of the indigenous immigrants living in Brazil. Perez will be one of its members.
"Those meetings were the result of their organized action. They emphasized that they wanted to speak for themselves, they did not want anyone to speak for them anymore," Ventura added.
Perez said that some Warao groups have already formalized local civic associations, and now he wants to create a nationwide one to represent all Indigenous immigrants in the country.
"We need our leaders to be respected again. We need to have autonomy. We are not children anymore," he said.
Featured image: Jesus Miguel Moraleda, a 1-year-old Warao Indigenous boy from Venezuela, bathes in a bucket as his mother does laundry behind him April 2, 2019, in Boa Vista, Brazil. In 2023, supported by Brazil's ecclesial movements and civic organizations, Venezuelan Indigenous immigrants are presenting their demands directly to Brazil authorities for the first time after years of Indigenous migrating to the country. (CNS Photo/Paul Jeffrey)