Maryknoll sister leads religious in worldwide fight against human trafficking.
In the Gospel of St. Mark, Jesus took the hand of a young girl who had died and said to her in Aramaic, "Talitha kum," "Little girl, get up." She stood up, walked and ate — restored fully to life (5:41).
These words give meaning to the ministry of Maryknoll Sister Aurea (Abby) Avelino. Based in Japan, Sister Avelino, 56, coordinates Talitha Kum networks throughout Asia to end human trafficking. [Editors' note: in a press release dated September 9, 2022 Talitha Kum announced that Sister Avelino has accepted to serve as the new international coordinator.] 
Sister Avelino says her own background prepared her to minister to those who leave home in search of a better life. "As I journey and empathize with them, I can resonate with them as migrants in a foreign land," she says. "I was born and grew up in the Philippines; then my family emigrated to the United States."
The missioner's vocation journey began to unfold in California. Avelino earned a degree in mechanical engineering and worked for 15 years as an engineer, while being increasingly drawn to religious life. She joined the Los Angeles Maryknoll Affiliates Chapter and got to know the Maryknoll Sisters in Monravia, California. "I was attracted to their down-to-earth, humble attitude of service in mission," she says. She entered the congregation in 2006.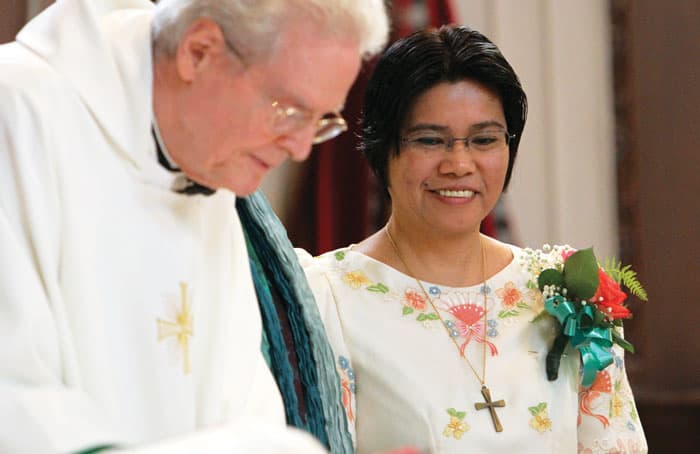 At the Maryknoll Sisters Center, Sister Avelino smiles as the late Maryknoll Father Jack Sullivan signs her final vow documents in 2014. (CNS photo, Gregory A. Shemitz/U.S.)
Sent to Japan, Sister Avelino attended language school before working in pastoral ministry. She often accompanied migrant communities. "I work with people on the move," she says.
In 2011, an earthquake provoked a tsunami that caused a nuclear disaster at the Fukushima Daiichi power plant. Sister Avelino responded to Filipina migrants evacuated to Tokyo. The experience, which she remembers as a "truly missionary response to accompany women and children in times of disaster," confirmed her vocation. Called to a lifetime of service, she returned to the Sisters Center in the States for a six-month reflection program before taking final vows in 2014.
The congregation's cross-cultural mission work is key, said the late Sister Janice McLaughlin, president of the Maryknoll Sisters at the time. She noted that it draws new women — like Sister Abby — "willing to uproot themselves, to leave their own homes, their own culture, to learn another language, to insert themselves and to live simply with the people."
Returning to Japan, Sister Avelino continued in her position as sister-in-charge at St. Ignatius Church in Tokyo. This large multicultural parish, where she worked for seven years, offers services in six languages besides Japanese.
She also joined Maryknoll Sister Margaret Lacson in Kawasaki at the Kalakasan Migrant Women Empowerment Center. Since 2002, the center has addressed the needs of migrant women who are domestically abused or otherwise exploited.
Through her work, Sister Avelino became aware of a hidden issue within migrant communities: human trafficking. She met numerous women and men from various parts of Asia and as far as Africa who had been deceived by traffickers, "especially the women," she says. "They've been promised, 'You can work in this' but they end up doing different things than they expected to do," she explains.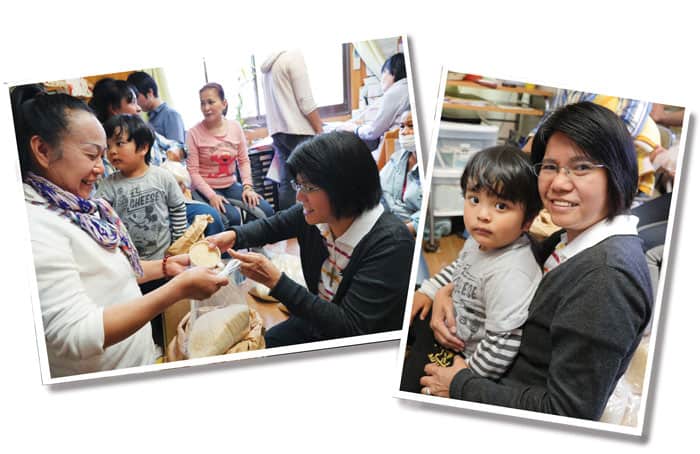 Maryknoll Sister Abby Avelino accompanies women and children at the Kalakasan Migrant Women Empowerment Center in Kawasaki, Japan. The center was founded in 2002. (Peter Saunders/Japan)
Globally, women and girls are the most vulnerable; according to the United Nations, 70% of victims are female and over two-thirds are below the age of 30.
"Those encounters triggered something in my heart that moved me to become involved in this ministry," Sister Avelino says.
Called to the forefront to fight human trafficking, she attended a Talitha Kum leadership training course. "It made me reflect on what I had been doing as a pastoral minister here in Japan, particularly with women who are victims of domestic violence, abuse and human trafficking," she says. "I hear their stories, their journey, their struggles in a foreign land. Their stories are sacred."
The Talitha Kum international network, which is formally named the International Network of Consecrated Life Against Trafficking in Persons, was established in 2009 by the International Union of Superiors General in Rome. Since then it has enlisted more than 6,000 religious sisters in 94 countries to help people at risk of, trapped in or recovering from trafficking.
Sister Avelino serves as coordinator for Talitha Kum Japan. The network advocates for the rights of migrants and refugees, she says, and its members provide counseling, legal consultation and shelter for victims and survivors of trafficking. "We are not working alone," she adds. Their network maintains close ties with the bishops' conference of Japan, the national associations of religious men and religious women, and with non-governmental and non-profit organizations.
In 2021, Sister Avelino was asked to coordinate Talitha Kum for all of Asia — the continent with the world's highest incidents of modern-day slavery. Of the estimated 40 million people trafficked worldwide, according to the International Monetary Fund, two-thirds of them (25 million people) are in East Asia and the Pacific.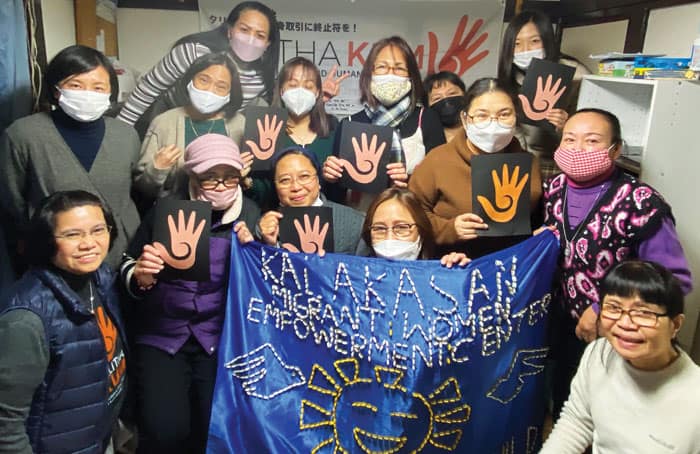 Maryknoll Sister Abby Avelino (bottom left) joins partners, members and staff of Kalakasan to call attention to human trafficking. (Courtesy Abby Avelino/Japan)
Accepting this daunting task, Sister Avelino said, "It is an honor and opportunity for me to work in a wider collaboration with the 16 Talitha Kum Asia networks."
One common need across the continent is capacity building:  learning to identify and accompany victims and those at risk. These efforts are more important than ever, says Sister Avelino, since the economic instability caused by COVID-19 has made people more vulnerable to trafficking.
Using virtual technology, a monthly webinar was launched, with an average of 250 participants joining. Last year, trainings were also held for new Talitha Kum members, and approximately 200 people were trained in seven countries including Vietnam, Cambodia and Bangladesh.
By educating people in sending countries about the dangers they may face, Talitha Kum members hope to lessen abuse in destination countries. "We strengthen our collaboration between sending countries and destination countries," Sister Avelino explains. "Japan, Korea and Taiwan are predominantly destination countries."
She is particularly excited about the Talitha Kum Youth Ambassadors program. "We have trained 26 young people — women and men — ages 19 to 30 years old, in 10 countries in Asia to be anti-trafficking youth ambassadors among children, youth and young adults at the grassroots level," she says. "They implement awareness-raising activities, both in-person and online, visiting churches, schools, orphanages and remote villages." Their use of social media platforms gives visibility to Talitha Kum and its mission.
In the Gospel story, Jesus says the young girl is "not dead, but only asleep." Talitha Kum's website states, "The expression 'talitha kum' … awakens the deep desire for dignity and life which may be asleep and injured by the many forms of exploitation."
Sister Avelino says she will continue the work of "empowering each other, to give hope, strength and dignity to all, especially the most vulnerable women and children."
This story was updated on September 21, 2022 to reflect Sister Avelino's new position as international coordinator of Talith Kum networks worldwide.
Featured image: Maryknoll Sister Aurea Avelino, coordinator of Talitha Kum Japan, coordinated Asia's 16 Talitha Kum networks and in September 2022 began to serve as international coordinator of Talith Kum networks worldwide. (Stefano Dal Pozzolo, Courtesy Talitha Kum International)