Maryknoll Sisters elect new Congregational Leadership Team.
From their places of mission across the world, 82 Maryknoll Sister delegates came together recently at their 18th General Assembly to ask this question: "Where is the Holy Spirit leading us?"
The sisters chose as their new leadership team Sisters Teresa Rose Hougnon, Genie C. Natividad, Maria Leonor Montiel and Elizabeth C. Zwareva to guide them for the next six years as they seek the answer. (The team takes office in January.)
Newly elected president Sister Hougnon says, "I see my role as a supporter and motivator of our sisters as we heal the Earth … as we accompany the poor and marginalized. … We will work to bring divided people together to the table, and wholeness to a damaged and tired world."
Sister Hougnon's own life reveals a trajectory toward leadership for peace and healing. "Everything I have experienced in my life has been preparing me for this day," she says. "My time in East Timor and Kenya has shaped my heart for mission; my experience in community has shaped my heart for Maryknoll."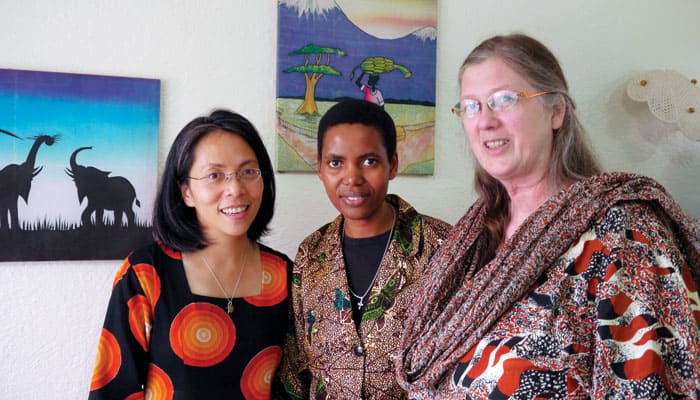 Maryknoll Sisters (l. to r.) Giang Nguyen, Sia Temu and Teresa Hougnon, pictured here in 2011, served as a team promoting conflict resolution in Nairobi. (Sean Sprague/Kenya)
Born in Loup City, Nebraska, in 1962, Sister Hougnon is one of 11 children. She graduated from the U.S. Military Academy at West Point in 1984 and served in Germany. Returning to the United States, she left the military and volunteered at various sites, including a shelter for homeless women. These experiences helped her discern a calling to help the poor and a desire to serve again overseas, in mission.
Entering the Maryknoll Sisters in 1996, Sister Hougnon found her home in a multicultural congregation of women from around the world. She wrote later how important it was to her ministry to live in an intentionally diverse community.
Her first assignment took her in 1999 to war-torn East Timor, where she served as principal of the Catholic high school in Aileu. There Sister Hougnon established a peace program to teach communication, dialogue and negotiation skills. She professed her final vows in East Timor in 2005.
In 2006, Sister Hougnon became part of a Maryknoll Sisters team based in Nairobi, Kenya. The focus of their ministry was to build peace among Kenya's 46 ethnic groups. "Our work … is to create space for people of diverse backgrounds to talk with each other, to understand one another and to seek solutions together, rather than to act against one another," she says.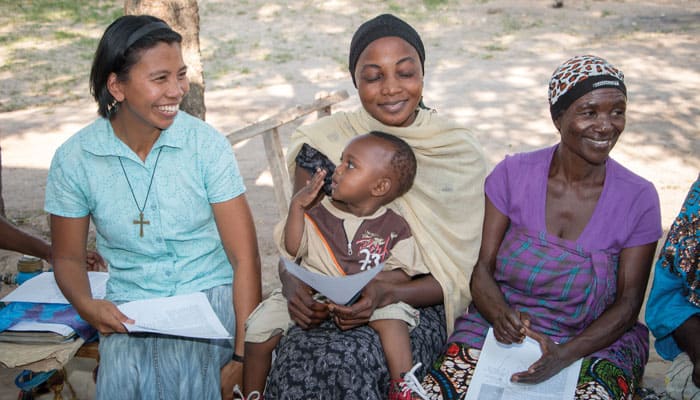 Maryknoll Sister Genie Natividad (left), with Farida Joseph Msipi holding son Houseni and Maryciana Paulo, ran an HIV/AIDS group in Mwanza. (Nile Sprague/Tanzania)
The theme of healing relationships has also run through the ministry of Vice President Sister Natividad. "I've learned that mission is about building relationships with God and each other," she says.
Born in Diadi, Nueva Vizcaya, Philippines in 1975, Natividad felt called to serve the poorest of the poor at a young age. She learned of Maryknoll through a missionary priest in her parish who received Maryknoll magazine.
Natividad served with the Augustinian Sisters of Our Lady of Consolation and as a lay missioner before joining Maryknoll in 2007. She says she felt called to the Maryknoll sisters because of their charism "to reach out to people on the edge, wherever we find them, all over the world."
Assigned to Tanzania, Sister Natividad worked with adults living with HIV/AIDS. She also worked at a center for abused and orphaned children, where she offered trauma healing.
Sister Natividad, who professed final vows in 2016, has served as a coordinator of community life for the elderly sisters at the Maryknoll Sisters Center in New York. Most recently, she volunteered at the U.S. southern border, assisting migrants and refugees.
She hopes the congregation will "evolve graciously with the urgings of the Holy Spirit … as a community that gives witness to our world."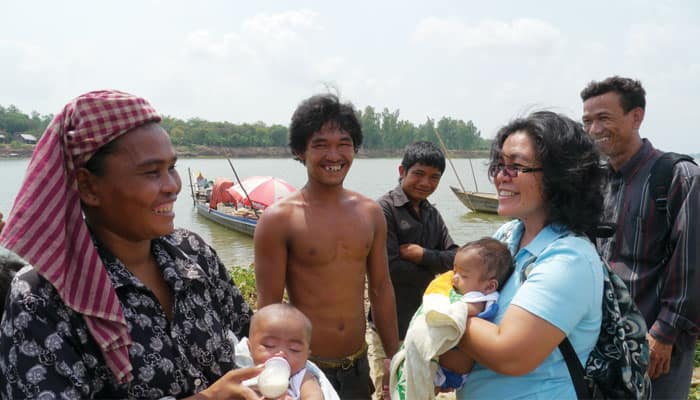 Maryknoll Sister Montiel (blue blouse) visits Long Mary, Man Koup and their children on the Bassac River, where Seedling of Hope purchased the family a boat. (Sean Sprague/Cambodia)
Sister Montiel echoes this openness to the Holy Spirit as well as "a sense of joy and love for what we are about." She brings an extensive background in community building to her new leadership position. Born in 1970 in the Philippines, she grew up in Looc, Romblon. She earned a bachelor's degree in communications in 1991 and joined the Maryknoll Sisters in 1994.
Assigned to Cambodia in 1997, Sister Montiel notes, "My mission experience with Maryknoll has always been collaborative, being part of a team of Maryknoll sisters, priests, brothers, lay missioners and affiliates, as well as missioners and volunteers from other nations." Among other ministries, she helped found the Maryknoll Cambodia Anlong Kngan Community Development Project for poor urban dwellers, including people with HIV/AIDS.
Sister Montiel earned a master's degree in social work in 2008. She returned to Cambodia to direct Seedling of Hope, Maryknoll Cambodia HIV/AIDS Response. She also taught at the local Catholic seminary, served on the boards of non-profit organizations and became involved in the social work department of the Royal University of Phnom Penh.
Reflecting on her active, multi-faceted mission life, Sister Montiel says, "We do what we can and we leave the rest to God."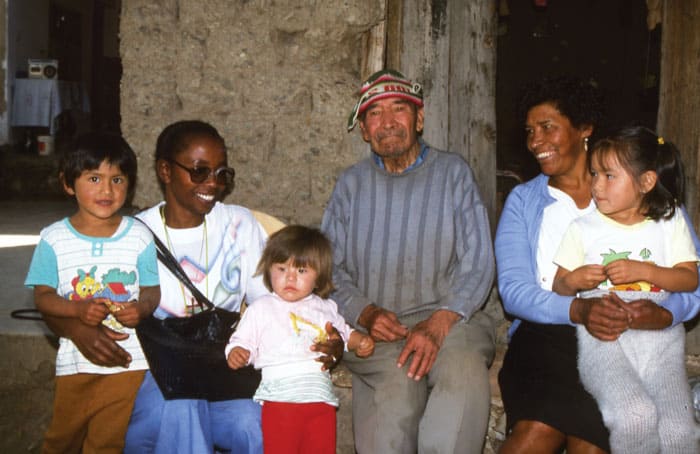 Maryknoll Sister Zwareva (wearing glasses) served in Bolivia for almost 26 years, providing pastoral care, health education and nutritional support to families. (Kevin Thomas/Bolivia)
Sister Zwareva reflects the same trust. "I feel God's guiding hand as I walk along the way," she says. "I believe that our team is being guided by God's Holy Spirit."
Sister Zwareva was born in Chinhoyi, Mashonaland, Rhodesia (now Zimbabwe) in 1952. Originally a member of the Congregation of the Missionary Sisters of the Precious Blood, she came to the United States for professional training.
While studying to become a registered nurse, Sister Zwareva met Maryknoll Sister Maura Clarke at a seminar. Sister Clarke, who was later martyred in El Salvador, made a lasting impression on her. After she returned to Zimbabwe with her nursing degree, Sister Zwareva says that her heart was restless to serve in mission at the grassroots level. She joined the Maryknoll Sisters in 1984.
Learning that Bolivia had one of the highest rates of poverty and mortality in Latin America, Sister Zwareva asked to be assigned there. She served in Bolivia for almost 26 years, offering nutritional support and basic health care training for poor mothers and families, while also serving in pastoral accompaniment. Sister Zwareva, who professed her final vows in 1995, also served in the secretariat of the Institute of Bioethics at the Catholic University of Bolivia.
Returning to the United States, she added studies in biology to her nursing degree and a master's degree in bioethics.
In 2011, she began working with the Maryknoll Office for Global Concerns, bringing her mission experience and background in bioethics to global issues.
She was asked in 2013 to serve at the United Nations as the Maryknoll Sisters' representative. In 2021, she earned another degree, in Christian spirituality.
Sister Zwareva notes, "Although members of our congregation come from 23 nations, we have learned to be sisters in community. … Jesus gathered his disciples from all walks of life. … What richness!"
"My hope is that during the next six years we will grow further into the task of making God's love visible in a world that greatly needs it."
Images 1 & 2: Sister Hougnon as a high school principal in East Timor, and with members of a peace-building group in Nairobi. (Photos by James Campion/East Timor and Sean Sprague/Kenya). Images 3 & 4: Sister Natividad with a women's sewing project and an HIV/AIDS group in Mwanza. (Photos by Nile Sprague/Tanzania). Images 5 & 6: Sister Montiel at a settlement in Phnom Phen in 2003, and more recently with Seedling of Hope. (Photos by Bernice Kita/Cambodia and Sean Sprague/Cambodia). Images 7 & 8: Sister Zwareva with young women in Bolivia in 1987, and as the Maryknoll Sisters representative at the U.N. (Photos courtesy of Maryknoll Mission Archives and Elizabeth Zwareva/U.S.).
Featured image: Maryknoll Sisters new leadership team (left to right): Sisters Maria Leonor Montiel, Genie Natividad, Teresa Hougnon, Elizabeth Claris Zwareva. (Courtesy of Maryknoll Sisters)