Maryknoll missioner guides parishioners of St. Pius X Church in Cochabamba to evangelize
Before COVID-19 broke out, María Terrazas' routine on Sunday was to get up early and prepare to visit the inmates of the San Sebastian women's prison in the heart of Cochabamba, Bolivia. After passing a rigorous security check, Terrazas would go to the prison chapel, where she assisted Maryknoll Father Paul Masson as he celebrated the Eucharist for more than 30 inmates.
"That is what the Catholic Church teaches us: When we serve our brothers and sisters, we are serving the Lord," Terrazas says. "Some people ask me why I visit the inmates and I tell them that it is not me, but God who is acting within me. It is a commitment that I have with the Lord." In addition to helping at Mass, Terrazas supports, listens to, and brings clothes and food to the inmates.
Terrazas began this service more than five years ago after being part of a Christian community in her parish, St. Pius X, a community that is now led by Father Masson. The priest, who began his mission in Bolivia in 2015, lives near the parish and serves as a spiritual guide for its base Christian communities.
"We were asked through the Maryknoll Mission Center to help this parish, St. Pius X, to be a mission parish," says Father Masson. "We discovered four Christian communities that parishioners called assemblies: La Chimba, Cuzco, Huayna Kapac and Siles. During the pandemic, the leaders of the assemblies and other members have continued to meet once a week on a Zoom call."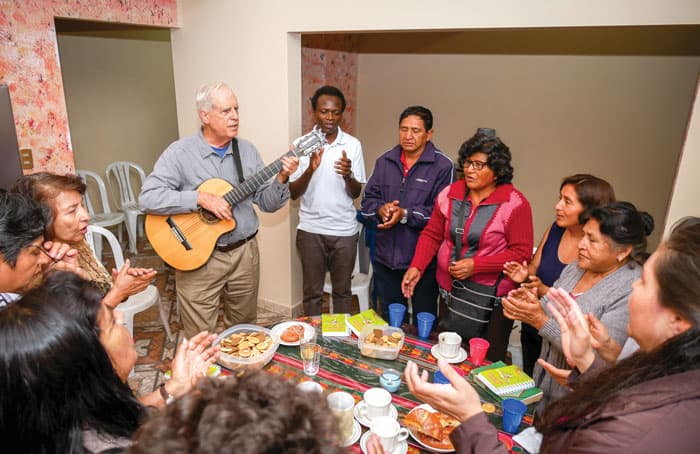 Father Masson, playing the guitar, and Maryknoll Seminarian John Siyumbu (white shirt) meet with Christian communities at Father Masson's home.
(Nile Sprague/Bolivia)
While COVID-19 cases persist, Terrazas can't enter the prison. However, the inmates asked her for rosaries, since they were using their fingers to say the prayers. Terrazas, who belongs to La Chimba assembly, approached the other members of the Christian communities to ask for help. Immediately Rossy Bedoya from the Huayna Kapac assembly offered her house and some materials to start making rosaries.
For a couple of nights, the participants, including Father Masson and Maryknoll Seminarian Matthew Sim, who also lives in Cochabamba, gathered in a large room, all wearing masks, to make more than 50 rosaries and one-decade rosaries. "The rosaries we made were beautiful," says Bedoya. The group members decided to sell those rosaries. With the money they made, they bought cheaper, plastic rosaries for the inmates and other things the prisoners needed.
Lorena Simons, who belongs to the Cuzco assembly, was one of the initiators of the Christian communities five years ago. She remembers knocking on doors in the neighborhood to invite people to join. "At 5 in the morning we would call people by megaphone to come out to pray. We would call for half an hour and we would walk down the street praying the Rosary. At the beginning, we were about 30 people," she says. "After we attended Mass, we talked about our problems, we prayed, we sang and we had a breakfast with everyone." From this group, the assemblies were born.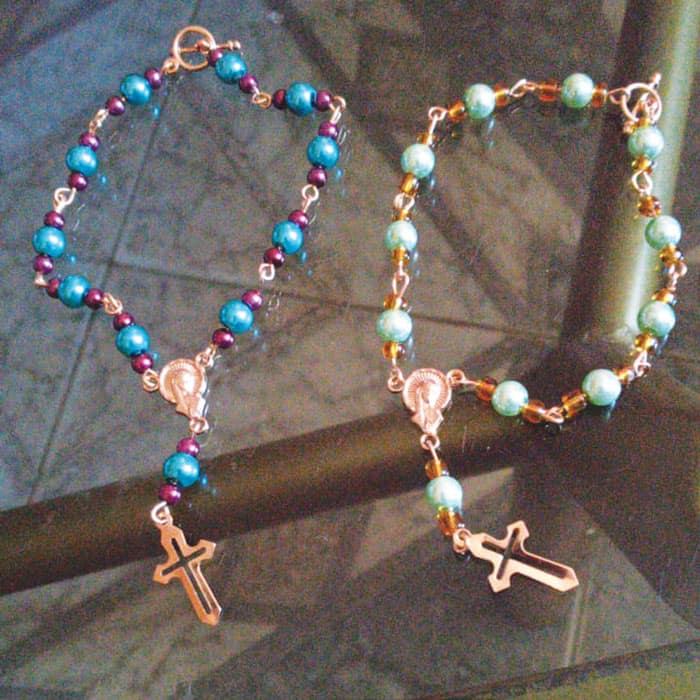 In addition to five-decade rosaries, participants made one-decade rosaries. (Rossy Bedoya/Bolivia)
For Father Masson, 78, it is important to base the meeting on the Gospel and the life of Jesus. When the communities gather every Wednesday, they discuss a Gospel passage or a document from Pope Francis. Participants share reflections on the reading and what is currently happening in their lives. "The custom is that the priest always has a voice, but it is very important to find a way for a new church where people have a voice," Father Masson says. "The only way to make a church that is more open is with community participation."
The missioner from Rouseville, near Oil City, Pennsylvania, says that if you want to be present in people's lives, you have to take culture and reality into account. "In Christian communities," he says, "we use the methodology of observing, seeing what is happening; reflecting on what are the signs of the times and then acting."
He emphasizes that one of the important initiatives of the Latin American Episcopal Conference of Medellín in Colombia in 1968, was the idea of forming Christian communities so that people would not only go to Mass on Sundays but also live their faith and form communities.
In addition to his ministry in prisons and the support he offers to St. Pius X Church, Father Masson also mentors Maryknoll seminarians, including Sim, and brother candidates who are experiencing mission and discerning if this is something they want to do for the rest of their lives. As part of their training, these young men spend two years in an Overseas Training Program.
Sim, from Singapore, who started participating in the Christian communities three months ago, says the pandemic has been a call to be more creative in terms of accompanying the community.
"I feel it would be meaningful to share what I have learned, methods of pastoral theological reflection, updates on Church teachings, papal documents and other new developments in the Church," he says. "As a foreigner, I felt that I could offer another perspective during these meetings. At the same time, I believe, like the Catholic Church, that this accompaniment is enriching for us. These dialogues invite everyone to discern and create a new way of being Church together by recognizing the presence and wisdom of God that exist in different realities.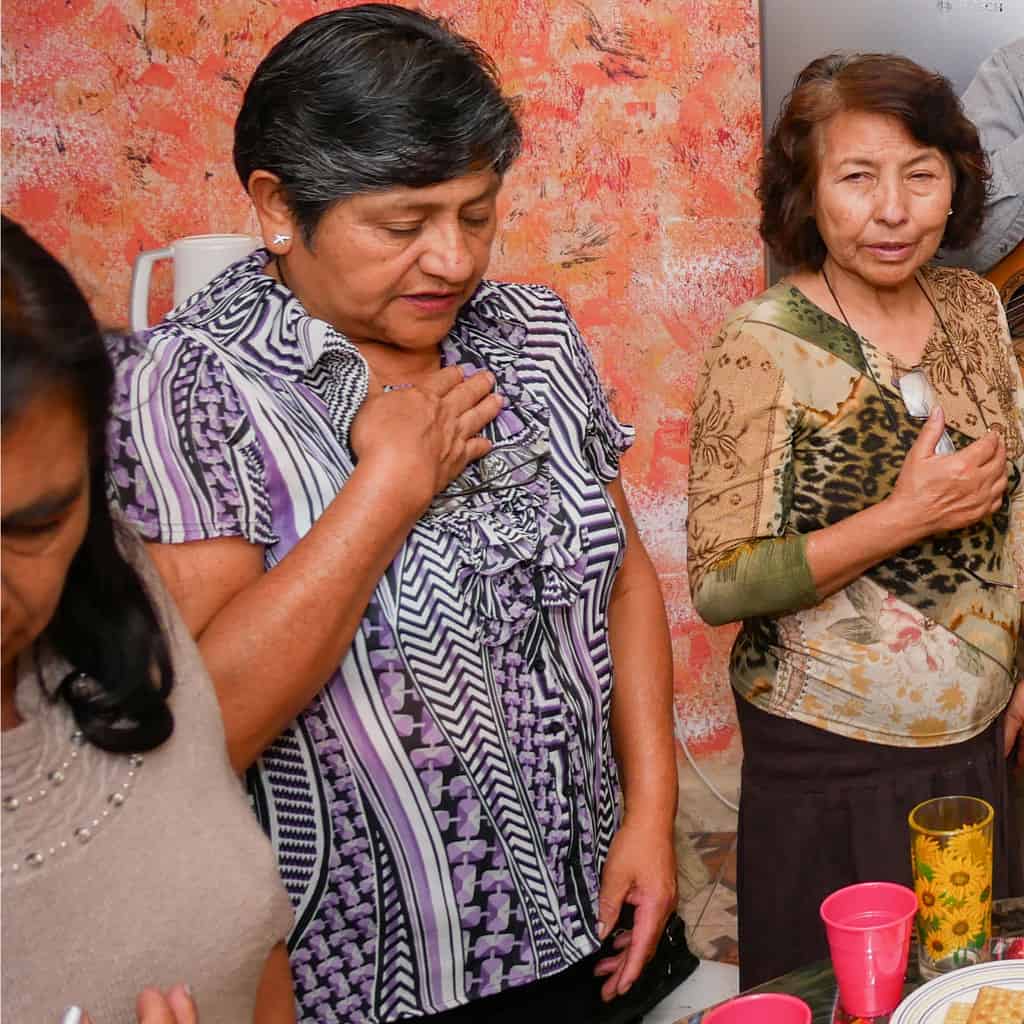 María Terrazas prays during a Small Christian Community meeting at Father Paul Masson's home. (Nile Sprague/Bolivia)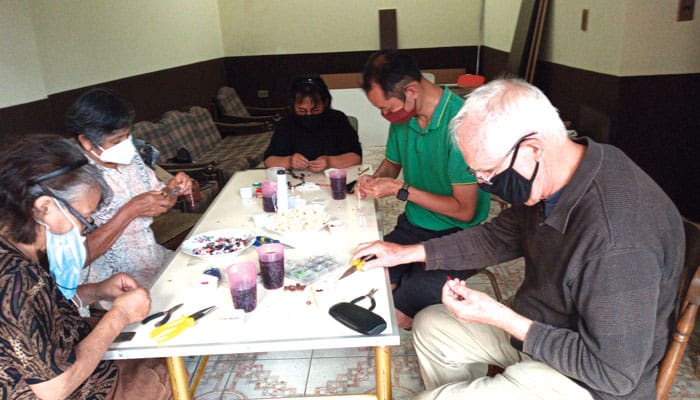 During the pandemic, members of Christian communities gathered with Father Masson and Seminarian Matthew Sim (green shirt) to make rosaries. (Rossy Bedoya/Bolivia)
For Sim, the accompaniment of Father Masson has helped the members of the Christian communities understand and integrate their role into the mission of the Church. "The group started as a Bible study group, reading the Scriptures and examining how it connected to our lives," he says. "During the pandemic, the group through Father Masson's suggestion shared our experiences, concerns and reflections from the Scriptures in terms of how we might change our negative emotions from our current situation. The change in our way of being as a Christian community had a great impact on everyone. Instead of being just a group for prayer and reflection, the members of the group became contemplatives in action."
Father Masson, who was ordained in 1972, served in Chile for 20 years and worked with different Christian communities in formation and with apostolic movements. In 1998 he was assigned to be part of the Maryknoll border team in Ciudad Juárez, Mexico, where he served for 10 years. He was a member of the Maryknoll General Council from 2008 to 2014.
When the pandemic is under control, Maria Terrazas hopes to serve the inmates again. In the meantime, she will continue to evangelize, listen to people and give them advice based on the word of God.
"I thank God for being a part of St. Pius X Church. I have learned a lot from Father Masson and the Maryknoll missionaries who help us," she says. "They are like a light that illuminates us."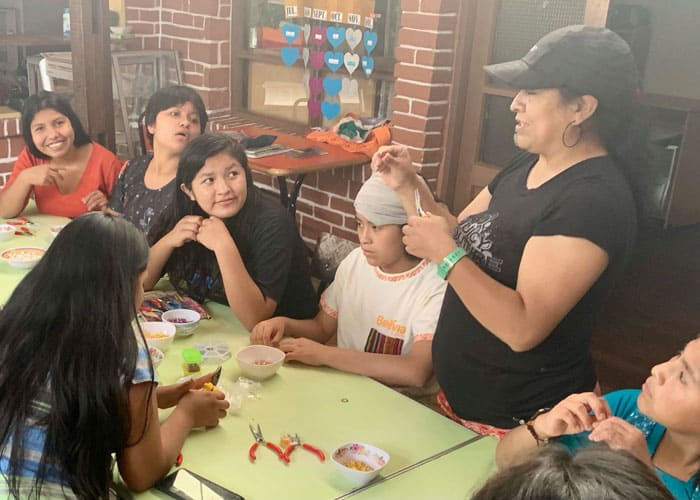 Rossy Bedoya (with black hat) visits girls at Our Home shelter who were victims of abuse and teaches them how to make rosaries. (Matthew Sim/Bolivia)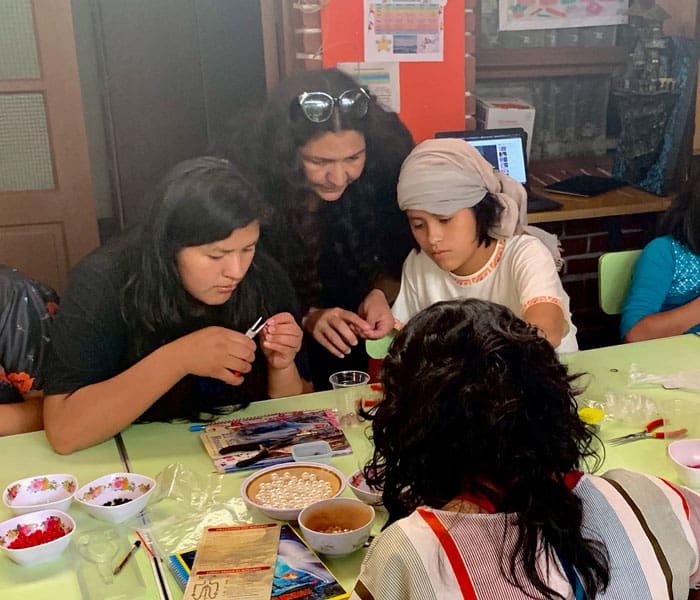 Lorena Simons (center) teaches girls at Our Home shelter in Cochabamba, Bolivia, to make rosaries. (Matthew Sim/Bolivia)
Featured Image: Father Paul Masson (holding a hat) greets parishioners of St. Pius X parish. (Nile Sprague/Bolivia)