"Community is not a human creation but a divine gift which calls for an obedient response. This response may require much patience and humility, much listening and speaking, much confrontation and self-examination, but it should always be an obedient response to a bond which is given and not made."— Henri J. M. Nouwen
This fall marks the 25th anniversary of the death of Henri Nouwen, a Dutch priest who became one of the world's most influential spiritual teachers. To mark the occasion, Orbis has published a collection of his essential writings on community, a theme to which he constantly returned. It was also the subject of his own lifelong quest. It propelled many of Nouwen's most significant life choices, including his decision in 1981 to spend six months among the Maryknoll missioners in Bolivia and Peru, and his decision in 1986 to leave his academic position at Harvard to join the L'Arche Daybreak community in Ontario. It was there, his home for the last 10 years of his life, that all his spiritual teachings, especially on the subject of community, found a new depth and concrete focus.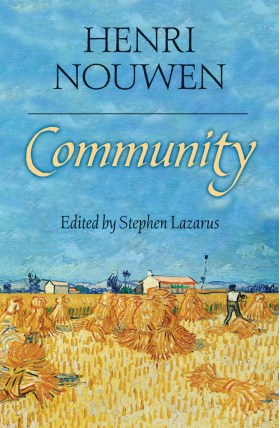 Though community was one of his central themes, Nouwen never wrote a full book on it.  But now editor Stephen Lazarus has corrected that gap by compiling 10 of his most compelling articles and talks from over a period of 20 years. As Lazarus writes, "For Henri, community is a basic need and hunger of the human heart. We are created for community, but often we do not experience it in the individualistic and competitive cultures that shape our lives. Community is a place marked by acceptance, intimacy and vulnerability, where we can bear fruit in solidarity with others and be the Body of Christ for the sake of the world. It is a place of care and celebration, the place where our wounds and weaknesses are exposed, a sheltered place for the confession of sin and brokenness, and a house of love where we can receive forgiveness and offer it in return."
For Nouwen, that understanding of community was eventually tested by his experience at Daybreak. As I describe in my foreword, I first encountered Nouwen's thinking about community over 40 years ago, when, as a young editor of The Catholic Worker, I published one of the articles included in this volume. At the time, to be honest, I wasn't fully impressed by the piece, which seemed abstract and impersonal—not the work of someone with a lot of actual experience of community. But on rereading that article many years later, I was struck by how truly profound and challenging it was, in ways I hadn't appreciated. And in the articles that followed, I was amazed by the depth and insight that Henri would bring to the subject. 
"What an enormous, important spiritual journey it is when we discover that where our healing begins is where joy is rooted," Nouwen writes, "not in where you are different from people, but in where you are the same." For all lovers of Henri Nouwen, and all who struggle with the call and challenge to build community, this volume serves as an important part of his legacy, rounding out the teaching that continues to make him one of the most trusted spiritual writers of our time.
To find more information on the book, or to purchase, please visit OrbisBooks.com
To read more Orbis Books spotlights, click here.