When Maryknoll Brother Tim Raible thinks of Doctor Anna Morris, a quote attributed to St. Francis of Assisi comes to mind. "Preach the Gospel at all times, and when necessary, use words." Maryknoll Brother John Beeching agrees, "Doctor Anna is a true partner in mission." Both brothers work with the short-term volunteer in Asia.
Born and raised in Ireland, Anna attended medical school in Galway and then immigrated to Canada, where she completed her residency in Hamilton, Ontario. Both she and her husband, Liam, felt called to serve overseas. As young parents, they lived for a year with their children in China, where Liam taught English.
Once their two sons and two daughters had grown up and Liam retired, he went to China as a Maryknoll volunteer. "He loved every minute of it," his wife says. Liam's declining health made it necessary for him to return home to Canada, where eventually he died. Doctor Anna first volunteered with the Maryknoll Fathers and Brothers in Bangkok in 2015.
She notes that volunteer programs often recruit young people. However, she points out, "There is a treasury of experience and knowledge in older age groups." Doctor Anna, now 73, relished her experience in Bangkok. "Getting older, a lot of people become inactive, which is a pity; they still have so much to contribute. It's good to take on new mental and physical challenges. For me, learning to get around Bangkok by bus was an accomplishment. As they say, 'if you don't use it, you lose it!'"
During visits over the next three years, Doctor Anna worked among the Karen hill tribe people in mountainous northern Thailand.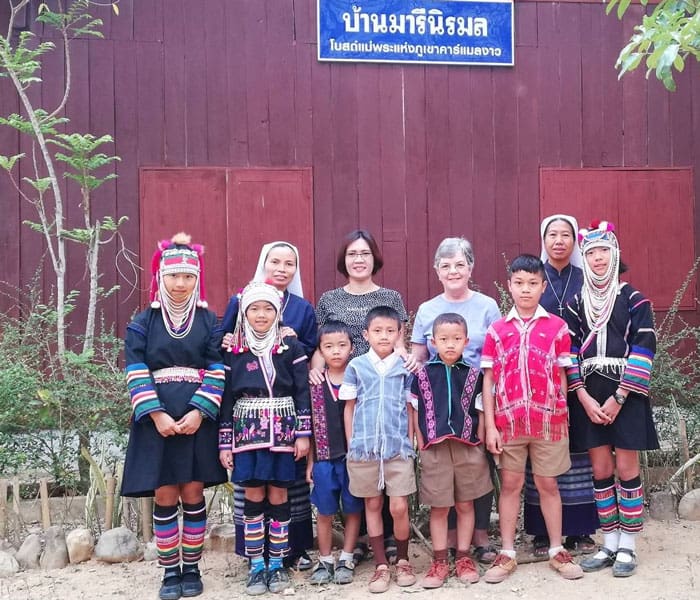 Along with a fellow Maryknoll volunteer (third from right), Doctor Anna Morris (back row, second from left) accompanies members of a local congregation, the Missionary Sisters of the Immaculate Conception, in their ministry to villagers of the Akha and Karen hill tribes in northern Thailand. (Courtesy of Anna Morris/Thailand)
Because of her medical background, the Maryknoll Thailand team invited Doctor Anna to accompany them on relief missions in Myanmar. "We make periodic trips to the Kachin State to bring relief supplies to IDP (internally displaced people) camps," says Brother Beeching. He explains that over 400,000 Kachin villagers have been displaced by the world's longest civil war.
On the team's most recent trip to Myanmar, in January 2021, a local priest asked Doctor Anna to visit a 24-year-old stricken by sudden paralysis. "Apparently Aung Mai was a fit, healthy young man, until over the course of a week, he lost power and sensation in the lower two-thirds of his body," she recounts. An MRI identified a tumor in his spinal cord.
"The prognosis looked very bleak," Brother Beeching says, "and Aung Mai was beyond any medical assistance in the far north of the country."
"Most people would have given up and said this case was hopeless," Brother Raible adds.
But Doctor Anna confides, "I felt compelled to try and find a way forward for Aung Mai." She went to work contacting a specialist, securing a wheelchair and enlisting resources. Within a week, Aung Mai took his first plane ride, a trip to the capital for a neurosurgical assessment. An operation quickly followed. "The tumor was completely removed," Doctor Anna relates. "The laboratory report indicated, to everyone's relief and delight, that it was benign."
Back home in Canada, Anna keeps busy with her five grandchildren (ages 5 to 14 years old), while maintaining regular contact with her mission partners. She received word that after months of rehabilitation, Aung Mai is walking again.
Doctor Anna writes, "I offer my profound gratitude to Maryknoll. In the spirit of friendship and encouragement (and with a generous sprinkling of humor), our golden years have been enriched with opportunities to explore new horizons and, in the pope's words, the privilege to 'encounter' the poor."
For more information about Maryknoll's Short Term Volunteer Mission, Immersion and Study Programs, contact Father Michael Snyder at (914) 941-7590 x2467 or visit https://maryknollsociety.org/how-support/volunteer-opportunities
Featured image: Doctor Anna (left) and Maryknoll Father Lawrence Radice distribute blankets at an internally displaced people's camp in Myanmar. (Courtesy of Anna Morris/Myanmar)