Priest from Malone, N.Y., lives out his call to mission
as a Maryknoll priest associate in Bolivia.
When Ronald Albarez began his internship in psychology last year, he dealt with cases of domestic violence, sexual abuse and suicide attempts. Feeling discouraged about how much violence and cruelty there is in the world, Albarez turned for spiritual support to Father Daniel Chapin, who serves at Albarez's parish, Our Lady of La Salette in Cochabamba, Bolivia.
"He encouraged me to pray because it gives us strength," says Albarez. "Young people always need someone to talk to and it helped me to release the pain I was carrying from others and to continue my studies."
Father Chapin, 73, has been serving as a Maryknoll priest associate at Our Lady of La Salette parish for the past four years. "Father Chapin is enriching our community by sharing his missionary life that strengthens our faith," says Father David Cardozo, the parish pastor.
Parishioner Magda Atiare describes Father Chapin as a person full of peace. "I like his calm, simplicity and how he welcomes us," she says. "He is like a person who carries a treasure in a clay pot, because he seems so frail, but he is very rich as a priest."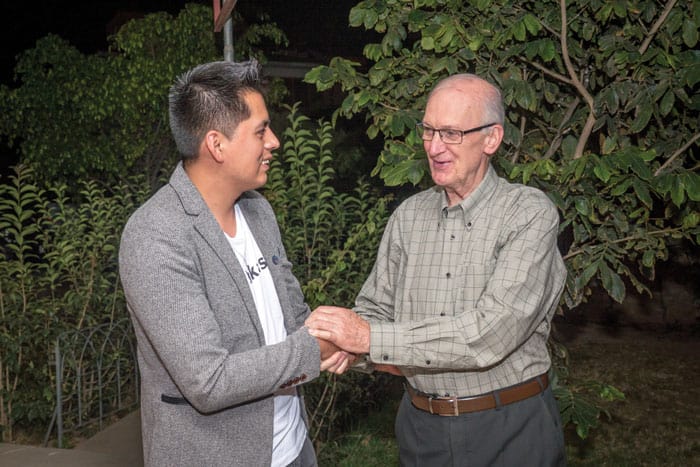 Father Chapin shakes hands with Ronald Albarez, a young parishioner and psychologist, who is helping other parishioners deal with COVID-19. (Nile Sprague/Bolivia)
"I do try to listen to people in many different situations; this is important in both pastoral and spiritual ministry and in general human interaction," says Father Chapin. "Parish ministry can be hectic and people's needs are great and varied, so listening—really listening—is key in the ability to respond."
In addition to pastoral and sacramental ministries, the parish offers a school support program, providing hot lunches to about 200 students, who are attending public schools.
When the COVID-19 pandemic hit Bolivia and a lockdown took effect, the parish closed on March 22. Father Chapin moved in with the Maryknoll community in Cochabamba. Though still unable to return to the parish, he remains in touch with parishioners like Albarez, 25, who has just begun his professional career.
"Using his skills as a psychologist, Albarez has been helping people in the parish who are experiencing difficulty adapting to the pandemic," says Father Chapin. "Other youth leaders and catechists have been reaching out virtually, including confirmation candidates."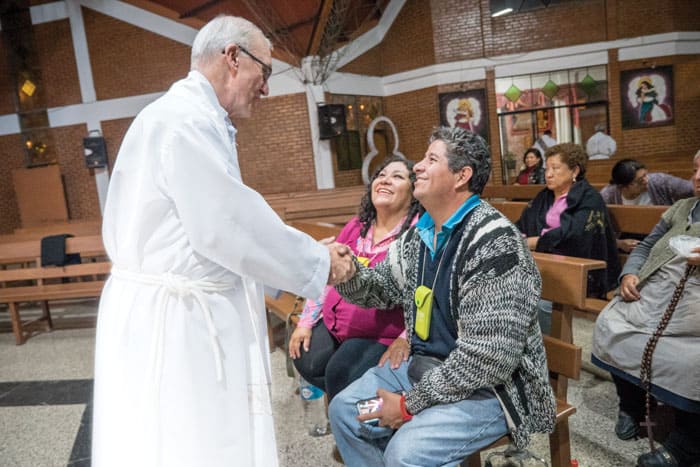 Father Chapin greets parishioners in a photo taken before COVID-19 in Bolivia.
At the parish, Father Cardozo had been supporting eight soccer players from Colombia, who were in training in Cochabamba when the pandemic began and Bolivia's borders were closed. "The parish has been assisting the players, providing meals and housing. Recently they raised funds for the purchase of airline tickets for a solidarity flight being arranged by Colombia and the Bolivian Foreign Ministry," says Father Chapin. "Maryknoll Father Juan Zuñiga and I have contributed money from our mission accounts to cover the cost of two tickets."
As for when the apex of the coronavirus will occur, Father Chapin says, "It is difficult to predict, as the virus determines the timeline." For now, he will continue to live at the Maryknoll house.
Looking back on his life, Father Chapin, from Malone, N.Y., traces the roots of his vocation to growing up with a father who was Methodist and a mother who was Roman Catholic. "She raised us four children Catholic," says Father Chapin. "That helped me understand what it means to be a missioner. I grew up in a small rural community. It was a very ecumenical spirit."
The missioner says he was inspired to serve at an early age. When he entered fifth grade at St. Joseph's school in Malone, he says, he only knew how to print while the rest of the class had already learned cursive writing. He fondly recalls his teacher, Sister Veronica, helping him catch up. "She was this frail little nun with glasses," remembers Father Chapin. "She was so full of joy with such a generous spirit to spend the extra time with me. That sister was so sweet and kind and that struck me. I began to think that is something I would like to do, help people."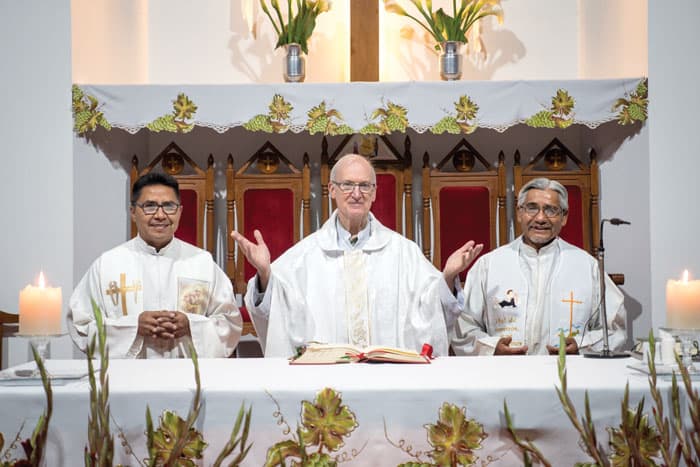 From left to right: Father David Cardozo, pastor of Our Lady of La Salette parish; Father Daniel Chapin and Father Cruz are ready to celebrate Mass. (Nile Sprague/Bolivia)
He was ordained in 1972 as a diocesan priest from Ogdensburg, N.Y. He served at St. Mary's Cathedral in Ogdensburg for four years before leaving for the town of Mollendo, in Arequipa, Peru, where his diocese had founded and staffed the parish of San Martin de Porres.
During his 10 years of pastoral ministry in Peru, Father Chapin came to know Maryknoll Society members serving in Arequipa. "We collaborated with each other. Since we were from the States, we had a certain bond," Father Chapin says. "I enjoyed serving the people in Peru as they knew my heart as a missioner. I promised them I would return to serve in Latin America some day."
Returning to the Ogdensburg Diocese, and for the next 27 years, Father Chapin served as pastor in six parishes, did chaplaincy work in correctional facilities and hospitals and reached out to Spanish-speaking migrant farm workers. In the Archdiocese of Kingston, Ontario, Canada, along with Holy Cross Sisters, he worked with refugees and asylum seekers from Mexico and Central America. He retired in 2016 with the permission of his bishop.
In 2016, Father Chapin joined the Maryknoll Priest/Brother Associate Program, which offers religious priests and brothers and diocesan priests an opportunity to participate in overseas mission for five years. Since this program began in 1965, 120 priests and brothers have served as Maryknoll associates. Currently three priest associates are serving overseas.
In Bolivia, Father Chapin is waiting for the day the pandemic is under control so he can return to Our Lady of La Salette parish to accompany his community of faith and mentor young people like Albarez.
In the meantime, Albarez follows the example of his mentor. "There are no words to thank Father Chapin. He shows people the kingdom of God," Albarez says. "I always keep him in my prayers."
Maryknoll priest associate Daniel Chapin at the rectory of Our Lady of La Salette parish in Cochabamba, Bolivia. (Courtesy of Daniel Chapin/Bolivia)

FOR INFORMATION ON BECOMING A MARYKNOLL PRIEST ASSOCIATE
Contact Fr. Rodrigo Ulloa, M.M., at 914.941.7590, ext. 2416
Email: vocation@maryknoll.org maryknollvocations.org