Maryknoll Father Rodrigo Ulloa-Chavarry shares the vocation journey that led him to the Maryknoll Fathers and Brothers, where he now serves as vocation director.
I
was on a military plane, flying as an airman to somewhere in the Middle East. The tragic and horrific events of 9/11 had occurred just three weeks before. Everyone on the plane seemed afraid.
I looked all the way down the aisle and saw someone reading. He seemed at peace. "What could he be reading while the rest of us can only wonder where this plane is going?" I asked myself. I noticed that he wasn't a soldier but a chaplain, wearing a cross on his uniform. It wasn't just any book he was reading, but the Bible. 
This was the first sign I received from God as I ventured into a four-month deployment that would change my life. 
I was born in Guatemala and my family immigrated to the United States. I hadn't yet received Confirmation. That same chaplain, Father David Czartorynski, prepared me for the sacrament; he also invited me to think about being a priest. 
At the end of my deployment, Father Dave wrote a letter to the chaplain at Ellsworth Air Force Base, in South Dakota, where I was to be stationed, informing him that I was ready to be confirmed. What I didn't know was that at the bottom of the letter he wrote: "Rodrigo wants to be a priest."
At Ellsworth, I handed the letter to the army base chaplain. He opened the letter, read it and congratulated me with such a big smile that I thought I had been promoted to captain. "You want to be a priest. Congratulations!" he exclaimed. I looked at the letter and there it was. I didn't know what to say. Time stood still. Suddenly I remembered Father Dave's words: "Christ chooses, you simply answer." 
"That's right," I replied. "I want to be a priest."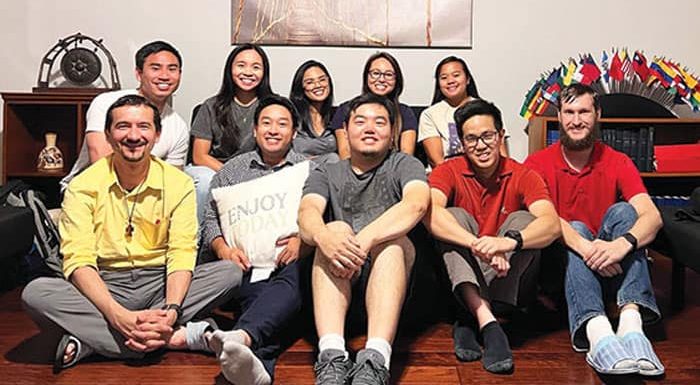 Father Ulloa-Chavarry accompanies young people such as these members of the young adults group of Ascension parish in Houston, Texas. (Courtesy of Rodrigo Ulloa-Chavarry/U.S.)
But the truth was, I didn't know what I was getting into. I trusted Father Dave, who saw something in me that I hadn't seen. The only way, then, to find out if I was meant to be a priest was to enter the seminary.
I left the Air Force with a bachelor's degree in computer information systems and joined the Diocese of Rapid City in South Dakota. My first year of studies took place at the Immaculate Heart of Mary Seminary in Winona, Minnesota. There, I learned of mission when Maryknoll Father Peter Chabot visited and delivered a homily about overseas mission in Bolivia.
Mission? The word intrigued me. What would it be like to be a missionary priest? After sharing the idea with my peers, spiritual director and rector, the rumor arrived to the ear of the bishop, now Cardinal Blase Cupich of Chicago. Visiting the seminary, then-Bishop Cupich told me, "Finish your year and if mission is what God is calling you to, I will transfer you to Maryknoll." And that was my entry into Maryknoll!
I joined Maryknoll in August of 2004, when I was 23, and I studied for my master of divinity degree at the Catholic Theological Union in Chicago. An essential part of formation for Maryknoll seminarians is a two-year overseas training program, to discern our calling not only to the priesthood but to mission. In Cambodia, I came to the realization that I could do this for the rest of my life.
We need those moments of assurance about our vocations; we need signs of confirmation along our journeys, and — thank God — they come.
I was ordained a Maryknoll priest on June 4, 2011, almost 10 years after that eventful plane trip.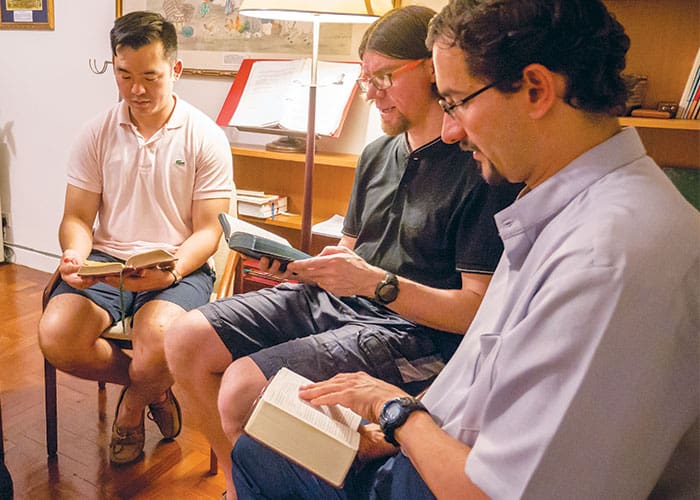 (Left to right) Maryknoll Fathers Daniel Kim, Shaun Crumb and Rodrigo Ulloa-Chavarry pray the Liturgy of the Hours at the Society house in Hong Kong. (Nile Sprague/Hong Kong)
My first assignment was in
Nepal
, where I ministered at Assumption Cathedral in Kathmandu. Then I was sent to
Taiwan
and learned Mandarin for three years, after which I spent three years in Northeast China — one of my best assignments.
When Maryknoll sent me to Asia, I learned the beauty of the Orient. Culture, traditions, history, archaeology, festivals, holidays, foods and the stories of the local people are some of the layers that a missioner has to understand in serving.
In mission, we don't tell people what to do. We simply provide new ingredients based on how we experience God's love. Most of the time, folks accept us, even if some reject us. Patience is key.
One of the biggest satisfactions in mission is bringing people to Jesus. Think of Andrew, the first disciple to follow the Lord, who brought his brother Peter to Jesus. This same apostle, Andrew, also brought to Jesus the boy carrying five loaves of barley and two fish. The other disciples protested that it wouldn't be enough — but Jesus used these small gifts to feed 5,000 people.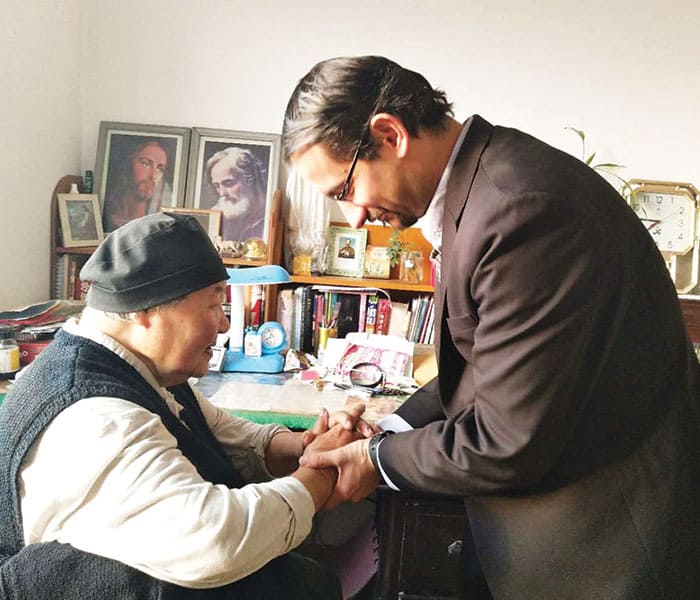 In China, Maryknoll Father Rodrigo Ulloa-Chavarry receives a blessing from Sister Lee, the most senior member of her religious community. (Avila Fu/China)
As vocation director, my job now revolves around sharing my own calling with young people who are discerning a lifetime commitment. Who wants to make a lifetime commitment? Maryknollers do, and I invite you not to be afraid to do so — because Jesus leads and sustains us, every step of the way.
Being where God wants you to be is something we discover gradually, thoughtfully and carefully. Our world needs people who have a sense of who God is and what  God is calling them to. Young people are looking for security, for certainty. They want to be grounded and rooted.
Maryknoll is grounded and rooted in apostolic foundations and has been sending missioners overseas for 112 years. When you join us, we will help you get grounded in Jesus Christ.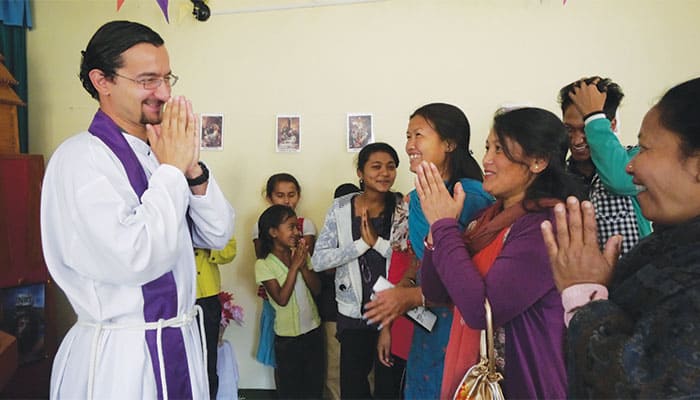 In Bandipur, Nepal, Father Ulloa-Chavarry shares a joyful moment of encounter with parishioners. (Sean Sprague/Nepal)
We go abroad to help people rise to new hope. And in this process, we ourselves grow. We dance, we cry, we lament, we live, we wonder and imagine, we forgive, we write, we pray and we hope. Yes, we hope that our faith will continue to bring mission to other parts of the world because, as Saint Paul reminds us (
Romans 10:15
), "How beautiful are the feet of those who bring good news!"
Now that I am 42, I have been with Maryknoll for nearly 20 years. As vocation director, I guide and accompany young men who feel called to be a priest or brother, and I pray that all young people respond generously to God's call.
Featured image: Maryknoll Father Rodrigo Ulloa-Chavarry, who was ordained in 2011, currently serves as vocation director for the Maryknoll Fathers and Brothers. (Nile Sprague/Hong Kong)