Maryknoll affiliates in Guatemala continue a missioner's work with youth in a neighborhood rife with gangs and violence.
Awell-known African proverb says, "It takes a village to raise a child." One community in a barrio of Guatemala City truly lives this out. 
During a recent immersion trip led by Maryknoll's Mission Formation Program, students from Yale University met Maryknoll affiliates who had been inspired by the late Maryknoll Father Thomas Goekler — and in turn, were inspired by their commitment to a program the missioner founded.
Father Goekler arrived in the Guatemala City barrio, known as Zona 18, in 2008. Since the project he had established for marginalized youth in San Pedro Sula, Honduras, could flourish on its own, he wanted to bring its model to other Central American communities. Fifteen years later, Caminando Por La Paz thrives — even amid gangs and violence.
The Yale students and accompanying Maryknoll staff were given a brief orientation by Maryknoll Affiliates Rosa María de León and Rosa Beatriz Castañeda de Larios. Both had attended Monte María School, founded by the Maryknoll Sisters in Guatemala City. They urged us to be open to the many encounters we would experience.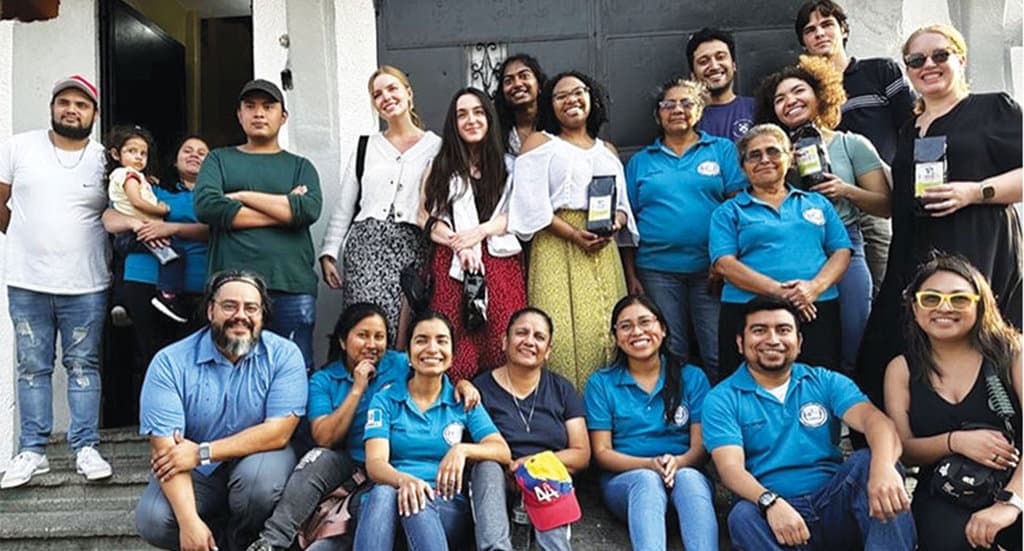 Maryknoll affiliates (blue polo shirts) host Yale University students and Maryknoll staff including Ray Almanza and Luna Stephanie (bottom row, far left and far right) at Caminando Por La Paz. (Courtesy of Luna Stephanie/Guatemala)
Since the trip took place during Lent, the city was full of people, music and prayer. Our senses were overtaken by the smell of incense and the sound of marching bands carrying out processions. I was moved to witness how poor and working-class people mixed with tourists, coming together to get a glimpse of Jesus.
We were brought to Caminando Por La Paz, which means "Walking for Peace," by Carlos Miranda, a board member and Maryknoll affiliate. Like other Maryknoll Affiliate programs, he explained, Caminando Por La Paz is based on four pillars: community, spirituality, global vision, and action. It offers after school tutoring and a free meal. The project also provides meeting space for small Christian community gatherings and opportunities for service.
The nutrition program provides meals for up to 100 neighborhood children, but during COVID-19, people of all ages came for food. The tutoring sessions serve approximately 20 children. Newcomers are welcome at any time.
Miranda and the other board members gave us their presentation, all the while setting up the daily lunch. Soon, we heard knock after knock on the door. All three tables quickly filled with children and the Yale students. Caminando Por La Paz felt like a typical Latino home: children playing, adults cooking and the teens in their own bubble talking about their hopes and dreams.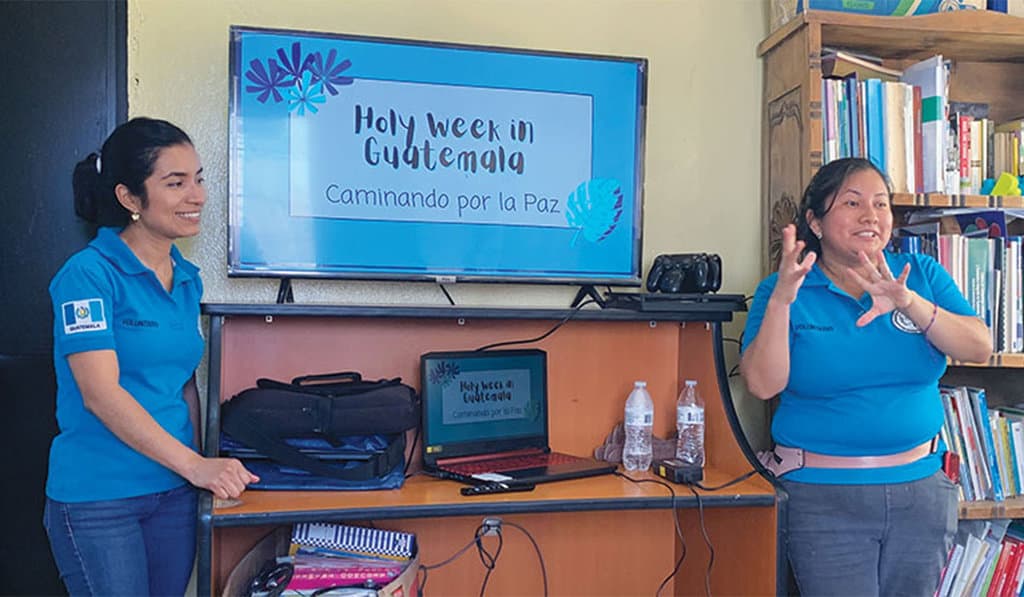 Maryknoll Affiliates (left to right) Isis Miranda and Karla Gonzalez give a presentation to immersion trip participants. (Courtesy of Jennifer Schaaf/Guatemala)
From the affiliates, we learned of young people who have overcome many odds through the program. Anderson de León is an example. Anderson's older brother, Jordi, lived in the Caminando house while Father Goekler was still alive. Later, Jordi was murdered at an early age.
Anderson liked sports since he was little, but was a terrible student. He received tutoring at Caminando, and, with that push, managed to complete his primary school studies. Taking advantage of his talents, Anderson earned a scholarship at a sports training school. Today he has a place in the reserves of a professional soccer team and is close to playing in the first division. He returns to the community to visit his family and friends — and to play at Caminando's soccer games.
Community members who are impacted by Caminando often stay connected, affiliates say. Miranda explains that he himself was first served by the program before becoming a volunteer and then joining the staff.
After lunch, everyone gathered outside. Due to Zona 18's history of violence, members of Caminando ensure that the children get home safely by walking them home in groups.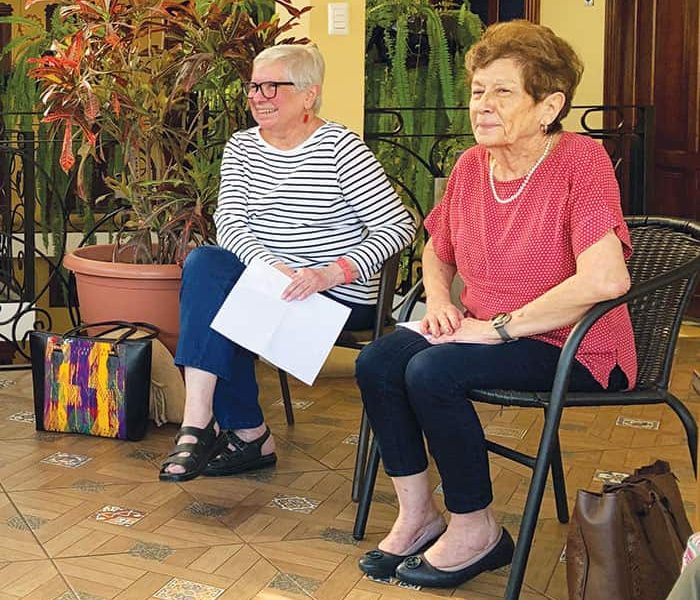 Maryknoll Affiliates (left to right) Rosa Maria de Leon and Rosa Beatriz Castaneda de Larios offer an orientation session to immersion trip participants. (Jennifer Schaaf/Guatemala)
The Yale students and the small children walked hand-in-hand through the streets. The teens were too "cool" to hold hands, but joy shone on their faces. All the youth had an innocence to them, nurtured at Caminando Por La Paz: a safe space where they can eat, learn, pray and play.
Our visit to Caminando ended in the rooftop chapel, a makeshift room filled with photos and memorabilia of Father Goekler and paintings and carvings of the crucified Jesus. More than 20 people fit in this little space where we shared bread and coffee. The coffee had been grown and harvested by small farmers in Honduras and is sold through fair trade by a Caminando Por La Paz project, Family Coffee. I was amazed at how this marginalized community helps other, even more marginalized communities.
Father Goekler was inspired by Servant of God Dorothy Day and founded two Catholic Worker Houses. The deaths of the four churchwomen martyred in El Salvador motivated him to overseas mission. A priest of the Archdiocese of Hartford, Connecticut, he served as an associate priest with Maryknoll before being accepted for incardination into the Society in 1999. He told the cardinal of Guatemala, "The work I do, I do on the streets."
Father Goekler, who died in 2010, inspired other adults in the barrio Zona 18 to do the same: to care. To make the problems of its young people their own. And … to take action.
The Maryknoll Affiliates chapter in Guatemala continues to accomplish something remarkable! Caminando Por La Paz carries on its mission of healing in  a country that has endured so much.
Featured image: Hosted by the Guatemala chapter of the Maryknoll Affiliates, Yale University graduate student Claire Latendresse and a young community member enjoy lunch together during a recent Maryknoll immersion trip. (Jennifer Schaaf/Guatemala)