Maryknoll Sister Arlene Trant, long a 'bridge' between hearing and Deaf people, now focuses on care of creation.
T
oday girls have a wide-open field of possibilities for what they want to do with their lives. To the question, "Have you ever thought of being a religious sister?" most would probably respond: "What a crazy idea!" That's what
Arlene Trant
thought, too.
Born in Indianapolis, Indiana, Arlene grew up in Chicago until she was 12 years old, when her family moved to San Jose, California. Although she didn't know any religious sisters then, she remembers being attracted to the thought of going to foreign lands as a missionary sister.  
"But as a teenager I did all I could to deny this crazy idea of religious life," she recalls.
After graduating from high school, the young Arlene attended San Jose State University, where she studied speech correction and audiology, psychology and education and obtained a bachelor's degree and a teaching credential. The call to religious life kept coming back. 
"After college I had a good talk with God," Sister Arlene says. "I said, 'How about if I join the Peace Corps instead?' God seemed to say, 'Go for it!'"  
However, that didn't work, either. While she enjoyed living and working in another culture for two years in the West Indies, something was missing.
The call to religious life led her to the Maryknoll Sisters, and at 25, Arlene entered the orientation program at St. Louis, Missouri. "There I met the One who was calling me — against all my protests," she says. "I guess I just fell in love."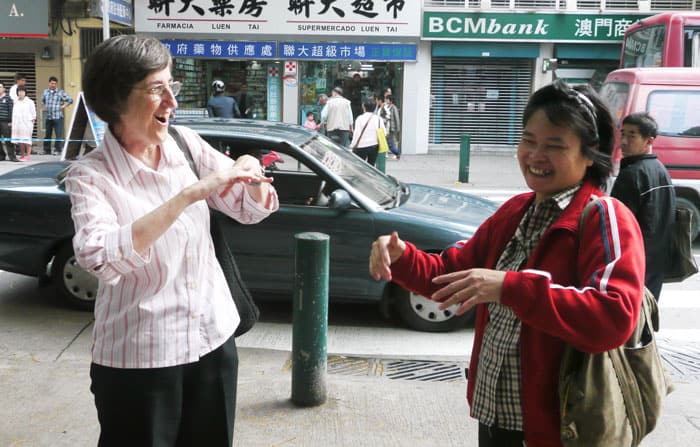 Maryknoll Sister Arlene Trant and a Deaf friend sign greetings to one another in Macau in 2012. (Maryknoll Mission Archives)
In 1973 Sister Arlene received her first assignment, to Hong Kong.
There she heard that a school for the Deaf was looking for teachers and the young missioner eagerly enlisted. "The philosophy of the school was the oral method, teaching Deaf children to speak and to read lips," she says. "I quickly realized, though, that sign language was their 'mother tongue.'" Her students became her teachers, instructing her in sign language and introducing her to the Deaf culture.
This experience set the trajectory for her life in mission.
The Maryknoll Sisters offer their new missioners a period of reflection to integrate their learnings in mission and to discern a lifelong commitment before taking final vows. During these months at the Sisters Center in Ossining, New York, Sister Arlene was given the time and space to embrace the calling that had started off as "a crazy idea."
After her reflection year, she was reassigned to Hong Kong. There, in 1980 — in the presence of her parents and sisters, who came for the occasion — she professed her final vows.
Sister Arlene next served in Macau, where the bishop invited the Maryknoll Sisters to minister to the growing population of newcomers from mainland China.
"When I arrived in Macau, there were very few services for Deaf people," Sister Arlene recalls. Coming from Hong Kong with its highly developed programs, she says, "I saw Macau as a real opportunity for something new to be created with the Deaf at the helm."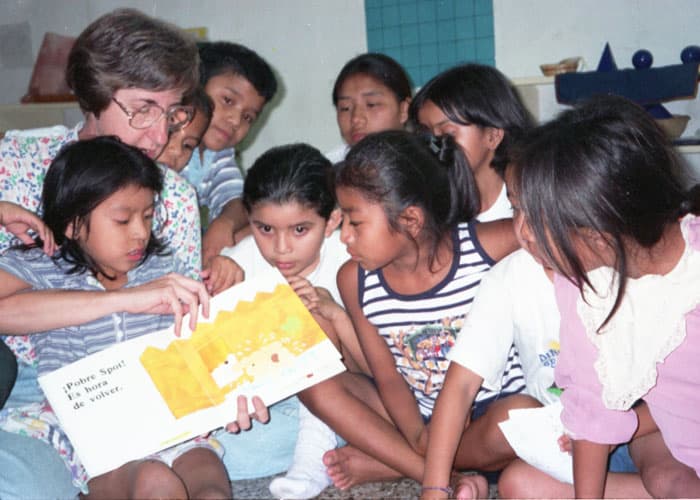 Maryknoll Sister Arlene Trant reads a book to children in Guatemala in 2000. (Maryknoll Mission Archives)
Sister Arlene, who sees herself as a "bridge" between hearing and Deaf people, began the Macau Deaf and Hearing Association.
Because of her pioneering work, the Macau Social Welfare Department asked her to start a center for people with disabilities in a joint venture with the diocese. The missioner arranged classes, outings and social services and created workshops to teach job skills. The participants soon formed a caring community. "The Deaf pushed wheelchairs and the physically disabled became their sign language interpreters," she says.
Sister Arlene also formed a pastoral team for Deaf and hearing people at St. Joseph the Worker parish. The team facilitated signing at liturgies, Bible study classes and Rite of Christian Initiation of Adults (RCIA) programs, and taught sign language to clergy and parishioners. "The Deaf became an integral part of the parish and the diocese," she says proudly.
Although Sister Arlene felt very much at home in Macau, Maryknoll missioners are sometimes called to a new geographical region. In 1998, she was sent to a poor barrio, Mezquital, outside of Guatemala City. The assignment to Central America meant learning a whole new language and culture.
Open to the challenge, Sister Arlene reached out in friendship to people who were suffering not only poverty, but also the loss of loved ones in Guatemala's civil war. "I learned of the suffering of my neighbors, who came to the city from the provinces after deep personal tragedies and genocide," she says.
Working during the week at a women's cooperative, on Sundays Sister Arlene attended Mass at the cathedral in Guatemala City. Soon she formed a group of Deaf and hearing volunteers who interpreted liturgies and helped with a weekly Bible study in sign language. Together they founded the Guatemala Deaf Catholic Community. This group continued to flourish even after Sister Arlene came back to the United States in 2004.
About her work over the decades with Deaf people, Sister Arlene says, "The joy, love and friendship they extended to me and each other showed clearly that hands using sign language speak louder than spoken words."
During the ensuing years Sister Arlene served in the United States and again in her beloved Macau.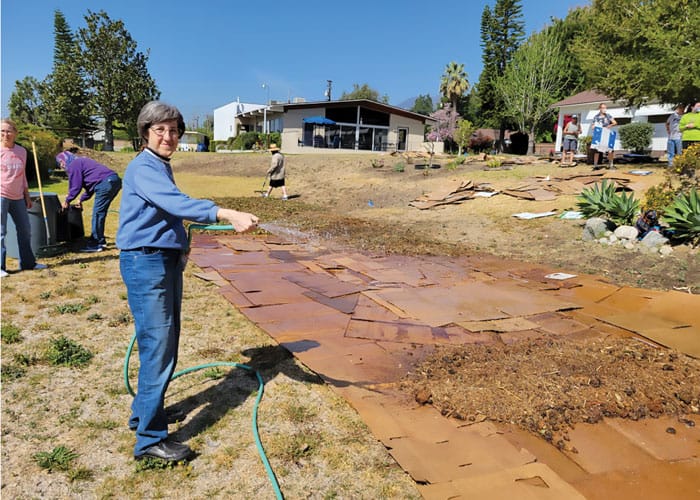 Maryknoll Sister Arlene Trant waters cardboard laid over lawn on the sisters' Monrovia, California, property, where native plants will soon replace grass. (Rosemary Gavidia, Courtesy of Grow Monrovia/U.S.)
"Hong Kong and Macau are big, bustling, densely populated cities with tall skyscrapers where hardly a blade of grass can be seen," Sister Arlene says. "Each time I returned to the States, I'd stop in at our community in Monrovia, California. I was always overwhelmed by its beautiful grounds filled with sturdy oaks and fruit trees, flowers and luscious green grass."
In 2021, the Monrovia community became Sister Arlene's home when she was assigned to be the coordinator of the sisters' retirement community there. But even at 77, there is no retirement for the energetic missioner!
"Maryknoll Sisters have long been dedicated to protecting both the human environment and the natural environment," she says. "I'm only now awakening to the call of Mother Earth."
Sister Arlene notes that in his encyclical Laudato Si', Pope Francis urges all people to care for our "common home." "The Monrovia property is over six acres of land with trees, flower gardens — and a lot of water-consuming grass!" she says. "Changes needed to be made."
The sisters now partner with a non-profit community organization, Grow Monrovia, she explains. A team of volunteers and neighbors are transforming the property into an ecological restoration site. Native plants and flowers are being introduced where there had once been a thirsty lawn; a tree nursery has been planted; and a community garden open to the sisters' neighbors was started. "Caring for creation is a rewarding mission for all," she says.
"I'm beginning to see with new eyes that the birds, butterflies, and bees are not just lovely in themselves, they are essential workers in re-creating our world," she adds.
"Now our property itself has become part of our missionary vocation of being good stewards," she says. "Not such a crazy idea!"
Featured image: Maryknoll Sister Arlene Trant, shown in 1981 on assignment to Hong Kong, has been a Maryknoll missioner for over 50 years. (Maryknoll Mission Archives)