Maryknoll's work through local partners such as schools and HIV/AIDS clinics in Kenya keeps students healthy and well-fed.
Maryknoll Father Lance Nadeau, who served in Kenya for 22 years, tells the story of a 15-year-old boy who lives up to his name: Gabriel, "hero of God."
Gabriel was born HIV-positive, and his father died of complications related to AIDS when the boy was just 3 years old. 
"The cause of his father's death was known in the village and, consequently, Gabriel experienced stigmatization in school and in his village," Father Nadeau says. "Neighbors once burned down the house Gabriel and his mother were living in." His mother — who is also HIV-positive — abandoned her son when he was 6.
"When I met Gabriel, he was living in northern Kenya with his elderly grandmother in abject poverty," Father Nadeau says. "He was not receiving any treatment for his HIV infection nor did he have an adequate diet." Gabriel was anemic, suffering from malnutrition, and had a high viral load. 
Gabriel is one of hundreds of thousands of people who have been helped by the Eastern Deanery AIDS Relief Program (EDARP), founded in 1993 by Maryknoll Father Edward Phillips. Through its 14 community-based clinics, the program is currently one of the largest multifaceted treatment and prevention programs in Kenya. Each year, program staff and EDARP community health workers support and care for 28,000 to 30,000 patients with HIV in Eastern Nairobi.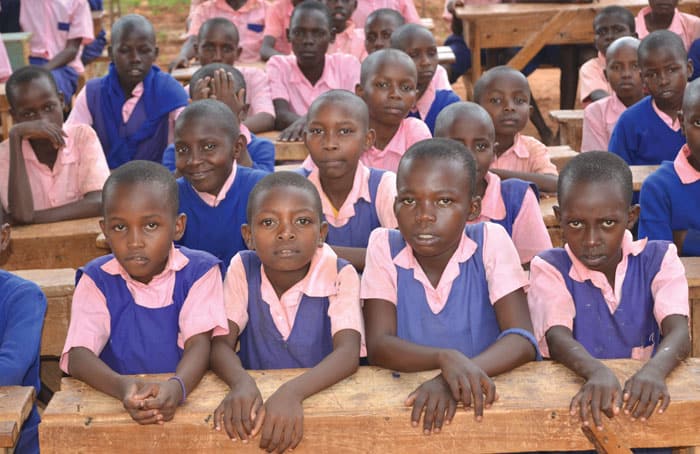 Students share desks at Mukononi Primary School, located in the Kibwezi area severely impacted by climate change, where famine and hunger can keep children from learning. (Moses Njagua Gitahi/Kenya)
At an EDARP clinic, Gabriel receives medical care including antiretroviral (ARV) medications, along with the other comprehensive services that he needs.
"Before moving to Nairobi and receiving psychological counseling and support, Gabriel could not speak about his HIV status. He would break down in tears," Father Nadeau says. "But because of regular sessions with an EDARP social worker and psychologist, and support from HIV-positive peers, now he is able to appropriately speak about his health. And with the ARV medications he receives through EDARP, his viral load is undetectable." Under the care of EDARP, Gabriel should be able to live a normal life expectancy and have a promising future, the missioner says.
With his physical and emotional health greatly improved, Gabriel did well in his primary school studies and scored high on the national exams that qualify students to continue with their studies. However, he had no financial resources to pay for a secondary school education. With assistance from Maryknoll, he is now able to attend a good private school that welcomes and accommodates students with HIV.
"Gabriel is a bright and delightful young man who gets high grades in math, English, and physics," Father Nadeau says. "He works very hard in school and dreams of going to college."
Of course, students can't learn if they don't have enough to eat. Maryknoll Fathers and Brothers has committed to helping with nutritional assistance for students at nine extremely poor schools.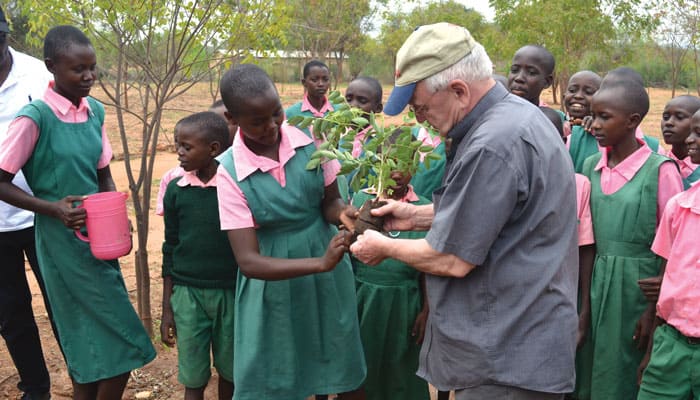 Maryknoll Superior General Father Lance Nadeau helps students plant trees at Malembwa Primary School in southeast Kenya, where Maryknoll assists survivors of climate change. (Moses Njagua Gitahi/Kenya)
Elected superior general of Maryknoll Fathers and Brothers in 2021, Father Nadeau was able to visit some of these schools last year. During the trip he connected with Maryknoll partners in cities such as Nairobi, where Gabriel lives, and in rural areas of Eastern Kenya that have been hard hit in recent years.
Climate change and the COVID-19 pandemic have brought devastating consequences to the food supply and the workforce.
"In the last three years a drought has caused intense hunger throughout the area," Father Nadeau says. "In Kenya right now the cost of food is very high. Many people have cut down to one to two meals daily. Many of the children come to school not having eaten breakfast," he explains. "Their parents mostly are subsistence farmers and very few of them have the means to provide a lunch for the children."
In addition to the drought, Eastern Kenya was severely affected by COVID, the missioner continues. "Many of the families have family members who work in the cities and send money back to these rural areas. Most of them work in the informal economy where over 50% of workers lost their jobs. This affected the children because they could not send money back to support the kids."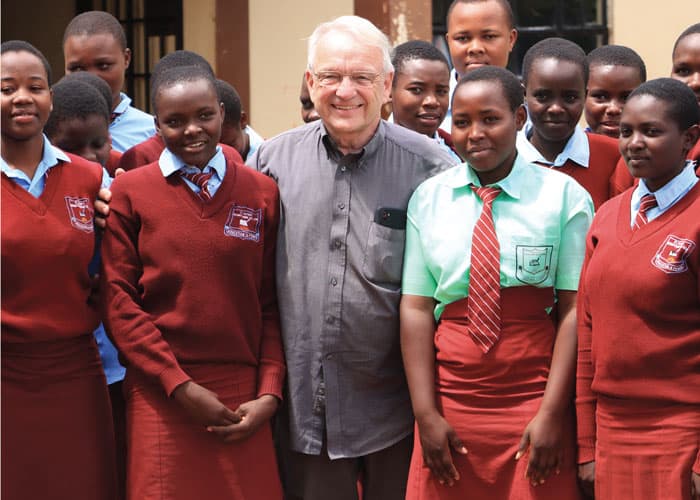 Maryknoll Superior General Father Lance Nadeau visits Nyamotambe Mixed Secondary School in Kehancha, Kuria, in southwestern Kenya, where Maryknoll built a girls' dormitory. (Moses Njagua Gitahi/Kenya)
Teachers and other school staff note that thanks to the food assistance programs, more children stay in school, with minimal dropouts. The supplemental nutrition funded by Maryknoll has improved both the children's health and their academic performance. It also eases the burden on parents who are already carrying a heavy economic load.
During his trip, Father Nadeau visited a food assistance program at King'utheni Primary School in the Kibwezi area of southeastern Kenya, where approximately 500 children attend classes.
Each day the children line up for a meal of beans and corn. As the mixture is scooped into their cups, each child says asante, "thank you" in Swahili, for the meal which will give them the energy they need to study. This way, they can receive an education that empowers them to go forward into the future as heroes for themselves and their communities.
"I admire Kenyans because they are brave, resilient, hopeful and committed to their families," Father Nadeau says.
Meanwhile, the young Gabriel studying in Nairobi remains courageous in facing HIV and stigmatization, Father Nadeau says. The boy loves his mother even though she was unable to care for him, and he tries to visit her regularly back in their home village, where she still lives.
"Gabriel lives up to his name, 'hero of God.' He is a living example of hope for poor people with HIV," Father Nadeau says.
Featured Image: Students line up for a healthy meal at King'utheni Primary School in the drought-affected area of Kibwezi in southeast Kenya, where Maryknoll funds several relief projects. (Moses Njagua Gitahi/Kenya)