Protests by rural, indigenous Peruvians reflect frustration with urban politicians, says Sister Patricia Ryan, a Maryknoll missioner in Peru's Altiplano.
By Barbara Fraser
It's hard to say what made the people in Peru's southern highland region of Puno more indignant during the anti-government protests that has wracked the country since December 2022.
It might have been the sight of a police officer firing a tear gas canister directly at the body of an Aymara Indigenous woman, wearing traditional dress and carrying a baby on her back, who was taking part in a peaceful demonstration in Lima, the capital.
Or it might have been the education minister's public comment that she and other women were "worse than animals" for taking their children along on a protest march.
Or it might have been state of emergency in the Puno region, where that woman lives, which gave the military broad powers and led to the deaths of six young soldiers from local communities who drowned crossing a river.
For Maryknoll Sister Patricia Ryan, however, the anger that has made Puno the epicenter of the political turmoil that is now in its fourth month stems from all of those episodes, combined with a centuries-long history of government neglect that has left deep scars.
Sister Ryan shares the people's indignation, mixed with sadness, as she watches the police and military crack down sharply on Indigenous people from the region where she has spent most of her life defending human rights.
"It's terribly difficult when you see people you know, who are under attack," Sister Ryan said, adding that people in Puno "feel the government has declared war on them."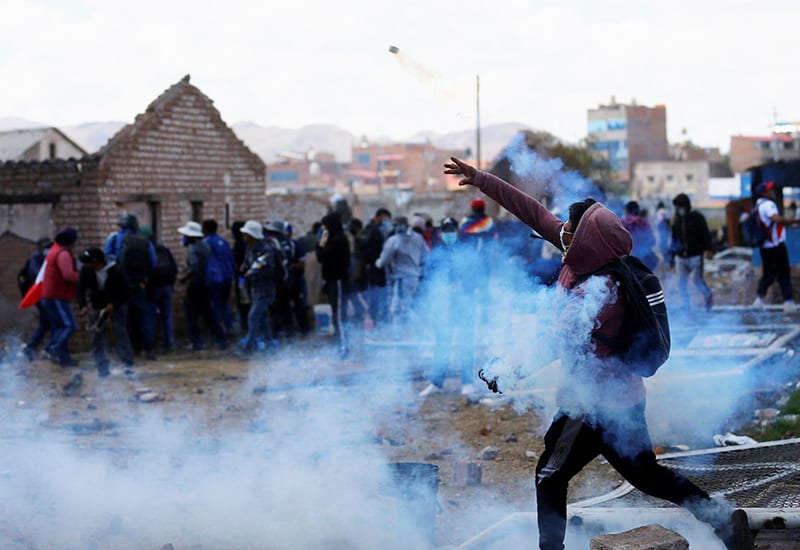 Demonstrators clash with security forces near the Juliaca, Peru, airport during a Jan. 9, 2023, protest demanding early elections and the release of jailed former Peruvian President Pedro Castillo. (OSV News photo/Hugo Courotto, Reuters)
Nearly 60 civilians have died during the protests, many after being struck by live ammunition, buckshot or tear gas canisters. One police officer and the six young soldiers have also died, and hundreds of civilians and police have been injured.
The political upheaval in Peru began Dec. 7, 2022, when then-President Pedro Castillo, facing an impeachment vote in Congress, announced that he was shutting down Congress and ruling by decree. The military did not support him, however, and Congress impeached him. Castillo was arrested as he attempted to take refuge in the Mexican Embassy in Lima, Peru's capital.
Castillo, a rural teacher and farmer from the highlands of northern Peru, was a political outsider with no government experience when he was elected in 2021. And although his truncated term was plagued with a constant turnover of Cabinet ministers and accusations of corruption, his message of being first a candidate and then a president who represented the people most marginalized from political power resonated strongly, especially among people in the rural Andes Mountains.
Dina Boluarte, a member of Congress who was also Castillo's vice president, was sworn in as president. Although she had been elected as part of Castillo's ticket, she had distanced herself from his leftist Peru Libre party and had been expelled. People who had supported Castillo saw her as a traitor, and protesters erupted, with people taking to the streets and blocking highways in various parts of the country, especially in the southern highlands.
Most of the protests have been peaceful, Sister Ryan said, including many in Puno that have drawn thousands of people. Some, however, have been accompanied by violence, with vandals burning police stations and other public buildings.
With no party of her own to back her, Boluarte turned to the military and right-wing parties for support when the protests erupted, which only made people angrier. The protesters have been demanding her resignation and new elections, and there are also calls for a constituent assembly to rewrite the country's constitution.
Boluarte has refused to step down, but has said she will call new elections in April 2024. That requires congressional approval, however, and so far Congress has failed to act.
The implosion of Castillo's government was partly due to his ineffectiveness as president and accusations of corruption, but also to an ongoing conflict between the legislature and the executive branch, which has resulted in Peru having six presidents in the past five years, including three in eight days in November 2020.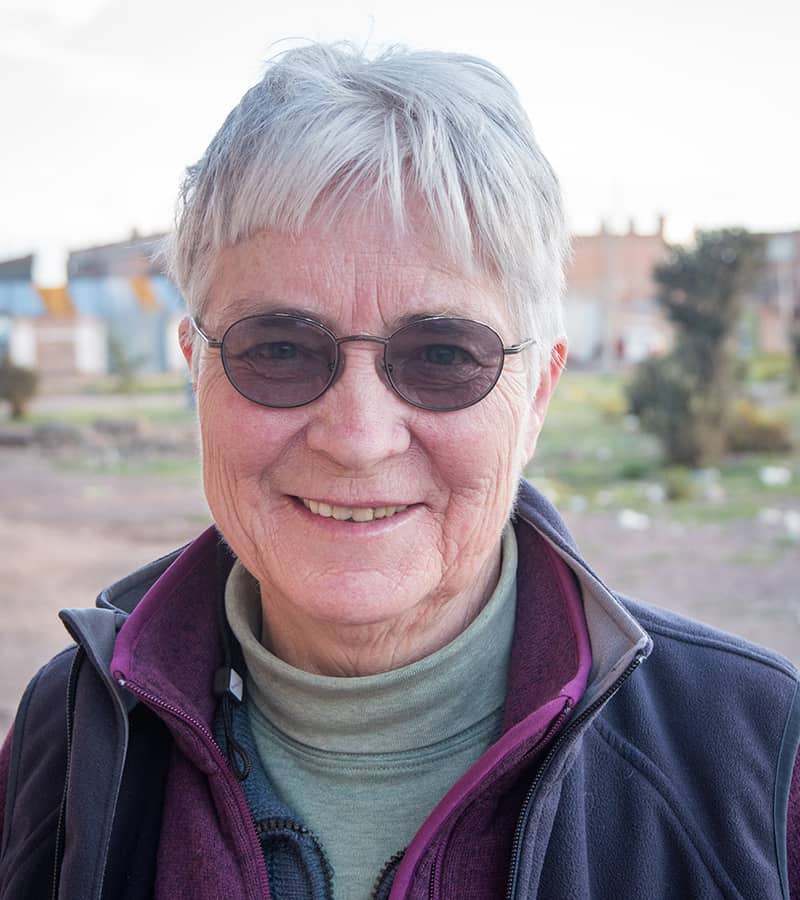 Maryknoll Sister Patricia Ryan, who has served with Indigenous communities in Peru for over 50 years, says that recent protests are a demand for respect for rights. (Nile Sprague/Peru)
Even many of Castillo's supporters recognized his shortcomings, but for rural Peruvians, especially Indigenous people in the highlands, his election represented the hope for equal treatment and a voice in decisions affecting them.
Peru's rural Andean and Amazonian communities are among the country's poorest, generally lacking basic services like safe drinking water, sanitation and decent health care and education. In the southern highlands, where protests have been strongest, mining companies extract gold, silver and other metals while nearby communities go without electricity.
Poorly regulated mining has left rivers polluted with toxic metals, making it unsafe for livestock and human consumption. Sister Ryan and her colleagues at the Puno-based organization Human Rights and Environment (Derechos Humanos y Medio Ambiente, DHUMA) help communities demand their right to consultation about mining projects and to a safe environment, but those cases often end up in court for years, while the situation on the ground goes unchanged, she says.
The protest by the Aymara women in Lima was one of a series that began in January, when caravans of people from various parts of the country, especially the southern highlands, converged on the capital after more than a month of protests in their home regions. At one point, soldiers broke down a fence at San Marcos National University, where students were providing shelter to protesters from out of town, clearing people out and forcing them to lie face down on the sidewalk — a scene that conjured terrifying memories of political violence that wracked the country in the 1980s and 1990s.
Maryknoll Father Joseph Fedora has seen a lot of protests — and presidents — come and go over nearly four decades in Peru, and he thought this round of demonstrations would also pass.
"But as time went on, it seemed to get worse and more violent, and I found myself reading every analysis possible," from church workers, politicians, political analysts and others, said Fedora, who ministers in Lima, the Peruvian capital, with HIV-positive people and those working with them.
"What I learned was this was a terribly complex situation," he said. "There are so many players and agendas involved. It's not black and white."
People he knows who have participated in the protests have noted that the violence and property damage generally occur at night, after most demonstrators have gone home. Observers say it is not clear who is behind the violence.
"It's not representative of the vast majority of protesters who have legitimate demands," Father Fedora said. "There are players who are taking advantage of this situation for dark reasons."
Church leaders, including Pope Francis, have called for dialogue and a peaceful solution.
In a letter Jan. 21 addressed to the president and Congress, Bishop Ciro Quispe of Juli, the prelature in Puno where Maryknollers worked for more than 50 years, asked, "How many more deaths, brothers and sisters?" He called on government officials to "show a visible and concrete sign to stop this wave of wounded and dead" and establish "real dialogue, with specific points" to be discussed.
"Let us listen to the Aymara people and let us listen to one another, as brothers and sisters," he urged.
A day earlier, Peru's bishops had called for an end to polarization and for the investigation of the deaths that have occurred during the protests, a demand echoed by national and international human rights groups.
And on Jan. 25, addressing Boluarte directly when she met with ambassadors to the country, the papal nuncio, Archbishop Paolo Rocco Gualtieri, told the president, "The protesters are mainly residents of rural [Andean], low-income urban and Amazonian regions who for years have been 'made invisible' or marginalized or left behind, with their civil rights ignored."
Violence against people and property "is never justifiable," the nuncio said, adding, "Nevertheless, it is important to address the causes behind it and neutralize them, always using the force of the law, never the law of force."
In Puno, the future is difficult to predict, Sister Ryan said, because of the deep roots of the people's dissatisfaction and their steadfast insistence on their right to be fully respected as citizens, with a voice in decisions affecting their families and their land.
"They do not recognize this as their government," Sister Ryan said, because they do not believe it represents them or guarantees their rights. "At the core of the protests is their dignity, the Earth and their lives."
Featured image: Demonstrators take part in an anti-government protest in Lima Jan. 23, 2023, as they demand the release of protesters detained in demonstrations in support of former Peruvian President Pedro Castillo, who was ousted. Peru's bishops pleaded for peace as violent protests against the country's current president and legislature have claimed the lives of dozens of people. (OSV News photo/Angela Ponce, Reuters)