Maryknoll brother becomes family to Pakistani refugees in Bangkok.
When Maryknoll Brother William Raible introduces himself, he often has to explain what a religious brother does. After 45 years of varied ministries, he says he's come up with a simple job description: "to go out and form community with the people we work with."  
This is exactly what the missioner did in Thailand, where he most recently served overseas. Working with the Maryknoll staff in Bangkok assisting refugees, Brother Raible, who goes by "Brother Tim," befriended six Catholic Pakistani families.
"I first met Pervaiz and his son, Mandy, at our food distribution program," Brother Raible says. As they bagged groceries together, and little Mandy ate his first strawberries, Pervaiz Ghouri told the missioner how they had fled religious persecution in Pakistan after being targeted in the Muslim-majority country. 
"These families lost everything. Their businesses and homes were taken. Their reputations were ruined when they were accused of blasphemy," Brother Raible says. They lived a precarious existence in Thailand, hoping to be settled permanently in a host country.
By the end of the conversation, Pervaiz had worked up the courage to ask, "Would you come to my home and visit my family?"
"Pervaiz met me at the pier when I arrived. It takes an hour and a half by boat to get there," Brother Raible recalls. "I met his wife, Lily, their other sons, the grandparents and three of Lily's siblings, who brought their own families. They all came."
Brother Raible met two other Catholic Pakistani families at an English Mass and became part of their extended families, as well.
"As a brother I found family in Thailand," he continues. "It was the most normal, natural thing to do."
It's not surprising that the missioner, now 69, became a brother to Pakistani refugees in Bangkok. He has formed such community on three continents.
Born in Oakland, California, and raised in nearby Vallejo, young Tim Raible subscribed to Maryknoll magazine. He was especially drawn to stories about religious brothers. While not feeling called to ordained ministry, he knew he was called to mission — and to Maryknoll. He joined the society in 1977.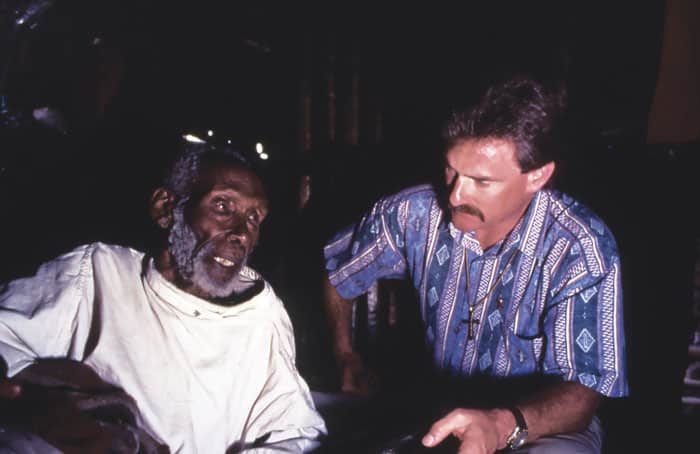 In a Nairobi slum, Maryknoll Brother William (Tim) Raible receives a blessing from a blind storyteller friend he visited often. (Sean Sprague/Kenya)
Brother Raible's first overseas assignment took him to the Mindanao islands in the Philippines. A pattern runs through his ministry, he says. "I motivate people to serve in their communities to make sure needs are met." He recruited and trained 145 catechists from 98 outstations for the regional children's religious education program.
In Kenya, where he was assigned for seven years, Brother Raible joined a woman called Mama Waithera visiting HIV/AIDS patients in the neighborhood of Soweto in Nairobi. "There were just too many sick people to visit," he remembers. "I said to her, 'We've got to get some help.'" Before Brother Raible left, the visitation program had enlisted 14 volunteers.
Brother Raible returned to the U.S. to work in vocations and mission education and promotion. "I was called to water the seed of mission vocation in others," he says. Based in Seattle, he helped people join Maryknoll as priests, sisters, lay missioners and affiliates, and assisted with immersion trips and short-term volunteer opportunities in Mexico, Tanzania, Thailand, Myanmar and East Timor.
Regarding vocations to the priesthood and brotherhood, Brother Raible explains, "The primary focus for discernment is the calling to be a Maryknoll missioner. The next step is how to live out that calling."
After 12 fulfilling years in Seattle, Brother Raible was asked to open a Maryknoll house in Washington, D.C. What was it like to move across the country to start a project from scratch? "It was the same thing, the same calling," Brother Raible responds. "Go out and find community. Be a brother to others!"
In 2016, Brother Raible returned to overseas mission. "When I got to Bangkok," he says, "a firm foundation was there for me to stand on." Maryknoll has a vibrant history of accompanying refugees and displaced people in Southeast Asia. It was especially gratifying, he says, to serve alongside his novice director, the late Brother John Beeching.
From their base in Bangkok, Brothers Beeching and Raible would periodically travel to reach the isolated hill tribe peoples of Myanmar. They helped distribute food, medicine, blankets and sleeping mats at camps for internally displaced people.
In Bangkok, most mornings Brother Raible taught in the English program started by Brother Beeching at a Buddhist monastery, Wat Vorajanyuwat.
In the afternoons, Brother Raible joined Keadkaw Boonkwan, Arlene Sale and Serge Auguste of the Maryknoll office in Bangkok. This team visits detention centers, serves at the food distribution program and helps with other collaborative efforts between Caritas Thailand, Jesuit Refugee Services, the Catholic Office for Emergency Relief and Refugees and five Catholic parishes in the Archdiocese of Bangkok.
"Working at the food distribution program allowed me to meet families and make a connection for home visits," the brother says.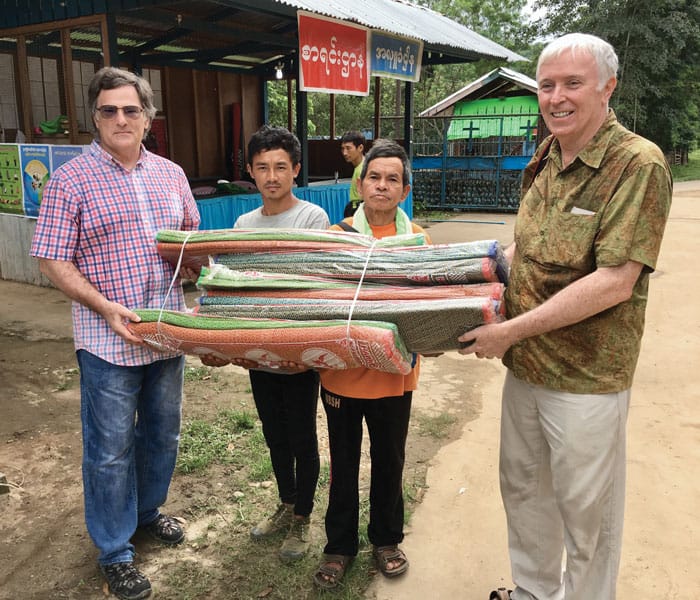 Maryknoll Brother William (Tim) Raible and volunteer Jim Mulqueen (right) distribute sleeping mats at internally displaced people camps in Myanmar. (John Beeching/Myanmar)
A relationship of trust is key to helping refugees in Bangkok emerge from the shadows.
Thousands of Pakistani Christians have fled to Thailand in recent years. Lacking proper visas and not recognized as refugees by the Thai government, they live in constant fear of arrest and detention.
"Often, undocumented migrants are afraid to apply for refugee status. Because if they are not granted asylum, people can be sent back, where their future is very uncertain," Brother Raible says.
When Brother Raible met Pervaiz, the family members' passports had expired. The Maryknoll office assisted them in applying for new ones and accompanied them closely to establish their asylum claims through the United Nations High Commission for Refugees.
In Thailand — where less than 1% of the population is Christian — Brother Raible also offered pastoral care. "I would bring Communion to them," the missioner says. "We prayed, read Scripture, sang hymns and shared the Eucharist. Afterwards we enjoyed a wonderful Pakistani meal prepared by Lily and her sisters."
Brother Raible tells of a moment when he knew friendship had turned into kinship. "They were throwing a combined birthday celebration," he says. "And my birthday falls in September. 'You're our brother,' they told me. 'You have to be there.'"
Since then, Lily, Pervaiz and their four sons have been approved to relocate in Australia. Others of the six families the missioner befriended have been accepted for resettlement in Canada and England.
In April, Brother Raible began a new assignment in the States, helping run the society's New York City house. He plans to keep in touch with the families who consider him their "brother."
Brother Raible says that wherever he serves, while his mission site may change, his vocation doesn't. It's the same calling: "Go out and find community. Be a brother!"
Featured image: Maryknoll Brother William (Tim) Raible (back row, second from left) celebrates a combined birthday party with Pervaiz (far left) and Lily (second from right) and their family. (Jim Mulqueen/Thailand)