On the surface, Clif Bachmeier can be quiet and shy. But, as we've journeyed together as part of the Maryknoll Young Adult Empowerment (YAE) Community, I have listened to him offer a unique perspective on global solidarity.
Clif found Maryknoll at the Los Angeles Religious Education Congress in Anaheim in 2018. "I was drawn to their focus on being apostles and missioners," says Clif, a data analyst for the State of California Department of State Hospitals. "Pope Francis pushes us and (he) encouraged us at the 2016 World Youth Day in Poland," he says. "Pope Francis urged us to seek boots, not a nice couch."
One of the ways that Clif goes beyond his comfort zone as a missionary disciple is through immersion experiences. "As I have grown in my faith, I believe that immersion, solidarity, and mission are critical to a Christian's life – no matter whether you fit the description of 'that kind of person,' or if the immersion is around the world or in the neighborhood," he says. "The Maryknoll Young Adult Empowerment Group has taught me this through the ideas of encounter and journeying with others."
During our community meetings, Clif has shared the impact of previous global solidarity experiences and how they expanded his perspective. Here are a couple of examples:
In 2018, Clif participated in a week-long immersion trip to El Salvador. He visited Arcatao, a rural area deeply impacted by the country's civil war. Clif shares that inside the parish church is a seemingly countless array of pictures of people who went missing during the 12-year conflict. The Stations of the Cross at the parish have paintings depicting the terror the community experienced during the war, with one station dedicated to the four churchwomen, including two Maryknoll sisters, murdered in 1980.
These parishioners "bring their faith into their daily life with their contemporary issues and struggles. Their faith inspires me," says Cliff. "My trip there encouraged me to learn more about the United States' involvement in the conflict in El Salvador."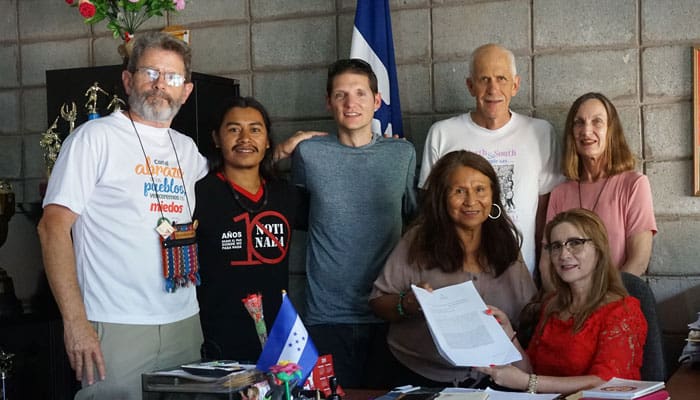 Clif Bachmeier (third from left), a member of the Maryknoll Young Adult Community, and a delegation from the United States met with one of the educators who were persecuted for supporting public education in Honduras.
The next year, Clif took part in a delegation that accompanied a Jesuit traveling back to El Progreso in the priest's native Honduras. The priest, who directs a radio that provides independent journalism in the area, had been visiting the United States and Clif's group flew to Honduras with him so authorities wouldn't harass him at the airport.
While in Honduras Clif's group met with educators being persecuted for supporting public education over the government's movement toward privatized education. "The violence and threats these educators faced were horrifying," Clif recalls.
Encountering people who face violence in Honduras, Clif learned more about the causes pushing Central Americans to migrate to the United States of America and other places for safety.
When the COVID-19 pandemic limited travel, Clif immersed himself in his job and the Maryknoll Young Adult Empowerment program. He has spent these past two years learning that "immersion does not have to be about me going to a foreign country, but by learning about the lives and experiences of people anywhere, including in our neighborhoods, cities, states, and country."
Clif, who will be traveling to El Paso this year as part of a YAE immersion trip, constantly chooses to step out of his comfort zone and reach out to those on the margins. He invites other young adults to do the same.
"You will develop new friendships and relationships and have a better knowledge and understanding of a new place, new people, new cultures," he says. And even more, these experiences will allow "better insight into your own country, people, culture, and your own self."
Featured image: Clif Bachmeier (right), a member of the Maryknoll Young Adult Community, previously went to an immersion trip to Honduras with a delegation from the United States and spoke with one of the educators who were persecuted for supporting public education.