A Maryknoll priest in Bolivia helps people lead happier lives by learning to reconcile with one another
Rosario Miranda faced much pain and suffering after her husband abandoned their family 10 years ago. Miranda had to work very hard in different jobs to raise her two youngest daughters, Sarita and Gabriela, in Cochabamba, Bolivia.
Separated from her husband after 23 years of living together, Miranda felt anger and resentment towards him. She also blamed herself. "I'm sure that due to my personality, I have undone my marriage," she said. "I was not able to understand him."
Then Miranda learned of a program called ESPERE, an acronym in Spanish for Schools for Forgiveness and Reconciliation. The program is led by Maryknoll Father Juan Zúñiga and five other facilitators. 
ESPERE is a program of the Foundation for Reconciliation, a non-profit organization based in Bogota, Colombia, led by Father Leonel Narváez Gómez, a sociologist and member of the Consolata Missionaries. To make forgiveness and reconciliation essential elements in conflict resolution and peacebuilding, the foundation based its models on research from the universities of Wisconsin, Harvard and Cambridge.
Father Narváez had gained experience as a facilitator during the peace negotiations between the Colombian government and the guerrillas of the Armed Revolutionary Forces of Colombia (FARC).
The ESPERE model has expanded to 21 countries and has trained more than 2 million people since 2003.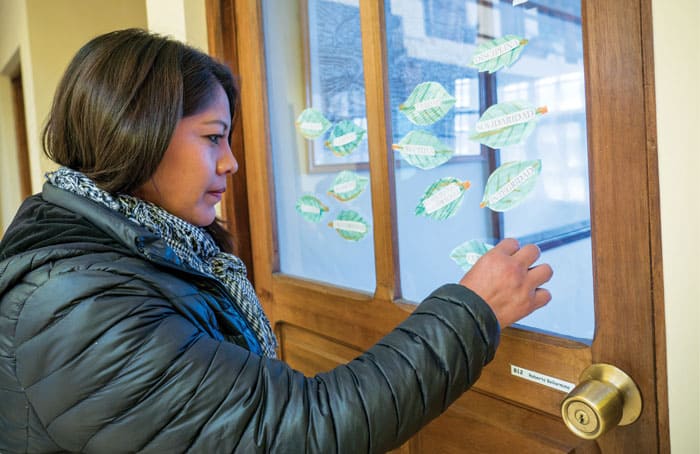 During an ESPERE workshop in Oruru, Bolivia, a participant engages in an activity about the values and principles that guide us through life. (Nile Sprague/Bolivia)
In Bolivia, ESPERE was introduced by Maryknoll Lay Missioner Joseph Loney, who invited a couple of religious sisters from Brazil to offer an intensive workshop on the program to a group in 2015. Since then, Father Zúñiga, with Jason Obergfell, a former Maryknoll lay missioner and now a Maryknoll affiliate, and four Bolivian volunteers, organize and present the ESPERE workshops.
The complete workshop is composed of 12 modules and requires approximately 40 hours of class time. Participants engage in prayer, Bible reflections, activities such as writing a letter to the person who hurt them, and games and discussions in small groups. The first workshop in Bolivia was presented in a prison. Then it was offered at the Maryknoll Mission Center in Cochabamba, and parishes and other communities. Currently, due to the COVID-19 restrictions, the program is only able to offer virtual monthly meetings of past participants but hopes to initiate in-person workshops this year.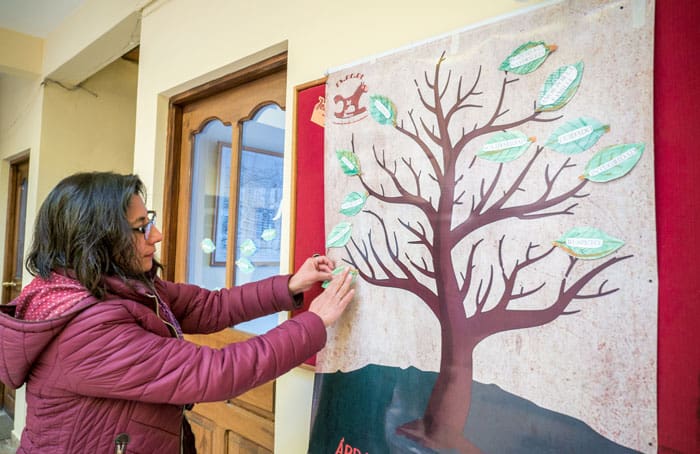 Katherine Olguin Rodriguez, a pastoral agent in Oruru, Bolivia, participates in an activity on forgiveness and reconciliation as part of an ESPERE session. (Nile Sprague/Bolivia)
Miranda, who continues joining the monthly ESPERE meetings, says they have helped her forgive both her husband and herself. She is now able to deal with adverse situations and accept people and the decisions they make. "With reflections they have given us, we have been able to learn from the daily readings, based on the illumination of the Bible, always by God's hand," she says.
After she forgave her husband, Miranda says, her family life became more harmonious. Last June, her husband, who had another family in another city of Bolivia, met with Miranda and her daughters and asked them to forgive him for abandoning them. Sadly, a month later, he died of complications from COVID-19.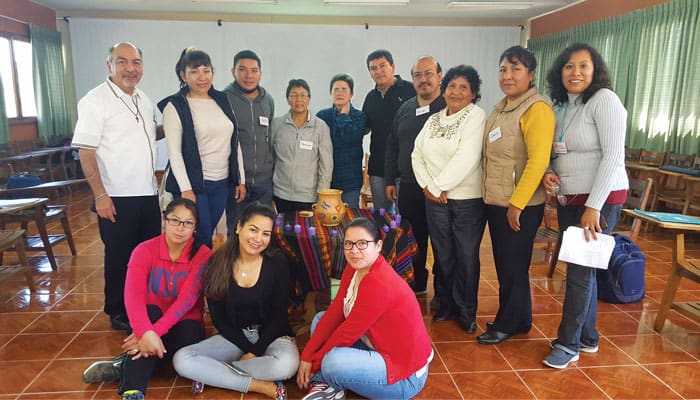 Rosario Miranda (third from right) joins other participants at an ESPERE workshop on forgiveness and reconciliation in Cochabamba. (Courtesy of Juan Zúñiga/Bolivia)
"I joined the meetings to restore myself, because we always carry pain and there are many situations to mend and fix in my life," Miranda says. "This pandemic has devastated us. I feel with my heart the suffering of my daughters for having lost their father forever. Things don't always have to be broken. There has to be a way to be able to conform and resign ourselves to the trials of life."
For Father Zúñiga, assigned to serve in mission in Bolivia since 2011, supporting this program is important.
"ESPERE teaches us to recognize the negative feelings we might be carrying because of something that happened in the past, and those negative feelings eventually take a toll on our relationships with other people and our relationship with ourselves," says the missioner from San Antonio, Texas. "We are invited to recognize those negative feelings and see how they are affecting our lives; the need to free ourselves of those negative feelings is the key. You don't want to carry that around with you anymore, so you decide to forgive the person. That forgiveness is really for you, not for the other person."
Katherine Olguin Rodriguez, a pastoral agent of Nuestra Señora del Rosario parish in Oruro, says the program has been very dynamic and has allowed her to interact better with other members of the parish. "In my work with youth ministry projects, we developed themes of life and present them with workshops. ESPERE provides important resources to learn something new and to innovate our work."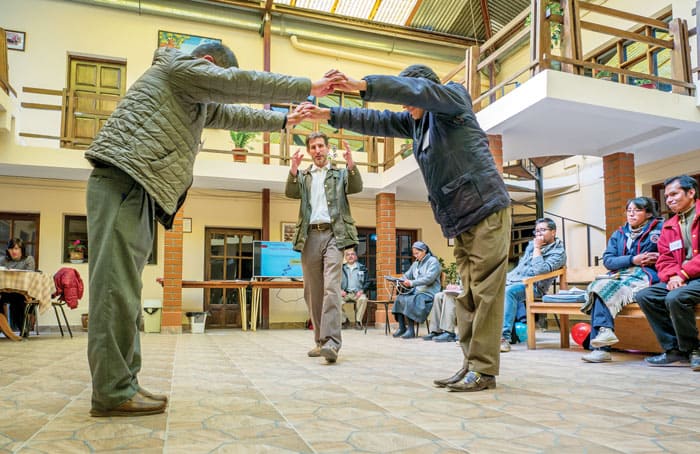 Maryknoll Affiliate Jason Obergfell (center) facilitates an ESPERE session on mediation in bridging differences and building reconciliation. (Nile Sprague/Bolivia)
For Olguin ESPERE was also an opportunity to acknowledge her own negative feelings and restore personal relationships. Olguin, an educator and psychologist, says her relationship with her mother has not been the easiest. "My mother would have been happy for me to be a housewife," she says.
"I am a mother of three children and I feel that I need to restore this relationship to exercise my motherhood with more freedom and confidence," she says. Working with other mothers in the workshops, Olguin says it was touching to hear their perspectives and how they have acted as daughters or sisters. Listening to others' stories helped her understand why many people hurt others or make mistakes through repetition or without awareness.
Click on the arrows to see the slideshow photos:
Maryknoll Father Juan Zúñiga, Maryknoll Affiliate Jason Obergfell and co-facilitators lead a workshop of the Schools for Forgiveness and Reconciliation (ESPERE) at a Jesuit parish house in Oruru, Bolivia. Activities include prayer; presentations; shared meals; tending plants as a sign of concern for the environment; and reflection on dynamics such as keeping balloons afloat to practice caring for self and others. (Photos by Nile Sprague/Bolivia)
Psychologist Everett Worthington, a presenter at the VI International Meeting of ESPERE last November, outlines five steps to reach forgiveness. First, he says, recall the hurt: To heal, you have to face the fact that you've been hurt. The next step is to empathize with your partner: Empathy is putting yourself in the other person's chair. The third is called altruistic gift: To give forgiveness as an unselfish act. The fourth is to commit: Once you've forgiven, write a note to yourself, something as simple as, "Today, I forgave [person's name] for hurting me." This, he says, helps your forgiveness last. Finally, he says, hold on to forgiveness: "We write notes of commitment, because we will almost surely be tempted to doubt that we really forgave."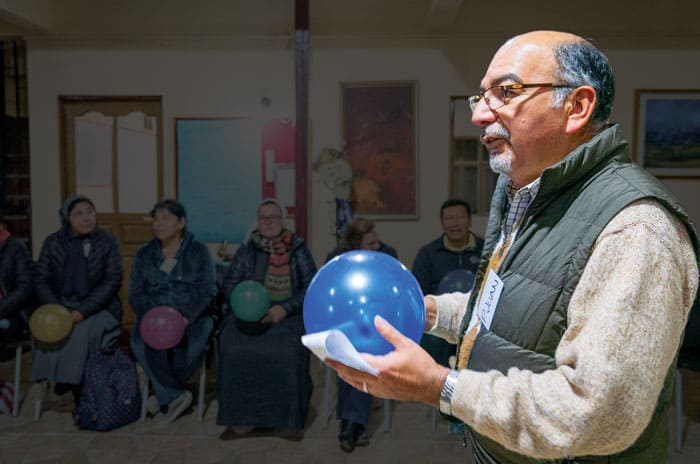 Maryknoll Father Juan Zúñiga leads a workshop of the Schools for Forgiveness and Reconciliation (ESPERE) at a Jesuit parish house in Oruru, Bolivia. (Nile Sprague/Bolivia) 
Miranda, who now participates in ESPERE sessions online, says she greatly appreciates Father Zúñiga's support. "Father Juan has the wisdom from God," she says, "and that gives us confidence to share our pains and open our hearts in the meetings."
Featured image: From left to right: ESPERE facilitators Mabel Ramírez, a psychologist, Jinky Irusta, a lawyer, Father Zúñiga and Jason Obergfell at a Jesuit parish house in Oruru, Bolivia. (Nile Sprague/Bolivia)