Maryknoll Sisters set an example of caring for our common home
From the Philippines to Panama to Zimbabwe and at home in New York, the Maryknoll Sisters have been pioneers in the ecology movement. Their works in Asia, Africa and the Americas have all led by example and presaged what Pope Francis deemed "care for our common home" in his 2015 environmental encyclical Laudato Si'.
"Women are leaders in climate adaptation," said Maryknoll Sister Marvelous (Marvie) Misolas, the Congregation's representative to the United Nations. In a U.N. debate on climate action in October 2021, she described what it looks like "when women lead climate action," citing an example from her native Philippines.
In the city of Antipolo, east of Manila, women participated in reforestation and afforestation (growing trees where none grew before) programs as part of a community-based watershed conservation program, the Marikina Watershed Protected Landscape. The locally led effort in 2016 was designed to conserve fresh water sources that would directly benefit surrounding communities, she said.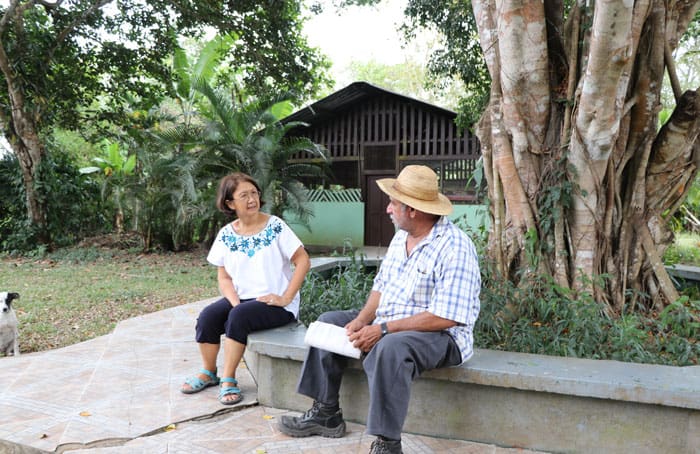 Maryknoll Sister Jocelyn "Joji" Fenix, a doctor who is originally from the Philippines, meets with Horacio González, who administers the sisters' pastoral center in Santa Fe, Darién, Panama, where they use rainwater and solar energy sources, cultivate food at a model farm and preserve the flora and fauna around them. (Maria-Pia Negro Chin/Panama)
"Local women initiated leadership in the implementation process," Sister Misolas said. This included collecting seeds from forests, setting up nurseries, participating in government meetings and capacity building workshops, selling seedlings to the government, and planting and monitoring new trees.
"Women leading climate action have shown interconnectivity of solutions," she said.
In the early 1990s, Maryknoll sisters working elsewhere in the Philippines established the Maryknoll Ecological Sanctuary in Baguio City on the island of Luzon, preserving 2.8 hectares of lush tropical pine forest. The ecology sanctuary not only saves a tiny piece of forest from being burned off for agriculture, but also serves as a learning center to help local people reclaim knowledge of caring for the earth.
Similarly, Maryknoll sisters in the rainforest of Darién, Panama, work to promote a way of life that harmoniously co-exists with the environment. They run programs that include sustainable living and alternatives to the slash and burn agriculture that has been destroying Darién's forests for decades.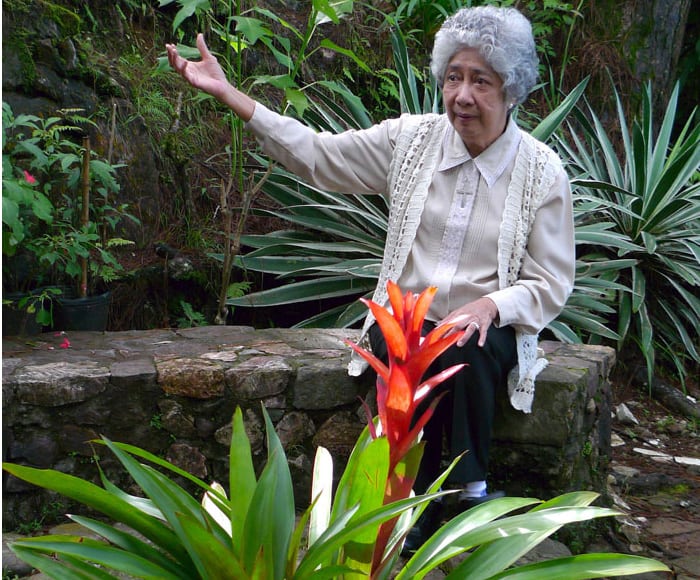 Maryknoll Sister Margarita Jamias is seen at the Maryknoll Ecological Sanctuary in Baguio in the Philippines, where she oversaw educational programs on care of creation. She is now a member of the Environment Committee at the Maryknoll Sisters Center in Ossining, New York, and continues her advocacy work on environment. (Sean Sprague/Philippines)
"I think one of the big problems that has caused a lot of destruction in our environment, in God's creation, is not recognizing that God is really everywhere," Maryknoll Sister Jocelyn Fenix said of the Darién ecology ministry in a 2019 article in Maryknoll. "God is in our fellow human beings, in the animals, in the land. So, how can we help others to stand in awe at the wonder of all creation?"
Maryknoll Sister Janet Miller, who also served in Panama, began her mission career in Africa in 1976, working in community gardening and agriculture in Tanzania and Zimbabwe, where she studied farming techniques suitable for the southern African landscape.
Back in New York in 2012, Sister Miller, as co-director of the Maryknoll Sisters' Environmental Office, helped preserve 42 acres of the Sisters' 60-plus acre property in the town of Ossining as a land trust.
"The conservation easement is to protect the environment, which contains both native woodlands and wetlands," Maryknoll Sister Rebecca Macugay told the U.N. in October. "The trust is more than a legal agreement; it is a sacred trust."
 Sites like the Marlin gold mine in San Marcos, Guatemala, have devastated the environment of indigenous communities. (CNS/Ezra Fieser, Reuters/Guatemala)
The Maryknoll Sisters, like the Maryknoll Fathers and Brothers, have committed themselves to addressing climate change and care of the earth and to responding to Pope Francis' call in Laudato Si' for a sustainable and integrated ecology.
Maryknoll Sister Anastasia Lott, who also addressed the U.N. in October, said: "We hope our efforts will spark a movement of integrated climate solutions that are responsive to Pope Francis' moral call to humanity in Laudato Si' to care for God's creation and God's people."
Featured image: A moss-covered walkway in the Maryknoll Sisters' ecological santuary in Baguio in the Philippines.The principal objectives of the preserve of pine forest, gardens and an area dedicated to biodynamic cultivation is to offer educational activities about care of creation. (Sean Sprague/Philippines)