Father Timothy Kilkelly offers China experience to Maryknoll Society's new leadership council.
Maryknoll Father Timothy O'Brien Kilkelly picks up a book in his office at Maryknoll, New York. It's a Chinese book of the Gospels and the characters on the cover say fu yin or "voice of blessing."
"That's a translation of what the Gospel is: a voice that brings blessing," Father Kilkelly, 62, says.
The book represents two aspects of the missioner's life: ministry of the Word and Maryknoll's long-standing commitment to Chinese Catholics. Currently the coordinator of the China Educators and Formators Project, Father Kilkelly has been appointed to the Maryknoll Society's General Council.
He admires the way Chinese people value family, tradition and relationships. "There's a clear desire to be faithful to those relationships … as you walk with the Chinese Church," he says.
The missioner comes from a Minnesotan Catholic family where Sunday Mass and regular confession were part of life. When he was a student at the College of St. Thomas in St. Paul, Minnesota, his relationship with God through prayer awoke a "desire to live not just for oneself, but for others and for Christ."
Young Kilkelly did volunteer service in Appalachia and taught English to Hmong refugees from Laos. As his prayer life deepened, so did his call to mission. "I thought of Maryknoll because my parents used to get the magazine," he says.
After college, he participated in a Maryknoll summer discernment experience in Hong Kong. The Maryknollers there, he says, were "regular guys who have this deep commitment to God and Church." He entered Maryknoll in 1982, did his overseas training in Peru and received his master of divinity degree from the Maryknoll School of Theology.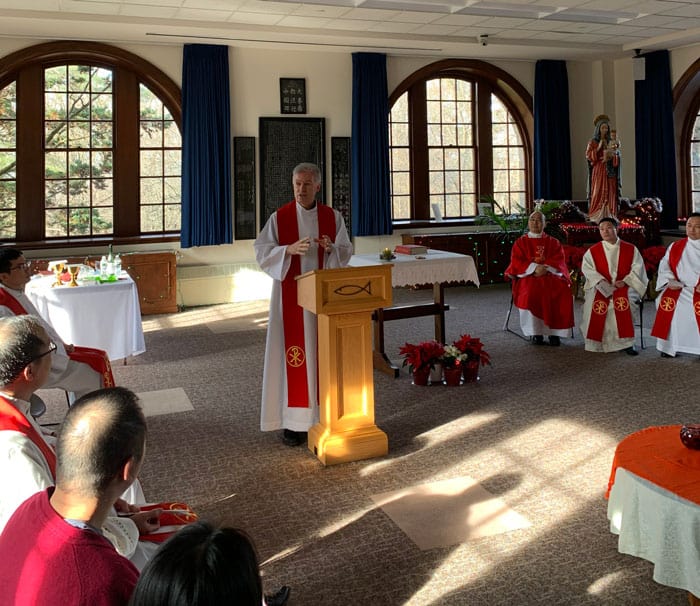 Closing Mass for the China project winter seminar 2019 in New York. (Courtesy of Timothy Kilkelly/U.S.)
Ordained in 1990, he was assigned to the Hong Kong Region. After studying Cantonese, he served at parishes in the New Territories and as a chaplain at a correctional facility and university. The missioner also pursued graduate studies at Gregorian University in Rome. Later, he was assigned to Maryknoll's Initial Formation Team in Chicago, eventually becoming rector for the Society's seminarians.
He returned to Asia in 2009 for Mandarin studies, and he taught English at Wuyi University in Jiangmen, China. In 2013, he was appointed coordinator of the China Educators and Formators Project, headquartered in New York. That project offers support and formation to Chinese priests and sisters earning advanced degrees at U.S. Catholic universities. Father Kilkelly sees the project as an important part of Maryknoll's long commitment to the Church in China, Maryknoll's first mission.
One of Father Kilkelly's favorite Scripture stories is the multiplication of the loaves and fishes. He sees this passage as a reminder to bring forth our simple gifts to serve the needs of the people. That gives him strength in his new role. "I see myself as a man of humble gifts who takes seriously the challenge to be part of a team," he says. "I bring a desire to do the best I can. And God will make that enough."
Featured image: Father Timothy Kilkelly (left) and Father John Li Bin stand before a display advertising the China Educators and Formators Project at Maryknoll, New York. (Courtesy of Timothy Kilkelly/U.S.)