A community solar project at Maryknoll will help preserve the Earth's natural resources.
T he New York campus of the Maryknoll Fathers and Brothers looks a bit different this fall. Solar canopies now cover the property's main parking lots, generating renewable energy that its neighbors in Ossining, New York, can use.
Ecogy Energy, a Brooklyn-based solar energy company overseeing the Maryknoll project, will sell the collected energy to the local utility company, giving Ossining residents a chance to purchase green energy. The project will have a total of 110,000 square feet of solar panels. It will generate enough electricity to power 100 to 200 households.
This initiative aligns with the Maryknoll Society's goal to combat environmental destruction and care for God's creation. "We all have a responsibility to protect our common home, to reduce as much as possible our common carbon footprint," says Maryknoll Superior General Father Raymond Finch. "It's part of how we see ourselves fulfilling our responsibility both in line with Laudato Si' and the Catholic Church's position" to care for the Earth.
"Pope Francis is very clear in that we have to be concerned about protecting our common home and at the same time helping people to move beyond poverty, and that they are connected; one cannot be without the other," says Father Finch, paraphrasing a passage from the pope's encyclical on the environment.
Ecogy and Maryknoll put a lot of work into making sure no trees were cut, by using the air zone above the existing parking lots and underground electrical wiring, preserving the trees on campus. Ecogy Energy has signed a 25-year lease agreement with Maryknoll to install solar collection panels. The project will promote clean, renewable energy while the lease's income will support Maryknoll's work in 22 countries worldwide.
"Maryknoll is known around the world for helping others, and after they won the Green Business Partnership award in 2019 for their water efforts at the Ossining campus, we really could not think of a better partner to embark on a community solar project with," says Brock Gibian, Ecogy's director of development. The water efforts he refers to include using recycled water from the campus' roofs and gutters to water the plants.
This community solar project, Gibian explains, enables Ossining residents who can't afford or are not able to put solar panels on their houses, rental units, or apartments to subscribe to this project and lower their electricity costs. Ecogy, he adds, focuses on the underserved, prioritizing low-income people when looking for subscribers. "By providing solar access through community solar, we can really reduce inequality in the renewable energy transition," Gibian says. "We hope for a successful long-term partnership that creates clean community solar access for all."
Gibian says that this project would be one of the, if not the, largest solar canopy systems in Westchester County. It is also the first community solar energy system in the town of Ossining. The company spent a year studying the sun's direction to maximize solar production and produce as much electricity as possible.
"For years, we have been interested in solar energy and alternative sources of energy that are protective of the environment and protect our common home," Father Finch says. "We have done a lot of work overseas installing solar projects where there was no other available electricity."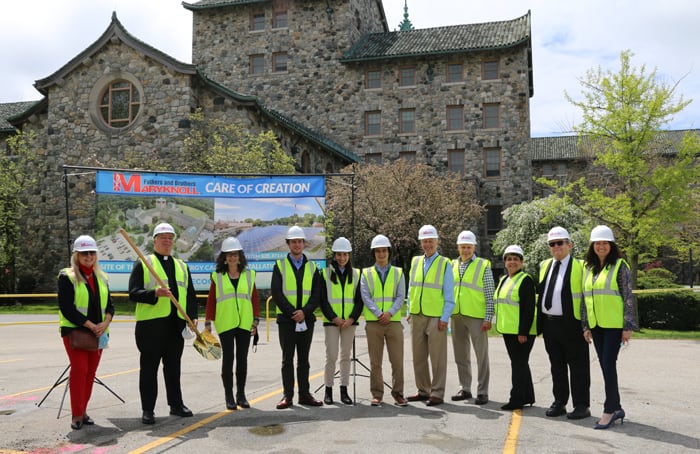 Maryknoll Superior General Father Raymond Finch (second from left) joins Ossining's town supervisor, Ecogy Energy employees, Maryknoll's Eco-Mission team and employees at the groundbreaking of the solar panel project at Maryknoll's headquarters, the first community solar energy system in Ossining, New York. (Diane Mastrogiulio/U.S.)
Maryknoll Father Michael Snyder recalls a small solar initiative in Tanzania in 1983 when the country only had electricity in major towns. "In rural areas, there was nothing. We used kerosene lamps for light and refrigerators, but the solar energy began to be somewhat available back then," says the missioner from Lanoka Harbor, New Jersey. "Many of us would have purchased the panels—it was quite clunky back then—and use the electricity in our parish compound. We used it in some of our dispensaries and in schools, where students would be able to study at night."
He explains that generators were costly compared to the upfront cost of small solar systems. As time went on, Tanzania invested in greater access to electricity, he continues. Yet, the electricity in rural areas can still be sporadic. People use supplementary solar energy when electric stations lose power.
In the case of Ossining, solar codes passed in 2018 paved the way for Ecogy and other solar developers to work with the town, explains Dana Levenberg, the town of Ossining's supervisor. This code included a floating zone where the area above large portions of land, like a parking lot, could be used for something like solar canopies.
She adds that the town was happy to work with Maryknoll, "a long-established missionary organization that does good work around the world," to introduce a sustainable energy source into the grid.
"They were hoping to get Ossining residents to be part of the community solar group and it's on an already clear piece of land, so we think that it's a huge success story," Levenberg says.
This project "establishes a relationship between the town and Maryknoll. We are partners, working together for the betterment of society and the health of our community," Levenberg says.
She adds that this project could be an example for others. Future solar projects could involve school bus parking lots or train stations.
"My hope is that we can lead the way and be good neighbors to the town of Ossining," says Father Finch.
The responses from Ossining residents and Maryknollers have been unanimously positive, says the missioner. "Society members have wanted to see solar here for a long time," he says.
Father Lawrence Radice, a Maryknoll missioner from Grand Junction, Colorado, who has been working with farmers and ecology for 35 years, was one of these missioners.
"I always thought to myself, 'We have this huge parking lot; why don't we cover it with solar panels?'" he says in a video interview. He even wrote a couple of proposals about this.
The solar project at Maryknoll could be a "teaching moment about caring for God's creation," Father Radice says. He explains that it can help students and community members to learn more about sustainable energy production.
David Agosta, director of support services and one of the employee representatives of Maryknoll's Eco-Mission committee, says the missionary society's commitment to the environment takes decisive actions. He adds that the willingness to try something new, such as pioneering the first solar project of this size in Ossining, is "the way that Maryknoll missionaries have always done things."
According to Agosta, some of the Maryknoll Fathers and Brothers' green efforts have included using recyclable office supplies and recycled paper and using both sides of the paper when printing (which reduced paper usage by 30%). These and other conservation efforts allowed Maryknoll Fathers and Brothers to be certified by the Green Business Partnership. Maryknoll's eco-mission group is also working on an initiative to reduce the use of plastic on campus, Agosta adds.
Why is it important to take action? "Because it depends on each and every one of us," Father Finch says, adding that people can look for ways to live well while respecting the Earth. "It's true that governments have to do their part, but each of us has to do our part."
Levenberg agrees that to protect the Earth "we have to think big and act small."
"It's already almost too late," she says, "but we can all hope and pray that, with human innovation, we can figure out a way to undo some of the damage that we've done to our Earth and make sure that we protect it for the future, for humanity and animals, all living creatures."
Featured image: New solar panel canopies are now installed over parking lots on the Ossining campus of the Maryknoll Fathers and Brothers. (Marco Gallo/U.S.)