Sister Janice McLaughlin, who ministered in Africa for over 40 years, died on March 7.
By Magdalene Kahiu, ACI Africa
The president of Zimbabwe has eulogized Sister Janice McLaughlin, a native of the United States and member of the Maryknoll Sisters of St. Dominic, as one who supported the struggle for the independence of the Southern African nation.
The 79-year-old sister died Sunday, March 7, at Maryknoll in New York.
In a statement published Wednesday, March 10, by the Inter-Regional Meeting of Bishops of Southern Africa (IMBISA), Zimbabwe's President Emmerson Mnangagwa says he learnt of Sister McLaughlin's demise with "great shock."
Sister McLaughlin who had started her apostolate in Africa in 1969 at the Social Communications Department of the Kenya Catholic Conference of Bishops arrived in Zimbabwe in 1977, beginning her service there as the Secretary of the Catholic Justice and Peace Commission (CJPC).
Three months after her arrival in Zimbabwe, Sister McLaughlin was imprisoned and later deported for writing reports on the country's struggle for independence. She went to work in refugee camps in Mozambique following her deportation.
In mourning the Maryknoll sister, President Mnangagwa describes her as "a devout Catholic for whom faith meant the quest for human freedoms."
He recalls Sister McLaughlin's deportation from Rhodesia, as Zimbabwe was then called, for opposing "racial colonial occupation and injustices, and for supporting our just liberation struggle."
In 1979, Sister McLaughlin assumed the responsibility of project officer for the Zimbabwe Project, an initiative set up by an alliance of Catholic donors to assist refugees from the war in Rhodesia.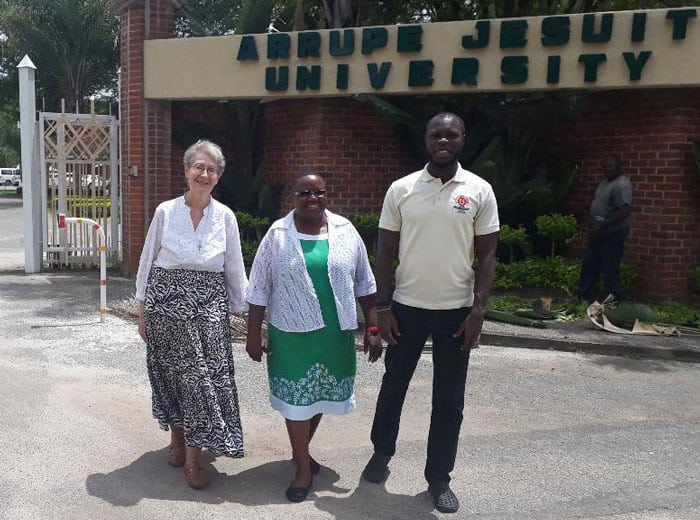 Maryknoll Sister Janice McLaughlin is seen at Arrupe Jesuit University in Harare, Zimbabwe, in this undated photo. Sister McLaughlin, who ministered in Africa for over 40 years, died March 7, 2021, in New York at age 79. (CNS photo/Tawanda Karombo, Global Sisters Report)
Recalling the period that Sister McLaughlin served in Mozambique, President Mnangagwa says, "She chose to leave an otherwise quiet life of an American nun to join rough and dangerous camp life in the jungles of Mozambique where she worked with refugees in our education department."
"Alongside educational work in the camps, she also worked with our Publicity and Information Department where she helped give the liberation struggle an enhanced international voice and reach," adds the Zimbabwean president.
The late Maryknoll sister returned to Zimbabwe after the country gained independence in 1980 on the invitation of the new government. She served as an education consultant in the president's office.
In this office, Sister McLaughlin assisted in the construction of nine schools for refugees and former war veterans and helped in the development of a new education system that linked academic subjects with technical training.
She also enrolled for her doctorate in religious studies at the University of Zimbabwe where she graduated in 1992.
According to President Mnangagwa, Sister McLaughlin's "field of study related to frontline missionary work in African struggles, a subject she knew intimately well from personal experience and commitment."
"She continued to offer her expertise in reshaping schools' curricula for a post-colonial Zimbabwe," the president recounts in reference to the late Maryknoll sister.
Making reference to the Zimbabwe Mozambique Friendship Association, which Sister McLaughlin helped to establish in 1985, President Mnangagwa says, "she worked closely with the likes of late Herbert Mahlaba to foster and strengthen solidarity between sister peoples of Zimbabwe and Mozambique."
In the statement, the president expresses his "heartfelt condolences" and those of the members of his party – ZANU PF- and the Government to "the McLaughlin family, and to the family of the Maryknoll Sisters who have lost a loving daughter and devout member respectively."
"Her leadership in both secular and spiritual realms will be sorely missed. May her dear soul rest in eternal peace," President Mnangagwa eulogizes Sister McLaughlin.
In 1991, the late sister left Zimbabwe for the United States where she served as the Communications Coordinator for the Maryknoll Sisters. Six years later, she returned to Zimbabwe's Jesuit center for religious training, Silveira House.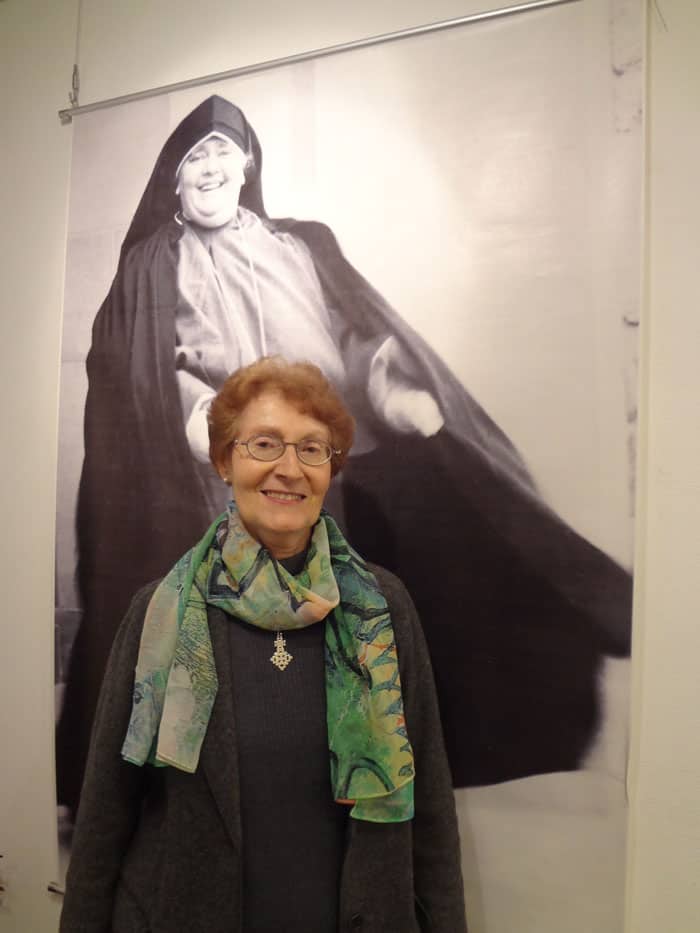 The late Sister Janice McLaughlin, a former president of the Maryknoll Sisters of St. Dominic, was pictured smiling under the image of Mother Mary Joseph, the founder of her religious community. (Photo courtesy of the Maryknoll Sisters/U.S.)
Sister McLaughlin also chaired the African Forum for Catholic Social Teaching, an association of justice and peace practitioners throughout Africa, and the Counselling Services Unit in Zimbabwe.
In 2008, Sister McLaughlin left Zimbabwe again after she was elected president of the Maryknoll Sisters.
She returned to the Southern African nation in October 2015 after her retirement.
From her maiden mission in Africa in Kenya and throughout her service on the continent, Sister McLaughlin is remembered for fostering good relationships, a quality that made Africans accept her as "one of their own."
Father Joseph Healey, a Maryknoll priest who worked together with Sister McLaughlin "for over 50 years throughout Eastern Africa" has, in his March 8 Facebook post, recalled their shared "passion to train Africans in the different Media of Social Communications and to hand over our ministries to the Local Church."
"Janice and I were good friends and enjoyed many good times together. From our African friends we learned the importance of friendships, relationships and community," Father Healey has recounted.
He adds, "Of Janice's many gifts and talents I want to recall one. She was truly both loved and admired by Africans. They considered her one of their own."
"There is a saying: 'To evangelize in depth you have to be accepted as brother or sister.' Janice was truly accepted as a sister and as a friend," the Nairobi-based Maryknoll cleric says in his Facebook post.
He explains in reference to the late Maryknoll sister, "She was at home in African culture and customs. More so she befriended people and was a friend to the mighty and to the simple. Our little Communications Team met regularly over 50 years."
"A visit by Janice to Nairobi in recent years was a highlight for all her friends. A nice meal. Good stories. Laughter. We harvested the memories," Father Healey, a specialist in Small Christian Communities (SCCs) as a new way of being church recalls.
The Maryknoll missioner who, last year, participated in growing online SCCs amid COVID-19 restrictions has described late Sister Janice as "a missioner to the very end" whose "last project in Zimbabwe was to stop human trafficking."
"We lovingly put Janice in the hands of our eldest brother Jesus Christ remembering the Shona people of Zimbabwe's name for Jesus that Janice loved so much – the 'One Who Turns Things Upside Down,'" Father Healey who will turn 83 at the end next month says.
The American-born Maryknoll cleric who is currently in the United States celebrated the Holy Eucharist for the repose of the soul of Sister Janice McLaughlin March 7.
The Memorial Liturgy for late sister, which will be livestreamed, has been scheduled to take place at the Maryknoll Sisters Center at Maryknoll in New York on Friday, March 12.