A Maryknoll sister in Zimbabwe works to combat sex trafficking there and around the world.
Bridget was only 22 years old when she decided to join the great trek to South Africa in search of work in 2018.
Like many young people leaving school in Bulawayo, Zimbabwe's second-largest city, Bridget had discovered that employment opportunities are non-existent in a country beset by poverty and unemployment.  (See Maryknoll Office of Global Concerns' News Notes).
Returning to school or college is not even an option for most young people in Zimbabwe, where thousands drop out because they cannot afford tuition fees, making leaving the country a more attractive option for the young and old alike.
Neighboring South Africa has historically offered economic opportunities to millions of Zimbabweans, so it was natural for Bridget (not her real name) to join others in the urban jungles of Johannesburg, Africa's richest city.
Little did she know the horror that lurked behind the promise of economic boom in the "City of Gold," as Johannesburg is called by locals. "I have never seen such evil and perversion," she says about her time detained at an apartment owned by some East Africans.
From her small stall in Bulawayo's central business district, where she now sells vegetables, she explains: "When I first got to Johannesburg, I was promised work with those people, but it all quickly turned into something else when I was asked to provide sexual services not just to strangers but the people who were supposed to be my employers."
Local cross-border transporters known as omalayitsha help desperate Zimbabweans like Bridget, who do not have passports, to cross illegally into South Africa, only to dump them into the hands of sex traffickers where escape is nearly impossible.
Fortunately, Bridget was rescued by concerned South African neighbors after they observed what they said was "suspicious activity" in the house where Bridget and others were being kept.
The story of desperate young women trafficked to South Africa to work as sex slaves has become disturbingly familiar, with authorities seemingly failing to curb the trade and even some churches being used as fronts for human trafficking and brothels.
This reality became more than a concern for Maryknoll Sister Janice McLaughlin. It led her to an apostolate that has seen her bear witness to the evils of human trafficking by helping to found the African Forum for Catholic Social Teaching (AFCAST). This grassroots organization in Harare, Zimbabwe's capital, works closely with church structures such as local bishops' conferences to promote the principles of Catholic social teaching in Africa and around the world, including campaigning against human trafficking.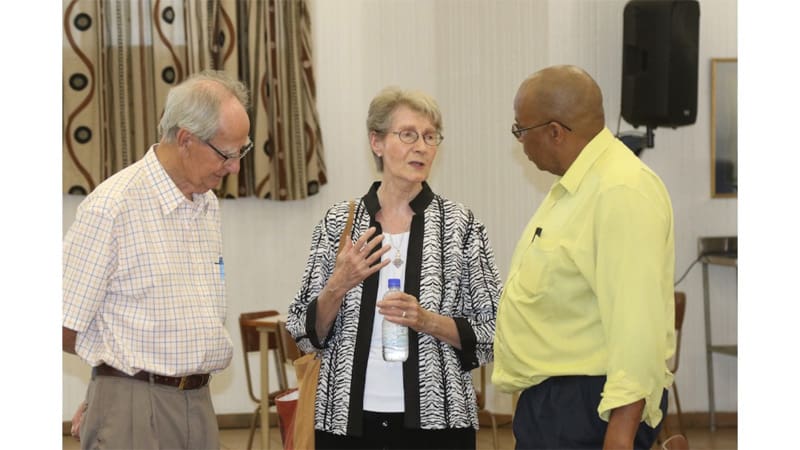 At the launch of the book The Scourge of Human Trafficking: Modern-Day Slavery, editor Sister Janice McLaughlin converses with E. Geoghegan (left), AFCAST financial advisor, and Z. Godi, a member of the AFCAST Working Group to Combat Human Trafficking. (Courtesy of AFCAST/Zimbabwe)
"I became aware of human trafficking when I was president of the Maryknoll Sisters from 2009 to 2015," says Sister McLaughlin, whose leadership role with the Maryknoll Sisters took her to visit Guatemala, Cambodia, Kenya, the Philippines and Hong Kong as well as areas in the United States.
"These experiences opened my eyes to the oppression and exploitation of women, both by trafficking and by discrimination," she says.
In Zimbabwe (formerly Rhodesia), where Sister McLaughlin began serving in 1977, her work with AFCAST has been focused on combating human trafficking through education and consciousness raising, research and advocacy and counseling victims.
"AFCAST has held dozens of workshops and seminars in schools, parishes and rural missions to warn people of the reality and dangers of trafficking," she says.
With Zimbabwe's economic crisis worsening and young people eager to leave, the country has become a magnet for human trafficking. In September last year, Zimbabwe's ministry of foreign affairs was forced to issue a warning after it was discovered that traffickers were luring potential victims with promises of jobs with an international hotel group.
"The ministry wishes to advise members of the public that Marriot International Hotels and Resorts have never been involved in the recruitment of medical staff. The ministry further advises that some individuals suspected to be human traffickers are disguising themselves as owners of Marriot Hotels and Resorts and floating job advertisements under the name of Marriot Hotels," a foreign affairs ministry official told state media.
In 2016 scores of Zimbabwean women were rescued in Kuwait, where they had been trafficked under the pretext of well-paying jobs in the oil-rich country.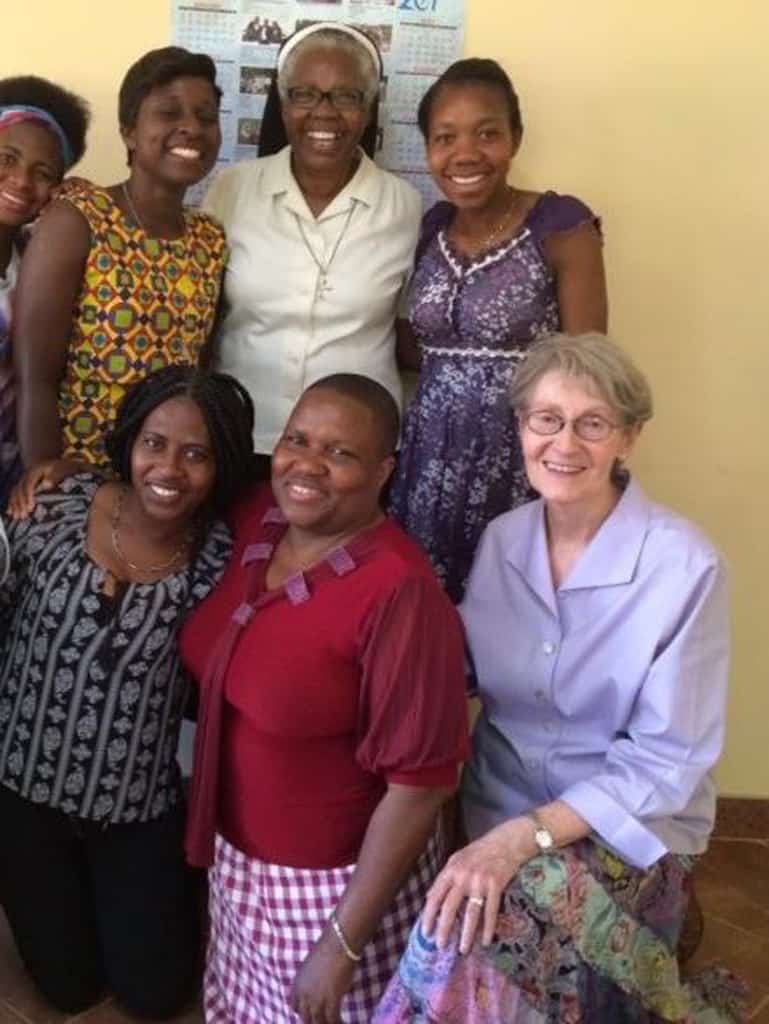 Survivors of human trafficking pose with Maryknoll Sister Janice McLaughlin (seated, right), Dadirai Chikwekwete (red blouse) and Dominican Sister Tendai Makonese (white blouse), the director of Lifelines, a media production company, during the recording Sister Makonese directed of a short video on human trafficking that is on the AFCAST website. (Courtesy of AFCAST/Zimbabwe)
Sister McLaughlin has been part of efforts to help these young women get back their lives. "As a result of the counseling sessions, about 25 women have become advocates," she says. "They give testimony at the workshops and seminars and have produced a short drama that depicts their experience in Kuwait."
"This work is one of the most rewarding in which I have been involved over the years, as I see the results in the smiles of the advocates and their willingness to share their stories," says Sister McLaughlin. "They are dynamic and resilient women who have suffered but have transformed this experience into a positive outreach to others. Some have started income-generating projects and others are taking short courses that will enable them to earn some income. They inspire and encourage me to understand that with counseling and support, survivors can gain strength and self-confidence."
Sister McLaughlin says she has come across testimonies that highlight the urgent need for governments and civil society to fight this global crime. Those testimonies come from places like Phnom Penh, Cambodia, where Maryknoll sisters have an anti-human trafficking program that offers education for survivors and helps them to obtain jobs.
"The stories of the women were horrific," Sister McLaughlin says. "Many had been trafficked to other Asian countries such as Thailand for the sex trade. When they became sick or old, they were sent back with nothing. One woman who refused to sleep with the customers had her teeth extracted one by one as punishment."
The United Nations and other international humanitarian agencies continue to campaign against human trafficking, but, Sister McLaughlin says, trafficking global networks have become complex, making it difficult to effectively bring to an end what Pope Francis has called "modern-day slavery."
Featured image: The supervisory team of AFCAST (left to right), E. Geoghegan, Jesuit Father Elias Opondi Opongo, Dadirai Chikwekwete, Getrude Chimange, Maryknoll Sister Janice McLaughlin, Father Peter John Pearson and Jesuit Father Chukwuyenum Afiawari, at the 2016 launch of a book edited by Sister McLaughlin entitled The Scourge of Human Trafficking: Modern-Day Slavery. (Courtesy of AFCAST/Zimbabwe)