Maryknoll Sister Ardis Kremer leaves Molokai 45 years after bringing her adventuresome energy to the Hawaiian island.
When Maryknoll Sister Ardis Kremer was first invited by a more senior sister to live on the Hawaiian island of Molokai, her response revealed her character. The other sister needed a companion as she fulfilled her own assignment. Sister Kremer replied, "Sure, but I need a job."
That was in 1975, the beginning of a 45-year sojourn for Sister Ardis. Her insistence on having a job in Molokai was an expression of her tireless, service-oriented and cheerful spirit.
When you think of mission work, Hawaii may not pop first to your mind, yet its small, beautiful island of Molokai, with fewer than 8,000 people, was home to two saints: Saint Damien of Molokai and Saint Marianne Cope, both of whom devoted their lives to working with people afflicted with Hansen's disease who were exiled to Molokai's Kalaupapa Peninsula.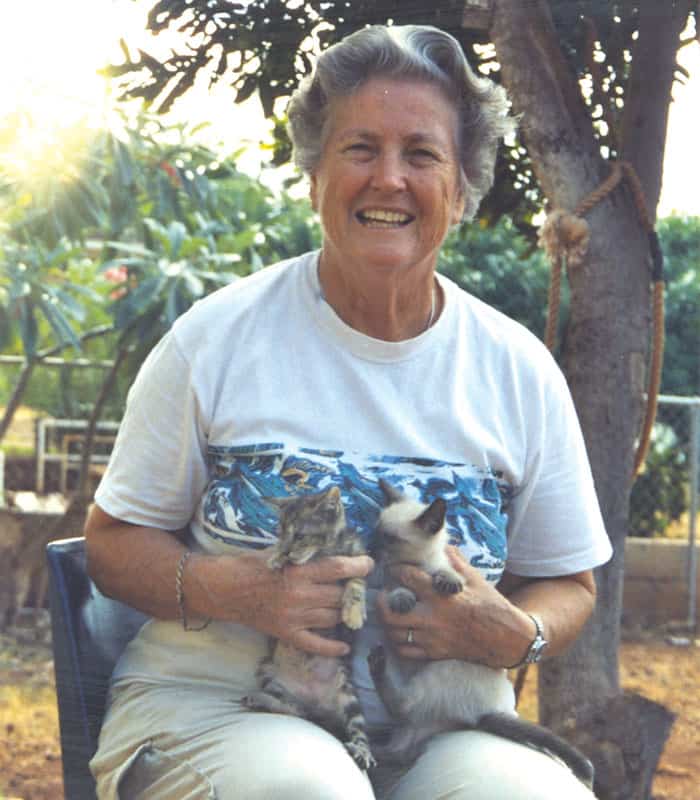 An animal lover who has assisted the local veterinarian, Sister Ardis Kremer cradles two kittens.(Connie Krautkremer/Hawaii)
Sister Kremer followed the example of these saints in being present to love and serve the people of Molokai, but when she speaks of her life, it is often in terms of adventure. "I am a dreamer," she admits.
Growing up on the Mississippi coast, she spent much of her time outdoors and on the sea. The daughter of an engineer who operated a boat-building business, she loved to sail. She was educated at St. John's Elementary and High School in Gulfport, Mississippi, but she yearned to see lands beyond the Gulf Coast.
As soon as she graduated from high school, she approached the Maryknoll Sisters about joining.
The Maryknoll congregation told her that she would have to wait a year before entering religious life. Accordingly, she studied for a year at St. Mary's Dominican College in New Orleans, and got a job working for her uncle in his auto parts shop. "It was good fun," she says, echoing her assessment of many of her experiences. Meeting and being with people was her favorite part of the job, although she suspects her uncle may not have been thrilled with her tendency to hand out discounts to all comers.
After her year of waiting, Ardis Kremer was invited to Maryknoll, New York, to begin life as a Maryknoll sister. She was taken with the beauty of the Maryknoll motherhouse in Ossining, with its hills and streams. To a Gulf Coast girl who had never seen snow, the Northeast winter cold was shocking. But she embraced it, and in the midst of a heavy class schedule, found time to learn to ice skate.
Her Maryknoll vocation would fulfill her wish for travel. First assigned to Chile in 1965, she taught religious education at a time of political turmoil in the country. Sister Kremer acknowledges the environment was "scary." She next was sent to Micronesia, where she again taught religious education and drew on her girlhood skills in teaching children to sail.
Serving in Micronesia led to her assignment to Hawaii, where the Maryknoll Sisters have served since 1927, with nearly 400 women in mission there at one time or another. Initially, Sister Kremer was involved in catechetical and pastoral work in Honolulu, the state capital, while also earning a degree in licensed practical nursing from Kapiolani Community College. She then worked in The Queen's Medical Center and St. Francis Hospital.
After she moved to Molokai, Sister Kremer began working at Molokai General Hospital as a licensed practical nurse, and later worked at the state's Department of Health, where she served for 30 years.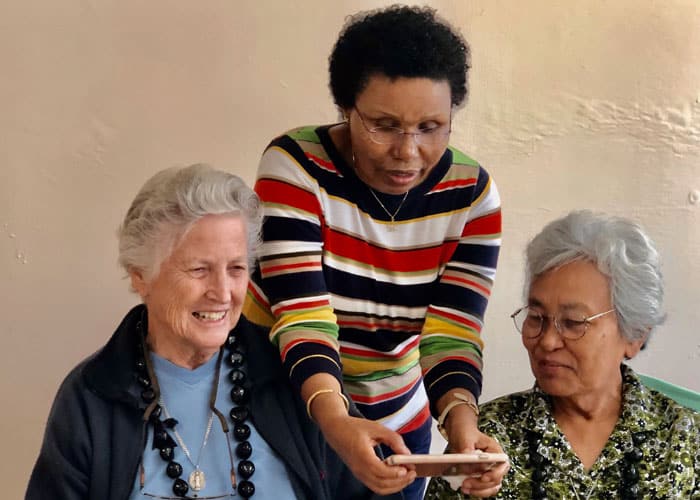 Sister Bitrina Kirway demonstrates the marvels of the smartphone to her Maryknoll Sister companions Ardis Kremer (left) and Rosalinda Barrozo. (Courtesy of the Maryknoll Sisters)
She found her job, and many less official roles, too. Sister Kremer was actively involved in both liturgy and religious education at St. Damien of Molokai Catholic parish. When the pastor or deacon was not on the island, she served as presider at Our Lady of Seven Sorrows Church's Communion service. Beyond parish life, she served for years as president of the Molokai Humane Society, and at times even assisted the local veterinarian when the usual assistant was unavailable.
Sister Kremer was the woman on the main street of Kaunakakai, Molokai's big town, who always wore a genuine smile. She was the one driving around the island in a well-used pickup truck, who could easily be mistaken for an island ranch woman. Her generosity and kindness flow freely, and, as Hawaiians might say, "aloha" comes naturally to her.
Her decades of work in healthcare on this rural island—known as "The Friendly Isle"—exemplify the depth of her calling as a missioner: being present and bringing good news through the ordinary stuff of life. The evident joy, energy and enthusiasm she brings to life, and her love of God make it easy to understand why she classifies so many of her varied experiences as "great fun."
There is a saying on the island, "Don't change Molokai; let Molokai change you." However, in Sister Kremer's case, it's fair to say Molokai is better because she spent more than half her life there.
At 80-plus years, she loves the island but remains ready to go wherever Maryknoll sends her. In considering the possibility of going back to the motherhouse in New York, her main response is, "I hope they have a job for me."
Featured image: With St. Damien of Molokai looking over her shoulder, Sister Ardis Kremer served for 45 years on that Hawaiian island before she returned recently to the Maryknoll Sisters center in New York. (Hawaii Catholic Herald)
Sister Ardis Kremer (back, center) poses with members of the Maryknoll Sisters congregation who were serving in Hawaii. (Courtesy of the Maryknoll Sisters)