The coronavirus pandemic has changed all of our lives. We at Maryknoll magazine, and the leadership of the Maryknoll Fathers and Brothers, find ourselves in a situation that we could not have imagined six months ago. The impact of COVID-19 has touched us personally, socially and economically.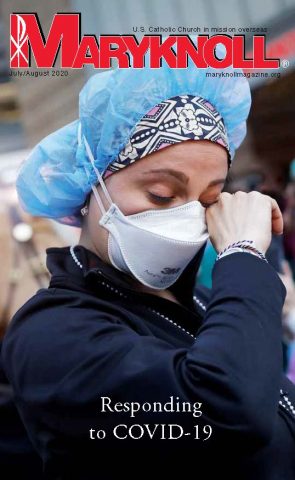 Unfortunately, because of the financial ramifications of this crisis, we must decrease our printing and mailing costs immediately. To do that, we are producing this July/August issue of Maryknoll magazine in electronic format only. While you, our readers, won't receive a copy of the magazine in the mail, we offer you the full contents of the issue—and more—on our magazine website at https://maryknollmagazine.org
While you're there, I encourage you to explore the additional material that is available online only, including more Maryknoll stories and Catholic news via Catholic News Service and UCA News in Asia. If you prefer an experience closer to print, we are also making this issue available in PDF format for download on our website. A PDF looks just like the print magazine and works across a wide range of devices, so you can read it on your computer, tablet or smart phone. You can even print the whole PDF or individual stories to read and share.
We sincerely apologize for this interruption in magazine delivery, but we know you will understand that our priority is continuing God's work through the ministries of the Maryknoll missioners.
Lynn F. Monahan
Editor-in-Chief