After a mob attacked Christian churches, claiming blasphemy against the Quran, leaders call for respect for Pakistan's religious minorities.
By Aftab Alexander Mughal, OSV News
(OSV News) — The Pakistani Catholic Church strongly condemned the Muslim mob attack on churches and Christian properties Aug. 16 and demanded justice.
Archbishop Joseph Arshad of Islamabad-Rawalpindi condemned the attack on church buildings, desecration of crosses and Bibles, and setting Christian houses on fire in the city of Jaranwala in the Faisalabad district, about 330 kilometers (205 miles) south of Islamabad, the capital of Pakistan.
An enraged mob ransacked at least six churches and, according to media reports, hundreds of Christian houses in Jaranwala. Some 500 Christian families have fled their homes following the attack.
Father Khalid Mukhtar, a local priest, said most of the Christians living in the area had fled to safer places. "Even my house was burned," he told The Associated Press.
Mukhtar told AP there are 17 churches in Jaranwala and he believes most of them were attacked. The authorities did not immediately confirm that figure.
According to UCA News, the Christian area came under attack after two Christians — Raja Umar and Rocky Masih — were accused of committing blasphemy by defaming the Quran, said James Rehmat, executive director of the Ecumenical Commission for Human Development, a faith-based charity.
The mob raided three Presbyterian churches, a Catholic church, a Full Gospel Assembly Church and a Salvation Army church with sticks, stones and explosives, he confirmed, adding that windows of the churches were smashed. Some portions of the churches were gutted in arson attacks.
Rumors started through social media first and then, according to OSV News sources, some mosques made announcements early in the morning that the Quran has been desecrated. Muslim crowds then gathered outside the local police station and demanded a quick arrest of the people accused of the alleged crime.
Father Gulshan Barkat, who teaches Church history at the National Catholic Institute of Theology in Karachi, told AP that loudspeakers erected on minarets had earlier in the day called on Muslims to gather and "attack the churches and Christian community." This information, according to AP, was not confirmed by local authorities.
A Muslim mob of 7,000 people, according to reports, then marched towards churches and two main Christian neighborhoods. Two fundamentalist organizations instigated the mob, sources reported.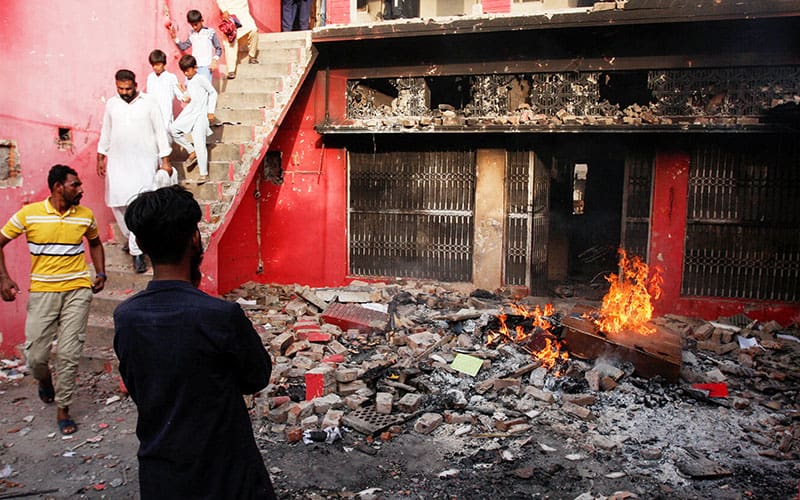 People gather at a church building vandalized by protesters in Jaranwala, Pakistan, Aug. 16, 2023. A Muslim crowd vandalized churches and torched homes after two Christians were accused of blasphemy. (OSV News photo/Fayyaz Hussain, Reuters)
Videos and photos posted on social media show an angry mob attacking churches, throwing pieces of bricks and burning one church and breaking windows in another. In another video, a man is seen climbing to the roof of the church and removing the steel cross after repeatedly hitting it with a hammer as the crowd on the road cheered him on. Furniture is seen thrown out of the windows and burned.
Policemen are seen in the videos watching the situation without intervening. Father Mukhtar told the media that he called the police, but police did not arrive on time to save Christians. According to Christian leaders, the local police could not control the situation either they were unwilling, or they were unable to do it.
According to AP, Police eventually intervened, firing into the air and wielding batons before dispersing the attackers with the help of Muslim clerics and elders. Sources reported that 129 rioters have been arrested.
Basharat Gill, a Catholic catechist in one of parishes in the Diocese of Faisalabad, told OSV News that if "police would have arrived in time, the situation would be different."
Archbishop Arshad demanded the government take strict action against the criminals "who ransacked Christian properties," he said in a statement in Urdu obtained by OSV News. The archbishop asked for a transparent enquiry of the incident so that "justice should prevail." "Social harmony and respect for other religions should be ensured," he said. He further added that these sorts of incidents create an insecure environment for religious minorities in the country where "our worship places and people are unsafe."
Protestant Bishop Azad Marshall, moderator of the Church of Pakistan, wrote Aug. 16 on X, formerly known as Twitter, "We cry out for justice and action from law enforcement and those who dispense justice and the safety of all citizens to intervene immediately and assure us that our lives are valuable in our own homeland that has just celebrated independence and freedom."
"Words fail me as I write this," he said. "We, bishops, priests and lay people are deeply pained and distressed at the Jaranwala incident … A church building is being burnt as I type this message. Bibles have been desecrated and Christians have been tortured and harassed having been falsely accused of violating the Holy Quran."
Pakistan's interim prime minister Anwaar-ul-Haq Kakar also condemned the incident. He said he is "gutted" by the visuals coming out of Jaranwala. "Stern action would be taken against those who violate law and target minorities. All law enforcement has been asked to apprehend culprits and bring them to justice. Rest assured that the government of Pakistan stands with our citizenry on an equal basis," he said.
The Ecumenical Commission for Human Development issued a statement condemning the attack on Christians.
"This is unfortunate that we are witnessing a resurgence of this barbarity right after Independence Day was celebrated by all the religious communities of the Islamic Republic," said the statement, quoted by UCA news. "We demand a thorough investigation of the announcements made through mosques. It shows that the majority has still not accepted us as equal citizens," it said.
Until late at night, various Muslim groups tried to enter churches and Christian houses again. A scuffle was ongoing between police and the attackers, Christian sources in Pakistan told OSV News. Police have accused Christians of blasphemy under Section 295-B of the Pakistan Penal Code (desecration of Quran) and Section 295-C (insult of Prophet Mohammad), against two Christian brothers.
Father Barkat told AP that the blasphemy allegations were a "false accusation."
Blasphemy is a contentious issue in the country, and it is widely used as a tool of persecution against religious minorities, especially Christians and local communities of Ahmadis. In the past few years, many Christian locations have been attacked and burned down by violent Muslim mobs in Punjab province alone.
According to the Centre for Social Justice, an independent group advocating for the rights of minorities, more than 2,000 people have been accused of blasphemy since 1987, and at least 88 people have been killed because of these allegations.
Christian sources add that hundreds of people are facing trials and are locked up in jails under false allegations. During the first seven months of 2023, some 198 people were accused of blasphemy, according to the Centre for Social Justice, based in Lahore.
Naeem Anthony, a minority rights activist, told OSV News that the attack has exacerbated religious tensions in the region, potentially "leading to strained relations between religious communities."
Christians from other parts of the country told OSV News that they face danger after that incident.
Christians only make up 1.5 percent of Pakistan's population of 220 million. Due to their poor economic status, they have been victims of persecution, violence and discrimination.
Aftab Alexander Mughal writes for OSV News from Blackburn, England. He is an editor of Minority Concern Pakistan.
Featured image: Members of the Christian community chant slogans as they hold placards during a protest in Karachi, Pakistan, Aug. 17, 2023, to condemn the attacks on churches and houses in the Jaranwala town of Faisalabad. A Muslim crowd vandalized churches and torched homes Aug. 16 after two Christians were accused of blasphemy. (OSV News photo/Akhtar Soomro, Reuters)