Maryknoll shares excerpts of an interview of Indigenous leader Patricia Gualinga, spokesperson in the struggle to defend water in the Amazon.
Patricia Gualinga, a Kichwa Indigenous leader and Amazon water defender of the Sarayaku people in Ecuador, was interviewed by Lisa Sullivan, senior program officer for Faith-Economy-Ecology for the Maryknoll Office for Global Concerns. The interview took place at the Maryknoll Society New York City House while Gualinga participated in the U.N. Water Conference in March 2023.
You represent the Amazon at the Water Conference this week. What is the significance of water for you?
Patricia Gualinga: Water is vital. The Amazonian ecosystem is one of the most important freshwater sources of the world. I come from a land of waterfalls, lakes and rivers that flow from the Amazon, and it is water that gives us food sovereignty. There are no markets in my town; we feed ourselves with fish from the river. If [water] dries up we lose our food source, the land dries up, and it generates an imbalance because the water is a living thing, with energy, with its own light and purpose, and we ought to care for it.
In an article, your father, Sabino Gualinga, spoke about his hopes. What did he teach you about water?
Patricia Gualinga: My dad was a yachak (shaman), a sage who had the gift of communicating with nature. I think it's the same gift St. Francis had. My dad could speak to nature, feel its protests, listen to it and interpret it. For him, rivers and lakes are sacred and living.
Once, when I came back home from college in the city, I went to an isolated river to wash my clothes with laundry detergent. Suddenly, the sky turned dark and it began to rain. The river swelled up immensely. I hopped on the canoe and rushed back home. Dad asked, "What were you doing?" and I told him, "I went to wash my clothes." He said, "What did you wash with, the detergent you brought from the city? You can't do that in a river that's so full of life. … [The river] is angry because of what you've done."
We don't own water, but we can use it, care for it and respect it. That relationship between rivers, lakes and waterfalls is innate to Indigenous people. In our cosmovision there must be a general balance. What generates the imbalance is ignorance, selfishness and arrogance. There's no respect for the land and for our sister water.
What have been some of the blessings and challenges of your people?
Patricia Gualinga: According to our ancestors, we are the people of the Zenith, meaning midday; a fighting people. We call it Sarayaku. It's a people of 1250 inhabitants that fought fiercely against extractive companies.
Our challenge is what can be called a "success story" because we are the only people that removed an Argentinian oil company [The Argentinian General Fuel Company] in the early 2000s, confronted the nation of Ecuador, and denounced human right violations. We were stigmatized, attacked, persecuted and harassed. Sarayaku is now enshrined in law, recognized in the Constitution of Ecuador and in international law. In 2012, the court [Inter-American Court of Human Rights] agreed with us, ruling in favor of Sarayaku and penalizing the state.
The blessing of Sarayaku is turning into a symbol of resistance, struggle and dignity for Indigenous people. Our people said, "[Companies] can't enter our territory without consultation or consent because that's a human rights violation." But we didn't stop there. How could we become a little protected island while other people struggle without the victories they deserve? What's the point? This concerns the climate crisis too. Long ago it was denounced that the balance of the Earth was being affected, that the Amazonian ecosystems were under threat and that forests were living things.
We had to build a proposal. That's what originated Kawsak Sacha [Living Forest] which is the mission of our ancestors, my father and the world. It's the pursuit of ensuring that the nature of the Amazonian jungle be considered a living thing and a legal subject. Based on that, we have developed our plan for protecting nature. We, the Indigenous people, fight for our rights, but also, for a universal right to equilibrium.
What's the relationship between faith and water?
Patricia Gualinga: Baptisms took place in water, in the river–in the Jordan River. The element of water was ever-present in Catholic life and in the life of those who have faith. Many times, in his miracles, Jesus sent [people] to wash in water. It's as important in the Catholic world as it is for the Indigenous world that utilizes it and respects it according to its vision. Water is so transcendental for humans that it's absurd to waste it in trivial things we can survive without, such as mining and oil. One can sit by the river and unwind while listening to its song-like murmur. It moves me to see water present in Mass and in religious sacraments.
What is the message you are bringing from your Amazon homeland to this global platform?
Patricia Gualinga: This is not only for the welfare of Indigenous peoples, that, surely, have rights and are native [to the land]. Think about humankind, about your children and all the people who benefit from the Amazonian biome. No one can say we are isolated; we are close and connected.
They can't make a decision without our voice. We are people who have cared for those forests and ecosystems for millennia. We come to the United Nations and, if they don't listen, at least we came to say we are present, to speak up and to make a stand. The human right to water belongs to everyone and, accordingly, defending the Amazon is everyone's responsibility because thanks to it we have water.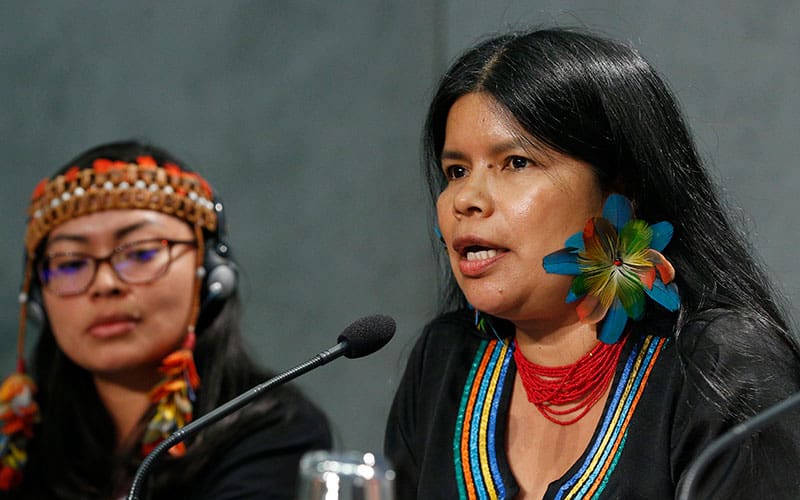 Patricia Gualinga, an indigenous rights defender from Ecuador, speaks at a news conference to discuss the Synod of Bishops for the Amazon at the Vatican Oct. 17, 2019. Also pictured is Leah Rose Casimero, an indigenous representative from Guyana. (CNS photo/Paul Haring)
If the forest is healthy, water will flow. We, the Indigenous people, are aware of that. Complete deforestation, as commercial interests attempt to do, affects water directly; it begins to dry, to lose its balance. Now it's time to listen to us, to act and to see things in a different light. Not as man dominating nature, but man as part of nature and water.
It's impressive how you have taken the voice of your people from local forums all the way to the United Nations. What inspires and drives you?
Patricia Gualinga: I was always involved in Indigenous community organizing through my family. When the oil company entered Sarayaku territory in 2002 and people decided to fight, I realized those people were my family. It was impossible to stand and watch. We didn't know where this fight would take us, but we knew we couldn't stay quiet.
I knew the plan of action, the functioning of the government, how to direct, how to document the technical aspects of the process and how to communicate. I had a few contacts in media and I could use what I knew to fight. [Initially], I thought the fight would be over if we managed to say no to the company, that it would end there.
In 2018, I decided to retire from my leadership position and keep a low profile, but it was impossible. Six months after, I received death threats. I realized I couldn't part from this process because it impacted my life and that of my family. Even if I wanted to, they would still try to intimidate me.
This was the case of Berta Cáceres, a Lenca Indigenous environmental activist from Honduras who was killed in 2016. What happened in your situation?
Patricia Gualinga: When you begin a fight against global economic interests, your life is always at risk.
It was terrible because they came to destroy my house around 1:00 in the morning. I was with my elderly parents. They threatened me: "If you continue with this, we'll kill you."
I knew staying quiet was not the better option; I had to keep going. If they wanted to drive me away through fear, they didn't succeed. A few months after that, I grew worried upon seeing so many extractive interests and insecurity in the country, especially in the Amazon region. Any pretext was good to eliminate a defender fighting for the preservation of the Amazonian rivers and forests. But I'm the kind of person that will call out any injustice that I see.
In Ecuador, for example, the Escazú Agreement involving environmentalist activists was signed. [According to the U.N., this legislative resolution approves the regional agreement about access to information, public participation and access to justice regarding environmental matters in Latin America and the Caribbean.]
I work with women of many nationalities and peoples of the Amazon to empower them. We are the Amazon Women Collective and we defend the jungle. Also, at first fearfully, I asked the Church to be our ally. I told them they couldn't watch while indigenous rights were being violated. That they had speak up and accompany us. We have fought side-by-side with many priests, but help from the head of the institution was needed.
Currently, I'm part of the vice presidency of the Ecclesiastical Conference of the Amazon (CEAMA). I participated in the synod, but I'm very critical when I see things are not working.
You mention the new ecclesial conference created by Pope Francis for the Amazon. Do you think Pope Francis is listening and paying attention?
Patricia Gualinga: That can only be the work of the Spirit. That a pope, at the moment in which the Amazon needed it so much, sees the Amazon. He expresses himself consciously, putting the Amazon in his heart.
It's a great strength for a global spokesperson to speak for marginalized people, for those that inhabit and care for such a biodiverse biome and who, at the same time, suffer the ravages of extractivism. I think this is an ideal moment. Meaning, our pleas and requests have been heard. I'm 53 years old and 30 of those years I have spent fighting.
My parents were Catholic and the first catechists in my town. I always dreamt and prayed that the Church would be a part of this journey, of this accompaniment. God lives in the Amazon rainforest, and in these peoples.
Featured image: Patricia Gualinga, an indigenous rights defender from Ecuador, attends a news conference to discuss the Synod of Bishops for the Amazon at the Vatican on Oct. 17, 2019. (CNS photo/Paul Haring)