Catholics in war-torn Ukraine feed, house, clothe and minister to those fleeing violence while also praying for a lasting peace with justice.
In the wind-swept town of Fastiv, Ukraine, some 50 miles south of Kyiv, acts of grace happen daily. A farming hub surrounded by hundreds of miles of agricultural land, this crossroads and others nearby have become rest stops and transit points for thousands of people from the south of the country fleeing invading Russian troops. Since the beginning of the war in February 2022, the Catholic community here has provided respite and a safe haven.
Father Mikahailo Romaniv, his staff and parishioners responded quickly when displaced people began flooding the town. 
"We started providing housing and food first, with people opening their homes and our parish's open spaces," says the priest at the Church of the Exaltation of the Holy Cross. They primarily received women with children, since men are required to stay and work in the country or fight in the army. The parish continues to provide assistance to roughly 100 of the 1,500 families they have helped since the war broke out.
A former medical center at a nearby parish has been completely renovated since last summer to accommodate displaced families. Seven mothers and 16 children temporarily call this place home.
One resident, Dasha Habovska, fled the embattled Kherson region with her newborn son, Christian, now a curious toddler. "I worry always," the young mother says. Christian's father is in the army and, even though they are in regular contact, Habovska says she knows he is never really safe.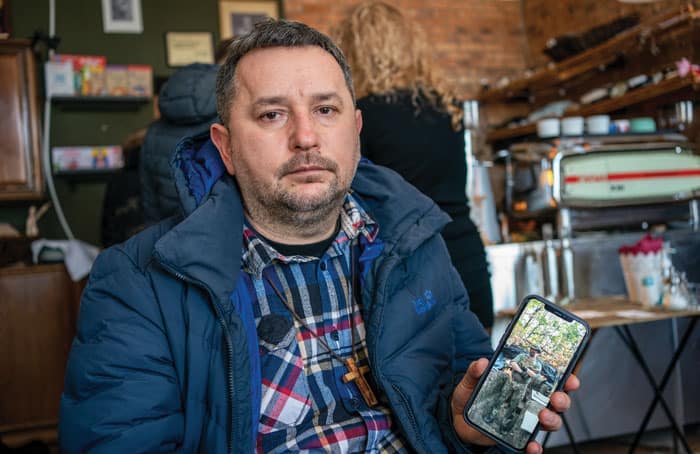 Father Mikahailo Romaniv, of the Church of the Exaltation of the Holy Cross in Fastiv, Ukraine, holds a photo of a friend in the army who was injured in fighting on the front lines. (Gregg Brekke/Ukraine)
Kateryna Chvalova, a parish school administrator and relief outreach coordinator, estimates that thousands of displaced children have passed through her doors since last year. Most stayed for only a few days until their mothers found transportation to western Ukraine or out of the country. However, about 80 new students from displaced families have stayed in Fastiv.
"These are my little miracles," Chvalova says as two grade-school girls hug her in the school's hallway. A rambunctious group of young boys halts their play to greet Chvalova. "Each of these children has such a [difficult] story. … Our school can provide a safe and normal place for them to grow," she says.
Beyond emergency relief for mothers and children, the parish operates a round-the-clock reception center for displaced people in the school's playground adjacent to the church. Hot meals, donated clothing, emergency supplies and prayer are offered to people seeking refuge. Wounded veterans arrive for physical and spiritual support. Some are unable to return to battle or to their homes in the now-occupied east of Ukraine.
All over the country, a sense of national unity is palpable. Resistance to the invasion is evident and a tangible solidarity binds Ukrainians together. People of faith, especially, have come to the forefront of relief efforts. But a deep concern about the lasting effects of war also motivates their work.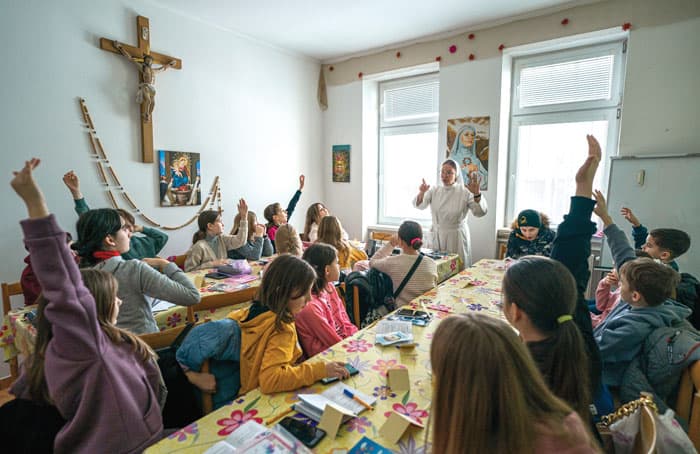 Dominican Sister Lydia Timkova teaches a catechism class in Mukachevo. (Gregg Brekke/Ukraine)
According to peace activist Felip Daza, social cohesion and community resilience are key outcomes of nonviolent resistance activities in the country. His report, "Ukrainian Nonviolent Civil Resistance in the Face of War," emphasizes the importance of these unified activities. He tells of people standing bravely in the way of oncoming tanks; community residents trying to dialogue with Russian soldiers; a yellow-ribbon campaign; and strengthening local governments as key to the resistance.
Unarguably, further direct efforts to end the conflict are necessary. Pax Christi International offered a statement on the first anniversary of the war calling on the international community "to immediately facilitate diplomatic initiatives to restore the international order and the territorial integrity of Ukraine. We plead with Russia and Ukraine to enter negotiations directly, on neutral ground, and with a mutually agreeable mediator."
For Ukrainians, the restoration of "territorial integrity" is vital to a lasting resolution. There is a feeling among the invaded population that Russia will not be satisfied until Ukraine is under Russian control as in the Soviet era, a process that began with the 2014 annexation of Crimea.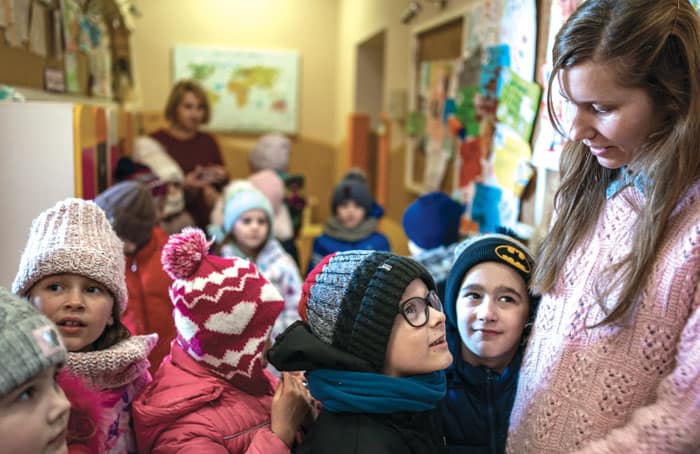 Parish school administrator Kateryna Chvalova (far right) runs a school that provides education for many children of internally displaced families living in Fastiv, Ukraine. (Gregg Brekke/Ukraine)
"Of course, we pray for peace daily," says Sister Lydia Timkova in Mukachevo, as emotions well in her eyes. "But while the war continues, we must support those who suffer, including the soldiers." She was preparing at the time for her third trip to far eastern Ukraine, near the war's front, to deliver warm clothing, blankets and other supplies to the embattled region.
Peace, the Slovakian-born nun continues, is not an academic or spiritual exercise in the face of evil.
Kyiv's northern suburbs were hit especially hard in the early months of the war — including the first reports of war crimes against civilians. Scars of the assault are everywhere. Bullet riddled homes and fences, blown out storefronts, apartments with gaping holes and burned exteriors: all are enduring reminders of artillery attacks and bombing.
Hundreds of burned-out Russian tanks and personnel carriers litter roadsides, destroyed when their 20-mile-long convoy of weaponry stalled, lacking the supplies and fuel to propel their drive into the heart of Kyiv.
Sister Yanuariya Isyk remained in  a conflicted area on the outskirts of Kyiv even as Russian troops occupied the streets surrounding her neighborhood. She provided food and clothing, along with spiritual support, to those who remained and for people in the shelters during the early shelling. A bullet hole in the window of her apartment's third-floor stairwell is a reminder of those days.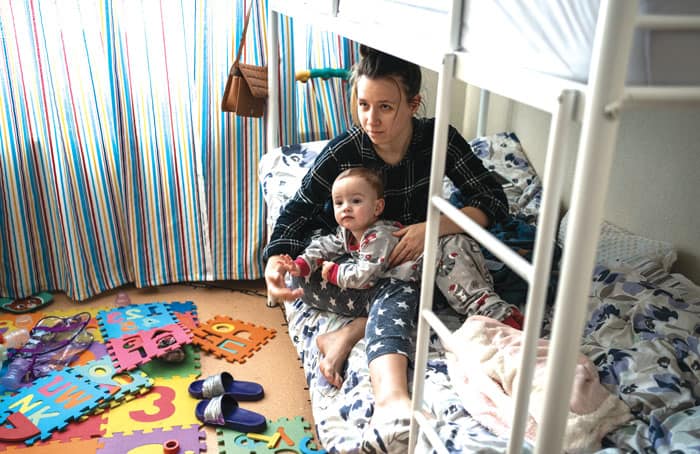 Dasha Habovska and her son, Christian, are internally displaced persons living in Fastiv, Ukraine, following the Russian invasion and bombardment of their home in Kherson. (Gregg Brekke/Ukraine)
She is hopeful for a peaceful end to the war while remaining resolute that Ukraine must not cede its land to Russia. Forgiveness can happen, she says. "It's what people of faith are called to do." But, she adds, "real healing and restoration will take generations."
Beyond the responses to immediate material needs, trauma care and spiritual support being provided, long-term reconciliation and social wellness are a concern for many, including Susan Gunn, director of the Maryknoll Office for Global Concerns. She herself is of Ukrainian background.
"The Russian invasion of Ukraine was a horrible, senseless, destructive act," she says. "In moments like this we ask, what is ours to do?"
Gunn says that Maryknoll missioners invest themselves in deep relationships with people who are suffering and afflicted around the world, and they cross boundaries to build bridges of understanding. "We hope we can build those bridges among Russians, Ukrainians and ourselves to bring about peace but also that, when the guns finally do go silent, we have laid the pathway for building strong, peaceful coexistence."
Featured Image: The center of this apartment complex in Borodyanka, Ukraine, collapsed when it was hit by a Russian missile on April 5, 2022. (Gregg Brekke/Ukraine)