For a Houston biochemist, missionary discipleship is his true vocation.
Mesias Pedroza has not forgotten the missionary heart of the late Maryknoll Father Gerald Kelly, a mentor who still guides him every day to serve God through others.
Pedroza has an extensive track record serving the poor of Houston, Texas, and other communities, and the seed of his concern for those less fortunate was instilled in him from childhood.
Pedroza was born in Chicago, Illinois, but when he was 3 years old, his parents took him and his three siblings to Mexico to immerse them in their culture, language and faith. He recalls a childhood full of good memories, but many challenges as well. His parents sacrificed to give their children the best they could, including a Catholic education. After a few years in Mexico, his father and brother returned to the States to better provide for the family. 
"We were poor and had to borrow money to be able to eat," Pedroza says, "but we were enriched by my family's instruction. From my mother, Guadalupe, I learned charity and prayer, and to share a loaf of bread with those whose needs were greater than ours. My mother used to say: 'Here, take this bean taco to Mr. Marquitos,' because even though he was homeless, he deserved to be treated with respect and dignity."
When the young Pedroza was 14, he and the rest of his family returned to the United States and reunited with his father and brother in Houston. He still had two more years of high school to finish, but it took him five years to do so.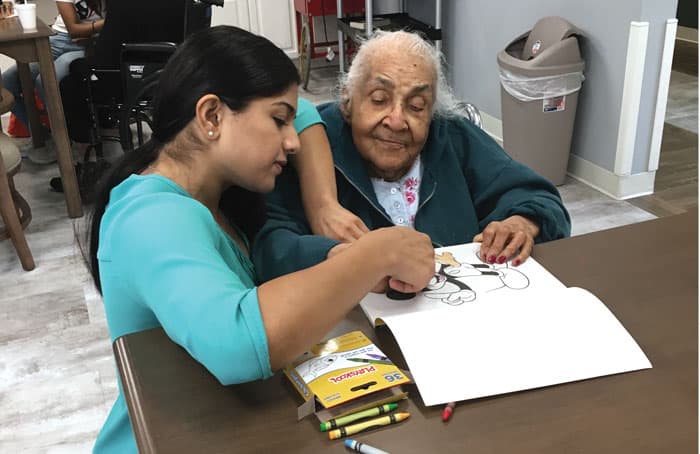 Christie (left), the wife of Mesias Pedroza, engages in recreational activities with a nursing home resident. The visit is part of Matthew's Family Ministries, run by the young couple.
"I felt alien to a new culture and language and to the country of my birth," he says. "I got together with other newly arrived students and fell under some bad influences that led me to rebel. I left school for three years." He continues, "Nonetheless, during those rebellious years, the presence of God surrounded me. I knew God was watching me, unhappy with my behavior. Finally, I told him, 'If you guide me, I will change.'"
In 2002, Pedroza finished high school. Before starting university, he deepened his process of introspection, asking himself, "Why did God bring me into the world?" One day, he heard the priest at Saint Charles Borromeo parish in Houston announce they were looking for someone to take charge of the food pantry. Pedroza volunteered. "It was an awakening," he says. "I felt a calling from God to help the poor."
While fulfilling his commitment to help others, Pedroza earned a bachelor's degree in biotechnology from the University of Houston and then a doctorate in biochemistry from the University of Texas Health Science Center in Houston.
In 2010 Pedroza was invited to attend the Youth Mission Encounter — Encuentro Misionero Juvenil (EMJ) in Spanish — in Houston. There he met Father Kelly, who was fundamental in the creation of the EMJ, a gathering of various Spanish-speaking mission groups that create awareness and promote missions both locally and abroad.
"What I learned from Father Kelly was the vocation to serve, to be actively receptive to God's voice," Pedroza says. He remembers the missioner's sense of joy. "His smile would be the first impression to brighten our day. He loved working with youth and migrant families. His optimism was what kept us working next to him. He was a simple man with a heart of gold."
Despite his advanced age and some health problems, Father Kelly, who passed away in 2021, served tirelessly until his last days. "Mission was his nourishment," Pedroza says. "He loved being close to God's people."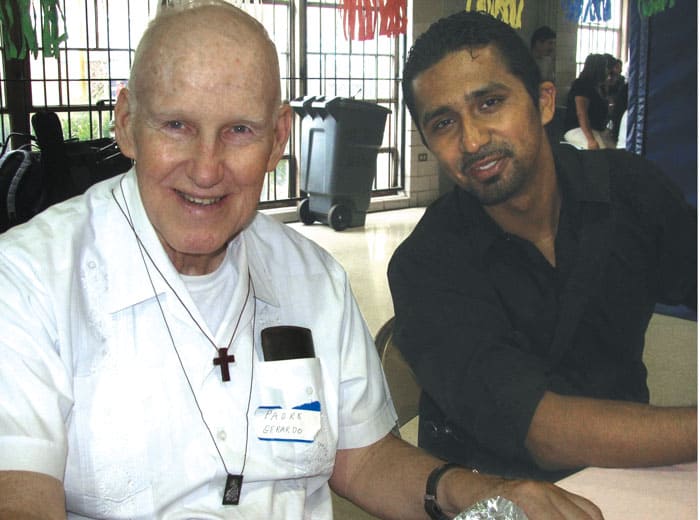 The late Maryknoll Father Gerald Kelly (left) is shown at a 2010 Encuentro Misionero Juvenil gathering with Mesias Pedroza, now 40, who leads multiple ministries in the Houston area.
Today, Pedroza and his wife, Christie, run Matthew's Family Ministries, named after one of two unborn children they lost during pregnancy, the other being Thomas. The ministries include distributing food and clothes in the Saint Charles Borromeo parish, writing letters to inmates in prison, visiting the homebound and patients in hospitals, tutoring students and donating books, notebooks, backpacks and educational materials.
Another ministry that Pedroza, 40, does from the heart is visiting migrant shelters on the border — a mission that was important to Father Kelly. "We continue this mission in memory of Father Kelly, to make him smile in heaven," he says. Participants bring donations, pray for the families and help with local transportation. They also pray at places migrants lost their lives.
More than 50 volunteers from various parishes of the Houston Archdiocese and other religious organizations such as Maryknoll serve through Matthew's Family Ministries.
Pedroza continues his collaboration with Maryknoll through the Maryknoll Affiliates, Maryknoll mission promoters and Maryknoll Father Rafael Dávila. "His keen understanding motivates us to learn more about our faith and how our faith transforms society," says Pedroza about the missioner. Last year, following in Father Kelly's footsteps, Pedroza even organized the EMJ gathering.
In March, the prayers of Pedroza and his wife Christie were granted. They welcomed a baby boy, Santiago, into this world. "May Santiago remember his brothers through the mission of Matthew's Family Ministries," he says.
Pedroza, who is a professor of biology and biochemistry at the University of Houston and does research into how illnesses develop, says one of the most important things for him is to work for the common good in his community. "When a community works for everyone's well-being," he says, "it will become a healthy and vibrant community."
Arturo and Esperanza Monterrubio contributed reporting to this article.
FeaturedImage: At El Buen Samaritano in Laredo, Texas, Mesias Pedroza (black cap), his wife Christie (beside him) and volunteers deliver donations. (All photos courtesy of Mesias Pedroza/U.S.)