Maryknoll Father John Barth supports local Catholic efforts to help Burmese refugees and internally displaced people.
Father John Barth has come full circle, returning to where his Maryknoll mission began. 
As a Maryknoll seminarian, Father Barth completed his overseas training program in Thailand, including time spent at a camp for refugees from Cambodia. Since his ordination in 1991, he has served in Cambodia, Uganda and South Sudan, as well as in leadership in the United States. 
By 2021, the missioner was ready for the challenge of a new assignment. That year, a military coup in Myanmar (formerly known as Burma) displaced massive numbers of people who fled toward Thailand. Father Barth went back to where he'd started, this time to assist the Diocese of Chiang Mai, Thailand, as it responds to cries for help from across the border.
There were already nine refugee camps inside Thailand hosting some 90,000 people from Myanmar, some of whom were born in the camps and had never stepped foot outside.
Following the 2021 coup, Thai officials refused to accept new refugees, meaning that families displaced by the violence had to remain in Myanmar. Many had no place to hide but the jungle. By October, more than 1.3 million people were displaced throughout the country, according to the United Nations Office for the Coordination of Humanitarian Affairs. 
Unlike refugees, whose status is internationally recognized and who are assisted by U.N. agencies and humanitarian groups, internally displaced people — commonly called IDPs — have no such legal recognition. Myanmar's military continues to restrict or outright block their access to aid. Getting food and other supplies to those who need them is challenging.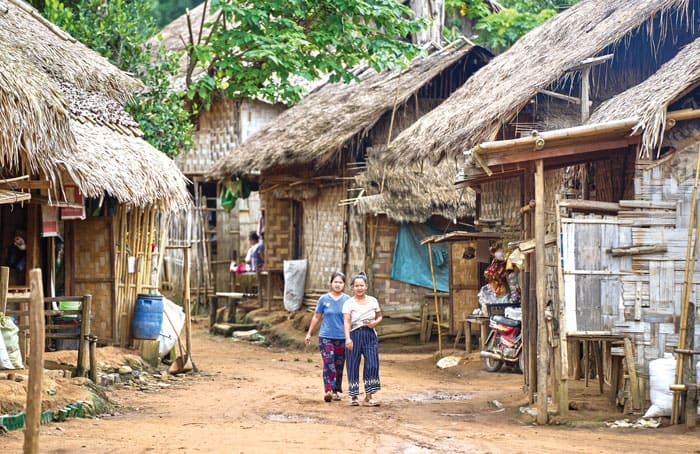 Girls walk in the Ban Mai Nai Soi refugee camp in Thailand. The camp, one of many, is home to thousands of Burmese refugees who were displaced from their home villages by ongoing violence perpetrated by Myanmar's military regime. (Paul Jeffrey/Thailand)
But the Catholic Church, present on both sides of the border, can do what others cannot. Shortly after the coup, the Chiang Mai diocese began sending emergency supplies to IDPs, coordinating the assistance with priests and catechists in two bordering Myanmar dioceses.
"The fighting in Myanmar isn't just between armed groups. Ordinary people are affected, especially when the military launches air strikes and bombings," says Sunthorn Wongjomporn, diocesan coordinator of Catholic Mission for Social Development. "People can't survive in their villages. They run away and hide in the forest. When they run, they can't carry anything, just the shirt on their back and maybe a pot to cook rice."
Wongjomporn says the diocese, with help from Caritas Thailand, did what it could. "We've tried to provide food, medicines and tarps for shelter. In the dry season they can make bamboo shelters and cover them with banana leaves. But drinking water is in short supply, so there's a lot of sickness, especially malaria and diarrhea."
The help was never enough, and in early 2022, funds were running low. Then Father Barth arrived.
Since June, the missioner from Buffalo, New York, has coordinated much of the support that the Chiang Mai diocese has given the two dioceses in Myanmar.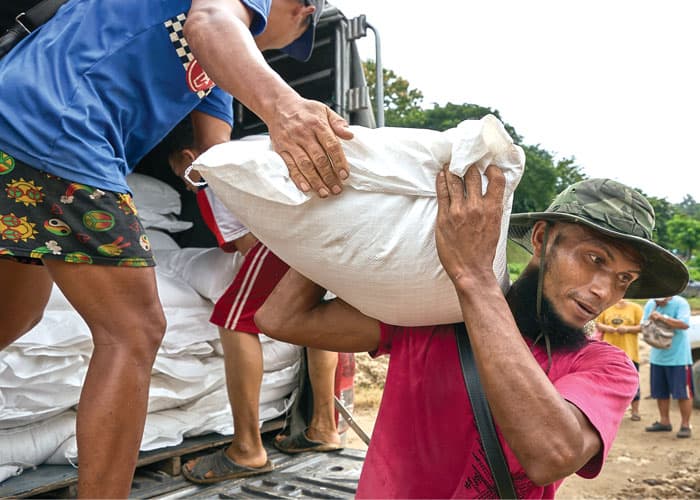 Workers in Mae Sam Laep village in Thailand carry bags of rice for displaced people in Myanmar to boats on the Salween River, which separates the two countries. (Paul Jeffrey/Thailand)
"Maryknoll has provided the rice, cooking oil, medicines and shelter material we needed," Wongjomporn says. "Father John doesn't talk much, but he looks and listens. If we propose something, he immediately responds."
A church worker who fled Myanmar after the coup — and who asked not to be named for the safety of family members still living there — says Father Barth's ministry has been a blessing.
"Maryknoll came along at the right time with food and medical supplies. They are also supporting the community schools in the IDP camps with notebooks, pencils, pens and teachers' supplies," says the church worker. "Father John is the missing piece we were all waiting for."
Father Barth, 70, also works closely with pastoral workers in the Ban Mai Nai Soi refugee camp near Mae Hong Son, where two Burmese priests serve as chaplains. Father Barth has spent time in the camp — which is guarded by Thai soldiers — getting to know people, including a group of young landmine survivors. He plans to help rebuild a crumbling dormitory for orphans and other vulnerable children in the camp.
The most pressing need is getting assistance to displaced families inside Myanmar, he says. It's no easy task.
"The IDPs are in the worst shape of anyone," the missioner says. "Refugees in the camp have legal protection and some support from aid agencies. They can go to school, and can get on with a somewhat normal life inside the confines of the camp. But the internally displaced are people who recently had to flee their homes in the night. They've been brutally pursued, with many killed. They've witnessed atrocities. They're traumatized."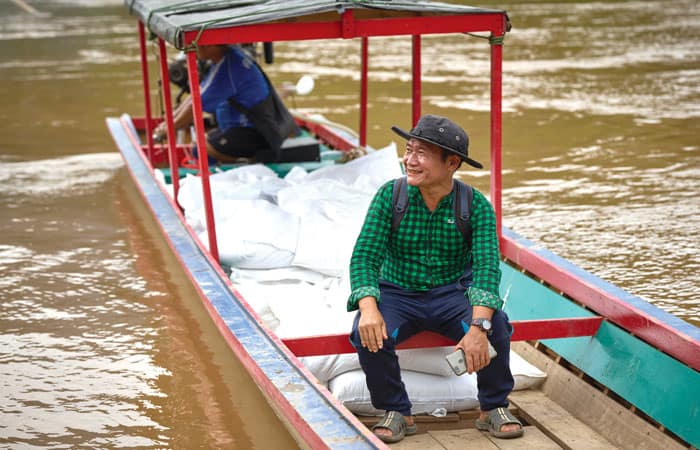 Pah Kler, a catechist who supervises shipping of food supplies to internally displaced people hiding in the forests of Myanmar, rides in a boat loaded with rice on the Salween River. (Paul Jeffrey/Thailand)
"Many would like to come live in a camp in Thailand, but they can't get in," he adds. "Thailand doesn't want any more camps."
Father Barth travels to the border a couple of times a month to witness the aid deliveries by those helping the IDPs.
"Once we get things across the border, whether in a boat or in a car, you can't go far because of military roadblocks. The military will shoot you," he says. "So they load things on their backs and take hidden paths through the forest, staying out of sight of military patrols. They'll haul a bag of rice on their shoulders for two days, up and down through the mountains, and it only lasts a family for a month. And they don't know if there will be more rice when that runs out."
The missioner must keep a low profile. "Foreigners like me can draw a lot of attention in those little border towns, especially down on the river bank," he says.
In spite of the risks and difficulties, Father Barth says he's exactly where he needs to be as a missioner.
"I always wanted to do this work," he says. "I grew up in the nice suburbs. My father had a great job. We never wanted for anything. I wanted to use what I had to help other people. Not just to give them things, but to help them help themselves."
"The best people in the world I've ever met are religious people, people who sacrifice for others," he continues. "I've been fortunate to cross paths with so many of them over the years, and this place is no different. They strengthen my faith. I don't have a parish. My Eucharist is giving food to the hungry and starving. To me that's the Eucharist."
In coming months, Father Barth and the Maryknoll Society will help build a simple bamboo chapel in the Daw Noe Ku camp for IDPs inside Myanmar. For Father Dominic Nyareh, one of the priests assigned by the Diocese of Loikaw to care for the refugees and the displaced, it's a small symbol of how Maryknoll has accompanied those who fled the horrors of war.
"Many of the displaced feel that the world has forgotten them," Father Nyareh says. "But God did not forget or abandon us. And God helps us through people like Father John and the Maryknoll community as they reach out to those who suffer in Myanmar."
Featured image: Maryknoll Father John Barth (right) and Sunthorn Wongjomporn, of the Chiang Mai Diocese, discuss details for delivering humanitarian relief to displaced people in Myanmar. (Paul Jeffrey/Thailand)