Maryknoll Lay Missioner couple Tawny Thanh and Hiep Vu, who recently retired, continue to live and volunteer in Bolivia.
For Hiep Vu and Tawny Thanh, mission never stops. The married couple, who recently retired as Maryknoll lay missioners, continues to serve in their beloved Bolivia, where they volunteer in local efforts for the underprivileged.
Although they now feel at home in Bolivia, their story began far away, on another continent. At the end of the Vietnam War in April 1975, as North Vietnamese troops closed in on the South Vietnamese capital of Saigon, their hometown, young adults Vu and Thanh (now 66 and 67) both fled their country to seek refuge in the United States. 
"Tawny and I left with many conflicting feelings of losing our families, our youth, our friends and the anxiety about an uncertain future," says Vu.
They were evacuated to Guam before being sent on to the States. There, the two friends learned that the communists had taken control of their city. "Being with each other when the news that Saigon fell, we cried our hearts out," he says. "We shared the pain of losing our country." 
 Thanh's first stop in the United States was Fort Chaffee in Arkansas. "I became a nobody with no future," she remembers. "I looked at the masses of people poured into the camp from all walks of life. Each one of us had a story to tell, each of us asked, 'What will the future be like?'"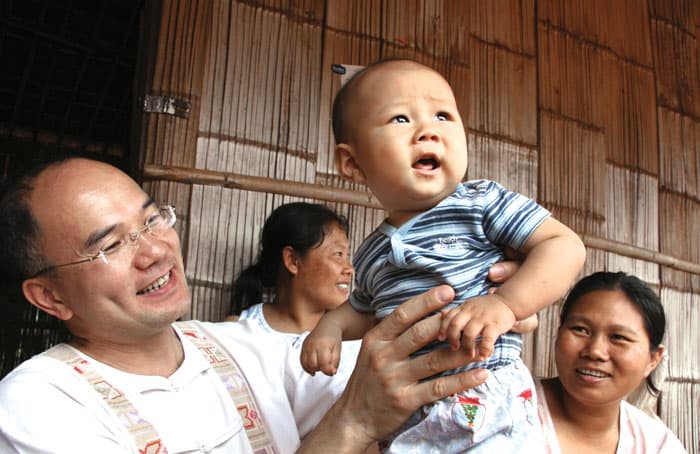 Maryknoll Lay Missioner Hiep Vu visits a Lahu tribal family in Chiang Dao in 2005. (Sean Sprague/Thailand)
Meanwhile, Vu arrived at Camp Pendleton in California.
Five years later, Vu and Thanh reunited in California, where they married and settled down. Vu became an electronics engineer and Thanh owned her own clothing retail business. Although they found their careers rewarding, they felt called to do more. Not having children, they decided to serve others through ministry.
When Vietnam opened up in 1994, the couple visited Vietnamese religious sisters serving there. That was the beginning of their call to mission. For almost 30 years, their journey has led them to accompany children, youth, refugees, prisoners and people with disabilities in Asia and Latin America.
Vu and Thanh joined the Maryknoll Lay Missioners in 2000 and served in Asia for 10 years. Their first assignment was to Thailand, where they worked with refugees from Myanmar who had fled their homes following a military coup. The couple remembers visiting camps of 1,000 to 3,000 refugees. "They lived in the jungle," Vu says. "We used to bring food, clothing and mosquito nets."
After Thailand, Vu and Thanh served in Myanmar. Vu taught computer skills to seminarians, introducing them to the internet and showing them how to seek out news and information. "Information was controlled by the government," Thanh explains. "Wherever we went, the taxi driver had to report where we were going. There wasn't freedom to do mission."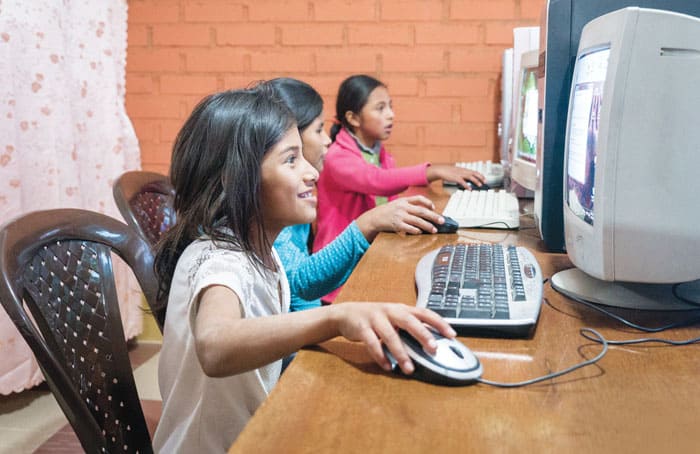 Young students enjoy computer classes at a neighborhood after-school program held in the home of Maryknoll Lay Missioners Tawny Thanh and Hiep Vu in Bolivia. (Nile Sprague/Bolivia)
Vu and Thanh were next assigned to Vietnam, where they served in a program to reintegrate juvenile offenders into society. The youth learned skills like welding, computing and motorbike and auto repair. The program also helped them find — and pay for — further job training. In addition, Vu served at Sao Mai Center, a school for about 80 children with autism.
After a furlough to care for Vu's elderly father, the couple rejoined the Maryknoll Lay Missioners in 2015. This time, they accepted an assignment to Latin America, and they embarked on mission to Bolivia, the country where they would remain even after retiring.
In Cochabamba, the couple lived in the community of Punata and both served at the Instituto Virgen del Rosario, sponsored by the government and run by the religious sisters, the Misioneras Parroquiales del Niño Jesús de Praga. The institute trains people in gastronomy, hairdressing, computing, dressmaking and crafts.
Vu says his expertise as an instructor in computer skills was put to good use. At the institute, he taught computer classes for a training program of two and a half years. "I looked for students who wanted to learn and I helped out," he says, adding that students can only learn when they are given the opportunity.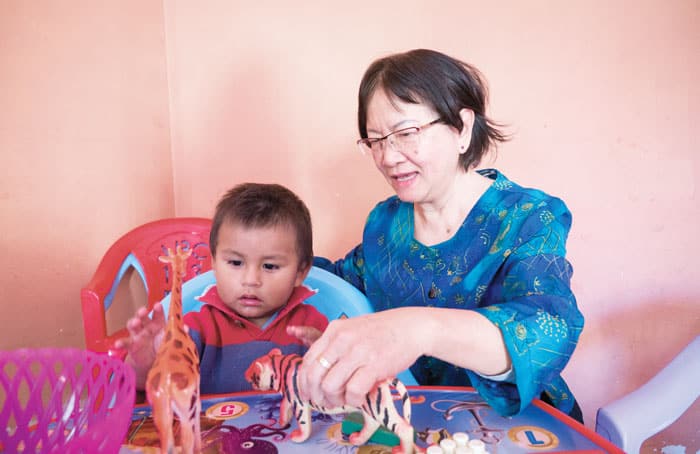 Maryknoll Lay Missioner Tawny Thanh tends to a child at the daycare of an institute run by the Misioneras Parroquiales del Niño Jesús de Praga in Cochabamba. (Nile Sprague/Bolivia)
A student of the institute, Victor Hugo, says he is thankful for the missioner's teaching. "We are very grateful to Jaime [as Vu is known] because he comes from far away to teach us," says Hugo, who hopes to become a computer technician. "Life is difficult, but if you don't make an effort to study, you won't achieve anything," he continues.
Thanh also volunteered at the institute, serving in its daycare. A teacher, an assistant and Thanh (who is known as Antonia) took care of 20 children and provided educational activities. "The children are used to Antonia," says Karina Arias, the teacher. "Children would come with a cold, diarrhea or other health issues and Antonia had the patience to take care of them."
Thanh also offered cooking classes at Guadalupanos Special Education Center to special needs students with Down syndrome and other chronic conditions.
She recalls a little girl with Parkinson's disease. "She wanted to do everything, but her hand was shaking and she could not even hold a cup of flour without spilling it," Thanh remembers. Yet, the child was interested and eager. With some help, the little chef made it through the class.
As the couple made plans last year to retire, staying in the country that had won their hearts, they knew they still wanted to help people as much as they were able. Exploring volunteer options, Vu visited Stefano Catholic High School in the south of the city of Cochabamba. The school of about 900 students had one computer room with 14 computers but lacked teachers.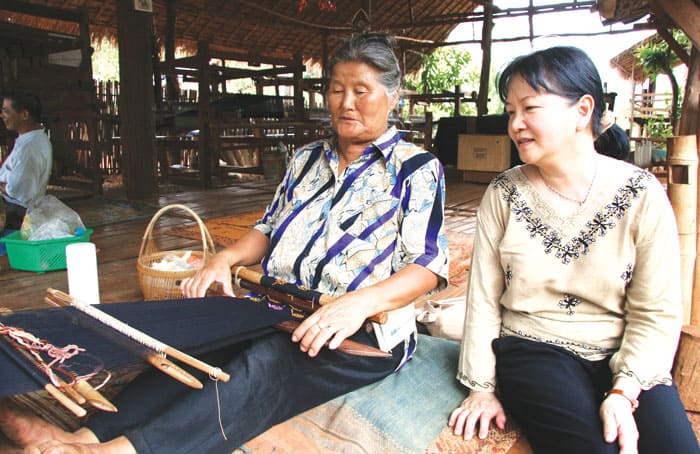 While serving along with her husband in Thailand, Maryknoll Lay Missioner Tawny Thanh visits a weaver in a Lahu tribal village in Chiang Dao in 2005. (Sean Sprague/Thailand)
"I spoke to the principal and offered to teach computer classes," Vu says. Since there are too many students for him to teach, they came up with a solution. "We divided them in groups of 30 students and acquired software so they can learn" in a self-directed manner.
Most of the students hadn't even seen a computer before, he says. They are learning Microsoft Office with Microsoft Word and Excel. They also learn critical thinking through educational computer games. "They are more excited about computer classes than any other subject," says Vu. "They always wait outside the room for the previous class to leave."
Thanh continues helping the Misioneras Parroquiales sisters, now as a consultant. Part of their mission is providing food to children and families in remote Andean Mountain communities outside Cochabamba. At Christmastime, they bring gifts to the children, gathering them together and playing games. "I enjoy sharing with the people, especially the children," says Thanh.
The couple, who served with Maryknoll Lay Missioners until 2021, still joins their fellow missioners for holidays and special events.
Vu and Thanh plan to continue their mission in Bolivia as long as people there need them. "My hope is that the more people know, the more they are aware of what they need to better themselves," says Vu. "Since I started serving with Maryknoll, I've learned that education is the key everywhere."
Featured image: Maryknoll Lay Missioners Tawny Thanh and Hiep Vu, who served in various ministries in Punata, Cochabamba, are shown with neighborhood children. (Nile Sprague/Bolivia)