Leader of Maryknoll's Hispanic outreach reflects on national event looking at the future of U.S. Hispanic ministry.
In April, Elisabeth Román welcomed 400 Hispanic ministry leaders to the "Roots and Wings" conference. The National Catholic Council for Hispanic Ministry (NCCHM), of which Román is president, set out to reflect on the current reality of Hispanic ministry, identify new paths and motivate us to action. 
Hispanic leaders and bishops from the United States and Latin America came to Washington D.C. in a spirit of synodality. "Raíces y Alas (Roots and Wings) … marks the climate of renewal that the pope asks of us for the entire Church," said Rodrigo Guerra López, secretary of the pontifical commission for Latin America at the Vatican. Pope Francis defines synodality as "ecclesial communion … (that) must animate the conversion and reform of the Church at every level."
I represented the Maryknoll Society, which is trying to identify areas of collaboration with these national institutions and to see how these processes inform Maryknoll's goal of encouraging the Hispanic community in mission.
Our roots remind us of our long journey as U.S. Catholics who also have deep roots in Latin America. "Hispanic Catholics in the United States respect tradition very much because we have very deep roots in Latin American Catholicism," said Jesuit Father Allan Figueroa Deck, a pioneer in Hispanic ministry and one of the founders of NCCHM. Since the 1970s, five Hispanic pastoral encounters have marked the path of the Hispanic Catholics in the U.S.
This Roots and Wings meeting of pastoral leaders focused on the pastoral priorities identified by the Fifth Encuentro of Hispanic/Latino Ministry. For four days we delved into family, youth ministry, social justice and formation. The results will be delivered to the U.S. Conference of Catholic Bishops to help develop a national Hispanic pastoral plan.
Roots are cultivated in the family, where faith is lived and evangelized and where values are transmitted. The gifts and talents of our children are discovered, and the various vocations are nourished. "No institution or person will have as much influence on a person's human and spiritual development as parents and spouses do," stressed Dora Tobar, leader of the newly-founded national Federation for Hispanic Family Ministry. "The domestic mission of parents is vital for promoting vocations to the priesthood and religious life." 
Hispanic families in the States demonstrate strengths. For example, the "extended family" model of Hispanic families favors the Christian sense of community. Likewise, the faith and culture inherited from Latin America infuse a deep popular religiosity, which, if well oriented, can transmit the faith to future generations. However, many challenges were mentioned: family separation, secularization, machismo, domestic violence, migration, etc. For Hispanic families to be authentic domestic churches, it is necessary to invigorate the formation of couples and parents. 
One-third of the participants were young adults, representing the "wings" of Hispanic ministry and echoing Pope Francis' words: young people are "the now of God."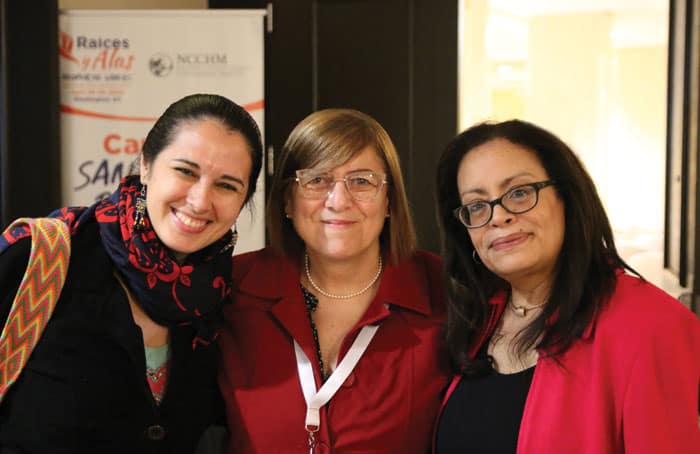 Elisabeth Román, National Catholic Council for Hispanic Ministry president (right), smiles with speakers Susana Nuin (center) and María José Centurión. (Jesús Picón/U.S.)
"Welcoming young people into our communities is everyone's job," said Martin Soros, 17, of the Archdiocese of Washington. "I hope that we can see in each young person someone who is possibly in danger of leaving the Church and that is why each smile, each look, each question, and each acknowledgment that they exist tells them that the Church loves them and wants to see them there."
Our "wings" are essential to make our dream of a better Church and world come true.
"We need to cultivate vocations to Christian discipleship," said Hosffman Ospino, associate professor of Hispanic ministry at Boston College. "And from there cultivate vocations to priestly life, religious and lay life so that these young people born in the U.S. can be the new leaders."
Ospino argues that most priests and religious serving the Hispanic community are immigrants, creating a dissonance in the formation of our U.S.-born young people. He called for more investment into a new structure to "be able to serve this new generation."
Pope Francis addressed the participants through a video urging us "to reflect on the need to be Christians who transform structures and can create bridges in all sectors of society."
Representing the Maryknoll Society at the Roots and Wings congress, I found it easy to identify the charism of mission. The Hispanic community in the U.S. is a people on the move, capable of transforming structures and making the social doctrine of the Church come alive in daily practice. It was an encouraging reminder that when we dialogue, discern and act as the People of God, we exercise our prophetic voices.
Featured image: Participants of Raices y Alas gathering pray during Mass at the Basilica of the National Shrine of the Immaculate Conception in Washington April 27, 2022. (CNS via USCCB/U.S)