Nalliber Ruiz Torres recounts her mother's wisdom: "Creation is for everyone because it comes from God. If the sun, like the Bible says, shines for the bad and the good, it's the same with the mountains and rivers." Nalliber adds, "When I see nature, I see God's grace."
As a member of our Maryknoll Young Adult Empowerment Community in Los Angeles, Nalliber brings her passion for nature to our monthly meetings where young adults support one another and discern together how to put their faith into action. She inspires other group members by sharing the link between social justice, the environment and her cultural heritage as she advocates for the vital issue of water.
Born and raised in Bogota, Colombia, Nalliber immigrated to the United States with her family when she was 15. While finishing high school in her new home, she served her parish in various ways, including as a catechist and lector. "(Faith is) the most important asset for me. Faith helped me go from one country to another… not knowing the language. It got me through culture shock," she says. "And it's taking me further with my studies and my ministry. It's my anchor."
Nalliber's passion for environmentalism was first ignited in Colombia. Growing up, she learned that Colombia is known for its great biodiversity of frogs. It is also one of the countries with the highest number of threatened species in Latin America. Nalliber notes that some of the emblematic cultural features of her home country, like coffee, are gifts from the earth. She was moved by how the indigenous people of Colombia are caretakers of our common home. "I grew up within an environment of valuing our people from the campos (countryside)," she says.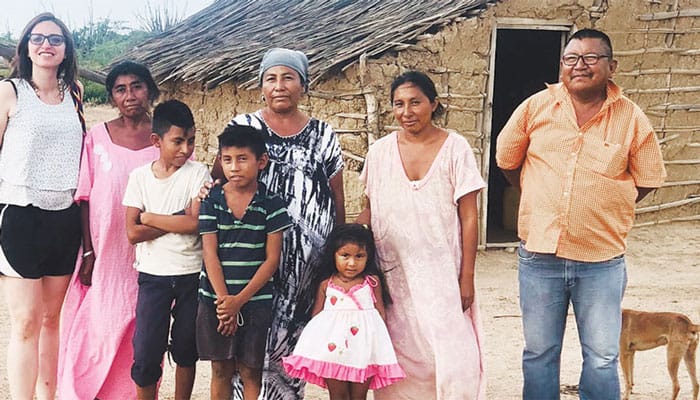 Participating in a research project, Nalliber Ruiz Torres (left) visited members of the Wayuu indigenous people suffering from lack of water in La Guajira, Colombia. (Courtesy of Nalliber Ruiz Torres/Colombia)
Originally Nalliber's interest in social issues inspired her to pursue a Master of Social Work. But a lecture on water security and sustainability was the "light bulb moment" that led her on a different path. She changed majors and reapplied to graduate school to pursue a master's degree in public policy — specializing in environmental policy — at the University of Southern California. She traveled to La Guajira in Colombia for a research project and witnessed first-hand how the Wayuu indigenous people are affected by the lack of water resources.
From this experience, Nalliber's goal became clear. International companies exploit lands and displace indigenous communities for profits, she says. But profits cannot sustain us; water can. She adds, "In reality, it's our last right. If we don't have that, we don't have a future." Nalliber is especially moved, she shares, because God's gift of water is the life source for all creation. It is needed for agriculture, for livestock, and for human life.
Nalliber also says that the Maryknoll YAE community helped her see the connection between her talents and gifts and how she was called to serve others. "It helped me tremendously to unite my two pillars: faith and environmental justice," she says. This gave her "a sparkle," she continues, "to know with certainty what is God's calling for my life, and therefore my purpose."
Once she graduates in 2023, Nalliber plans to start a non-profit to work with the Wayuu people on conservation and water security. Inspired by how the Wayuu live in harmony with nature, she says, "We're not going there just to fix a problem or give the solution. We're going to those communities to empower them and advocate for their rights."
As a young adult and advocate for change, Nalliber encourages young people to identify their calling. "We all have a particular one, given to us by God according to his boundless generosity," she adds.  "Start doing that work. See how you can grow."
Featured image: Nalliber Ruiz Torres says she combined the pillars of her faith and passion of environmental justice and discerned God's call for her life. (Courtesy of Nalliber Ruiz Torres/Colombia)