Maryknoll affiliates travel to the border of Poland/Ukraine to assist with humanitarian efforts for refugees.
What would prompt 11 people to fly thousands of miles, drive hundreds more, and learn to say in halting Ukrainian, "Welcome. Coffee or tea?" Turns out, it was to share much more than a cup of coffee. 
In May, five Maryknoll affiliates and six other Americans flew into Warsaw to see what we could offer Ukrainian refugees fleeing to Poland. The idea had started during a conversation at a Northeast Ohio affiliates meeting and spread through the affiliates network. Affiliate Pam Cibik (whose family has roots in Poland) gathered donations from people who entrusted us with their generous gifts. We set out in spite of our uncertainty about what we'd do once we got there. 
On the day of our arrival, we trekked to Global Expo Centrum Targowo-Kongresowe, a former convention center and now a refugee center run by volunteers and local government. The sight is difficult to describe; it was even more difficult to take in. One after another after another, large exhibition rooms were filled with rows and rows of cots. Women of all ages, elderly men and a few younger ones, babies and toddlers — all were seeking refuge in a space with no privacy, no windows, and only a cot to call one's own. This center housed an average of 3,000 people at a time. We met grandmothers, mothers and children — three generations that left their men in Ukraine.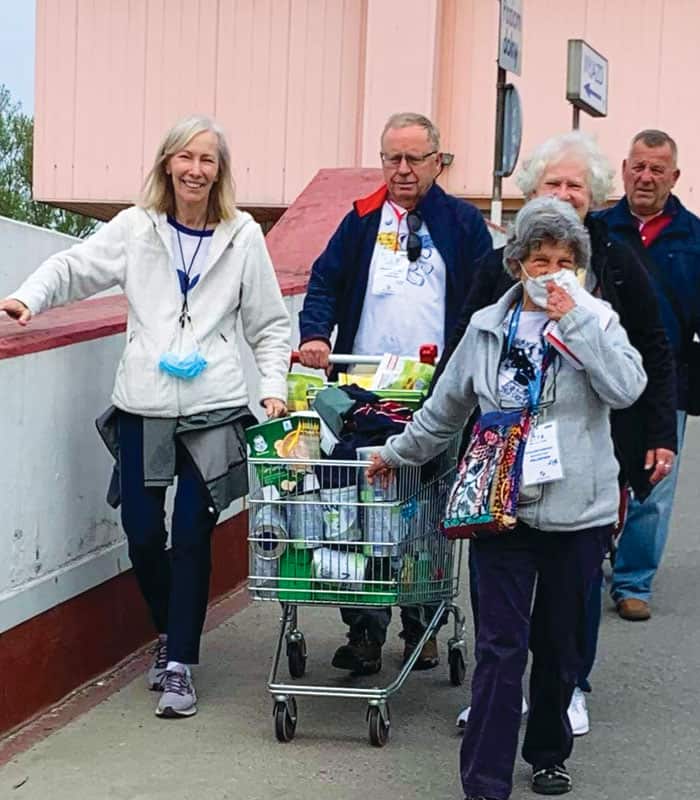 In Warsaw, Maryknoll Affiliates (clockwise) Pam Cibik, Ken Palisin, Janet Alberti and Lita Sharone shop for supplies. Not pictured but also a participant in the trip: Curtis Alberti (Courtesy Janet Alberti/Poland)
Karolina Piskorz, a volunteer who dedicates all her time to the center and speaks English, told touching stories. One was about a mother and son who left their bombarded home. Soon after their arrival at the center, a fire alarm was accidentally set off. Everyone else evacuated the building, but the son would not stir. "What's the point?" he said. Helplessness and hopelessness are hard to battle.
Karolina told of another woman, who had been receiving a daily text from her brother at the front. Unexplainedly one day the texts stopped. Three weeks … and no word from her brother. What does a person do in a situation like that? Grieve? Keep hoping, against all odds?
During the nine days of our trip, we were able to assist in several ways. Pam brought a donation of "fidget blankets" (lap blankets designed to keep hands busy) that we distributed to young children. We also facilitated a play group for boys. Using army figures, they were able to play out their experiences of war and their feelings about what is happening to their country. One boy stated, "Russia will have a Ukraine without mothers and children." A country without children is no place for anyone.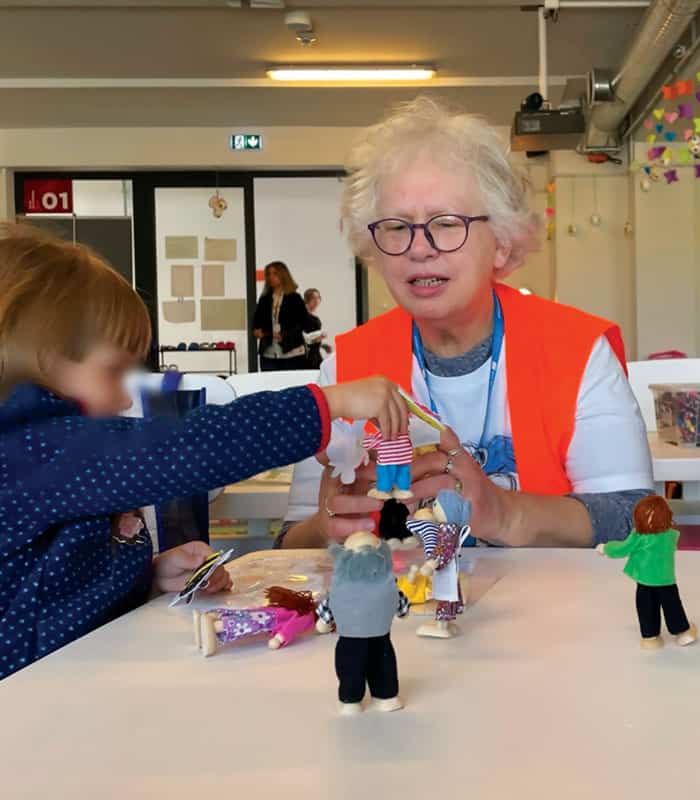 Maryknoll Affiliate Janet Alberti, who worked for 30 years in mental health, engages in play therapy with a Ukrainian child (face blurred for privacy). (Courtesy Janet Alberti/Poland)
Organizing donations and supplies at such a place is a challenge all its own, and we were glad to help. Members of our delegation also purchased items at a big-box store nearby: adults' and children's clothing, flip flops, deodorant, backpacks, baby food and sleeping bags. "Because we were there, on the ground, we were able to fill in gaps and provide critical items that were missing," Pam says.
Showers are available in large shipping containers set up in the center, but with so many people, hot water runs out quickly. We were able to buy additional water heaters and get them installed.
At Ptak Humanitarian Aid Center, another former expo center on the outskirts of Warsaw, we spent a day sorting useful items and stuffing 1,400 "kindness bags" to be handed out to refugees as they move on to their next destination. It felt great to do something so concrete.
Karolina took us to visit The Mothers' House, a home for refugee mothers with babies and young children on the outskirts of Warsaw. At the time of our visit, the home hosted 15 children. We bought two clothes dryers for The Mothers' House, where they had been washing laundry without one for more than 20 people daily.
Several children were in quarantine because of spots on their skin. Our first thought was, chicken pox! Later we learned that a visiting doctor diagnosed the condition as stress-related. He reported seeing many cases of rash and explained that the body tries to expel stress in this way. It's an impact of trauma.
Our group continued on to the Hrebenne Crossing, some 200 miles from Warsaw at the border with Ukraine. There, the non-governmental organization Polish Humanitarian Action is stationed to receive refugees. We stayed for four days to assist in welcoming families as they entered Poland. This was an intensely emotional experience, seeing families fleeing Ukraine among the bus passengers. The reality of the trauma they were living through could be seen in their eyes, on the verge of tears.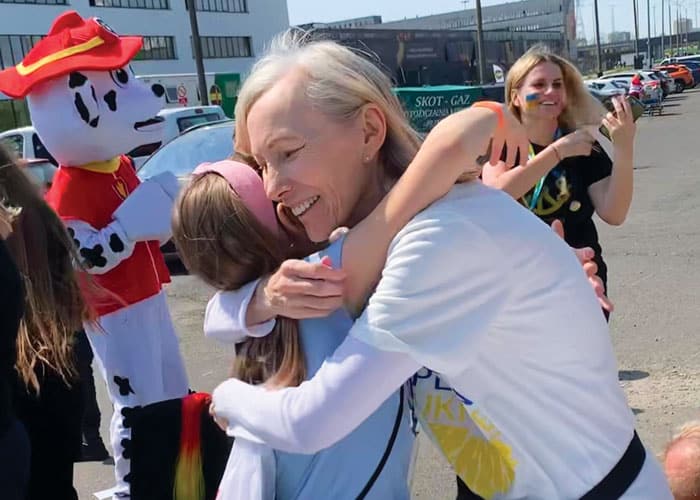 At a picnic, Maryknoll Affiliate Pam Cibik hugs a refugee child from Ukraine as volunteer coordinator Karolina Piskorz smiles in the background. (Courtesy Janet Alberti/Poland)
So many stories, glimpsed in passing. I conversed with one woman and learned she had left her parents in hiding in Mariupol.
One evening, a bus, also from Mariupol, came through with 66 orphans. It hurt to know that these children — orphaned before the war — were losing their homeland and would soon lose each other as they are divided among foster placements in Italy.
And then there was the elderly handicapped couple, both leaning on crutches, who had such difficulty getting off the bus. They were given food provided by World Central Kitchen and … a cup of coffee. After the brief stopover, their bus was being reloaded. The elderly man — with crutches under both arms — struggled to cross the patio. He approached one of our members, reached out to shake his hand and just said, "Thank you."
A cup of coffee became a moment of connection. Of being present, of acknowledging that something profoundly wrong is happening — and that words don't suffice to express it. Pam says, "We were there for a greater cause, a greater purpose. For humanity." Coming back, she says, "I watch the news in a different way now."
Witnesses to war, we were honored to be there.
Featured image: Volunteers at a reception center in Poland similar to those visited by Maryknoll Affiliates sort clothing donated for Ukrainian refugees. (CNS photo, Agnese Stracquadanio/Reuters)