WEB-ONLY:
Young leader in Los Angeles strives to help others feel welcome in the Church.
When Karen Luna was asked to coordinate her archdiocese's participation in the Synod on Synodality, she prayed to the Holy Spirit for an answer. She then accepted this call to serve – which would involve more than 4 million Catholics in Los Angeles.
Luna, who is the archdiocesan coordinator of young adult ministry and a member of the Maryknoll Young Adult Empowerment (YAE) community, says she hopes young people can find welcoming parish communities that foster their gifts and vocation – as her South Los Angeles parish did.
She can pinpoint the time her family began to truly practice their faith: when they joined Saint Raphael Church, after she, her three sisters and her mother moved in with her grandparents.
In the parish school, Luna met Sister Fran, a third-grade teacher with a contagious love for Jesus, who inspired her to want to know Christ.
Her parish's pastor, Father Tracy O'Sullivan, O.Carm., who had fought for civil rights during a time of racial segregation in the South Side of Chicago, was also an inspiration. He made Saint Raphael parish, which is comprised of immigrants from Mexico, Central America, Haiti and Belize, as well as an African American community, a special place. "He always listened to his people, gave them opportunities to grow and challenged them to live out their faith in everyday life," she says.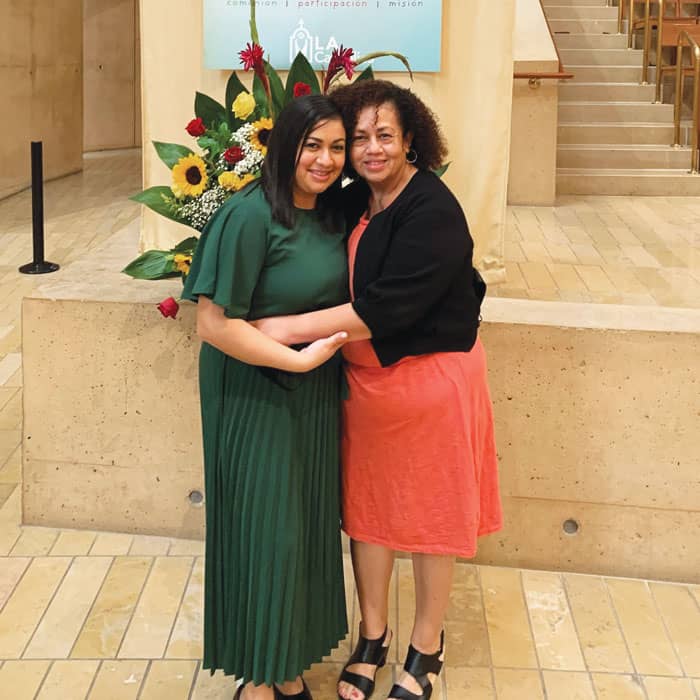 Karen Luna hugs her mother, Ena Duran, at the end of an opening mass for the archdiocesan phase of the 2021-2023 Synod. (Courtesy of Karen Luna/U.S)
Luna recalls an environment where family, culture, faith and justice for the marginalized meshed together. In the midst of neighborhood realities such as gang violence, she says, "Growing up, we saw the parish community as a safe place."
In seventh grade, when she and other students were asked what they wanted to be when they grew up, Luna just knew: "I want to study theology; I want to be a theologian." Her family, parish and school supported this calling.
Education was deemed essential in her household, and Luna grew up hearing her mother repeatedly tell her and her sisters that they needed to be educated to have a better life. "Education was a privilege that my mom didn't have," having migrated in the 1980s from El Salvador during that country's civil war, she says.
Her mother, who was just 16 when she arrived in California, supported her family as a seamstress. She learned English and job skills in night school. Eventually, she worked as an administrator for St. Raphael parish. She helped her neighbors by giving food, translating documents and aiding other migrants. "I often reflect on my mother's story, especially now that I have children of my own," Luna says. "As I watch the news, (and hear of) the experiences of the refugees and immigrants, I see my mother's face in them."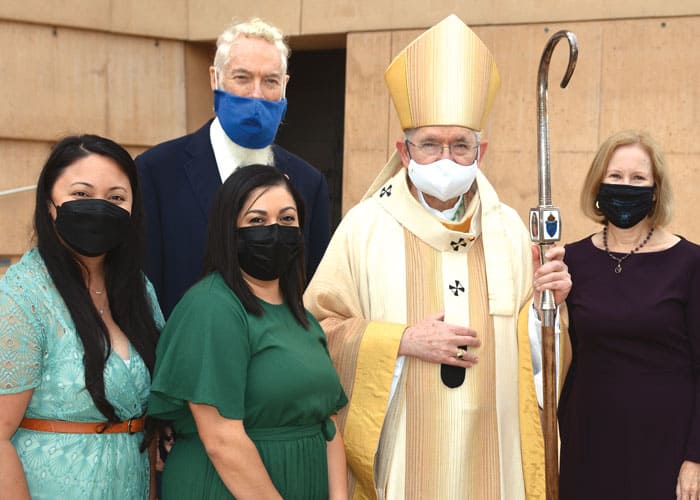 Archbishop José Gómez poses for a photo with Heidi Villaluz (left), Karen Luna, and other members who are part of his archdiocese's local effort toward the Synod on Synodality. (Courtesy of Heidi Villaluz/U.S.)
Luna attended the all-female Bishop Conaty-Our Lady of Loretto High School in Los Angeles. She also became a sacristan and retreat leader at the archdiocesan school and also worked part-time. Nearing graduation, she researched colleges with theology programs.
Then, a month before her high school graduation, Karen and Joseph, who is now her husband, discovered she was pregnant. "It was the scariest moment of my life," she says, "but we chose to have our baby." She was 19 at the time.
Despite this unexpected turn of events, Luna remembers feeling God's closeness through her family and her pastor's support.
Becoming a young mother taught her about love. "It was not about me anymore, but about us and just how much love I had for my son and realizing the love of God for us," she says.
Luna matriculated at Pasadena City College when her son Jayden was 9 months old. She then transferred to Loyola Marymount University and graduated in 2012. The following year, she married Joseph and followed her dream of pursuing a master's in theological studies.
Luna learned about the biblical meaning of justice and "the Gospel imperatives that Jesus models for us." Studying with Latino theologians Dr. Cecilia Gonzalez-Andrieu and Father Allan Figueroa Deck, S.J., was eye-opening, she says, yet "felt like home." Those experiences encouraged her to bridge academic knowledge with a heart to work with people.
Faith, a personal experience with God, has to be shared, she says. "We need to create relationships, meet those at the margins, and build communities of inclusion."
After earning her master's degree in 2015, Luna taught theology for nearly five years at Verbum Dei High School, a Jesuit school serving young men from underserved communities. Her students taught her how vital relational ministry is. "All theology needs to be pastoral," she remembers thinking.
Luna felt called to young adult ministry during her participation in the V Encuentro of Hispanic/Latino Ministry, an ongoing nationwide process of pastoral discernment. Luna, who gave birth to her second son, Xavier, in 2018, wanted to help form "missionary disciples, witnesses of God's love. In 2020, she was hired by the L.A. Archdiocese to work on various initiatives to support diverse young adults as the COVID-19 pandemic spread worldwide.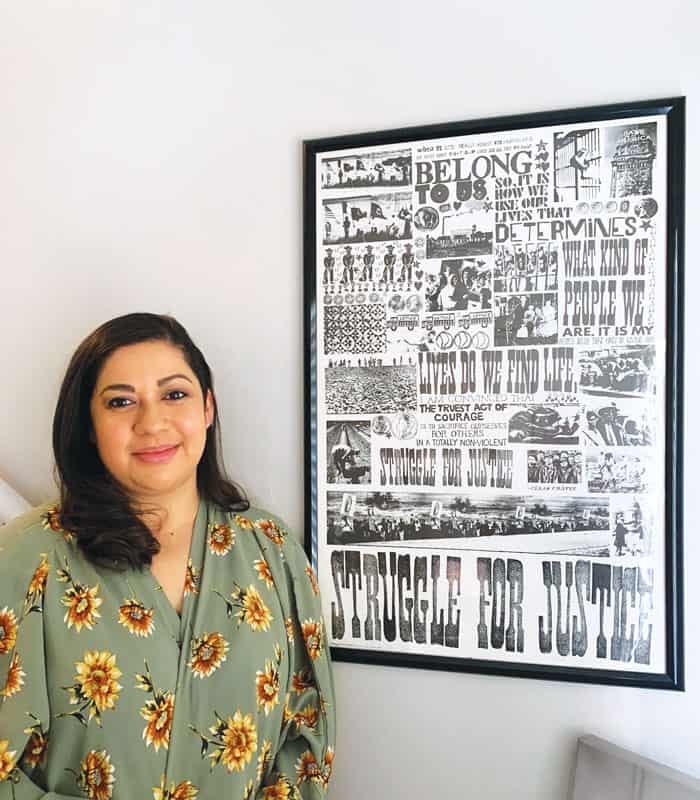 Karen Luna, young adult ministry coordinator for the Archdiocese of Los Angeles, smiles next to a poster "Struggle for Justice" by Catholic painter John A. Swanson. (Courtesy of Karen Luna/U.S)
In her quest to find resources for young adults, Luna joined the Maryknoll YAE community. She says members supported each other during the uncertainty of 2020 and 2021. In addition to navigating the challenges of the pandemic, the communities grew in consciousness about racism, the plight of migrants and the hate crimes against their Asian Pacific Islander neighbors. Their responses included prayer vigils and events to learn more about racism and faith.
"Part of what keeps us going, my husband and me, to work for renewal of the Church is our children," says Luna, whose sons are now 3 and 14.
Delving into the Maryknoll charism has inspired her, Luna says, especially seeing how individual Maryknoll missioners went from an encounter with Christ to a life of encountering and serving communities on the margins. "They share that joy for Jesus and the Gospel," she says. "The joy that I see in everyone who is a part of Maryknoll has been something beautiful." She adds, "They are showing with their lives what we believe in."
The YAE program's tools have helped her in her new role for the Synod, Luna adds. She learned to lead prayerful dialogue and to create an atmosphere of encounter and respect.
"The work we are doing, in listening and discerning the Spirit (in our communities), will bring many fruits," Luna says of the synodal process.
As the multilingual listening sessions wrap up, she will share the voices of her diocesan Church. Meanwhile, her young adult ministry continues to invite young people to be protagonists who serve others — as Pope Francis said in his apostolic exhortation Christus Vivit.
"We have to invite young people to share their voices and … to see how we will continue, after the synod, to be a Church that walks together," Luna says. "How we will grow in hope and dream together as a Church."
Learn more:
– Go to Young Adult Faith Leads to Action to read more about Maryknoll's YAE communities.
– Visit Maryknoll's Mission Education site to learn more about Maryknoll Society's outreach to young adults.
– Click here to learn more about Maryknoll's work around the world.
Featured image: The Luna family (from left to right) Joseph Luna, Xavier, Jayden and Karen, are committed to living the faith daily in their community. (Courtesy of Karen Luna/U.S)