Pope Francis, San Antonio archbishop and other Church leaders respond to the horrific shooting at a Texas school that took the lives of 19 children and 2 adults.
By Cindy Wooden and Rhina Guidos, Catholic News Service
Saying his heart was broken at the news of at least 19 children and two adults being shot and killed at a Texas elementary school, Pope Francis said it was time to say "Enough!" and enact stricter laws on gun sales.
At the end of his weekly general audience May 25, with thousands of people gathered in St. Peter's Square, the pope prayed publicly for the victims of the shooting the day before at Robb Elementary School in Uvalde, Texas.
"With a heart shattered over the massacre at the elementary school in Texas, I pray for the children and adults who were killed and for their families," the pope told the crowd.
"It is time to say, 'Enough!' to the indiscriminate trafficking of guns," the pope said. "Let's all work to ensure that such tragedies never happen again."
Shortly before the audience, Archbishop Gustavo García-Siller of San Antonio, an archdiocese that includes Uvalde, tweeted: "Holy Father Pope Francis, say some prayers for the souls of our little ones killed today and two teachers. Uvalde is in mourning. The families are having a very dark time. Your prayer will do good to them."
Local authorities said the children and adults were killed by an 18-year-old student from a high school nearby. He also was reported dead and at least three children remained hospitalized for injuries suffered in the attack.
The attack came only 10 days after a racially-motivated shooting at a supermarket in Buffalo, New York.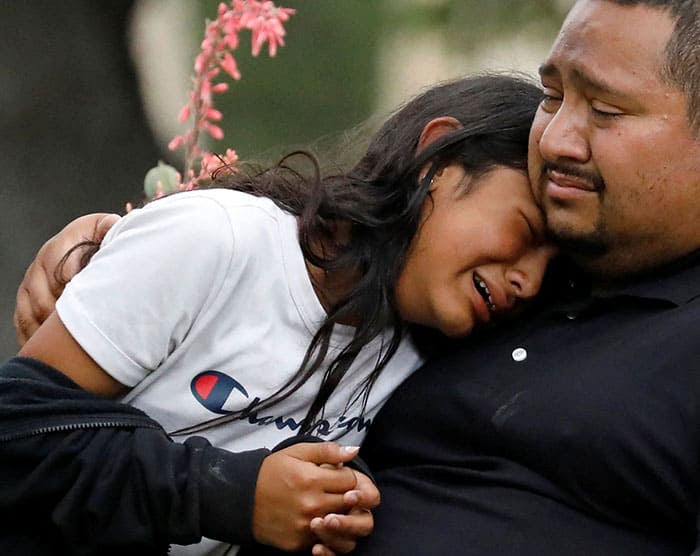 People react outside the SSGT Willie de Leon Civic Center, where students had been transported from Robb Elementary School after a shooting, in Uvalde, Texas, that took the lives of 19 children and 2 adults. (CNS photo/Marco Bello, Reuters)
Archbishop García-Siller comforted families who waited outside a local civic center in Uvalde waiting for news of their loved ones.
"When will these insane acts of violence end?" the archbishop later said in a statement. "It is too great a burden to bear. The word tragedy doesn't begin to describe what occurred. These massacres cannot be considered 'the new normal.'"
"The Catholic Church consistently calls for the protection of all life; and these mass shootings are a most pressing life issue on which all in society must act — elected leaders and citizens alike," he said. "We pray that God comfort and offer compassion to the families of these little ones whose pain is unbearable."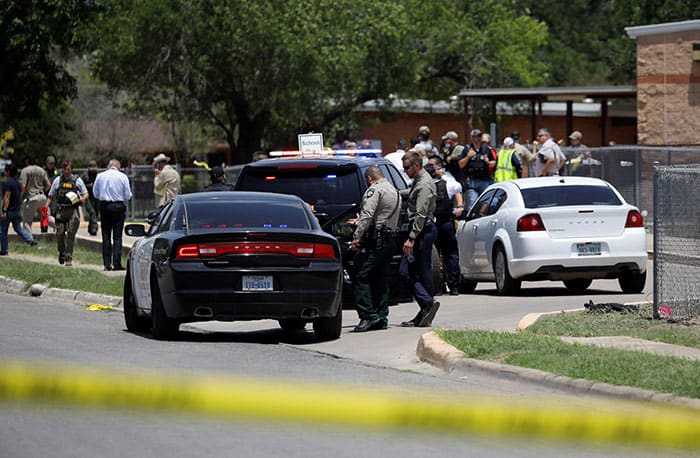 Law enforcement officers guard the scene of a shooting at an elementary school in the small border city of Uvalde, Texas, May 24, 2022. The shooter, an 18-year-old, was killed by officers on the scene. (CNS photo/Marco Bello, Reuters)
Chieko Noguchi, director of public affairs for the U.S. Conference of Catholic bishops, said the organization joined Archbishop García-Siller in prayers for the community.
 "There have been too many school shootings, too much killing of the innocent. Our Catholic faith calls us to pray for those who have died and to bind the wounds of others," she said in a statement. "As we do so, each of us also needs to search our souls for ways that we can do more to understand this epidemic of evil and violence and implore our elected officials to help us take action."
Featured image: Archbishop Gustavo García-Siller of San Antonio comforts people in Uvalde, Texas, outside the SSGT Willie de Leon Civic Center, where students had been transported from Robb Elementary School after a shooting May 24, 2022. (CNS photo/Marco Bello, Reuters)