Care for Creation is integral to mission for Sister Janet Miller, now serving at the border in El Paso Texas.
Maryknoll Sister Janet Miller has spent a lifetime learning new landscapes.
"Wherever I serve, I like to put my hands in the soil," she says. Most recently, the missioner moved from New York State, where she helped preserve native woods and wetlands, to the Texas borderlands, where she helps the desert bloom. 
As a master gardener trained by Texas Agricultural and Mechanical University AgriLife Extension, Sister Miller, 72, now grows flowers, fruits and vegetables in El Paso.
"It's different to garden in the desert. It's all about irrigation and sustainable water management," she explains. "In the Midwest where I grew up, we have an abundance of grass and trees, but here in Texas we encourage natural landscaping with native plants to reduce the use of water." 
It's not surprising that Janet Miller was drawn to care for creation at a young age. "Although we were not farmers, my family got a lot out of two and a half acres," she says about her childhood in Evansville, Indiana. "My mother canned or preserved our fruits and vegetables for the year."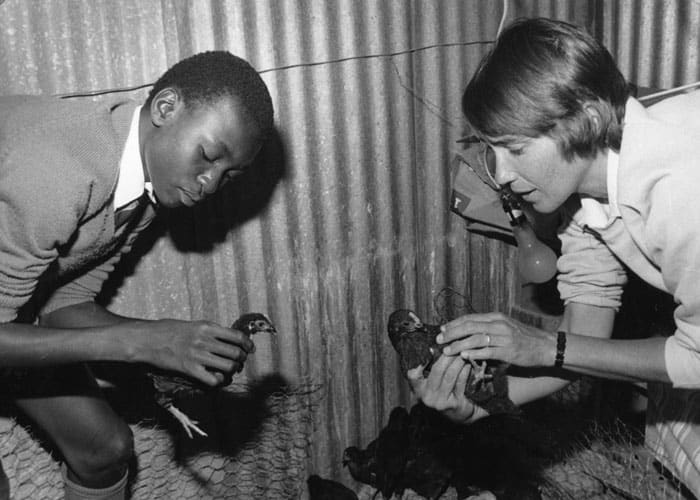 Sister Miller teaches a student to care for poultry in 1988 while serving as an agricultural instructor at Thornhill High School in Gweru, Zimbabwe. (Maryknoll Mission Archives)
Miller, who earned a bachelor's degree in elementary education, felt called to religious life – and to mission – since high school. Drawn to Maryknoll through Maryknoll magazine, she entered the Congregation in 1974.
During her novitiate in New York, Sister Miller was enraptured by the natural beauty of the Sisters Center. "Our foundress, Mother Mary Joseph Rogers, envisioned our center as a place where the sisters could come back from mission and be refreshed and renewed," she says. "She referred to our spiritual life as a garden."
Sister Miller first served in 1976 in Tanzania, where she studied Swahili and worked in education and community development, including garden projects. Then when Zimbabwe gained independence, the Maryknoll Sisters launched efforts to support that southern African nation. "They asked for Maryknollers with experience in Africa," says Sister Miller, who along with other Maryknoll sisters volunteered. She was assigned there in 1982.
While Sister Miller taught in a secondary school, she wanted to pursue training in farming. "I was more interested in the practical courses than the academic ones," she says. She sought advice from Maryknoll Sister Mary Frances Kobets, who led a program at Gweru Teachers College for instructors in agriculture and animal husbandry. "Sister Fran told me not to go to ag school in the U.S., but there in Zimbabwe," she says. "She said it would be more useful to learn the techniques that work in that landscape and climate."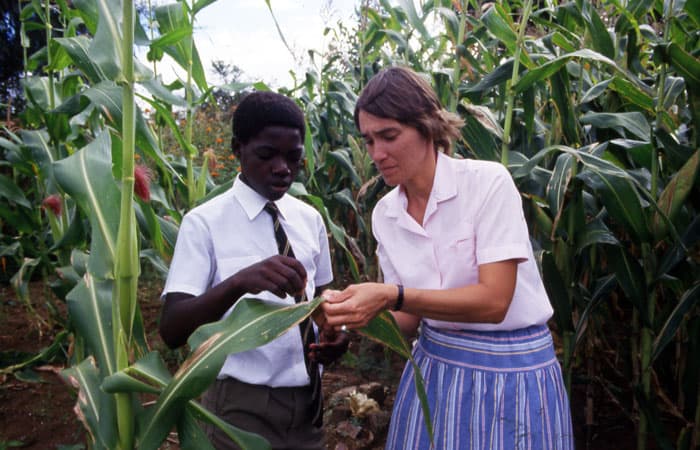 Sister Miller, trained in agriculture and animal husbandry at Gweru Teachers College in Zimbabwe, discusses farming techniques with a student in 1988. (Maryknoll Mission Archives)
Sister Miller says completing the year-long agricultural training was "a dream come true."
Yet, there was more to learn. "The government was promoting eucalyptus trees. Some teachers decided to plant them on the land around our school," she recalls. "After we planted the trees, the village chief said that before, they used to plant rice there. That land was better suited to rice." She concludes, "It's so important to consult with the local community."
Sister Miller, who professed her final vows in 1985, worked alongside Zimbabwean teachers and religious sisters. She learned Shona, the regional language. "When I left Zimbabwe in 1995," she remembers, "the sisters said to me, 'You ate the food we ate, and you went to our celebrations and our funerals.' They meant I shared village life, among the people."
Her next mission assignment took her to a completely new landscape, in Panama. The province of Darién, in particular, contains a biosphere reserve of jungles and rainforests that are home to diverse plants and animals. Sister Miller served in Darién and in the community of Las Mañanitas, close to the capital city. There she volunteered with a non-profit organization called Madres Maestras (Mothers as Teachers), which runs groups for mothers and their preschool-age children. "Among other activities, we composted and we grew papaya trees," she says.
Reflecting on her different mission experiences, Sister Miller says that her ministry is made of small, hands-on acts offered in a spirit of service. "I relate to the Gospel story of the widow's mite. 'Out of her poverty, she put in everything she had to live on.' She gave everything."
In 2005, Sister Miller was called back to the familiar, beloved property of the Sisters Center in New York. She became co-director, with Maryknoll Sister Doreen Longres, of the sisters' Environmental Office. The office looked for ways to implement practices making the center more ecologically sustainable. In 2012 (for the sisters' 100th anniversary), the Congregation set aside 42 of the center's 67 acres in an easement, protecting the land from future development. "I am grateful this land will be here for further generations," Sister Miller said at the time.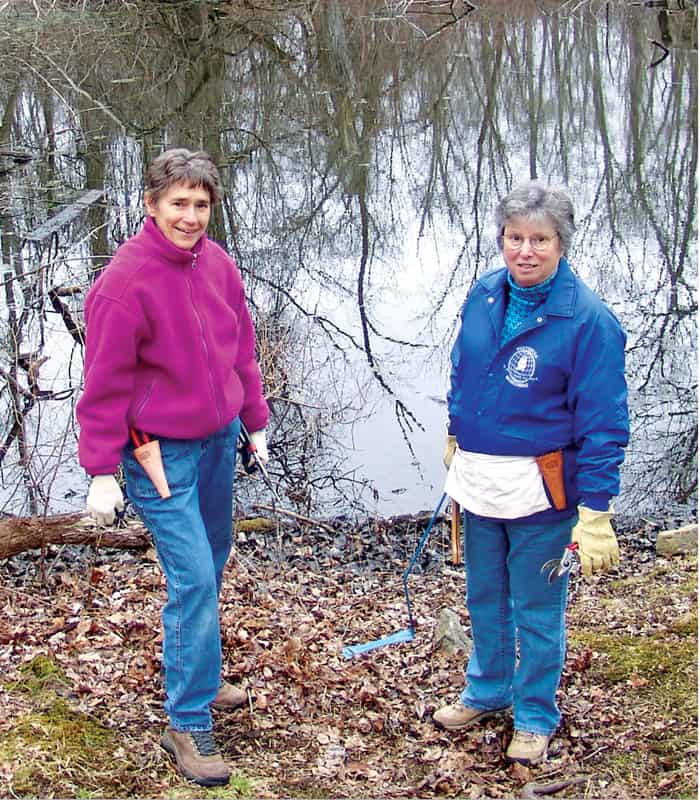 Maryknoll Sisters Janet Miller (left) and Doreen Longres prune trees on part of the Maryknoll Sisters center that is being conserved in perpetuity. (Lynn Monahan/U.S.)
Nowadays, Sister Miller calls the desert "home." She arrived in El Paso in 2017 to join other Maryknoll missioners responding to the humanitarian crisis at the U.S./Mexico border.
She volunteers for Annunciation House, a network of sites that offer hospitality to migrants, and currently serves at its largest shelter, Casa del Refugiado (Refugee House). Using the Spanish she learned in Panama, she converses with migrants "to make them feel welcome." Many are refugees fleeing from persecution or violence or displaced by climate change.
She finds inspiration in the way that the local Church and the wider community have responded generously and compassionately to migrants in need – even as, at one time, over 1,000 arrived daily. With such hospitality, the desert becomes a place of respite and welcome, as noted by Bishop Mark Seitz of the El Paso Diocese, who quotes Isaiah 35:7, "The burning sands will become pools, and the thirsty ground, springs of water."
As part of her environmental ministry, Sister Miller proposed a course on Pope Francis' 2015 encyclical Laudato Si': On Care for Our Common Home to Tepeyac Institute, a bilingual diocesan ministry training center. "Another sister, a Franciscan, nurtured the seed and got it going. We had a 10-week program on Laudato Si'," she says. The participants then formed teams promoting care for creation in their respective parishes and communities.
"As I get older, it's still all about that widow's mite, or the mustard seed," the missioner says. "Am I willing to plant my little seed of understanding, and join it to other people's? I'm on the page of creation and ongoing creation. … Laudato Si' for me is about how to engage in care of our common home. And home is wherever I am at the time."
Featured image: Master gardeners Maryknoll Sister Janet Miller (left) and Veronica Macias, trained by Texas Agricultural and Mechanical University AgriLife Extension, care for landscape at the El Paso Municipal Rose Garden. (Margaret Sierra/U.S.)