Parishioners in Curicó, Chile, give what little they have to feed the vulnerable in their community.
During his nearly 50 years living among the poor in Chile, Maryknoll Brother John Nitsch discovered that they are the most generous in helping others in need. "These are the people who have great faith in Christ and his Church," he says. "These parish people are helping many others in a very silent way, not publishing their acts of solidarity."
Some of these acts include donating money to help a neighbor who lost his home to a fire or cleaning and cooking for elderly people or donating food so people don't go hungry. 
Brother Nitsch's parish of Cristo Resucitado (Risen Christ) is in a poor part of the city of Curicó. Even though some of the 40,000 parishioners are professionals, says the missioner from Baltimore, Maryland, many rely on seasonal work in the orchards or odd jobs to feed their families. The elderly population is especially vulnerable, but the parish also reaches out to families in need, including migrants.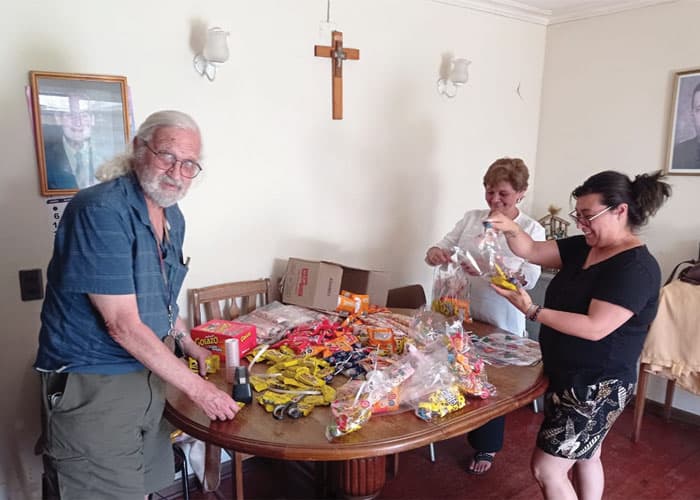 Members of the Cristo Resucitado solidarity ministry, with Brother John Nitsch, package food for those in need in Curicó, Chile. (Photos courtesy of Beatriz Abrigo/Chile)
Beatriz Abrigo Hernández, who co-leads the parish's solidarity ministry, says they support 350 families — about 550 people — with a bag of food once a month. "We especially help older adults, those who are bedridden or abandoned," she says. "Many have no family. We are driven by the need they have because of how alone they are."
Many older adults need basic items like new linens. Others live in dwellings with dirt floors or cardboard lining the walls for insulation. The ministry does not want people living in those conditions to also go hungry.
The ministry — which includes Brother Nitsch — provides food, company and a listening ear. The missioner says food delivery continued when Chile declared a state of lockdown in 2020 due to the COVID-19 pandemic. "We went in secret," Abrigo says. "The idea was to keep on helping. If we don't give the elderly the food, they will go hungry. Sometimes they have anemia or other illnesses because they do not have something to eat. So, we worry about their well-being."
Brother Nitsch, currently the only Maryknoll missioner in Chile, has always tried to establish a personal connection with people old and young. "I feel that my vocation as a Maryknoll brother is to help people, to encourage them as much as I can, and to listen to them," he says. "I try to be a good friend to them." (To read about the late Servant of God Joseph Cappel, a Maryknoll priest who served in rural Chile, click here.)
Nitsch joined the mission society in 1961, three months after graduating from high school. He took his final oath as a Maryknoll brother in 1969. Two years later, he was assigned to Chile. Working with young people and the poor at his first parish, Brother Nitsch made lifelong friendships. He then worked at another parish before spending three years in the United States, which included working as the Maryknoll Brothers' formation program director. He returned to Chile in March of 1994, beginning his mission as a pastoral agent in Curicó.
Since his arrival at Cristo Resucitado, he has worked with youth, especially the children of poor agricultural families.
Brother Nitsch believes Jesus wants a better life for all people. Abrigo says his quiet kindness has made a difference in many people's lives in Curicó. "Brother always supports us. He accompanies us," she says of the 78-year-old missioner. "He is a very generous person. He helps a lot of the older adults, migrants and college students."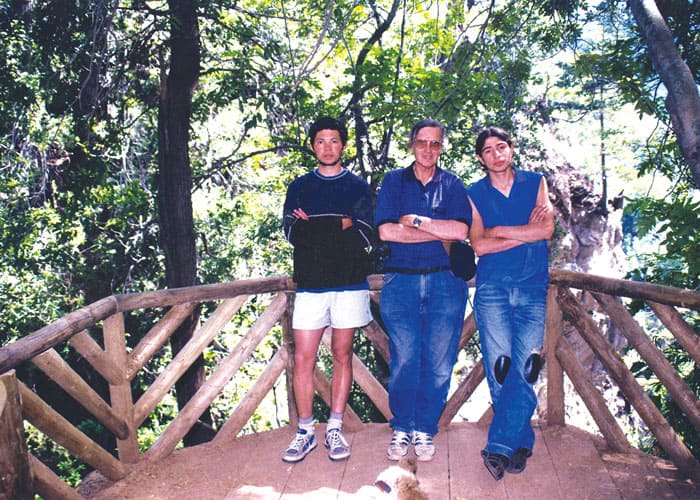 For many years, Brother Nitsch (center) and youth leaders from Cristo Resucitado parish ran a summer program for children of poor agricultural workers. (Maryknoll Mission Archives)
Brother Nitsch says the parish has a long history of helping the hungry in the community. Parishioners organized soup kitchens to help children in the early 1990s, but later focused on feeding the elderly, since children could get meals at school. Around 2018, the parish decided to give out food packages. "We started going door to door," says Abrigo, who has been a parishioner since she was a young adult. "We go and see what the families' needs are."
The solidarity ministry also brings food bags to the shores of the Guaiquillo River, where many migrant families take shelter in makeshift camps. Additionally, Brother Nitsch says, the parish has opened up unused parish buildings to receive migrants from Haiti and other countries. "We are trying to fix some of the parish buildings to be more suitable for them. We are going to install showers and are doing small things like that," he says. "So, they at least have temporary housing until they find something better."
Abrigo says she often gets home and thinks, "How else can we help?"
Keeping up with people's needs month to month is a challenge, Abrigo says. The ministry keeps seeking more ways to fundraise for those in need. "If we did not have the financial support of people, we are not sure what we would do," she says.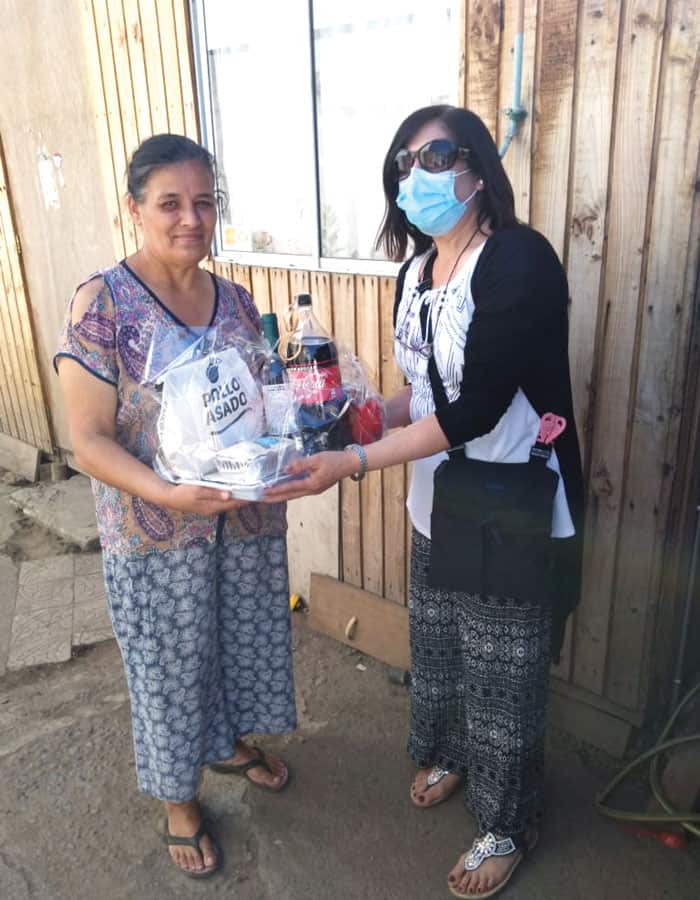 A parishioner of Cristo Resucitado (right) delivers a Christmas dinner donated by the parish in an impoverished neighborhood of Curicó. (Courtesy of Beatriz Abrigo/Chile)
Even though the parish helps more than 500 vulnerable people, another 30 to 50 families are in need in the area, she says. The parish, she explains, is located in an area of Curicó where unemployment and crime are commonplace and people often resort to selling drugs. This results in young husbands ending up in prison and families going through hardships. "We wish we could help them," says Abrigo, explaining that their priority must be the elderly. They offer the women the clothes donations given to the parish. "That way," she adds, "the women can sell them" and feed their families.
Amid all the challenges, Abrigo, too, is inspired by the generosity of her fellow parishioners. There have been times when the ministry did not have enough money to buy beans, oil or diapers for those who needed them, she says. So the parish ran solidarity campaigns to collect these items. "That's when you realize that the ones with the least donate the most," she says.
One time, she recalls, a man with battered shoes donated new sneakers. "We asked him, 'Why are you not taking them for yourself?' He told us, 'Others need them more than I do. I have food, and I can keep walking in these shoes. … I know that if I help others, the one above will help me.'"
Gestures like this continue to encourage ministry members to reach out to the most vulnerable in their community and, as Brother Nitsch says, help in any small way they can.
Featured image: Members of the solidarity ministry of Cristo Resucitado Church pack special Christmas dinners, to be delivered to people in need in Curicó, Chile. Normally, the group delivers bags with food staples for those in need. (Photo courtesy of Beatriz Abrigo/Chile)