Father Shehzad Anwar ministers to beleaguered Catholic minority in sparsely populated Pakistan province of Quetta.
This article is part of a series by UCA News title The Changing Face of Asian Mission. The series explores some mission areas in Asia, where Western missionaries once worked, to see how the local people have come of age to pastor their own people.
Each time Father Shehzad Anwar visits Catholics living scattered in Quetta city on the Pakistan-Afghanistan border, having a Baloch or Pushto-speaking guide is as important as carrying his Mass kit or having a car with a full tank of gas.
The 36-year-old diocesan priest has learned the essential lessons in his pastoral ministry in Quetta, the capital of Balochistan province, which is the largest of the four provinces of Pakistan and dominated by ethnic Baloch and Pashtun people.
The ethnic Punjabi priest serves as a parish priest of St. Francis of Assisi Church in Loralai, a district famed for marble quarries, about 154 kilometers east of Quetta.
The mission in the mineral-rich and sparsely populated province, bordering Iran and Afghanistan, is extremely challenging and threatening, Father Anwar says.
It is not just because of long-distance travel in the hilly, rugged terrain. For decades, the region has been a battlefield plagued by terrorism, a separatist insurgency and heavy-handed military operations. Deaths from shootings and bombings are routine affairs.
A local guide saves priests like Father Anwar from uncomfortable situations such as grilling from security forces and even gun-toting extremist groups.
"Police, paramilitary Frontier Corps or anyone can stop you on the terrain that has streams and narrow mud roads," the priest told UCA News.
Father Anwar says often the military won't understand when he introduces himself as a father or Roman Catholic priest.
"We then introduce ourselves as mullahs of Christians. Again, many don't even know about Christians or Masihi. Ultimately, they take us as preachers of Isai or bhangis [low-caste sweepers]."
Isai is a popular Urdu word referring to Christians, while Masihi or Masih (Messiah) are added after the names of male Pakistani Christians having no surnames. Pakistani Muslims also call Christians by the abusive term bhangi in reference to the many Christians working as cleaners across the country.
In Pakistan, ethnic identity also poses a major challenge in faraway remote regions outside Quetta. Ethnic groups like the Baloch and Pashtun see Punjabis as oppressors due to the long-held dominance of Punjabis at all levels in Pakistan including politics, bureaucracy, military, economy and culture since the birth of the nation in 1947.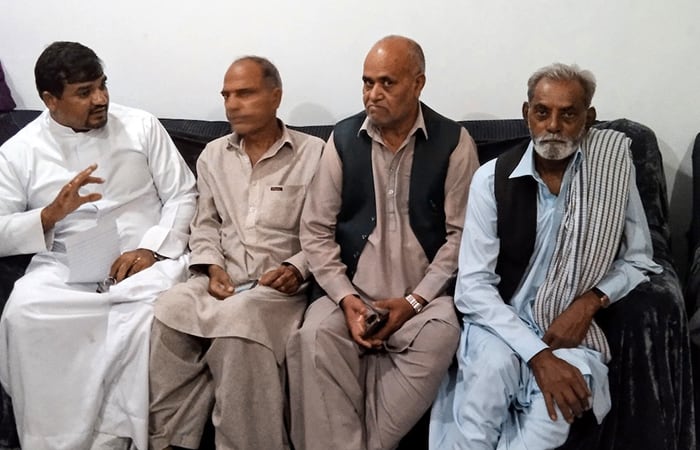 Father Shehzad Anwar discusses issues of the Christian community with elders of Zhob district in Balochistan province during a pastoral visit.
Often security officials in Balochistan get cautious when they see computerized national identity cards issued by Punjab's provincial government.
"Queries then focus on our job and department. Being a Punjabi, there is always a fear of a targeted killing or car snatching. We hardly catch a break on the way. Baloch belts are riskier than Pashtun regions. The fear only ends when we step inside the secured parish houses," Father Anwar said.
The local church's substations are nestled in narrow valleys hemmed in by rugged mountains. None have parish houses, which means priests need to make their own arrangements to spend the night to ease their tiredness.
"Overnight stays are common due to the long distances. We take additional Bibles and other documents like birth certificates and family collection cards to facilitate such families on their doorstep," the priest explained.
Such long and difficult trips can be awfully exhausting, said Father Anwar, recalling his visit to Harnai district last year.
"We had to travel for more than three hours to celebrate Mass for a single Catholic family in that district," he said.
Financial challenges are also a roadblock. Parishes are not well off and the expenses, even excluding fuel costs, are an economic burden for the clergy.
"Yet I visit them after one or two months. In cases of funeral or marriage, additional long-distance traveling is a must," Father Anwar said.
The mission for non-local priests can also be frustrating at times when they are unable to visit their own ailing family members in time due to commitments in their parishes.
"Some priests couldn't see their parents and siblings for the last time," he recalled.
Father Shehzad Anwar's life as a dedicated missionary resembles what Western missionaries did when they evangelized and nurtured the Catholic faith across Asia decades ago.
However, Father Anwar says, he never dreamt of such an adventurous life as a child.
He was born to a poor family in Faisalabad of Punjab. His father delivered milk to people in Nasrat colony on his bicycle to feed his eight children.
Despite the endemic poverty, his father was a devout Catholic.
"He used to read the Bible aloud early morning and before going to bed. It was the first voice we used to hear in our small house. He used to explain the passage in the evening," Father Anwar recalled.
This is how the seed of religiosity was planted in the heart of the young boy. Eventually, he joined St. Thomas the Apostle Minor Seminary in 2003.
As a seminarian, he came across a legendary Sri Lankan missionary, the late Oblate Bishop Victor Gnanapragasam, who is hailed as the pioneer of the Catholic Church in Quetta. He founded the Apostolic Prefecture of Quetta in 2001 and served the region until his death last year.
Father Anwar was among six students adopted by Bishop Gnanapragasam, who bore all their seminary expenses starting from 2005.
During that period Quetta had eight priests and 12 religious serving about 27,000 local Catholics. Bishop Gnanapragasam commissioned 19 new churches, established various episcopal commissions and ordained several diocesan priests.
He also promoted three housing projects for poor, homeless Christians.
Due to difficult and often hostile environments, the local Church lacked priestly and religious vocations and largely relied on priests and religious from other provinces. The back-up plan was equally challenging.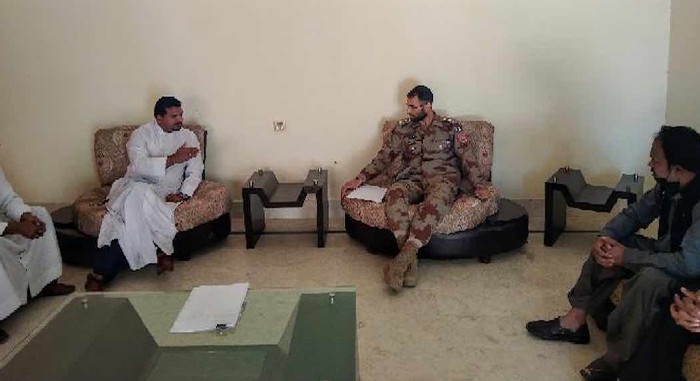 Father Anwar discusses security issues with Colonel Hammad of the Frontier Corps' Loralai squad in Balochistan. (Photo supplied)
Father Anwar recalled that Bishop Gnanapragasam faced pressure as priests found it extremely difficult to adjust to local challenges. However, he learned the art of adjustments through tireless efforts over the years.
"The exposure during month-long pastoral works, in summer vacations, introduced us to a totally different world," the priest said.
He also pointed out differences in church services in Quetta with those in cities in Punjab and Karachi.
"Churches in Punjab and Karachi host two or three services before 9 in the morning. Here the first Mass starts at 9 am and a church full of worshippers is a rare sight," he says.
There are a handful of church-run clinics and hospitals in other dioceses, but there are none in Quetta.
One year after he was ordained a priest at the Cathedral of Saints Peter and Paul in Faisalabad in 2016, Father Anwar embraced his mission in Quetta, where he has served three parishes.
He currently has an additional role as the vice-chairman of the Catholic Education Board in Balochistan, overseeing the operations of six church-run schools.
Father Anwar is one of 14 Punjabi priests serving in seven parishes in Quetta. There is only one priest from the Archdiocese of Karachi in southern Pakistan.
Caritas Pakistan, the social service agency of the local Church, is also active in one of the country's poorest and most sparsely populated church jurisdictions, where more than 5,000 Catholic families live alongside Muslim-majority communities.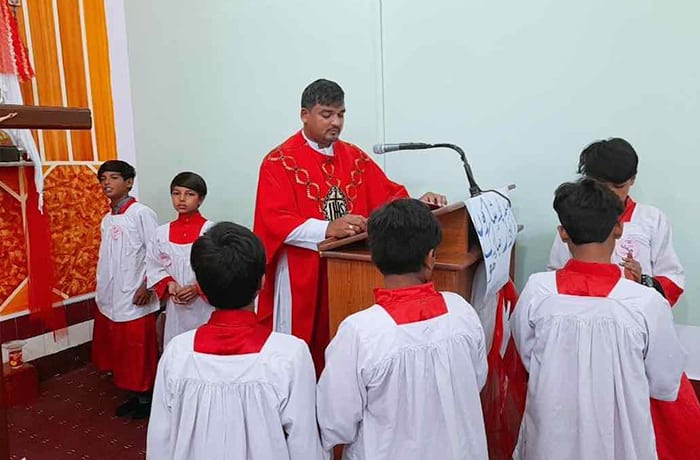 Father Anwar celebrates Mass at St. Francis of Assisi Church in Loralai in Balochistan province. (Photo supplied)
Father Anwar says the transition of the church in Quetta since the departure of the late Bishop Gnanapragasam is a positive development.
The Sri Lankan bishop had various challenges. Due to advanced age, his movement was limited and, being a foreigner, he couldn't reach everywhere and relate to the people. He often sought to reduce his workload and, due to the language barrier, he never delivered homilies during large gatherings, the priest explained.
Despite such hurdles, the prelate became a good shepherd to the Catholic community.
"Still, we remember our good shepherd for leading the Church in very challenging circumstances. I thank him for trusting in us to carry on his legacy," he said.
Featured image: Father Shehzad Anwar at Harnai, a substation of St. Francis of Assisi Parish in Loralai in Pakistan's border province of Balochistan (Photo supplied to UCA News)