Maryknoll Sister Helen Werner still finds delight in her decades-long ministry of prayer in mission.
Sister Helen Werner, who recently turned 102, has spent 84 years of her life in Maryknoll — most of them devoted to contemplative prayer in mission. Age has not diminished her sense of humor. "In our family, red hair was the sign of a religious vocation," Sister Helen laughs. "Of us three redheads, my brother became a diocesan priest and my sister Dorothy and I became Maryknoll Sisters."
Born in 1920 on her family's 80-acre farm, Helen was the youngest of eight children. Her German-born parents had settled in Fowler, Michigan, a small farming community on a railroad line. At the time of Helen's birth, the population was only 472, yet this village of hard-working immigrant families yielded numerous vocations. "Twelve of us on our road alone responded to God's call," Sister Helen recalls.
The day Helen received the sacrament of Confirmation she also said goodbye to her 17-year-old sister, Dorothy, who took the train east for Maryknoll.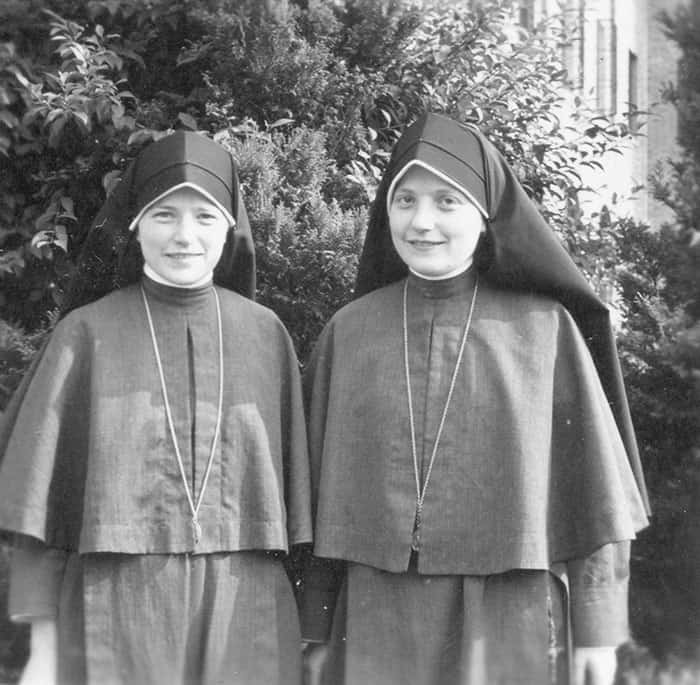 Helen (left) and her older sister Dorothy became Maryknoll Sisters as Rose Therese and Celine Marie. (Maryknoll Mission Archives)
Later that autumn afternoon, Helen sat on the farmhouse steps gazing at a stunning sunset. She remembers that moment clearly. "I was eight years old," she says. "I didn't tell anybody, but I just knew someday I would be a Maryknoll sister."
A decade later, Helen arrived at the Maryknoll Sisters' front door. It was 1938 and Dorothy had been teaching in Japanese-occupied Manchuria, China, for two years.
Helen moved from postulant to novice, learning how to live as a Maryknoll sister and trading her novice's white veil for a black one when she professed vows. She received the Maryknoll Sisters' unique ring, stamped with Chi Rho, the first letters of the Greek word for Christ. In 1944, because Japan and the United States were then at war, Dorothy was repatriated. She started teaching at the Maryknoll Teachers' College – just in time to become Helen's math teacher! Earning a bachelor's degree in education, Sister Helen was eager to embark on her first mission assignment.
She and three other sisters were soon on a plane headed to The Panama Canal Zone. "The Zone," a 10-mile strip straddling the Panama Canal, was home to the U.S. civilian and military population that operated and protected the Canal.
The American Vincentian Fathers administered San Vicente Parish in The Zone. Their parishioners were mainly of Jamaican background, descendants of workers who had helped build the Panama Canal and were disadvantaged as English-speakers in Spanish-speaking Panama. The Vincentians requested the Maryknoll Sisters' help to open a parish school. Maryknoll sisters already in Panama serving in pastoral and social work did what they could to prepare the school, Colegio San Vicente. U.S. authorities promised desks and moveable blackboards, to be used as classroom dividers.
Sister Helen and the three other recently-assigned sisters arrived in October 1944, after the academic year had already begun. At a glance they could size up all the classes in the wide-open church basement. Without the promised new desks and blackboard dividers, chaos reigned — until the sisters reined it in.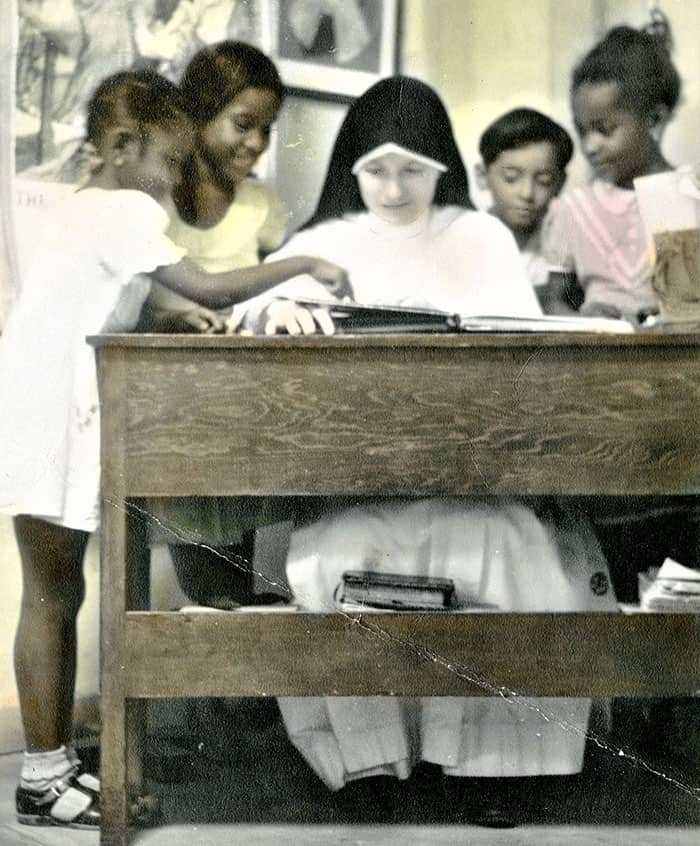 Sister Helen is pictured here in 1949 at Colegio San Vicente in The Panama Canal Zone, where she taught first grade for 10 years. (Maryknoll Mission Archives)
"During the first few days we doubted whether we could ever bring a semblance of order into our unruly ranks," Sister Augustine, superior and principal, wrote in a letter. She reported that the children sat three to a desk "at desks ready to fall to pieces, or are squeezed together on long green benches … so high their feet will not touch the floor."
The first graders were the rowdiest. This became Sister Helen's class. She recalls, "The first graders in my section sat shoulder to shoulder so that all the ones in the middle had to do was push out their arms and the child on either end of the bench would fall off."
After 10 years of teaching, Sister Helen's ministry took her in a new direction — one which she would follow for the rest of her life. Mother Mary Joseph Rogers, the Maryknoll Sisters' founder, had established a sisters cloister. Since 1932, when the first 10 women received this assignment, Maryknoll sisters were chosen from a list of volunteers experienced in mission to spend their lives in cloistered prayer and penance offered for missioners around the world.
Sister Theresa Baldini, a current member of the contemplative community, explains, "Mother saw this as … enabling within the sisters 'a sense of God's abiding presence' … and the union with Christ in prayer essential to any real mission vocation."
"Admirable," Sister Helen remembers thinking, "but not for me." She explains, "I loved teaching my first-graders."
Yet, like more than 100 other Maryknoll sisters who volunteered for this unique mission, Sister Helen wanted the Holy Spirit — not herself — to be the one to choose. She added her name to the list and began reading the writings of spiritual masters. When in 1954 she received an assignment to the cloister, she felt ready to accept this new way of mission. She returned to the Sisters Center to spend the next three decades of her life in the Maryknoll Cloister.
Click on the arrows to see the slideshow photos:
1) Contemplative Community members at prayer in the Lemoa chapel: (clockwise) Maryknoll Sisters Theresa Baldini (visiting), Rose Mary Jene, Helen Werner and Consuela Torrecer. (Courtesy of Maryknoll Sisters/Guatemala)
2) Sister Helen (right) and the late Maryknoll Sister Connie Pospisil are pictured in 2008. (Sean Sprague/Guatemala)
3) Sister Helen poses with young friends in Lemoa. (Charlotte Tomaino/Guatemala)
4) At her 100th birthday party, Sister Helen was joined by community members, religious sisters and her dear friend, Bishop Julio Cabrera. (Charlotte Tomaino/Guatemala)
After the Second Vatican Council, new ideas about religious life changed the ways religious women lived and worked. The Maryknoll cloistered sisters opened their doors, their chapel, and their hearts. They would continue living the contemplative life — in the real world. It took a lot of adjusting and experimenting, but they came through with ways of being in mission as contemplatives.
In 1981, the Maryknoll Contemplative Sisters received invitations from a bishop of Sudan and from the Maryknoll sisters in Guatemala to open houses of prayer in those war-torn countries. In 1986, after much prayerful consideration, two sisters went to Sudan and three to Guatemala — including Sister Helen.
The Maryknoll Sisters in Guatemala had found an ideal site for these new contemplative missioners: the village of Lemoa in El Quiché, an area which suffered tremendously in the country's long civil war. Sister Helen and her companions studied Spanish while their house was made ready. On Aug. 15, 1986 they formally opened their ministry of prayer and service to the area's survivors of violence. Sister Helen was 66 years old.
At the end of her first year there, Sister Helen wrote, "The period I am in now has been the most satisfying time for me. It has brought me in touch with the simple faith and trust of the poor. What they suffer and what they share becomes a part of my prayer."
Several Maryknoll sisters formed part of the Lemoa Contemplative Community over the years. Two died and others eventually returned to Maryknoll, but Sister Helen stayed. Besides praying, she helped many widows, funded students' education and lived out Jesus' words: "Let the little children come to me."
At the incredible age of 101 years, Sister Helen suffered a slight stroke that paralyzed her right leg. She bid farewell to the people and her beloved Lemoa and returned to the Maryknoll Sisters´ center in Ossining, New York.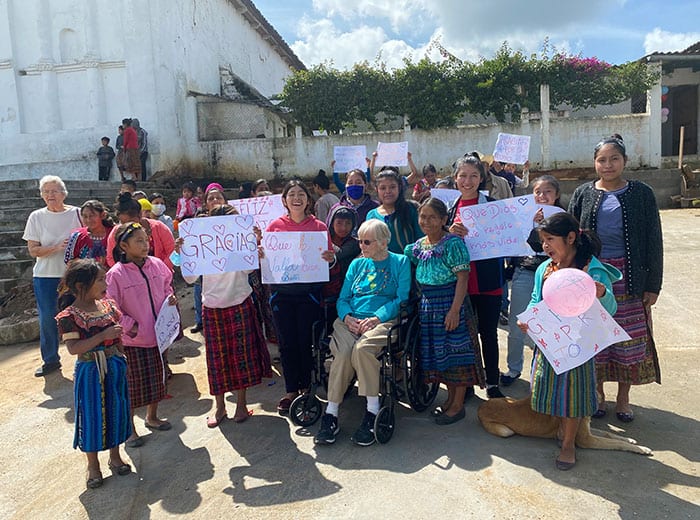 A send-off party for Sister Helen (center) brought together neighbors and families of students she has supported, who gathered at the Church of San Sebastian to wish her a fond farewell. (Valentina Castro/Guatemala)
There, on the fourth floor where many sisters receive nursing care, Sister Helen is an inspiration. Her positive attitude and smile brighten the halls as she rolls along in her wheelchair, visiting others. She takes part in prayer and activities and communicates with friends in Guatemala on her smart phone. She reads new theology on her tablet. And she answers the inevitable questions about her longevity, giving credit to her early upbringing and her vocation.
She says simply, "My early childhood was lived in the clean fresh air of the universe, and I have tried to live my life in a spirit of gratitude and inner peace."
Featured image: Sister Helen dances with Ignacia López Galindo at her 100th birthday party, which brought together religious sisters, local community members and the Maryknoll Sisters in Guatemala. (Charlotte Tomaino/Guatemala)