Archdiocese of New York sends the cause for Dorothy Day to Rome for next phase of canonization.
I grew up with Dorothy Day as a constant presence in my Catholic Worker family. My grandparents helped start a Catholic Worker house in Cleveland, and my parents met and married while living with Dorothy at the New York Catholic Worker. She died in 1980, but her influence on our lives did not wane. Instead, it grew: As my brother and I entered adulthood, Dorothy's life became a measure with which we weigh our own.
With Dorothy's canonization cause, momentum is growing to acknowledge her ongoing presence – as perennial challenge and inspiration – in the lives of so many people. The cause also introduces her to others, especially to young Catholics and people outside of the U.S.
On Dec. 8, 2021, the Solemnity of the Immaculate Conception, the Archdiocese of New York celebrated the conclusion of the diocesan phase of the canonization cause for Dorothy Day. At a Young Adult Mass held at New York's Saint Patrick's Cathedral, Cardinal Timothy M. Dolan formalized the send-off of the evidence of Dorothy Day's holiness, amassed by the Dorothy Day Guild, to the Congregation for the Causes of Saints in Rome.
Dorothy Day's early background was marked by what she later wrote were "false starts."
She was born in 1897 in Brooklyn to nominally religious parents, and her family moved often as her father, a journalist, followed jobs. As a child, she lived through the 1906 earthquake in the San Francisco Bay area, where the solidarity among survivors made a lasting impression on her. In Chicago she witnessed the plight of immigrant workers. After studying two years at the University of Illinois at Urbana, she left school to follow her family back to New York. Against her father's wishes, she became a journalist. Drawn to issues of labor and justice, she covered strikes, rallies, and issues affecting poor people. Her friendships in bohemian Greenwich Village included radicals, writers, artists and intellectuals. Those years were also marked by upheaval, including an abortion, marriage and divorce, and thoughts of suicide.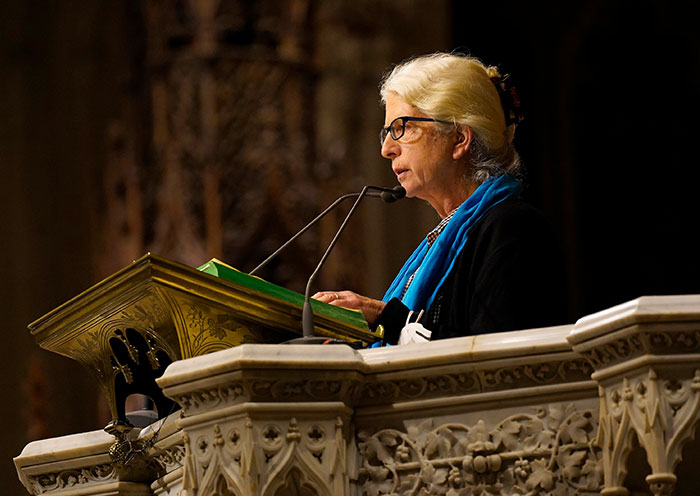 Martha Hennessy, granddaughter of Dorothy Day, proclaims the second reading during a Mass marking the conclusion of the Archdiocese of New York's investigation of Day's candidacy for sainthood Dec. 8, 2021, at St. Patrick's Cathedral in New York City. (CNS photo/Gregory A. Shemitz)
Dorothy's life changed with the birth of her daughter, Tamar, while living on Staten Island with her common-law husband. She wrote in her autobiography, The Long Loneliness, "I was happy but my very happiness made me know that there was a greater happiness to be obtained from life than any I had ever known. I began to think, to weigh things, and it was at this time that I began consciously to pray more."
She was attracted to Catholicism as the Church of the poor. Although it would end her marriage, she decided to have Tamar baptized, and in 1927 she became a Catholic. She continued writing for various publications to support herself and her young daughter.
On Dec. 8, 1932, in the midst of the Great Depression, while on assignment as a journalist reporting on a national Hunger March and a gathering of poor farmers, Dorothy Day was deeply troubled by the lack of Church presence to show solidarity with these causes. She attended Mass at the Basilica of the National Shrine of the Immaculate Conception in Washington, D.C.:
"There I offered up a special prayer, a prayer which came with tears and with anguish, that some way would open up for me to use what talents I possessed for my fellow workers, for the poor," she wrote later in The Long Loneliness.
On her return to New York City, the answer to her prayer was waiting in the person of an itinerant Frenchman and worker scholar named Peter Maurin. Their meeting led to the founding of the Catholic Worker movement, through which they would put into practice the Church's social teachings. According to Catholic Worker chronicler Rosalie Riegle, after Dorothy's death the movement did not die but has tripled in size.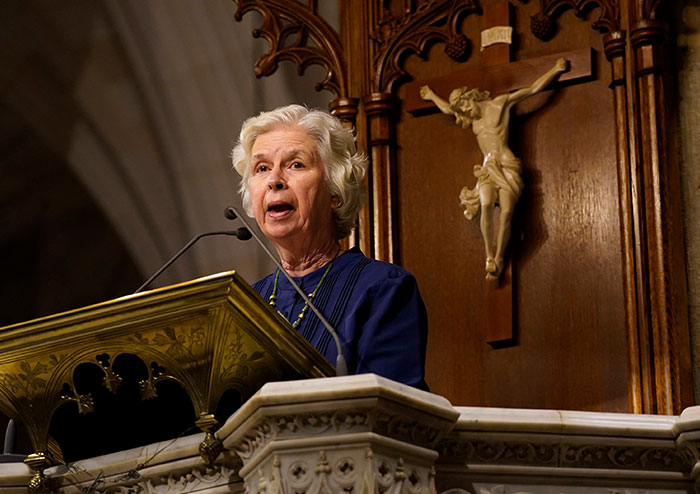 Kathleen Jordan proclaims the first reading during a Mass marking the conclusion of the Archdiocese of New York's investigation of Dorothy Day's candidacy for sainthood Dec. 8, 2021, at St. Patrick's Cathedral in New York City. Jordan was a longtime friend of Day and worked with her as an editor at The Catholic Worker newspaper. (CNS photo/Gregory A. Shemitz)
Well-known features of the Catholic Worker include the Works of Mercy, seen in soup kitchens and houses of hospitality for the homeless. Fundamental to its vision are personal responsibility, community and voluntary poverty. Over her decades in the Catholic Worker, Dorothy encountered the most resistance to its vision of non-violence. Her unwavering pacifism during World War II and the Vietnam War brought heavy criticism. She supported – and took part in – acts of civil disobedience until her last years. In 1973, she was arrested on a picket line with the United Farm Workers in California.
The Dorothy Day Guild calls Dorothy Day "a saint for our time."
Members of the Guild gathered for a reception held at the Archdiocese's Mother Cabrini Health Foundation before the Mass, George Horton, director of the Department of Social and Community Development of Catholic Charities of the Archdiocese of New York and vice-postulator for her cause, said the canonization process "has been one of the most meaningful things in my life." He recounted how, in 1998, Cardinal John O'Connor had convened a group of people close to Dorothy, to discern whether to open a cause for canonization. "I didn't know Dorothy. I got to know her through the people who knew her," he said. "I felt it that day. I didn't know the people but I knew something important was happening. There was a spirit in the room. And that same spirit has continued."
In 2002, the Congregation for the Causes of Saints in Rome was formally requested consider her canonization. Upon the Congregation's approval, Dorothy was named a "Servant of God," and in 2005, the Guild was established. In 2012, the Guild was revitalized after Cardinal Timothy Dolan brought her cause for approval to the annual meeting of the United States Catholic Bishops. The bishops' vote was unanimous in asking the Holy See to continue the canonization process that had been initiated by Cardinal O'Connor.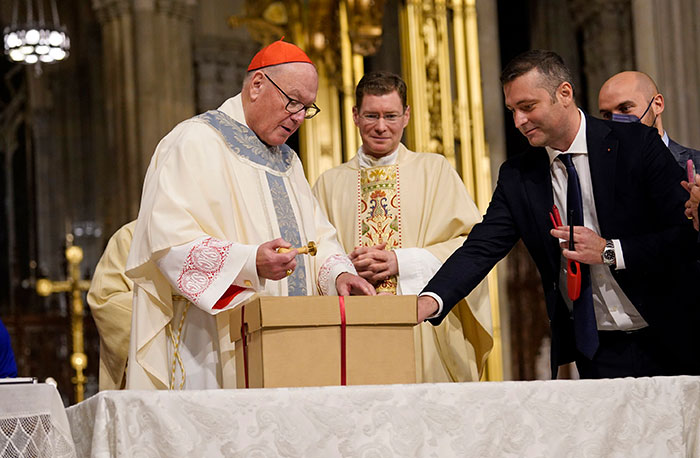 New York Cardinal Timothy M. Dolan stamps a wax seal on an archival box containing documents during a Mass marking the conclusion of the Archdiocese of New York's investigation of Dorothy Day's candidacy for sainthood Dec. 8, 2021, at St. Patrick's Cathedral in New York City. Looking on are Father Brian A. Graebe, episcopal delegate for the canonization cause; Waldery Hilgeman, the Roman postulator for the cause; and Emanuele Spedicator, an associate of Hilgeman. The documents, which detail Day's holy and heroic virtues, will be reviewed by the Vatican Congregation for Saints' Causes. (CNS photo/Gregory A. Shemitz)
Interviews were conducted with people (like my parents) who had known and worked with Dorothy to be submitted as eyewitness evidence. Currently comprised of 24 members on its Advisory Committee, the Guild includes Martha Hennessy, Dorothy's granddaughter, and long-time friend Kathleen DeSutter Jordan, who served as lectors at the Mass.
Since Dorothy was a prolific writer, compiling the necessary documentation proved to be a herculean task. Approximately 100 volunteers – some from other countries, e.g., India – transcribed tens of thousands of pages of her handwritten journals and correspondence. Two-thirds of a ton of paperwork, 50,070 pages with a corresponding set of copies (a total of 110,000 pages) were being shipped to Rome.
Waldery Hilgeman, postulator for the cause, flew to New York from Rome to finalize paperwork and to be present at the send-off. At the reception, he said that while organizing paperwork, he came across a letter he had written in 2012 to Monsignor Greg Mustaciulo, vice-postulator. Intrigued by Day's unique life and witness, he had asked to assist in the cause. Working on the cause, he had become more and more convinced of her holiness – and of her presence. "Dorothy is here among us," he said.
Hilgeman explained the next steps but said he couldn't specify the number of years it will take to bring the cause to canonization. However, he noted, Dorothy is "what we need today." He said that Pope Francis prioritizes "models of holiness that have value for our contemporary societies."
Vice-Postulator Horton concurs. "We need her as a saint for our times. We need the hope that she can bring us." And, he added, "Long after we are gone, her life and legacy – her living the Sermon on the Mount – will go on."
Featured image: Father Brian A. Graebe, episcopal delegate for Dorothy Day's canonization cause, recites an oath during a Mass marking the conclusion of the Archdiocese of New York's investigation of Day's candidacy for sainthood Dec. 8, 2021, at St. Patrick's Cathedral in New York City. (CNS photo/Gregory A. Shemitz)