The shortage of workers, services and supplies could be alleviated with the labor that immigrants can provide, panelist says.
By Rhina Guidos, Catholic News Service
WASHINGTON (CNS) — For former Arizona state Sen. Bob Worsley, getting the country's immigration woes under control is about one thing: "the economy, the economy, the economy."
"We have people who want to work, standing at the border. We need them to come and help us. Restaurants are opening fewer days, opening fewer tables, hotels aren't servicing rooms like they used to. I mean, we're in dire need," said Worsley, a Republican businessman, one of three panelists who spoke Sept. 28 capping a two-day online conference on immigration law and policy.
The Catholic Legal Immigration Network, Georgetown University Law School and the Migration Policy Institute sponsor the annual event that gathers experts to discuss how immigration law and policy can respond to the realities the country is facing.
Though the public and businesses are experiencing a shortage of workers, services and supplies that could be alleviated with the labor immigrants can provide, lack of bipartisanship proves to be an obstacle to any meaningful movement on the immigration front, panelists said.
"How can immigration reform happen, if at all, in this world of polarized politics and what will it take to make it happen?" asked moderator Muzaffar Chishti, of the Migration Policy Institute.
With Republicans focusing on the 2022 midterm elections, immigration faces an uphill battle, panelists said.
"I don't think the (Republican) party will let (Democrats) get that victory. You can argue, 'Let's have a big debate and then talk about it, both of these sides' … but I think we're wasting our breath," Worsley said.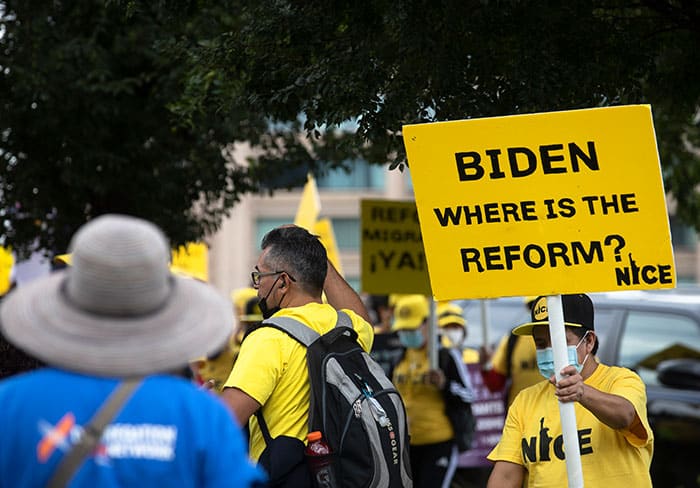 Migrant families and immigration advocates in Washington call for a pathway toward U.S. citizenship as they gather near Benjamin Banneker Park to march toward the U.S. Immigration and Customs Enforcement building Sept. 21, 2021. (CNS photo/Tyler Orsburn)
"All of our efforts are on the reconciliation process," said panelist Esther Olavarria, White House representative and deputy director of the Domestic Policy Council for Immigration, referring to Democrats' plan to include immigration reform in the budget reconciliation bill process.
Senate parliamentarian Elizabeth MacDonough said Sept. 19 the Democrats' plan was "not appropriate" for inclusion in the budget reconciliation bill process, nixing their plan.
The proposal would have granted legal status to 8 million farmworkers and essential workers, young adults brought to the U.S. illegally as minors, and recipients of a temporary program for migrants.
The parliamentarian's move was a disappointment, including to Republican Worsley and others in the business community. He said he's on the board of the American Business Immigration Coalition, where members are voicing frustrations over the lack of political progress on immigration issues that could provide them respite.
The Democrats vowed to present MacDonough with another proposal to include in the budget bill, but she rejected it Sept. 29.
They had proposed changing the registry date in current immigration law that allows certain noncitizens who are long-term residents in the U.S. to register for Lawful Permanent Resident status, or LPR.
Currently, noncitizens who entered the U.S. by Jan. 1, 1972, can register for LPR. The Democrats wanted to change that date to 2010.
"I'm feeling the pain that a lot of companies and a lot of businesses are feeling. We really do have … a unique time where low-skilled workers and development workers are in drastic shortage," Worsley said.
"I represent ABIC … and we have 1,200 CEOs in our group," he continued, "and they're farmers, they're nursery owners, they're construction people, they're hospitality and lodging, they're restaurants, they're health care, transportation. … Everyone is screaming and yelling that 'you don't understand, folks, the acute nature of our labor shortage.'"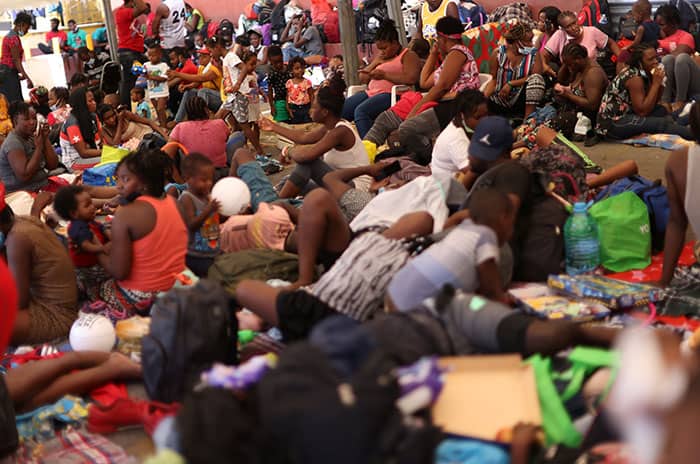 Haitian migrants trying to reach the U.S. rest outside a shelter after arriving in Monterrey, Mexico, Sept. 24, 2021. The Mexican bishops' migrant ministry has called on the federal government to return to a policy of "open arms" as the country experiences heavy waves of migration — most visibly with Haitians, who recently transited the length of Mexico to the U.S. border in large numbers. (CNS photo/Edgard Garrido, Reuters)
He said a farm in Idaho, Owyhee Produce, was forced to give away its entire asparagus crop this year.
"They didn't have anyone to pick it so they gave 6,000 volunteers a chance to come and pick the asparagus crop for their own use because they did not have workers and they said it wiped out their profit for the whole company this year," Worsley said. "They're just beside themselves."
He worries that the problem may get worse with politicians not budging on the legalization of some migrants or reforms that could help their businesses, even with temporary labor.
"It's very frustrating to our board (at ABIC) that our friends, the Republican senators, are not at the table, but we also are realists and understand that the Republican Party wants to win the 2022 midterms above everything else," he said. "And right now … the Republican Party is using immigration as a club and they will use it to get their base out in 2022."
Panelist Pia Orrenius, vice president and senior economist at the Federal Reserve Bank of Dallas, said some of the pain experienced by the business sector and by extension, the public, shows that "we do depend on immigration for labor force growth in this country."
But it also may be a warning of what's to come with demographic changes on the horizon, such as the retirement of baby boomers and a decline in the birth rate in the U.S., and how that will affect economic growth. That also presents an opportunity for immigration advocates to form alliances with the business community in the fight for immigration issues on the political horizon, she said.
Panelist Charles Kamasaki, senior cabinet adviser for UnidosUS, said he sees an opportunity to build coalitions but also said a turn of unforeseen circumstances "something like maybe a huge economic dislocation caused in part by the constant labor shortages" could turn the tables.
But the bigger challenge, he said, is tackling immigration opposition from those who don't like it because of racial and ethnic demographic change it brings to the country.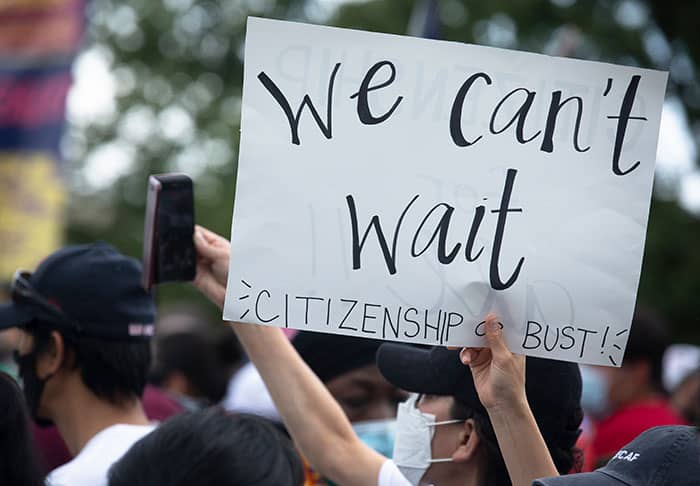 Migrant families and immigration advocates in Washington call for a pathway toward U.S. citizenship as they gather near Benjamin Banneker Park to march toward the U.S. Immigration and Customs Enforcement building Sept. 21, 2021. (CNS photo/Tyler Orsburn)
"There are no easy answers, changing hearts and minds on those issues," he said.
But Republican Worsley said those who are opposed to immigration because of the demographic changes, including some in his party, need to get used to change that's well under way in the U.S. They instead need to focus on what the country needs to grow economically.
"We're not going to keep white majorities in America. That's a pipe dream. It's not going to happen and so let's embrace and develop real immigration reform that will allow the number of people to come into our country that are job market requires," he said.
But he said he recognizes there are other forces at play.
"We have to remember that Steve Bannon very clearly said, 'We get our base out by creating fear and chaos' and that gets the Republican base out to vote. So, we need to understand that's working against us," Worsley said, speaking of what immigration advocates face.
Bannon is a media executive and political strategist. He was chief strategist for the Trump administration for several months in 2016.
Worsley said there's potential to get pragmatic Republican businesspeople on board who will look at the job market, at the retiring the baby boomers, the falling birth rate, and see the need to advance immigration issues to help the economy.
"There are many of us in the Republican Party that see a dead end to this anti-immigrant movement," he said. "It's just not it's not going to get us where we need to be."
Kamasaki said coalitions can be formed but both sides need to be open to listening to one another.
"I think we also need to try and talk to our opponents a little bit more," he said. "We're at a stage these days where we see our policy opponents as enemies. … I don't think we have enough conversations with other people. I think we're often talking at them."
Featured image: Migrants in Ciudad Acuna, Mexico, wade through the Rio Grande toward Del Rio, Texas, Sept. 22, 2021. (CNS photo/Daniel Becerril, Reuters)