Volunteering in a goat project in Tanzania called Hope on Hooves, a Maryknoll affiliate from Seattle discovers mission is from everywhere to everywhere.
I never thought it would be possible to do mission in Tanzania from my living room in the state of Washington. But a goat project, aptly called Hope on Hooves, has become a mission for me and for many U.S. friends who give needy families in this African country the gift of goats and more.
As a Maryknoll affiliate for 18 years, I have long been attracted to mission, globally and locally. I do prison ministry locally. But in 2016, I had the chance to experience overseas mission through Father John Mollel. He had served in my Holy Cross parish in the Seattle suburb of Lake Stevens. When he returned to his home parish in Arusha, Tanzania, he invited me to visit.
I received unbelievable hospitality from the Tanzanian people, even in the midst of great poverty. I shared the fruits of my trip with the members of my Seattle Affiliate Chapter when I came home. They were not only inspired by but also supportive of my desire to stay connected to Tanzania.
Three years ago, Father Mollel passed away, but he had left me a forever friend group. One of them connected me on Facebook with Samson Gladstone, a local teacher.
Early last year, I saw Sam's post on Facebook that he was buying goats at $25 USD for single mothers in Karatu, near Arusha. The women, Sam explained, use the milk to nourish their families, sell it or make cheese. The goats have kids a couple of times a year, soon creating herds. Goats give these women independence and a means of support. I told Sam I'd buy a goat. Two days later, I received a picture of my goat and the family that received it. Enclosed was a handwritten thank you sign.
Meanwhile COVID-19 impacted all our lives. By May 2020, I was stressed out by the pandemic, unable to do my local ministry. I asked God what I could do to help others. I had posted pictures on Facebook of my goats so my friends and fellow affiliates could see the families served. I told them if they were interested in purchasing a goat for $25 or a cow for $130, they could buy it through me and receive pictures of their goat or cow with the family they were helping. The response was overwhelming!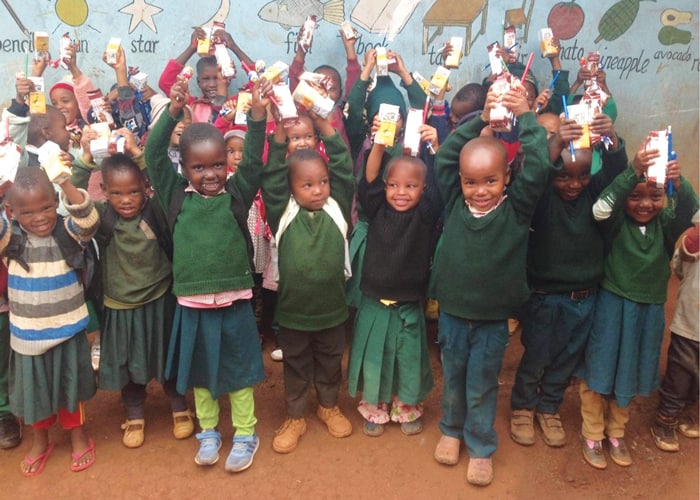 Students at St. Paul Academy who could not afford uniforms and backpacks received them along with snacks for all from Hope on Hooves. (Courtesy of Samson Gladstone/Tanzania)
Now local volunteers in Tanzania, Lotha Loyewo, Rodgers Mungure and Kajuju Theophil together with Sam, are interviewing the long list of women requesting a goat. All the volunteers are teachers and take time away from their families or work to help with the project. Delivering animals, the volunteers have found many of these families also need food, clothing, household supplies and medical assistance.
I track the donations, make thank you signs, and email them before the deliveries. Seeing the pictures of the goat recipients, many people send additional money. The volunteers are very grateful to be able to purchase the needed food, clothing for the children and moms, beds, bedding, medicine and furniture. The volunteers also drive the women and children to medical appointments, attend doctor appointments with them and keep me informed. One hundred percent of the donations go to the families.
In December 2020, one of our Seattle affiliates, Carolyn Creighton, made many phone calls and was instrumental in getting more than 40 Christmas goat orders from our Seattle chapter. Donors from Maryknoll, family and Facebook friends have been eager to help. Several people have generously paid for entire surgeries for children as well as giving money for food for the rest of the family. These children would never have had the opportunity for normal lives without these surgeries. We have helped three children with serious leg issues, funded an eye surgery and provided glasses for a little girl with AIDS. Most recently, we saw the following miracle unfold.
A woman whose toddler son, Said, had water on the brain, begged us to help him. Without committing to covering possible surgery, we said we could get him to Arusha for a consultation. I said I would try to raise some funds. A recent $200 donation covered travel for Said, his mom and a volunteer; an MRI; blood tests and a doctor visit. A neurosurgeon saw Said on a Wednesday and said the child should stay at the hospital. Two neurosurgeons who specialized in this type of brain surgery were flying in from the United Kingdom on Friday. They would perform the surgery the following Monday.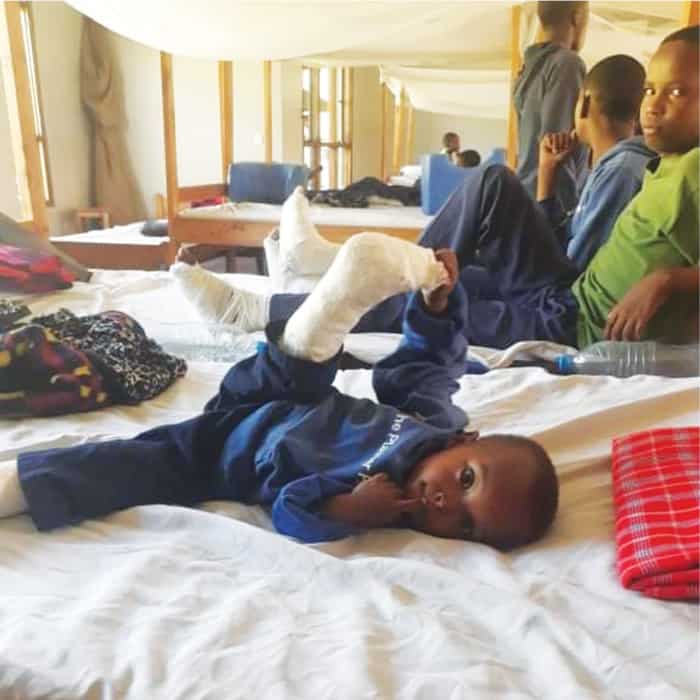 Derrick got funds from Hope on Hooves to pay for the surgery he needed on both his legs because he had rickets. (Courtesy of Samson Gladstone/Tanzania)
When I heard that the volunteer, feeling he had no other choice, had signed the consent for the surgery without asking the cost, I was worried. Surely the cost would be prohibitive! But when the volunteer explained the situation to the surgeons, they gave their services free of charge! The only cost was $120 for Said's hospital stay. We paid for his mom's meals for a month and transportation home.
The day after Said's surgery, out of the blue, I received donations for $100 and $250. Said is going back for a follow-up appointment and I am told his head has started to reshape.
As of this past summer, we've delivered 246 goats and 20 cows, funded lots of medical assistance, and provided food, clothing, school uniforms, school books and playground toys, tables and chairs, beds, mattresses and bedding.
I plan to return to Tanzania as soon as possible and meet many of these families. I will send pictures to those who have donated and/or sent prayers. Through this project, I have learned an important lesson: You can reach out and touch people from anywhere and, through God's grace, make connections that are miraculous.
Featured image: The Hope on Hooves project gave this family a goat and new living quarters for six months, until the mother was able to get on her feet. (Courtesy of Samson Gladstone/Tanzania)