Father James M. Lynch returns to post of vicar general of the Maryknoll Fathers and Brothers as new leadership council installed.
If there is a keyword that runs through the narrative of Maryknoll Father James Lynch's priestly life, it is service.
Whether working in the inner city of his native Cleveland, Ohio, in the barrios of El Salvador and Peru or, most recently, in the Maryknoll house in Rome, the tall, affable priest has had one goal. "My idea of ministry is to be a servant," he says. He brings that perspective to his new role as vicar general of the Maryknoll Fathers and Brothers.
The 74-year-old missioner is no stranger to this job. In 2012 he was asked to complete Father José Aramburu's remaining three years as vicar general when Father Aramburu died of cancer. "It's only been seven years since I was last in this position," Father Lynch says, "but the world has changed and so the Society faces new challenges." Among them, he mentions COVID-19, climate change and refugees.
But, he adds, in that time, Pope Francis has put his vision of a mission church in the forefront, an affirmation of what Maryknoll's priority has always been: to proclaim the Gospel to all nations.
Ordained a Cleveland diocesan priest in 1974, Father Lynch remembers sensing a call to serve the poor beyond his own borders when he was working in inner-city parishes in his diocese. He applied to be a member of the Cleveland Mission Team serving in El Salvador and arrived there in 1984, during the country's civil war. Accompanying the people through those difficult days, he says, and seeing in them the face of Christ drew him more deeply to a lifetime of overseas mission.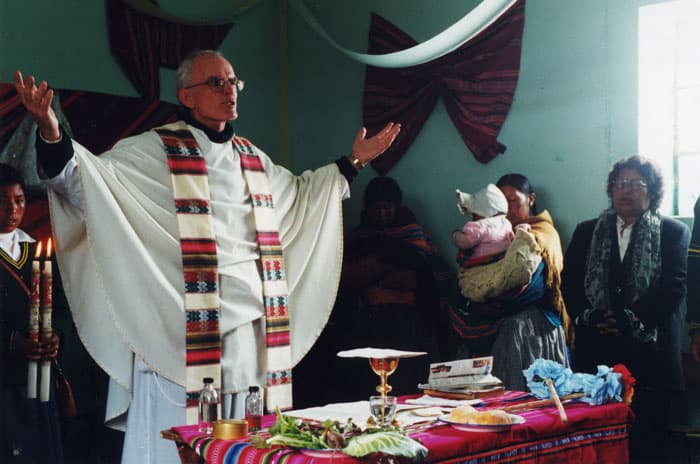 Father James Lynch celebrating Mass in one of more than 100 communities he served as pastor in Juli, Peru, in 1998. (Maryknoll Mission Archives)
He recalls visiting a dying Salvadoran woman to bring her Holy Communion and the Sacrament of the Sick. "She told me how grateful she was for all she had, which was very little," Father Lynch says. "As I left her, I thought, 'I brought the sacraments of the Church to her, but she became a sacrament to me.' "
After returning to Cleveland in 1992, Father Lynch asked his bishop for permission to incardinate into the Maryknoll Fathers and Brothers. He took his final oath to become a Maryknoller in 1998.
As a Maryknoll priest, Father Lynch has worked in Chile and Peru and again in El Salvador and served as regional superior of the Latin America region while living in Guatemala. Most recently he was the Maryknoll Society's procurator general, serving as liaison with the Congregation for the Evangelization of Peoples and with other religious communities in Rome.
Reflecting on what his priestly experience has taught him, the new vicar general says, "You learn from the people you serve rather than directing them. You listen to them and grow with them."
He plans to help the Maryknoll Fathers and Brothers continue encouraging people to recognize their baptismal call to be missionary disciples wherever they are. "There's no mission field too far away," he says.
Featured image: As a Maryknoll priest in El Salvador in 2004, Father James Lynch greeted his parishioners after Sunday Mass. (Bernice Kita/El Salvador)