Father Lam Hua brings a younger perspective to new Maryknoll Fathers and Brothers' leadership team.
At 36, Father Lam Hua is Maryknoll's youngest priest. That's why he was surprised when the delegates of the XIV General Chapter elected him to be a member of the Maryknoll Fathers and Brothers General Council. But he remembered what he says to young people considering a missionary vocation: Just be open to the Holy Spirit.
Father Hua will follow that advice as he takes on new responsibilities to serve the Society. He will also draw on his youthful energy and on his ability to listen to people's needs, a skill that was nurtured in him, he says, as pastor of a sprawling parish in Mabatini, Tanzania. "It's allowed me to really be close to people, and I think that kind of relationship experience will help me in this job," he says.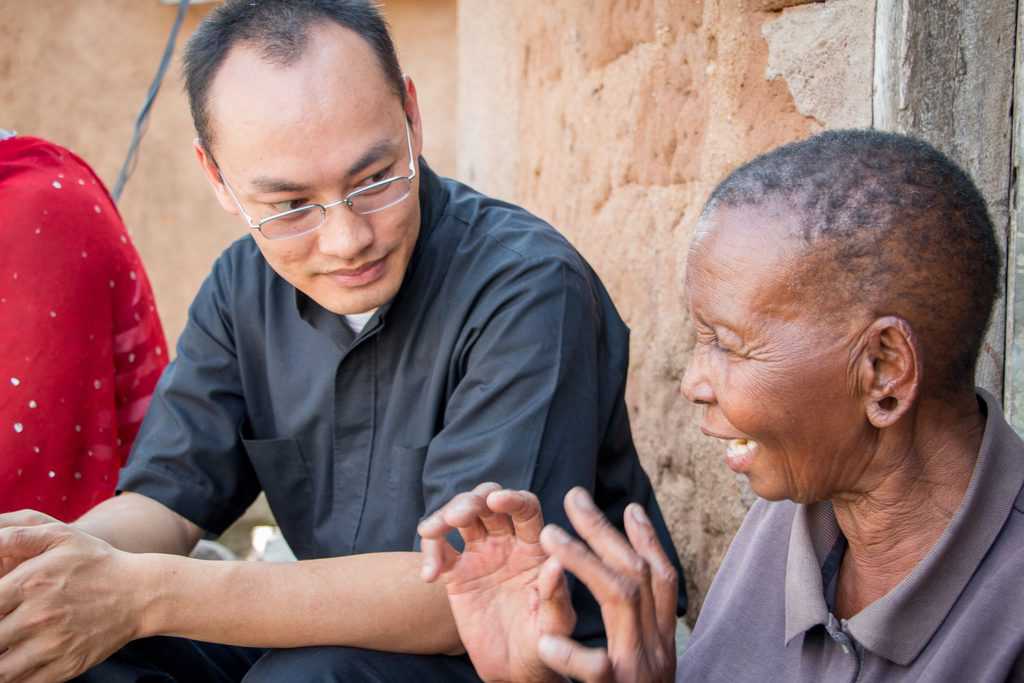 Father Lam Hua (left) talking to Victoria Maltini, Mabatini, Mwanza, Tanzania. (Nile Sprague/Tanzania)
Born near the coastal province of Da Nang, Vietnam, Father Hua says he learned to love God from his faith-filled parents, who were rice farmers. He was 7 years old when his family migrated to Tacoma, Washington, where he and his younger brother started public school. Lam was an altar server in his home parish of St. Rita and joined the Boy Scouts, which he says helped hone his leadership and interpersonal skills.
When he was a teen volunteering in his parish, his pastor, a Jesuit priest, gave him a copy of Maryknoll magazine. Young Hua was drawn to pictures of Father Vincent Cole traveling upriver on a raft to celebrate Mass in remote Irian Jaya (West Papua), Indonesia. "I want to do that as a priest," he recalls thinking.
Hua attended Saint Xavier University in Chicago while keeping in touch with Maryknoll's vocation director. During those college years, he took a trip to Cambodia and visited Maryknoll missioners there. Notably, he accompanied the late Father James Noonan to see patients with AIDS. "How he cared for them, touching them, making sure that they knew they're not alone in all of this … it really inspired me," he says. "That moment solidified my wanting to join Maryknoll." After graduating from college in 2007, he did just that.
Hua studied at the Catholic Theological Union in Chicago and spent two years training in Tanzania before being ordained a Maryknoll priest in 2014. He returned to Tanzania and became pastor of Transfiguration Church in Mabatini, where he ministered to over 500 families, divided into 29 small Christian communities, and supported the parish's holistic health ministry.
"We say, 'Christ is living in Mabatini,' " Father Hua says. "Our parishioners constantly transfigure Christ by caring for one another, sharing each other's joys and difficulties, and celebrating the sacraments. We are one family in the Lord."
Father Hua says his connection with other younger members of the Society will enable him to share their concerns and hopes for the future of Maryknoll, the Church and mission.
The chapter "renewed and reaffirmed our commitment to being in mission, to Maryknoll serving as God's instrument," he says. "God will open doors and work wonders."
Featured image: Father Lam Hua gives Communion during Mass at Transfiguration Church in the Mabatini neighborhood of Mwanza, Tanzania. (Nile Sprague/Tanzania)