T he COVID-19 pandemic has affected various aspects of life, and for missionary communities worldwide, it has been a time to rethink how we can continue to be a presence of God's love in the communities we serve. For me, as a candidate on my Overseas-Training Program (OTP) in Cochabamba, Bolivia, it has meant learning how to re-envision projects together with local people to offer something to the wider community in their time of need.
Back in March 2020, the government of Bolivia declared that the school year for the country would be officially closed, almost eight months earlier than usual. A couple of months later, the government announced that despite the shortened school year, all students would be advanced to the next grade in the new school year. Some schools with more resources started online classes to prepare the students; other schools sent tareas (homework with minimal instructions) through WhatsApp to the parents for their children to work on at home.
Before COVID-19, Father Paul Sykora welcomes a mother and daughter to the after-school tutoring center in Nueva Vera Cruz, Cochabamba, Bolivia. (Nile Sprague/Bolivia)
In the rural areas, parents with little education and those who have to work long hours could not help their children. To make matters worse, Internet access is expensive in this part of Cochabamba. The inequality of access to proper education became a concern for local communities like Nueva Vera Cruz, where Maryknoll Father Paul Sykora has been running a center that offers an after-school tutoring program.
The local educators and Father Sykora got together to discuss how they could address the community's concern. They decided to reopen the center to offer support programs to help students catch up with their academic studies so they would be more prepared for the new school year. I was happy to join in this mission.
The team was taking a big risk in reopening the center. There were still infections in the city area of Cochabamba. We had to take new biosecurity measures and monitor the children's interactions with one another. Besides disinfection procedures, we also maintained social distancing in the classrooms. We knew quickly that we were responding to a real need as more and more parents started signing up their children for our program. Another clear sign that we were meeting a need was that two new tutoring centers opened up near us a month after we restarted.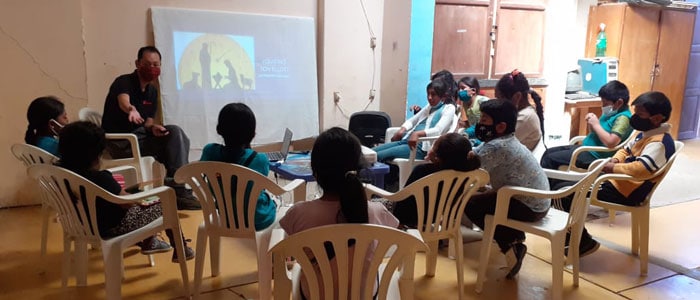 Maryknoll seminarian Matthew Sim and students exchange ideas about the Nativity story during the Ecumenical Advent Reflection Program. (Jhovana Reyes/Bolivia)
It was a humbling experience for me, a beginning Spanish learner, to be a teacher assistant, helping young children learn basic Spanish, mathematics and science. Even though I am a trained educator by profession, I had to learn the pedagogies used here and translate all the content into Spanish. Lastly, I had to be unashamed to ask for help from my fellow educators and even the students. I felt in solidarity with the children because I was learning while teaching. Perhaps I was learning more than I was teaching.
The work was intense since we only restarted the program in August, five months after the quarantine began. That meant we had three months to complete eight months of schoolwork. What's more, in our group, there were only two of us attending to 16 students of different abilities, grade levels and school systems. This meant we had to be more creative in managing the program, differentiate tasks to keep the students engaged, organize more dynamic ability-based groupings to review learning content and even use peer tutoring. In our attempt to help the children, we saw growing solidarity among them. More of them tried to help their friends, and more offered to assist us with simple tasks like bringing in the snacks for our breaks so we could focus on teaching. The children learned patience when they saw us occupied with other students. More importantly, they learned to control their own behavior to prevent disruptions in an already overly busy classroom.
We grew as a community, sharing more than just academic content. We exchanged our cultural experiences, indigenous languages and customs. I shared my faith experiences that brought me here to them. Our friendship extended outside the classroom. A good number of students joined our Sunday Mass, coming early to practice the hymns, and offering the petitions during the Prayer of the Faithful. I thanked God when I saw how these children were growing to be active members of our community of faith. Their participation inspired me to start an Advent reflection program after the support school ended.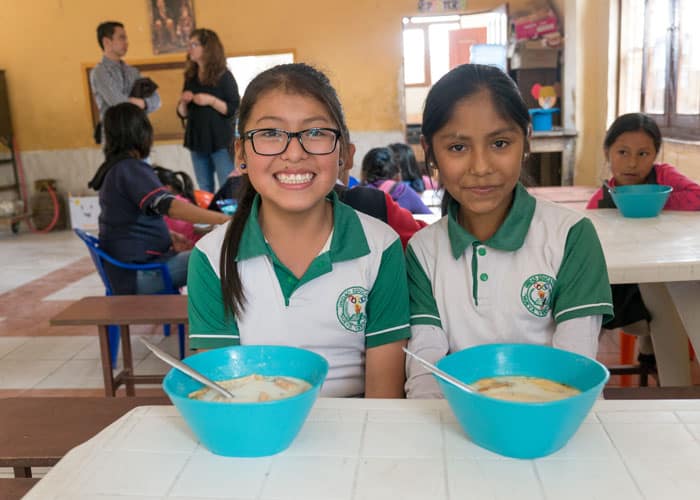 Anahi Perez (left) and Helen Pardo Vivar eat lunch at the after-school tutoring center in Cochabamba, Bolivia, before the country lockdown caused by COVID-19. (Nile Sprague/Bolivia)
The program was ecumenical. We invited all who were interested to reflect on the main characters of the Nativity narrative. We had a total of 14 participants, singing local Advent and Christmas hymns and learning about the Nativity story.
We each made a Nativity creche. They were proud of their work and brought the creche home to share with their family. For some, this was the family's first creche.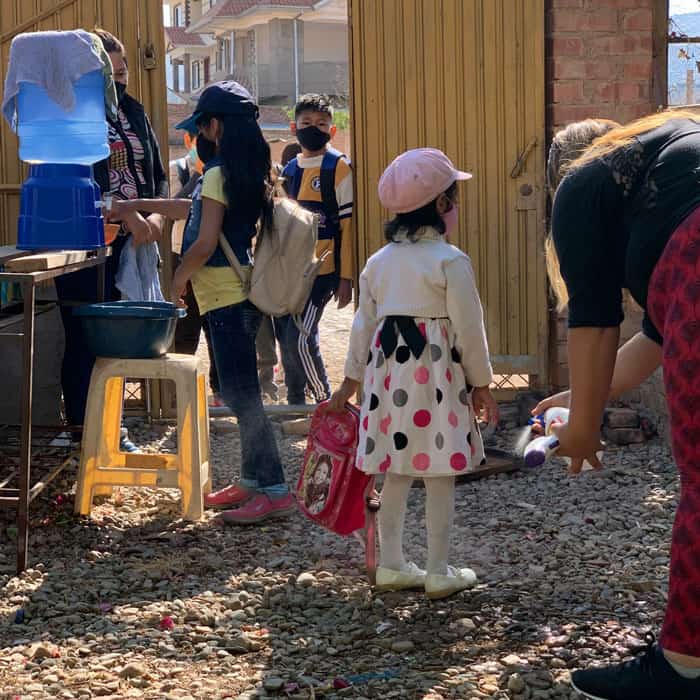 Students go through daily routine of biosecurity in Nueva Vera Cruz. The educators said that this routine became an opportunity to greet and talk with the children about their family. (Matthew Sim/Bolivia)
I was very touched that six children from the upper hillside joined our program. They had to walk for 50 minutes to get to our center, but that did not dampen their enthusiasm. At the end of every session, they would ask me for the leftover snacks to share with their family and friends. I was always eager to pack the snacks for them for the trip home. Their presence made my own reflection on the pilgrimage of Joseph and Mary to Bethlehem more substantial. They came to make a creche for their family for Christmas, but they actually brought Jesus to the other children, to Father Sykora, an experienced missioner, and certainly to me, a missioner-in-training.
Mission here isn´t about building beautiful grand churches or proselytizing. It is a calling to an encuentro, a deep encounter with self and others, so that we can better understand the presence of God that has been here way before any missioners stepped foot on this land.
Maryknoll Father Paul Sykora also contributed to this article.
Featured image: Educator guides students in a celebration of the Day of the Dead to remember one of the first missionaries to serve in this program, Maryknoll Father Frank Higdon. (Matthew Sim/Bolivia)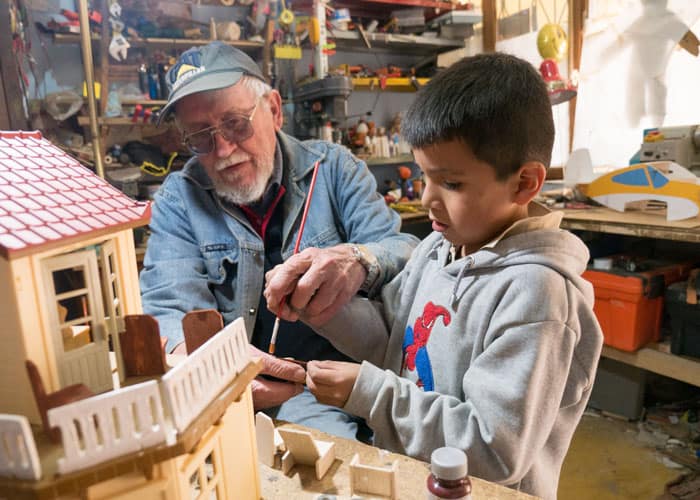 Father Paul Sykora, who runs the after-school tutoring program in Cochabamba, Bolivia, teaches a boy how to paint a toy house.
(Nile Sprague/Bolivia)