For a missioner in Taiwan, hospitality is a way to spread the Good News.
Ever since his first assignment as a pastor in Taiwan, more than 27 years ago, Maryknoll Father Nhuan Nguyen has been inviting friends and parishioners to join him at the rectory for tea or a home-cooked meal. While pouring the tea for his visitors one day, before COVID-19, he extolled the virtues of green tea, a gift from a 90-year-old friend.
"She gave it to me and said that it is very good for the body," the missioner says. "She has no high blood pressure and has a clear, good memory. So I drink the tea for good health."
For Father Nguyen, tea—and the friendship associated with it—is part of his mission ministry.
The priest says that evangelizing in Taiwan, where Catholics account for only 1.5% of nearly 24 million inhabitants, is not easy. Yet, he says, the way to help others know Jesus Christ is "from friend to friend."
He makes friends easily, he says, probably because he talks and jokes a lot. He is doing this at his current parish, St. Joseph the Worker, in the Diocese of Chiayi. He is the first Maryknoll priest to serve in the diocese.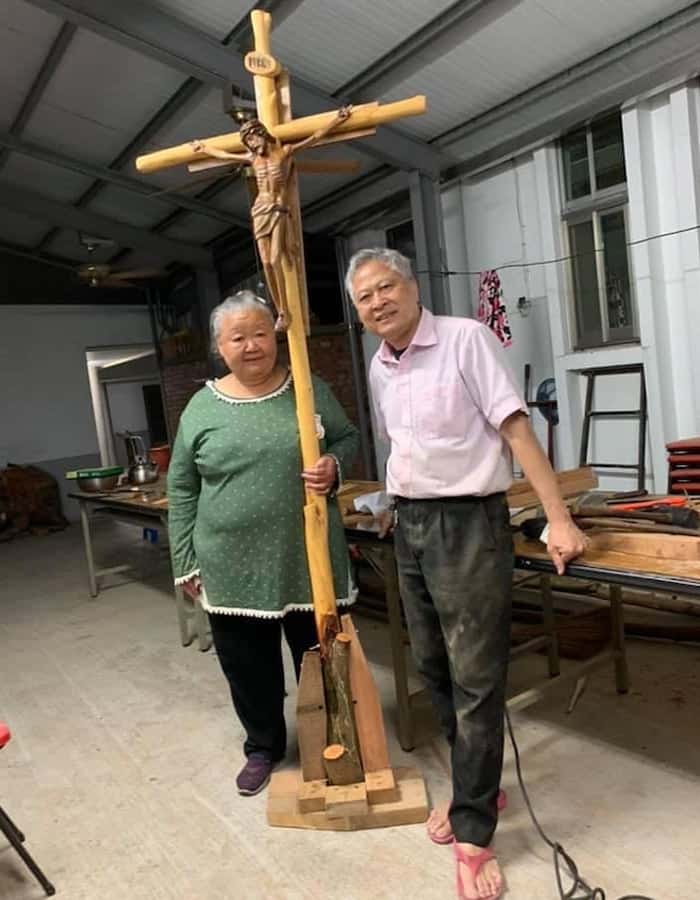 A local woman and Father Nguyen stand with a cross made by the missioner at the request of a Vietnamese priest in Taiwan. (Courtesy of Nhuan Nguyen/Taiwan)
"Because Father Nguyen is quite hospitable to the visitors, we are beginning to attract nearby believers," said Taipei Archbishop Thomas Chung An-zu, who, as bishop of Chiayi, invited the missionary priest into the diocese.
He said he was happy to have Father Nguyen in the diocese because of the Maryknoll priest's successful evangelizing at Guadalupe Church—a church he built in the Taichung Diocese. "Father Nguyen has experience growing the local parish (in Taichung), making it like a pilgrimage site," the then bishop said.
When Father Nguyen arrived at St. Joseph in 2017, the church compound was dilapidated. Overgrown weeds obscured the property and "only pigeons came to stay here," he recalls. 
"The church was in very bad condition," says Dr. John Chu. He and his wife, Justine, used to go to nearby churches before Father Nguyen arrived in Chiayi.   
It took six months to clean up the church grounds, the missioner says. With limited parish funds for renovations, he was able to count on donations from his former parishioners and his Catholic friends in Taichung. He drew on his building experience at his previous parish and on his experience building schools and homes for those in need in his native Vietnam.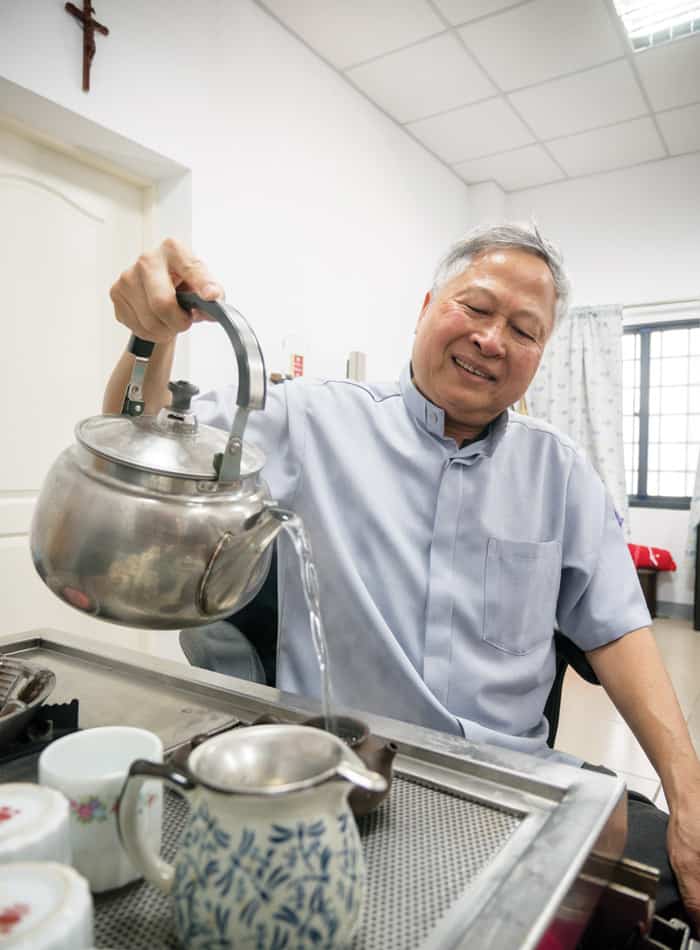 Maryknoll Father Nhuan Nguyen offers tea and welcome to people in the community and Vietnamese migrant workers in Taiwan. Nile Sprague/Taiwan)
Once the repairs were completed, the priest reached out to Vietnamese migrant workers and Taiwanese Catholics in the community. 
Parishioners say the statues that Father Nguyen has obtained from Vietnam and that now adorn the church compound attract people in the community as well as travelers. "The marble statues of St. Joseph helping young Jesus, the Assumption of Mary with surrounding angels, 12 disciples—it becomes so conspicuous that Taiwanese people know it is a Catholic Church," the Chus wrote in an email.
Father Nguyen, who will turn 68 in May, is open and receptive to Christians and non-Christians. "I welcome anyone who wants to come," he says. "I open the door outside the church. People come in to take pictures with the statues. I go (to them) right away and start conversations."
Last December, Father Nguyen received a call from a man asking for a funeral Mass for his wife. "The lady was Buddhist. They were all Buddhist," says the missioner, who went to visit the family. "I asked, 'Why a Mass?' and they said that the wife had worked at a Catholic kindergarten." The family wanted to go to church that Friday—which was December 25. "There were a lot of people singing for Christmas and I said that Jesus was born for us and brought us new life. The family was very happy. They are still in contact with me."
Father Nguyen spends most of his time visiting hospitals, ministering to the elderly and nurturing friendships, all while sharing God's good news. He also shepherds Vietnamese workers.
During this Year of St. Joseph, the parish is encouraging young Vietnamese workers to follow the saint's example of fatherhood, Father Nguyen says. 
"(They) left their homeland to come here and earn some money so that their families could live decently," the Chus explain, adding that the workers' faith brings new life to the parish.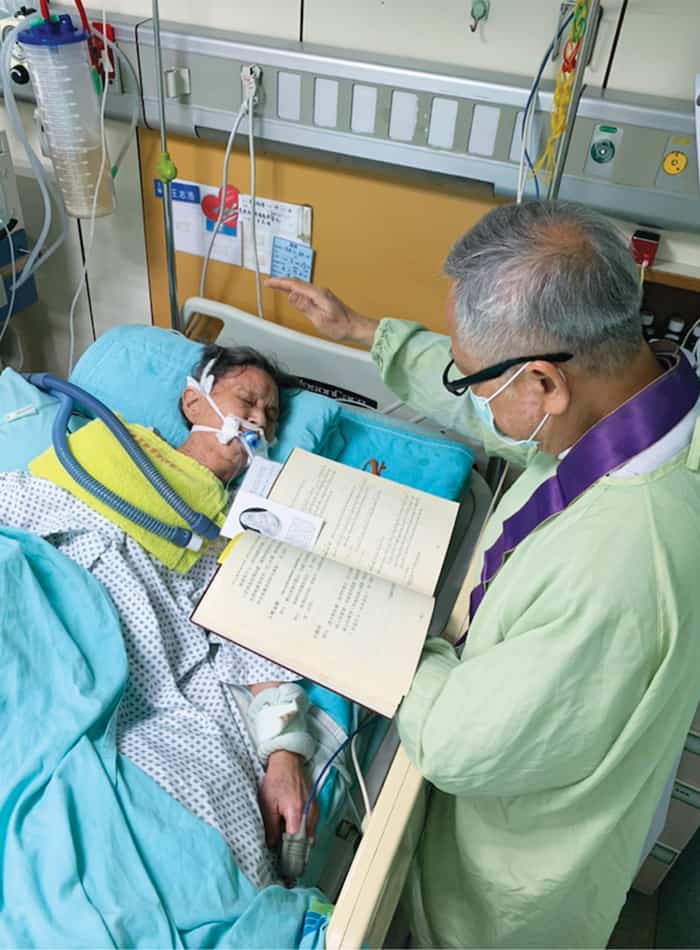 Father Nguyen visits the 96-year-old mother of a parishioner in Taichung. Visiting the sick and elderly is part of the missioner's ministry. (Courtesy of Nhuan Nguyen/Taiwan)
The church is home to 25 to 35 Vietnamese migrant workers who come to Mass every Sunday. On holidays—such as Christmas and Chinese New Year—there are up to 100. "If people cannot come, it is because they are working overtime," Father Nguyen says of the migrants, who are mostly in their 20s and 30s. "They are always working, working, working. I tell them that if they are too busy, to pray at home. But do not forget Sunday."
He also encourages them to keep in touch with each other using contact information from the parish. "They are lonely," he explains. "I visit them sometimes." 
Father Nguyen learned about the importance of going out to the people in his homeland. As an altar server, 10-year-old Nhuan joined Father Vu Dinh Trong, his parish priest, during home visits in a suburb south of Saigon, the capital of South Vietnam at the time. (Saigon was renamed Ho Chi Minh City after the Vietnam War and it is now the largest and most populous city in Vietnam.) The country was at war between the communist North and the anti-communist South. Every week there was a funeral or memorial Mass, he recalls. During the home visits, the pastor gave Communion to those mourning the dead.
One day, the priest needed to raise money for the church. "He went to every family," Father Nguyen says. "But when we went to a poor family, he did not ask for money—he gave them money."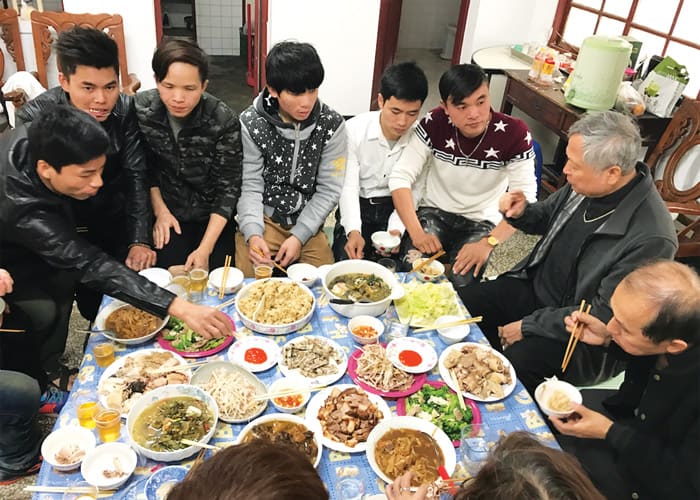 Vietnamese migrant workers share a meal with Father Nguyen after Mass, during the days the priest was working to rebuild his parish. (Courtesy of John and Justine Chu/Taiwan)
Inspired by the priest's example and his own family's strong Catholic faith, Nhuan entered the Congregation of the Mother Co-Redemptrix minor seminary when he was 13 years old. That's where he learned construction and carpentry. But in 1975, when the communists took over, he was one of the thousands who fled to the United States by boat.
Later, he left the congregation and pursued a degree in business data processing. Following a lifelong dream to serve others overseas, he entered Maryknoll in 1985. He was ordained as the first Vietnamese Maryknoll priest in 1993.
Assigned to Taiwan, he focused on learning the country's history, culture and language and quickly made friends with the Taiwanese. "If you know Mandarin (the official language), people tell you 'hello and goodbye,' but the Taiwanese language is for the family," he says. "The Taiwanese like Maryknoll because we speak Taiwanese."
Recently, a Chiayi priest asked Father Nguyen how to raise money to repair or rebuild a church. "I told him two things are important. First, everyone has to pray. If God wants you to, you can rebuild the church. Two: Do you have many friends? If you don't have friends, nobody helps you. If you have friends, they can raise money with you."
The missioner is happy that St. Joseph the Worker is now a welcoming place where parishioners are engaging in evangelization activities, including processions and celebrations. These events, he says, help people recognize God already living and acting in this area.