The legacy of a late Maryknoll priest lives on in a poor
and violent barrio in Honduras devastated by hurricanes.
The mud-stacked streets of Barrio Chamelecón in San Pedro Sula, Honduras, serve as a visceral reminder of a people forgotten. In January 2021, two months after rains from Hurricanes Eta and Iota overflowed the banks of the adjacent Chamelecón River, filling homes and businesses with more than three feet of sediment, residents of this poor suburb were surviving in soggy squalor without basic services or necessary support from the municipality.
More than 100,000 people live in cramped quarters in this low-lying community, where an estimated 20,000 homes were destroyed or damaged and 40,000 people displaced by the recent storms. Hardship and poverty are no strangers to this community, and neither is Maryknoll. 
From 1999 through 2008, Father Thomas Goekler, a Maryknoll missioner from West Haven, Connecticut, served the people of Chamelecón. During his nine years here, Father Goekler focused on helping people grow in their faith, receive much needed health care, advance in their education, and learn valuable life lessons through work and service.
Several programs initiated by Father Goekler in San Pedro Sula, which he called his "adopted hometown … a little bit of heaven, and a lot of heartbreak," have had a lasting impact on the people of this neighborhood. Although Father Goekler died in 2010 of a heart attack in neighboring Guatemala, his ministries are still making a difference in the community through the leadership of those he formed and in practical ways that support health and sustainability for the people living here.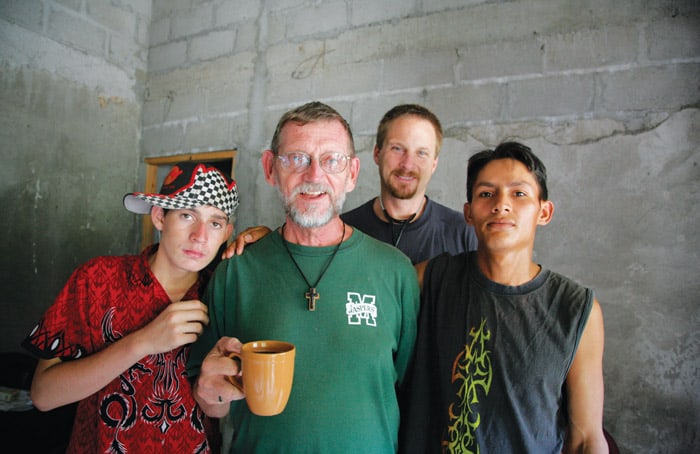 Father Thomas Goekler pauses for a coffee break with two local youths and a visiting doctor, Brandon Stark of Chico, California, in a 2006 photo in Chamelecón.(Sean Sprague/Honduras)
The primary aim of these ministries was to counter gang recruitment and to improve the well-being of residents. Chamelecón is often referred to as the "murder capital of Honduras"—some claim of all of Central America—due to the prevalence of rival gangs. The MS-13 (Mara Salvatrucha) and MS-18 (Mara 18) gangs wage a daily turf war here centered around narcotics distribution, human trafficking and extortion under the threat of violence in the guise of "protection" for local businesses.
By all accounts, Father Goekler was fearless in the face of gang members' contempt, often chastising them for their violent deeds, even condemning them for recruiting and corrupting young children during a service held for a deceased gang member. He is also remembered as a compassionate, though strict, mentor to at-risk youth and an advocate for the poor people living in Chamelecón.
More than 50 young men made their way through Father Goekler's Walking for Peace (Caminando Por La Paz) program during his tenure here, where in the process of building homes for residents, they helped to better their community and acquired trade and construction skills, leadership and valuable life lessons.
With the benefit of another program called Street Teens (Jovenes En La Calle), many of these youth received counseling and scholarships to attend local schools. Several went on to complete college and now teach at the same schools they attended. According to one graduate of the program, none of the program participants entered a gang.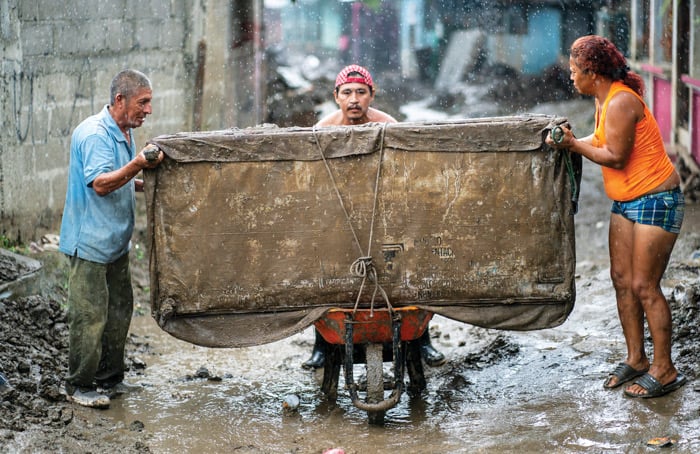 Residents move a reclaimed couch during a torrential rainstorm in Chamelecón, a neighborhood of San Pedro Sula, Honduras. They hope to clean and resell it to those who lost everything during Hurricanes Eta and Iota last year. (Gregg Brekke/Honduras)
Although a Catholic Worker house founded here by Father Goekler is no longer functioning, some ancillary programs are still operating, including two health clinics, one of which provides tattoo removal services for former gang members and those hoping to leave gangs.
"People loved him, and they followed him," says Angelina Enamorado, who runs a small medical clinic and convenience store from her home in Chamelecón. She expresses deep gratitude for the Maryknoll missioner who supported her 32-year effort to improve the community.
"He really helped a lot," she says of Father Goekler's support for her clinical outreach. "When he said it was important to have medical checks, or for children to be immunized, they listened." She says he also built relationships with organizations in the United States that provided supplies and medications.
Enamorado helps residents with such needs as prenatal care, basic medications, checkups and diagnoses. Health issues such as heart disease, skin and lung irritations, and a myriad of gastrointestinal issues plague residents, and are exacerbated by standing water and sewage overflow following the storms. The hurricane damage to her small pharmacy is visible in a side room stacked with medical aids and instruments, such as crutches and a wheelchair, in need of cleaning and restoration.
"We were already under a pandemic situation when the hurricanes came," she says. "That remains our main worry right now. People don't know who is infected and they are scared."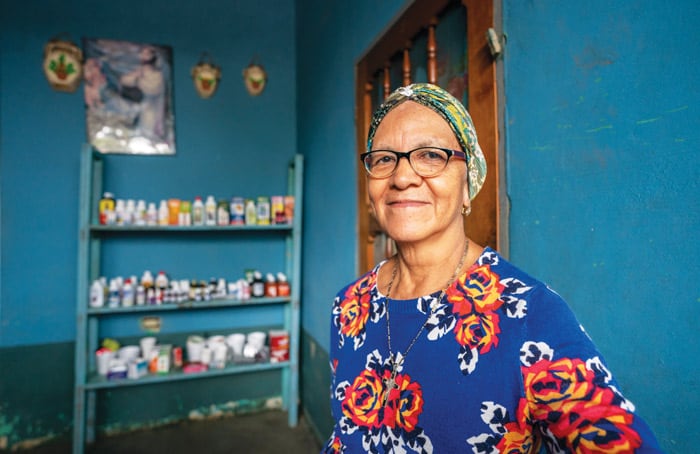 Angelina Enamorado at her home that also serves as a drop-in medical clinic and store in Barrio Chamelecón, a neighborhood of San Pedro Sula, Honduras. (Gregg Brekke/Honduras)
Enamorado's riverside neighborhood of San José in Chamelecón was hardest hit by the 2020 storms. Navigating the muddy streets by foot involves walking between puddles and over mounds of debris, often spanned by planks, sodden mattresses or the remains of broken furniture. 
Here Hunter Lopez mucks mud from his mother's home across the street from Enamorado's house. Heavy rains throughout January washed much of the previously removed mud from the street and back into the courtyard and ground floor kitchen area of the home.
"Any work that's been done to clean homes or remove waste has been done with our own hands," Lopez says. "This community will be the last to have its streets cleaned (in San Pedro Sula). It is all but forgotten by the government."
Another of Father Goekler's legacies is a second clinic in the barrio's central business district operated by Suyapa Bonilla, a nurse assistant. She met the priest when he arrived in Chamelecón in search of people who understood the community. Health providers offered a conduit to develop other relationships.
The clinic, which sees as many as 70 people per week, is staffed mainly by Bonilla as the lead medical practitioner. Health consultations, she says, are free, although people are asked to pay what they can for additional services. Besides the common illnesses and wellness checks, the clinic distributes and administers antiretroviral medication to people living with HIV. 
Yet now, in 2021, Bonilla says the main concern of those she sees is "only the virus." COVID-19 cases have skyrocketed in the tightly packed barrio, and while she says mask use is common, many people still do not wear them, and social distancing is not practiced universally.
Suyapa Bonilla at her health clinic in Barrio Chamelecón. (Gregg Brekke/Honduras)
"We have seen daily deaths due to the virus," she says. "It's the most difficult time I've experienced as a medical provider. We are unable to help once people become too ill." 
Bonilla and her husband, José, also operate the Goodbye Tattoos (Adios Tatuajes) program from the clinic, using a laser to remove gang members' tattoos.
In the 30 years that Adios Tatuajes has been in operation, Bonilla estimates they have removed an incredible 26,000 tattoos, mostly from those who have left gangs and no longer want to carry on their bodies the symbols of that involvement.
"A lot of young people who've had their tattoos removed come back and say, 'Look, I'm working now, thanks to you.' Those moments are some of our most successful moments—changing the lives of those who belong to the gangs so they can get a job and enter back into normal relationships," Bonilla says.
It's this exercise of love for the people of Chamelecón that still motivates Bonilla through the hardships of the pandemic and hurricanes, and even past the loss of her friend Father Goekler over a decade ago.
"To love one another—other human beings—as Jesus teaches is why we're still here," she says. "It's sometimes very hard to love somebody, but my faith teaches me that this [medical] practice is the way I can show love to people."
Featured image: Cleanup continues in Chamelecón, a neighborhood in San Pedro Sula, Honduras, after Hurricanes Eta and Iota in late 2020 caused massive flooding in communities along the Chamelecón River. (Gregg Brekke/Honduras)