In the midst of poverty and pandemic, Catholics in Jamaica open a new school.
"There are an infinite number of reasons not to open a school while facing a pandemic, including financial constraints and the risk of failure," says Franciscan Father Colin King, vicar of education for the Diocese of Montego Bay in Jamaica. But his diocese was willing to "stare down fear and the uncertainty of a pandemic" to open a school for boys last fall.
In this Caribbean island nation, he says, many children grow up in one-parent families, with a mother or grandmother being the sole parent. "Our young men are suffering from that," says Father King, referring to the lack of male role models.
Without father figures who see the value of education and take responsibility for supporting their families, many boys drop out of school, says Maryknoll Father Leo Shea, who served in the Montego Bay Diocese for several years. "The Jamaican male is a lost segment of society," he says.
The downturn in the economy has exacerbated the plight of boys and young men in Jamaica, forcing those who were in school to leave to find work. As one school board member describes it, "The boy's wings are clipped too soon in the educational process."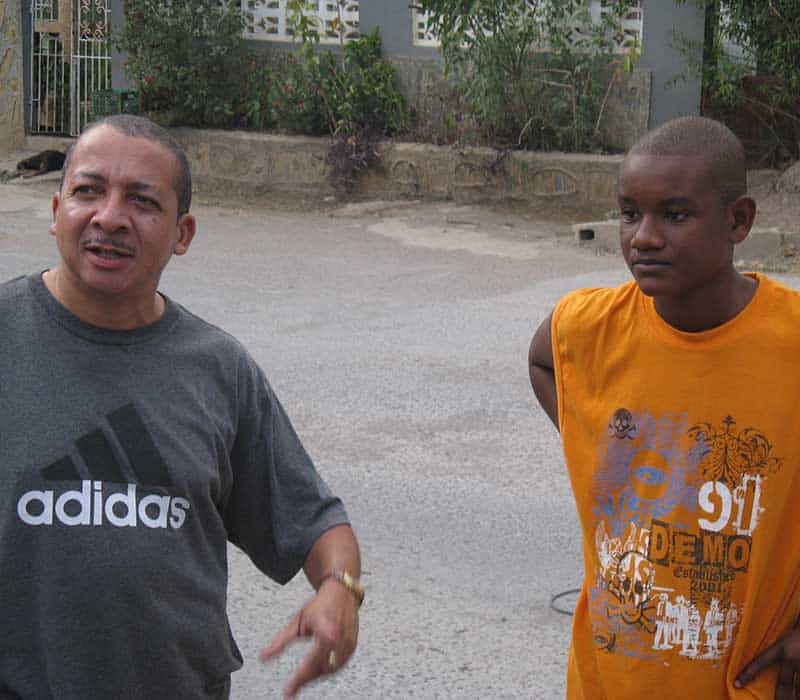 Deacon Baldwin Powell (left) and a young Jamaican resident tell visitors about their Caribbean island nation of Jamaica. (Courtesy of Maryknoll's Church Engagement Division/Jamaica)
Confronted with poverty and few opportunities for work without an education, young men are often recruited into gangs and into illegal scamming.
Responding to the urgent need to help such youth and, in the words of Father King, "trusting that God will lead us," the Diocese of Montego Bay opened Monsignor Gladstone Wilson College in October 2020. Named for a Jamaican priest who lived from 1906 to 1974 and distinguished himself as a scholar, the school has begun with a handful of students in what Jamaicans call six form, the U.S. equivalent of 12th grade. Their curriculum follows the STEM (Science, Technology, Engineering, Mathematics) methodology, including some college courses in the U.S. educational system.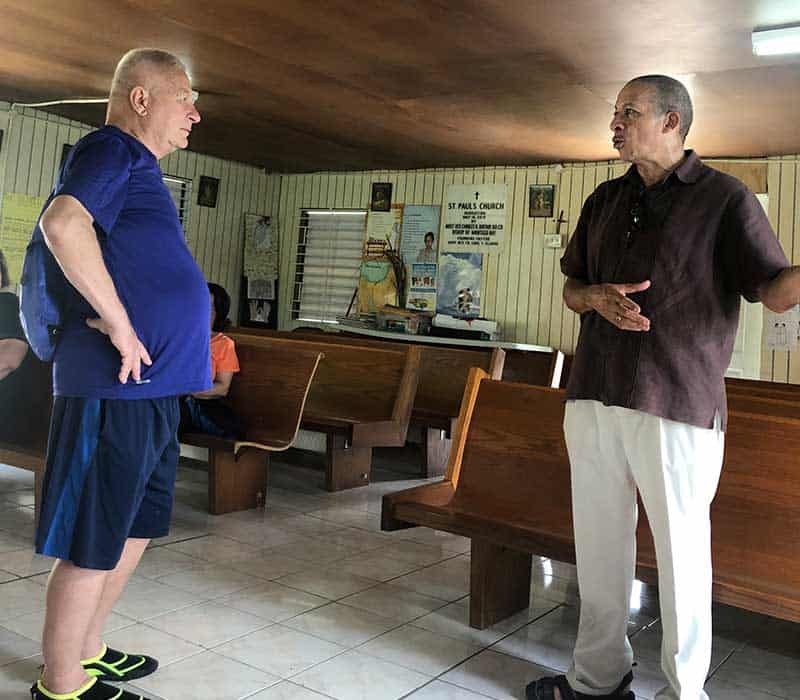 At St. Paul's Chapel in Glendevon, Montego Bay Diocese, Deacon Powell (right) explains to an immersion trip participant the Church's mission in Jamaica. (Matthew Dulka/Jamaica)
The school is currently located in a transformed parish hall in Montego Bay's Blessed Sacrament Cathedral, but the Ministry of Education for Jamaica plans to help the diocese build a school that will be able to accommodate more students and grade levels.
"We are building hope," says Deacon Baldwin Powell, who serves at Blessed Sacrament Cathedral and is a member of the Maryknoll Deacon Mission Partners. "Our goal is to establish a school to try and reduce the risk of these vulnerable boys so they can be prepared to live lives of service, be committed in relationships, and be good citizens. We want to put a lifeboat out there for those who are struggling and drowning. We want them to know that even though they may come from broken homes with no father figure, it does not mean that will determine their future."
One of the students who is courageously navigating his first year at Monsignor Gladstone Wilson College is Chrison. The pandemic has forced him, like students throughout the world, to go to remote learning. With no internet service or computer at home, he attends his classes on a cell phone. Father King has helped him buy more data for his phone so he can fully participate.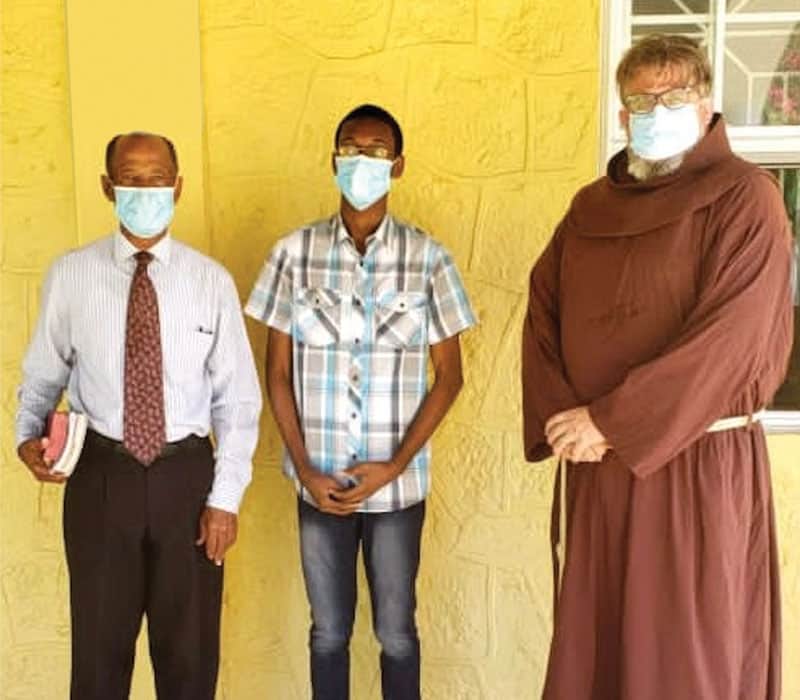 Father Colin King welcomes student Alex Gordon and dad Mike to Monsignor Gladstone Wilson College in Jamaica, where Mike is on the school board. (Courtesy of Colin King/Jamaica)
Gifford and Andre are two other young men whom Father King has helped with their education in another school. Gifford is studying to be an architect and aspires to build community centers to provide a safe place for the children in his community. Andre is working to become a teacher. All three of these bright, talented, young men are examples of what an investment in quality education can do to open doors not only for them but for the lives they will touch in the future.
"They would not have been able to finish high school without help because their families did not have the money," says Father King. "They are all grateful for the opportunity to pursue their education."
Jamaica currently has several all-girls schools that have been successful and are a model of what can be achieved with a school for boys. Jamaican universities are reporting their student bodies as 80% female and 20% male. The Catholic community of Montego Bay is committed to helping boys catch up.
"The history of Catholic education is to never forget the forgotten," says Father King. "It is designed to uplift people and try to empower them. We want to help these young men to reach their full potential and for the kingdom of God to take root in their lives."
Deacon Powell echoes that sentiment. "Our hope is to inspire these young men and to build a better Jamaica. We want them to excel and to take their rightful place in society as leaders," he says.
Led by Bishop Burchell Alexander McPherson, the Catholic Church in Montego Bay continues its long history of healing the sick, feeding the hungry, welcoming the stranger and educating the young.
Faced with all the challenges of the pandemic and a struggling economy, the diocese has chosen to move forward, assembling talented, committed people who together courageously took a leap of faith, trusting that God will open doors.
Featured image: On a Maryknoll immersion trip to Jamaica, Carolyn Trumble makes a new friend. (Dennis Kelly/Jamaica)